This post is sponsored by World Market, all opinions are our own.
Ever since I can remember I have been a fan of World Market. I love the rustic old-world, bohemian vibe that wonderfully aligns with the style I love to decorate with.  As you can imagine, we were beyond thrilled when we were contacted to showcase their Spring outdoor collection.  It is such an honor to work with World Market to share this Spring and Summer's patio reveal.
Three years ago we revamped this unused area behind our garage that was filled with weeds and mosquitoes and transformed the space into the most loved corner of our yard.  We like to refer to this space our secret escape since it's very private. With it being surrounded by three garages, privacy screens that my husband hacked (read more about the privacy screens he built a few years back here), and strategically placed bushes no one can get a clear look into our little hideout.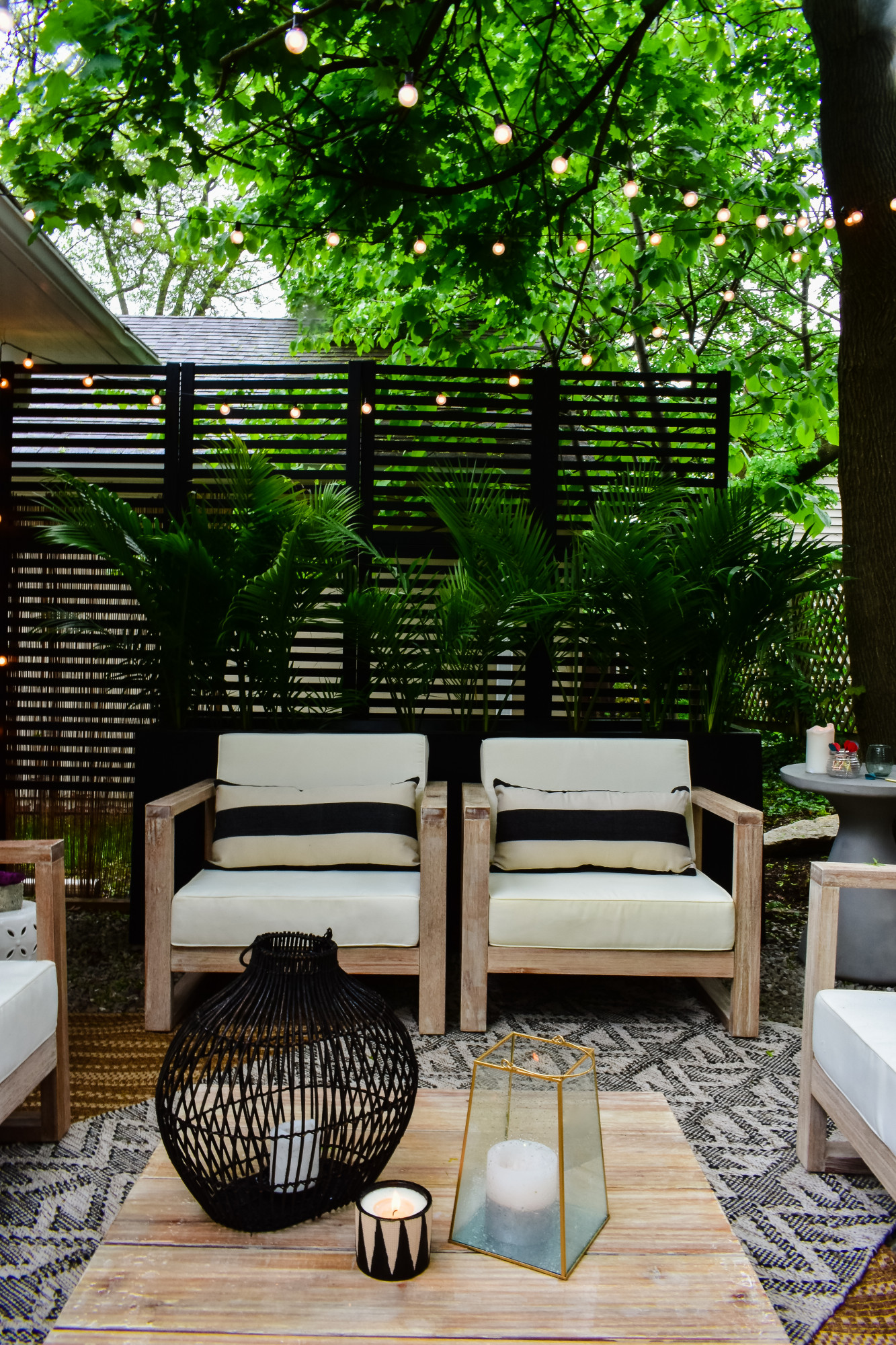 As you may notice these screens are now black.  One of the first things I decided on changing when we chose our new patio sets was the color of our privacy screens.  Since the majority of the furniture is a whitewashed wood, which is in the brown color palette, I wanted the screens to provide contrast while at the same time letting the furniture shine.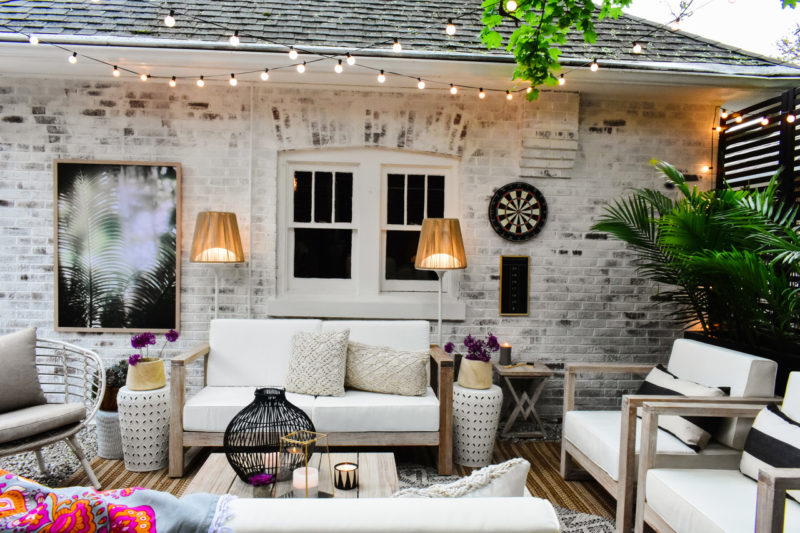 To make the space even more cozy we covered up the two-foot gap on the bottom of the screens with an eight foot planter!  Can you believe this was gifted to us by a local church that was updating their space and had no use for it anymore?!?  When we got it, the planter was forest green so Rob painted it black to blend in and showcase the greenery we added.  I love the natural boho background it provides our space.
It is our third season decorating this area and it's so fun to try out new looks each time.  (Take a look here to see the previous years. Year 1.  Year 2)  We still wanted to keep the vibe warm and cozy but also wanted to switch it up by making it a little less romantic and emphasizing the bohemian flare a little bit more.  Although I have adored the finished look of years past I love pushing my creative comfort zone and watching our home evolve with each changing season.  We're really loving the new arrangement and how it allows for good intimate conversations.
A quick before picture for your reference:
After:
Our goal in designing the layout of the space is to have serve as an extension of our home by bringing the indoors outdoors.  We love to entertain so the greatest amount of seating we could add into the area, without it looking crowded, was key.  I love the idea of minimalism, but reality is that it isn't totally for me. I'd like to say I am a good mix eclectic and romantic, but I feel strongly that a place should be both comfortable and uncrowded.  I personally love a balance of the two styles,  involving several different textures, colors and decorations. All these things have the power to transform it from feeling cold to warm almost instantly.  One of the best attributes this enclosed space enables is that it provides intimacy and privacy naturally, so having seating for seven doesn't seem overly crowded or out of the ordinary.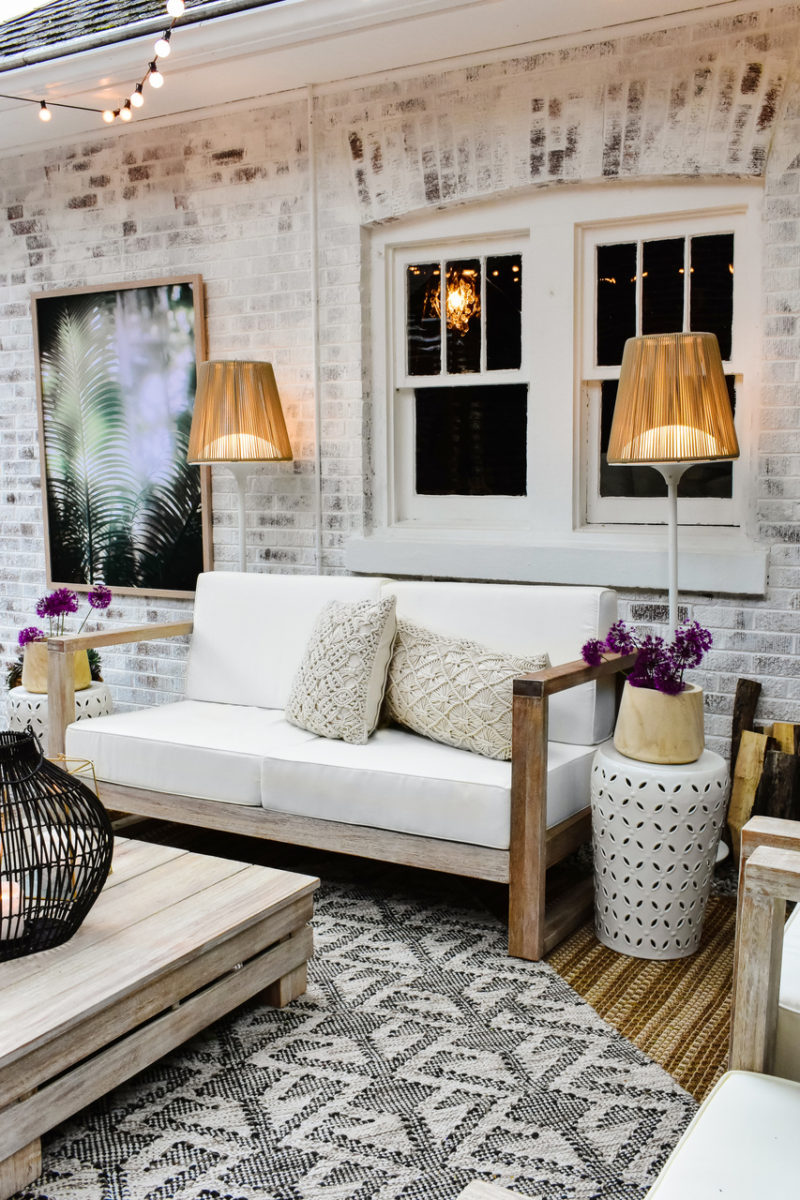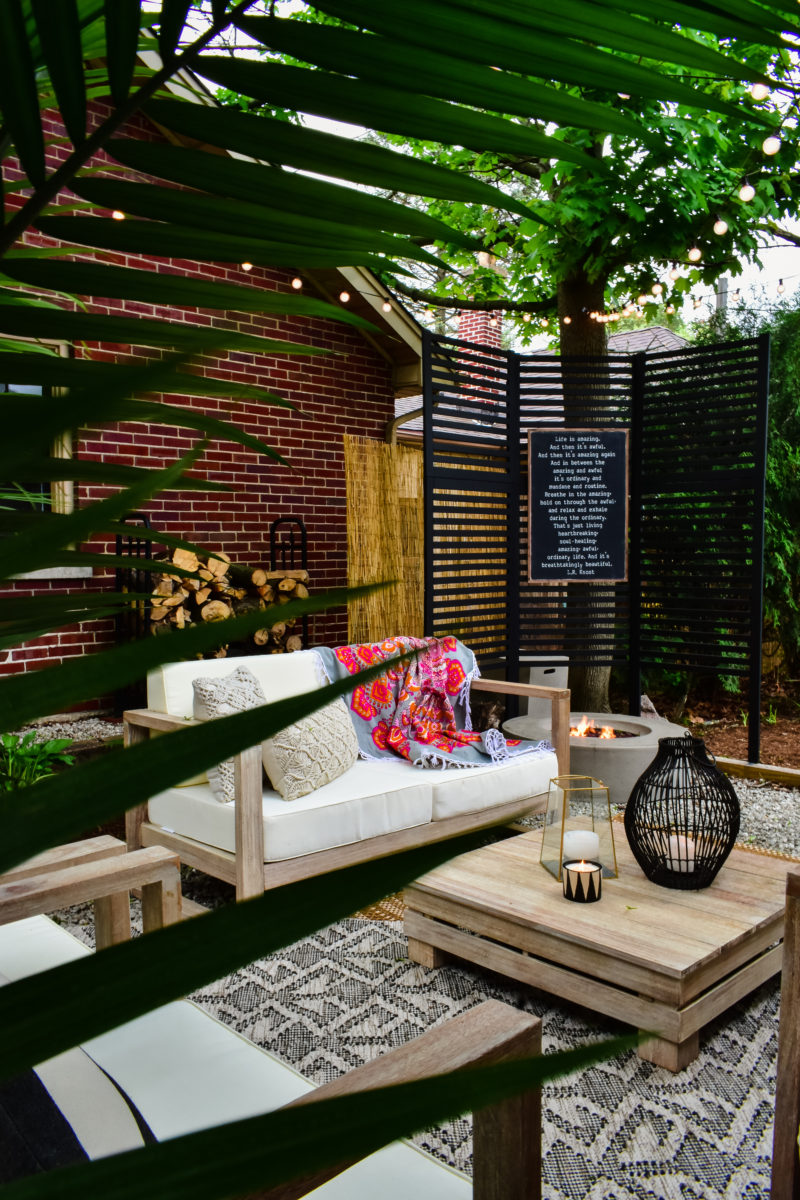 Even though the patio is not overly large we wanted to use the space with intention and separate the area out to accommodate different uses while hosting.  We created the entertainment area using the Sevilla Outdoor Collection: (which is not only beautiful but is also extremely comfortable) complimented with this awesome wicker chair that can be easily spun around to roast a marshmallow at the fire pit.  We also included an area where people can play darts and rest a cocktail.  We bought these awesome outdoor wine glasses from World Market for just that and I love that they're not only pretty but smartly made of plastic so they're nearly indestructible.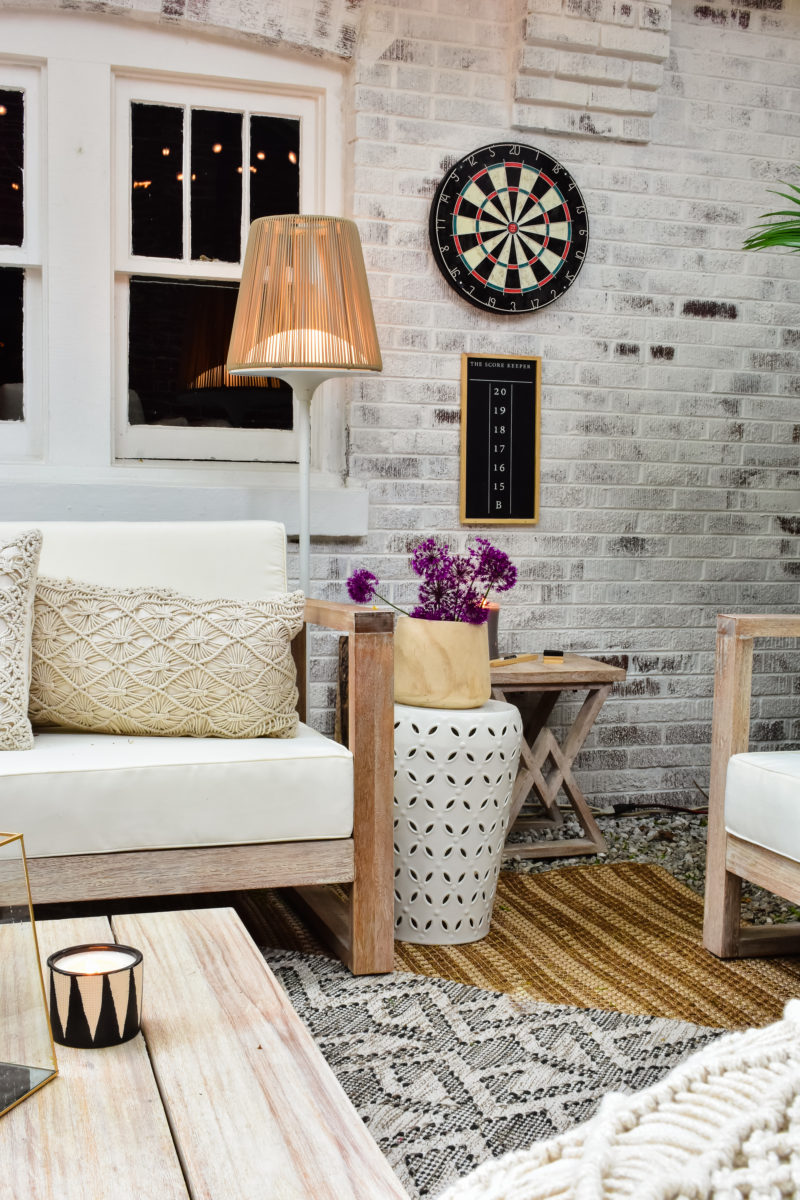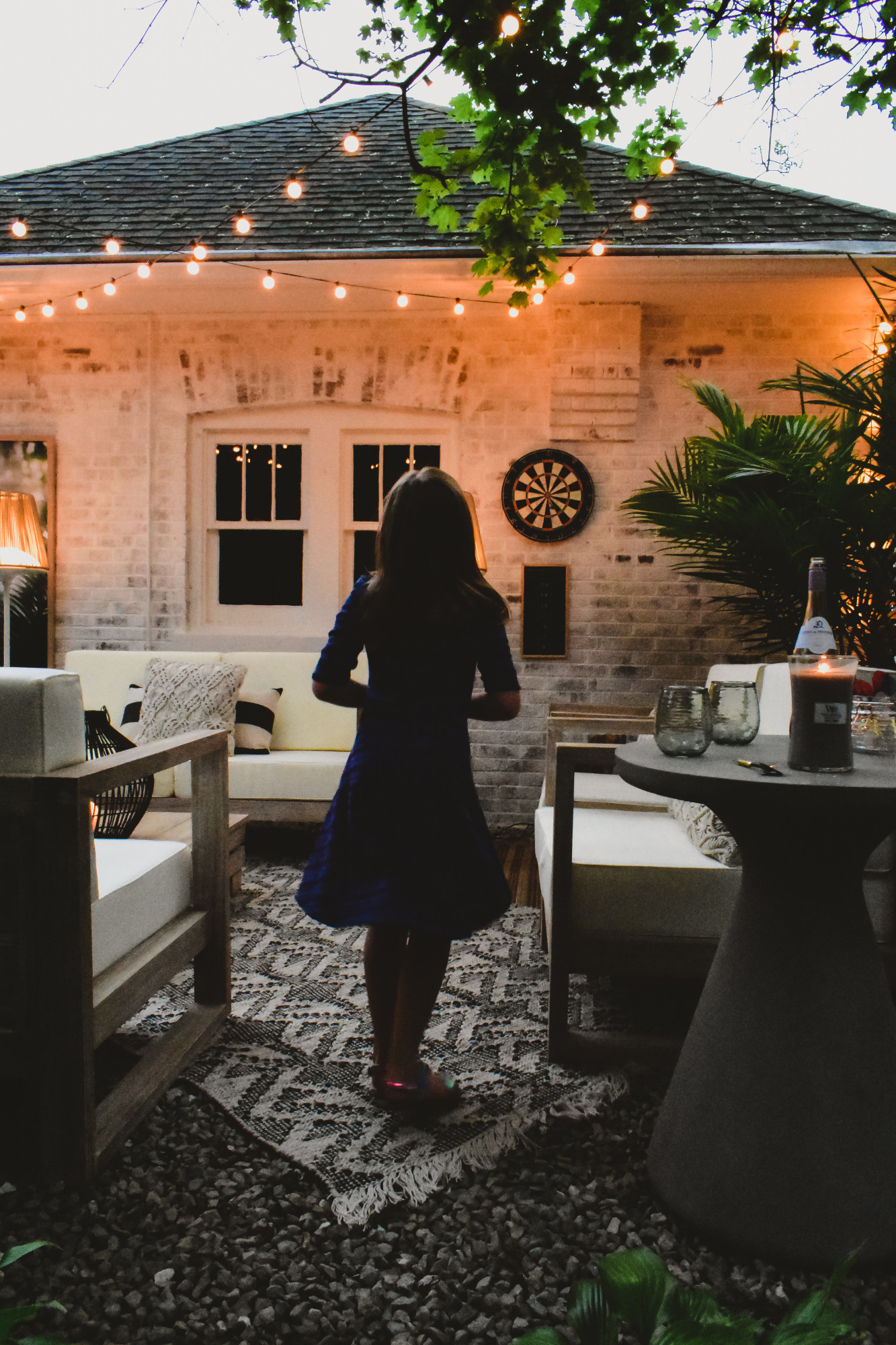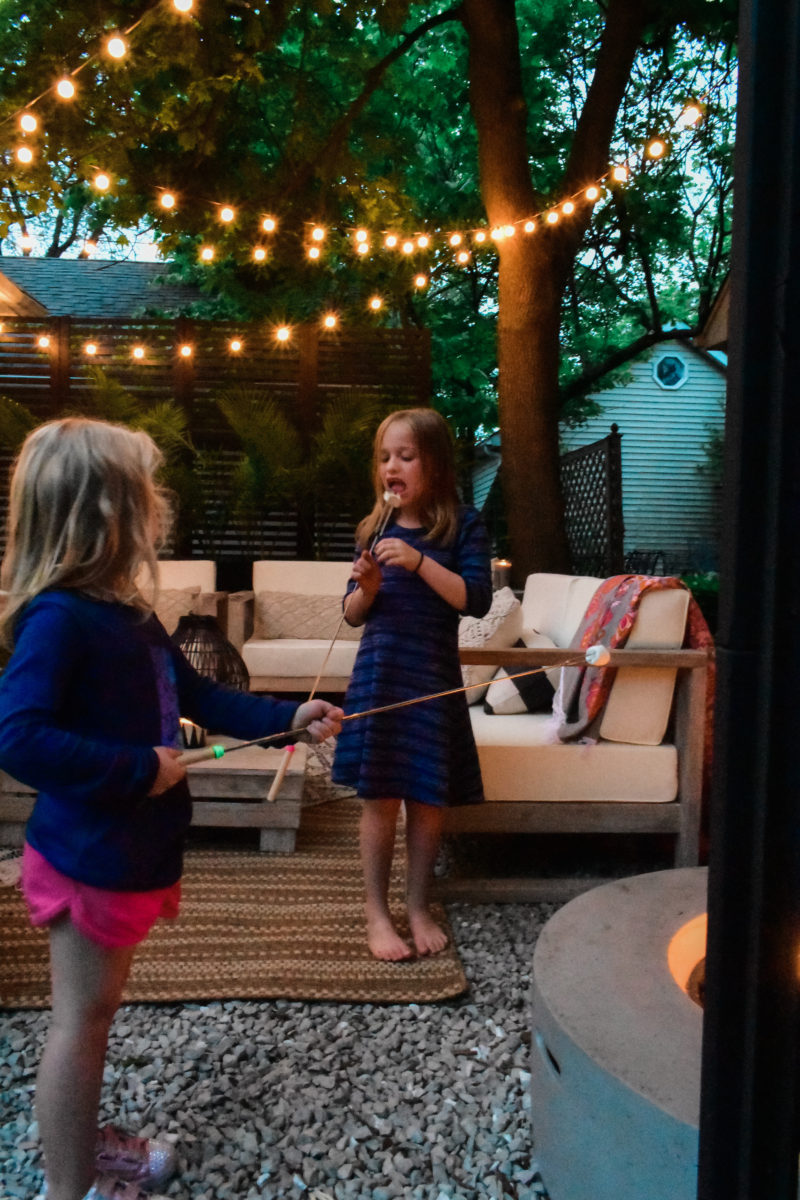 I'm so pleased with how everything turned out mainly because it truly feels like an extension of our home. Would love to hear from you, what's your favorite part about the space?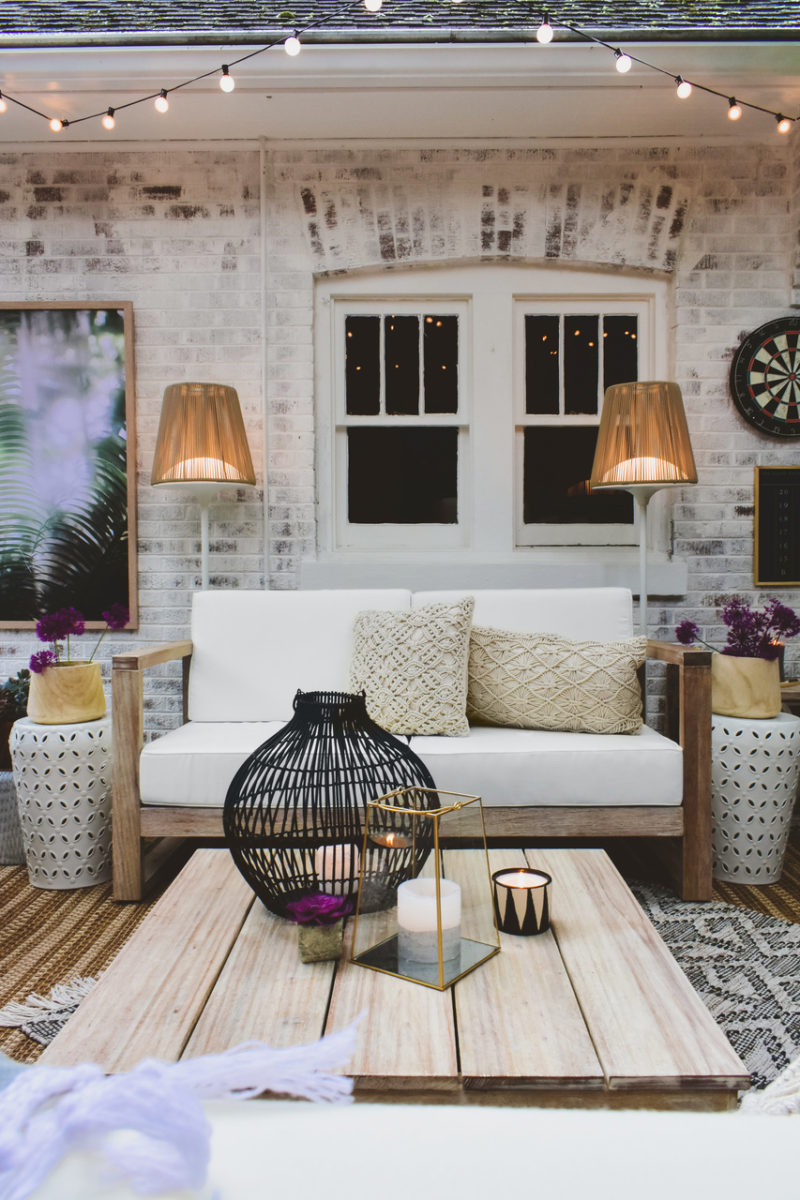 You can find amazing outdoor entertaining and decorating items by either shopping online or hopping on into one of their beautiful stores.  For you convenience we provided links to all the items we incorporated into our patio space.  Thank you World Market for sponsoring this post and thank you World Market in St. Charles, Illinois.  You were wonderfully patient as I created a whole new outdoor display in the middle of your store.  Literally you guys, I laid the rugs down and placed the pieces I was choosing from in various arrangements.  All the while, the amazing managers gave me their ideas and encouragement.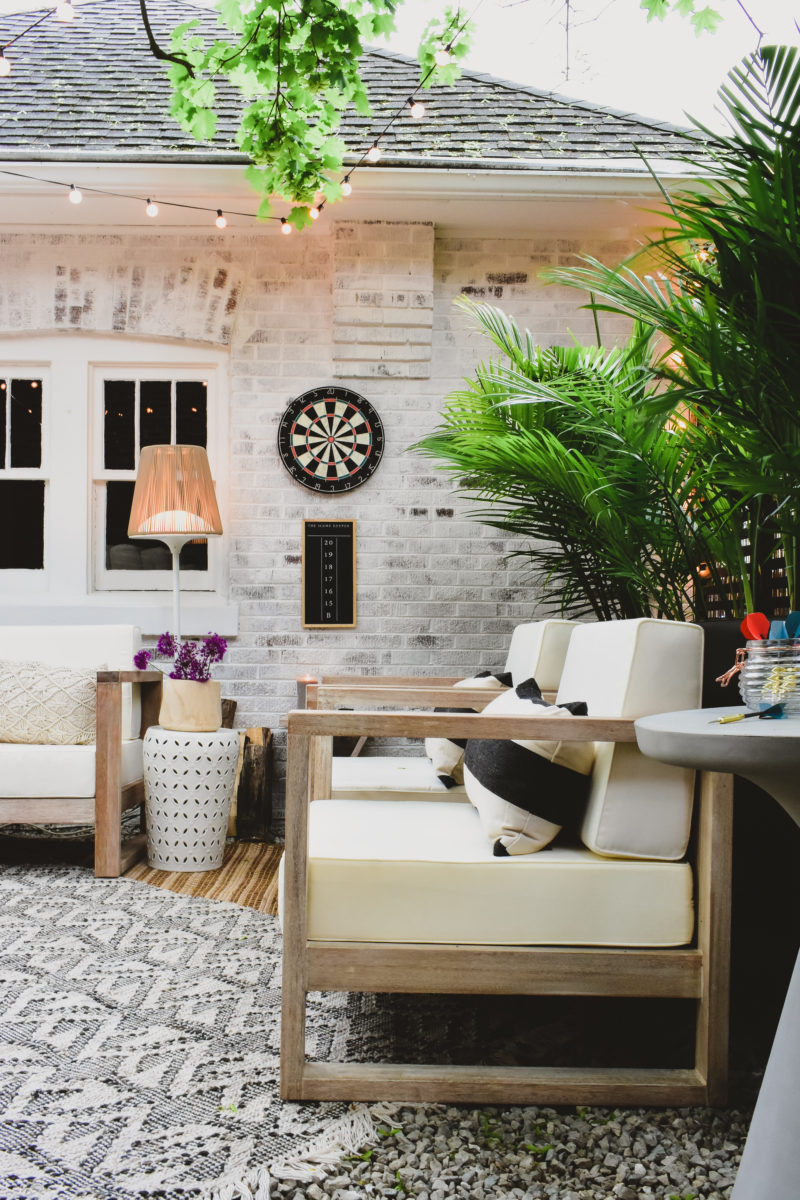 Sources:
Black and White Emerson Outdoor Rug:
Sevilla Outdoor Coffee Table:
Cotton Round Festival Blanket:
Galvanized Metal and Copper Tray:
Natural All Weather Wicker Jasper Outdoor Accent Stool:
Antique Brass Rim Glass Cargo Lantern:
White Lotus Capiz Tealight Candleholder:
Clear Pacific Acrylic Tumbler Glasses Set of 2:
Dark Turquoise Ceramic Planter with Wood Stand:
Whitewash Sevilla Outdoor Bench:
Whitewash Sevilla Outdoor Chair:
Orange Fringe Indoor Outdoor Lumbar Pillow:
Sunbrella Granite Canvas Outdoor Throw Pillow:
White Punched Metal Stool:
Dark Brown Rattan Lanterns:
Geometric Citronella Candles:
Faux Pastel Succulents:
Black and White Lumbar Striped Pillow:
Natural Macrame Lumbar Pillow:
Natural Macrame Square Pillow:
Sevilla Outdoor Collection:
Outdoor Wine Glasses:
Cream Wicker Outdoor Chairs:
Cotton Festival Blanket: