Happy Summer!!
Hi there guys!
If you're anything like me, you love entertaining! Be it indoors, outdoors, or in a bubble! 😉
Yes, it may not be the norm, but this idea popped into my head one evening after attempting to eat dinner outdoors and getting attacked by pesky little misquotes! Ugh, they're the worst!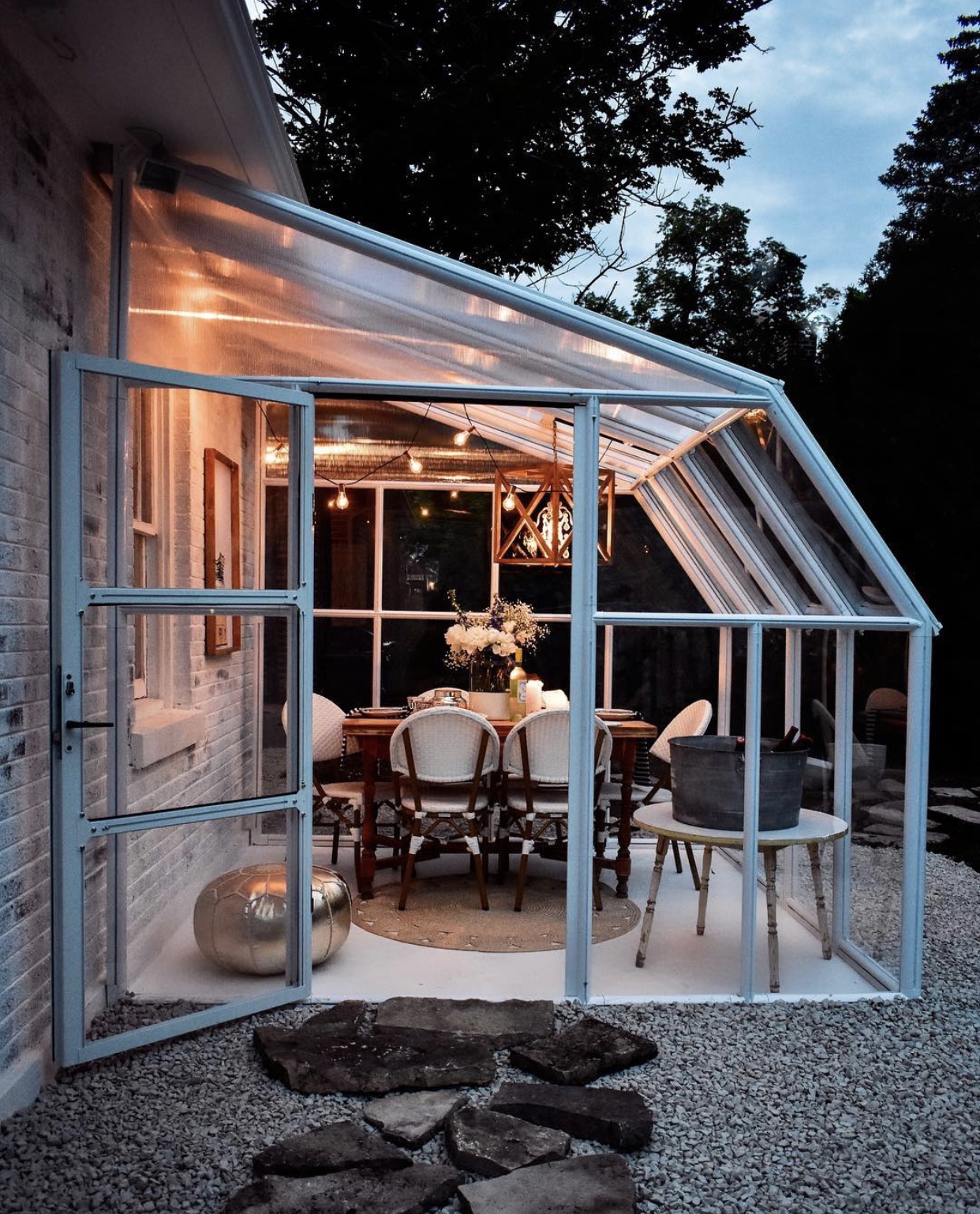 So about this new space of ours, we teamed up with Tractor Supply Company to bring our vision to life and you guys, ekkkk I love it more than I dreamt that I would! This is the sunroom we used and I love it! It is technically a greenhouse/sunroom but that didn't stop me from thinking outside the box! I laid eyes on it and instantly began to dream up all the various ways I could use it, and outdoor entertaining was on the top of that list! Here's an evening shot of the space all lit up!
After a lot of patience, sweat and more patience my loving husband, Rob and my brother in law David, were able to get this bad boy up! It took an entire day of work, and a few more days of tweaking to get it just right. They ran into a few curveballs which took some creative thinking and problem solving but at the end of the day, its up and its wonderful!
This patio area sits slightly in front of our outdoor escape, where we have our lounge chairs, firepit, dartboard etc.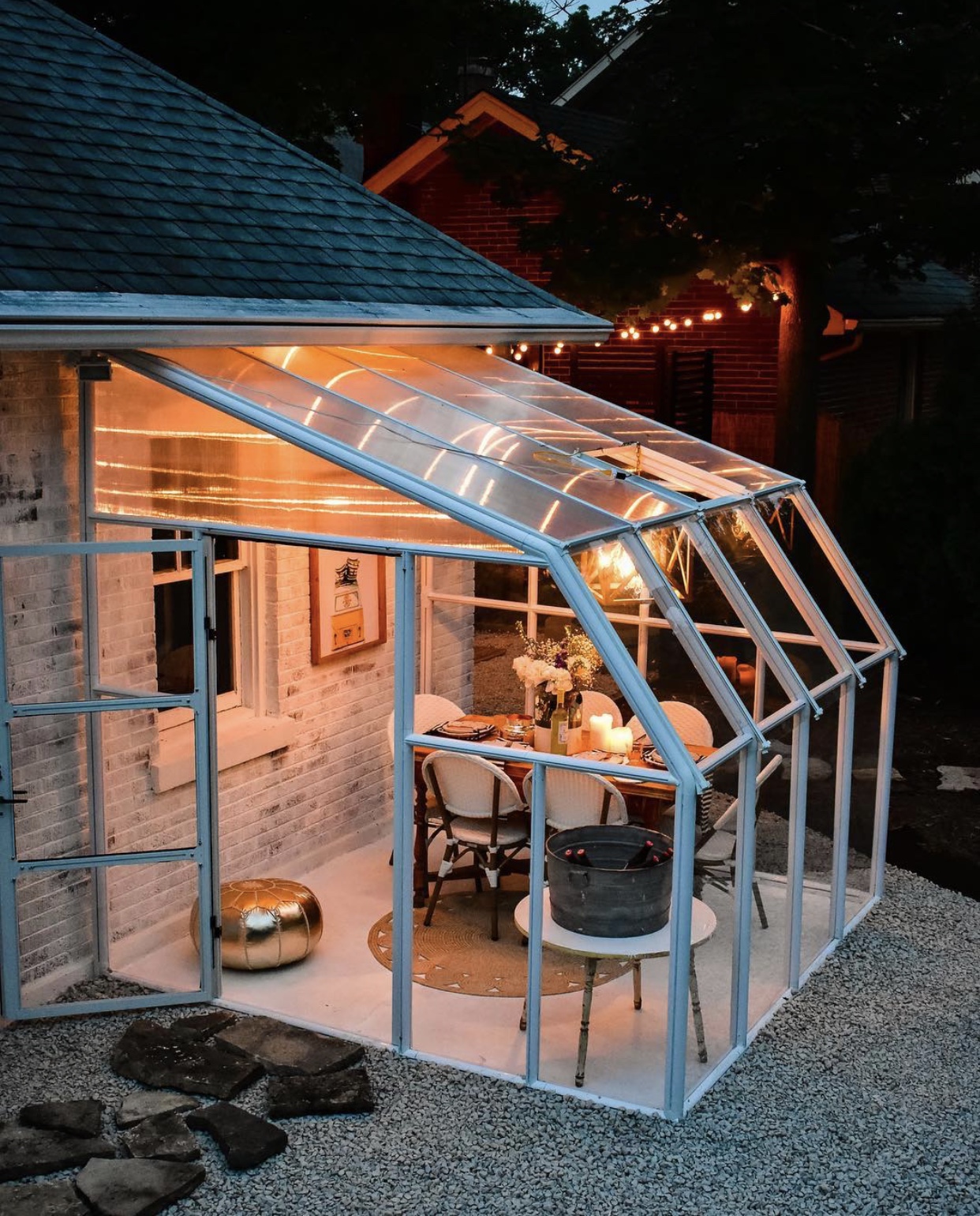 It has always just been a cracked slab of concrete that I wasn't really sure what to do with. Click here to visit a blog post I shared a few years back, you can see this space before we did anything to it, and then again when I decided to stencil the entire area! Which I loved but I was ready for a new look! And I must add this, even though we mended the cracks the best we could and then they were disguised with the stencil, it was still a tripping hazard regardless of how beautiful it was. Therefore, we found ourselves lining the cracks with neon tape when hosting parties, which ultimately defeated the purpose a bit, ha! So when planning for that this time around I really wanted to solve the problem instead of mask it. Since pouring a new slab of concrete was too pricey, I came up with the idea to add the same stone around the structure as we have in the back hang out space. We lined the concrete with plastic edging, laid down some thick plastic, adding the stones around the bubble's walls and ta-da, problem solved! And it looked great, too!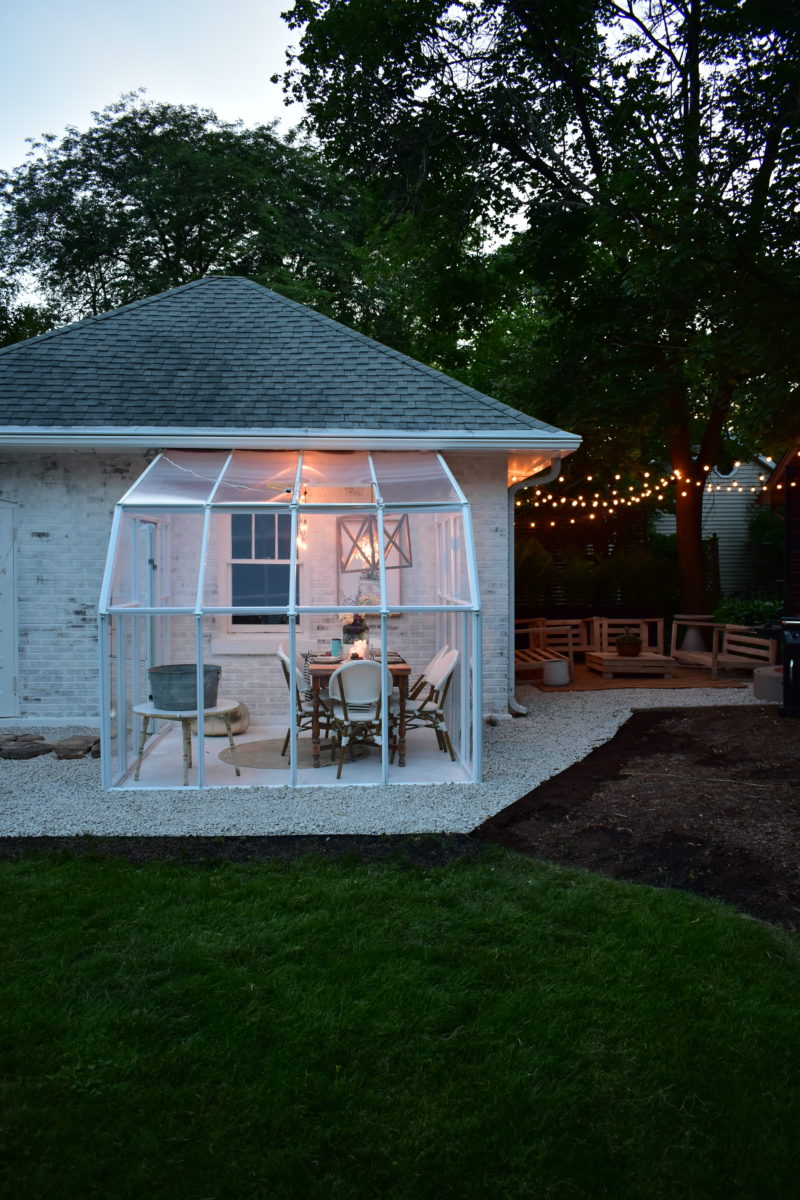 Now onto the fun stuff, decorating!! I knew I wanted to use the space for entertaining friends, and family so a table and chairs was first on my list of things I needed! I went into our garage and found this stunning wooden table that was sanded and ready to be painted and it was the perfect size! (A big perk of having a husband who enjoys refinishing the old furniture you collect!) We worked with Joss and Main to add these stunning outdoor chairs, and lighting and I love how it turned out!
I was under the impression the lighting only required a socket to light up, my error completely, but when I saw it had to be hardwired I had to think fast! I grabbed a mini chandelier I had on hand and took out the wiring on the wooden one. I then strung the small on through and presto, I had a working light! It is only used when we are actually entertaining, (in good, dry, weather) and we ran the electrical cord through the sunroof on top of the structure to the electrical in our garage. It worked out perfectly and gave our outdoor table a fancy facelift!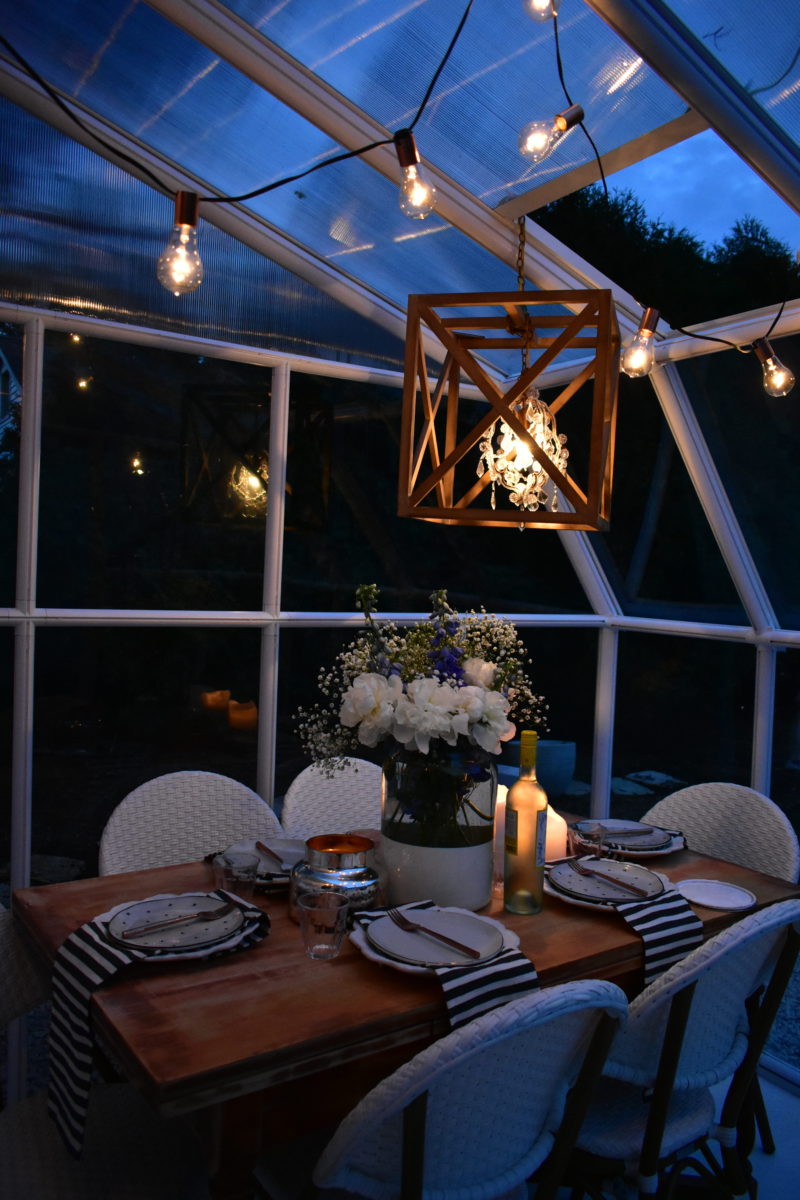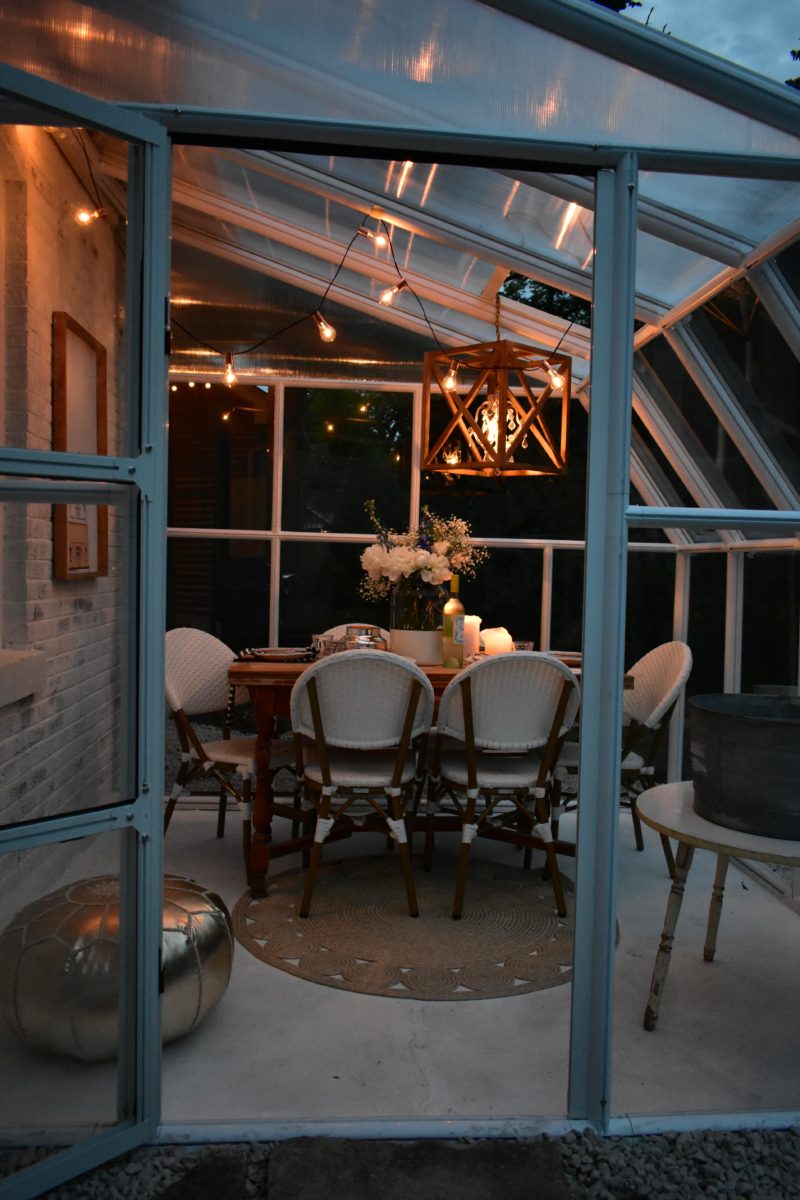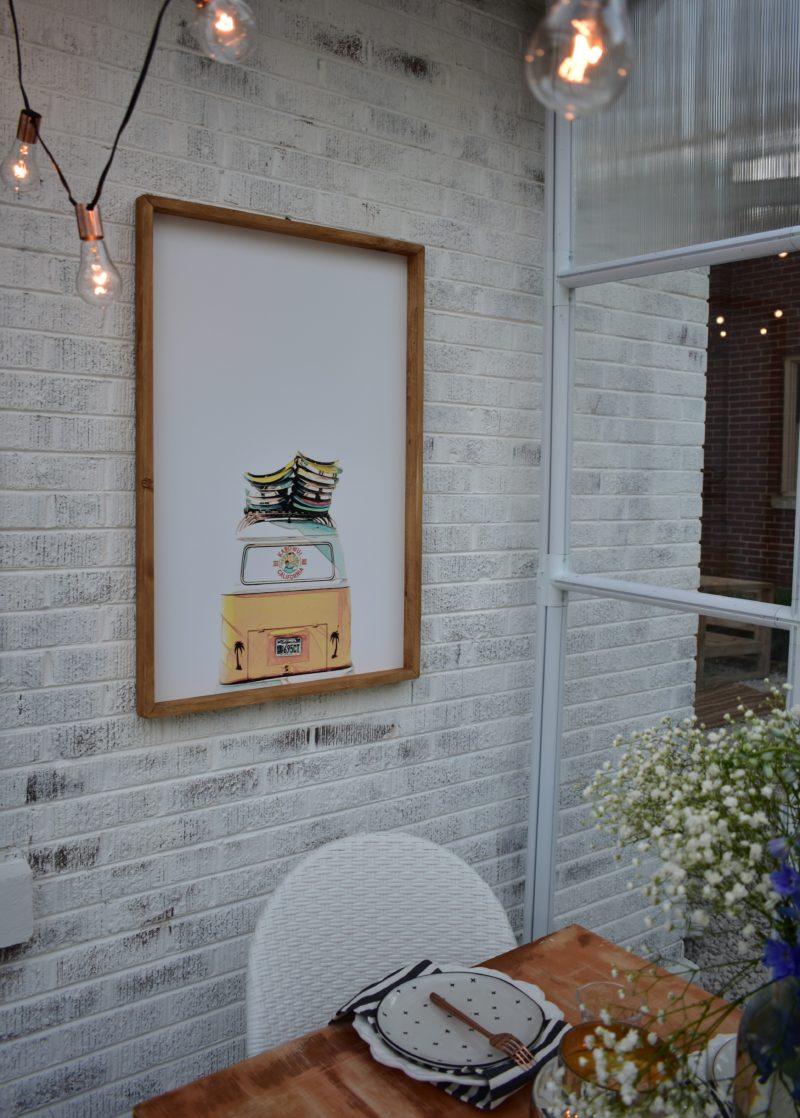 We added in this super cute sign from Sincerely Us shop and I love how it brought that cool summer vibe to the space! Isn't it fun?!
Lastly, we used a variety of dishware that we had, some cute napkins, grabbed some candles, fresh flowers, and the mood was set for a relaxing evening in our twinkly little bubble!
Source list: