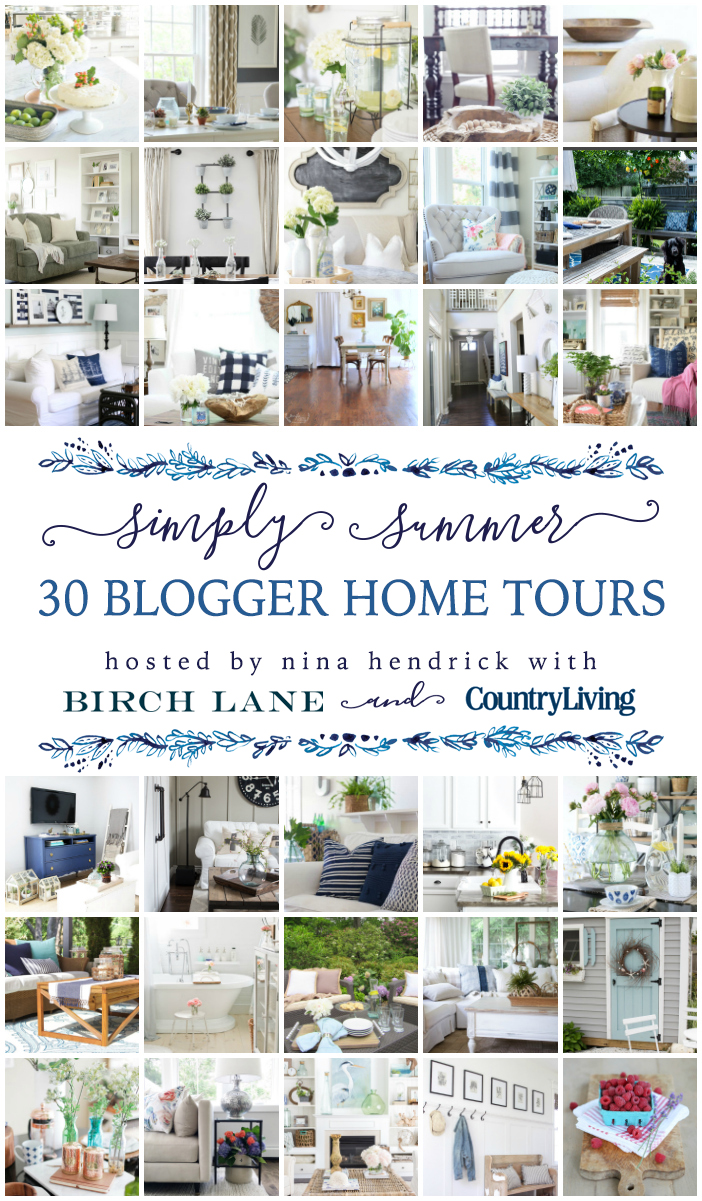 Welcome friends!
I am so thrilled and honored to be participating in the #simplysummertour along with 29 extremely talented bloggers!  Speaking of talent, if you're here from Jen's blog, City Farmhouse, you know exactly what I mean, her tour was breathtaking per usual! A very special thank you to our hosts' Nina Hendrick, Birchlane and CountryLiving for the amazing opportunity! I hope you grab a nice cozy seat and enjoy the tour, we're so glad to have you.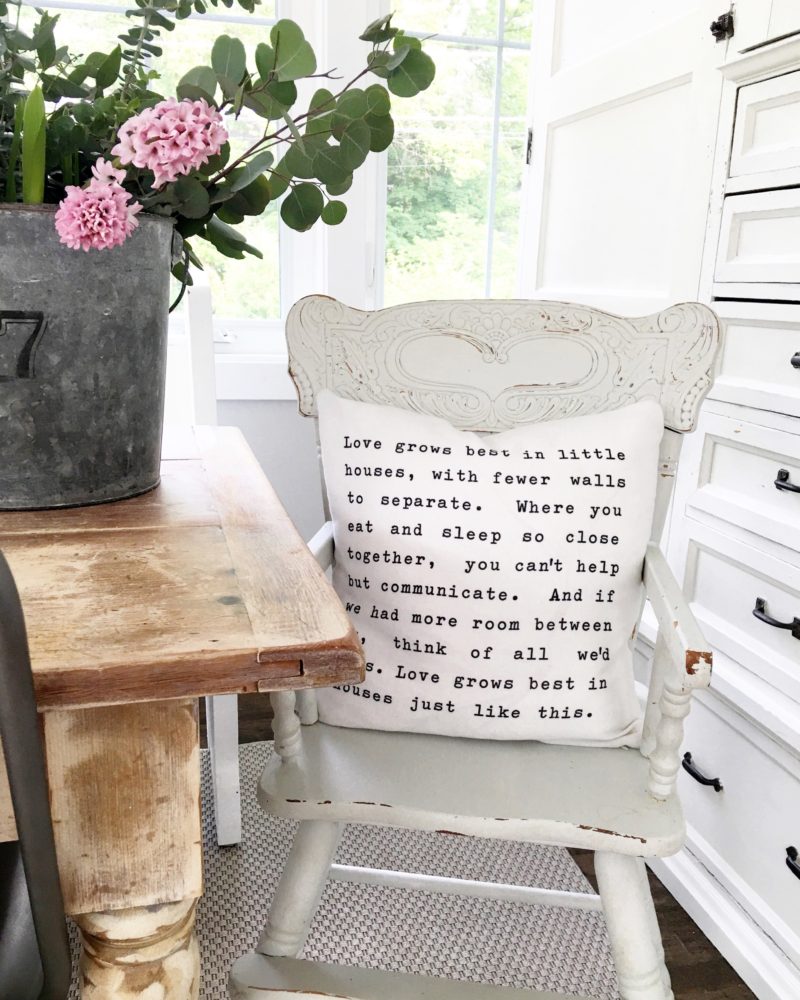 Today we are happy to share with you two rooms in our home that we have been busy updating.  This tour was the perfect opportunity to show off the changes in these spaces that have quickly became some of our favorite places to lounge this summer!  Gorgeous Little Houses pillow by Aedriel, you can find it here!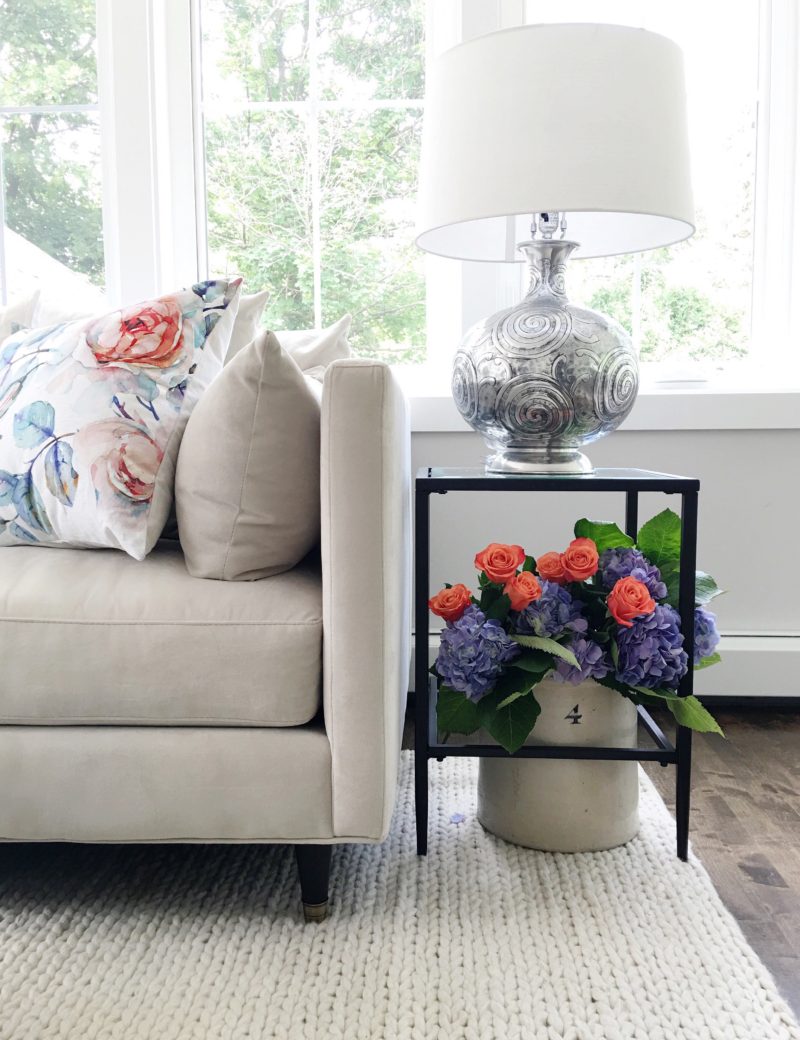 First off, our brand new sunroom/family room.  About 9 months ago we had the unfortunate event happen, where a large city tree fell onto our newly renovated home.  When all was said and done, this situation quickly became a big blessing in disguise!  It gave us the opportunity to create one room in our home from scratch. Given that our home was built in 1921, we kept most all of its old world character aside from the kitchen and stairs, therefore, that meant most of the updates were purely cosmetic.  So I can't tell you how happy I was to create this room for our family and now that it is complete I am even more in love with it than I had imagined I would be!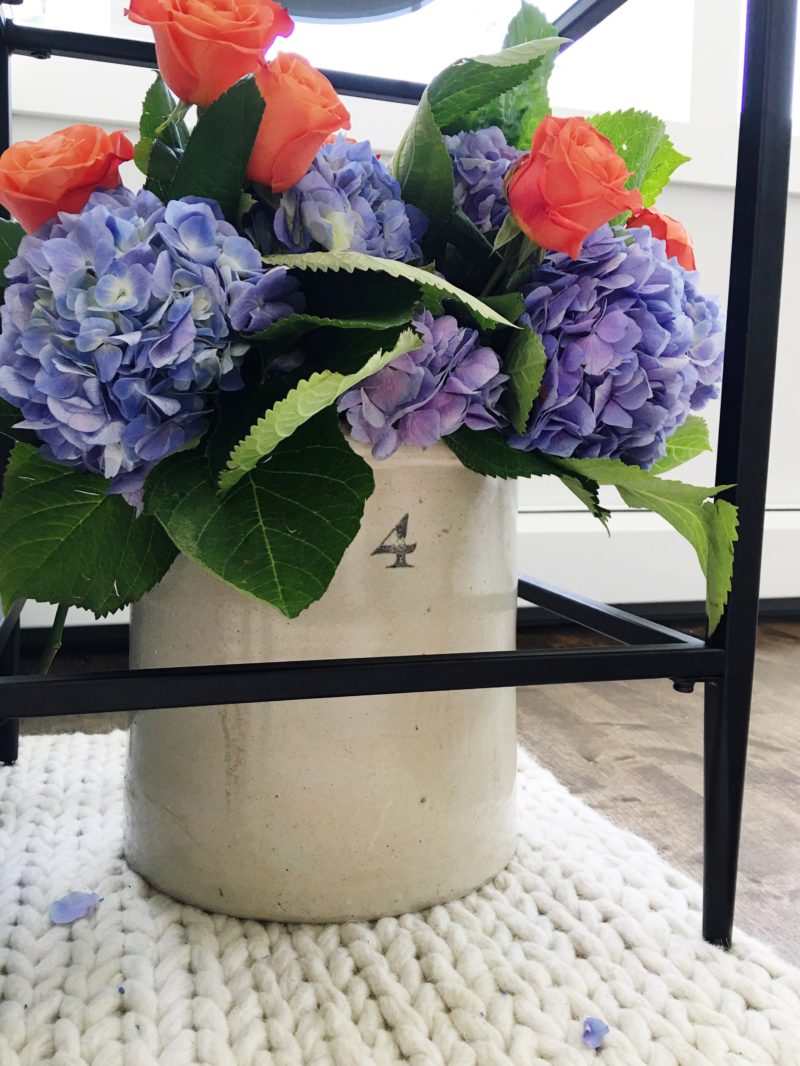 We recently picked out this gorgeous, channeled blown fiber cushions that emulate a relaxed feather and down seat for the ultimate plush sectional from Jonathan Louis Furniture, and we could not be happier with it! (more on this later!) We loved the clean lines and chic look so the search for the perfect side table was on! Needless to say, I knew exactly what I would be searching for with my Birchlane gift card, and when I spotted this beauty I knew it was the one!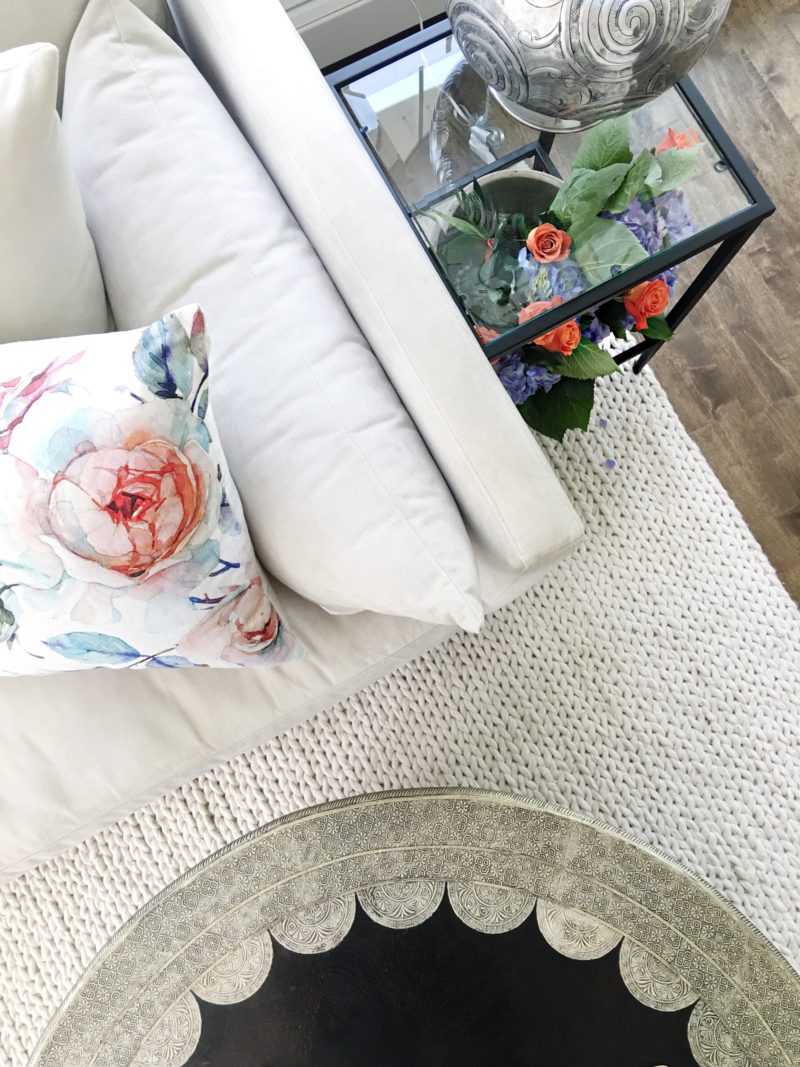 Some features I like best about the Harlan side table are the clean lines and modern style. It is classy and elegant but also simple and sleek which was very important to me since our coffee table is a huge statement piece in the room. I am so pleased with the way the two tables work together and compliment one another instead of competing for attention.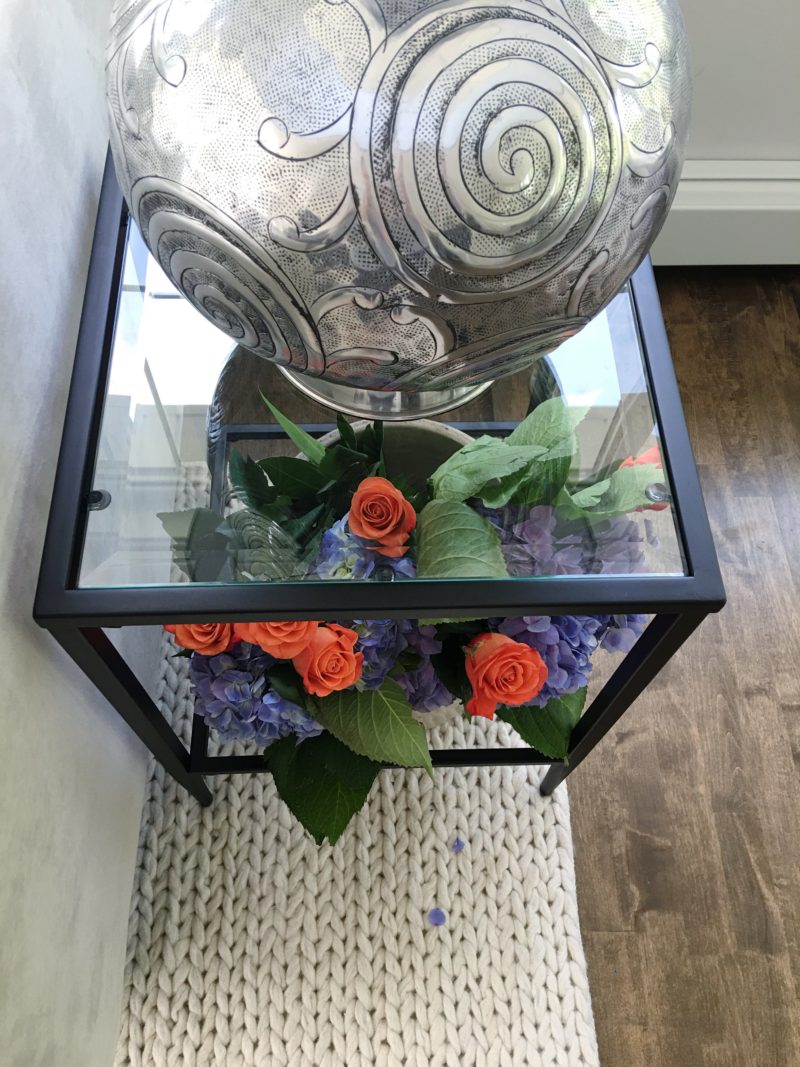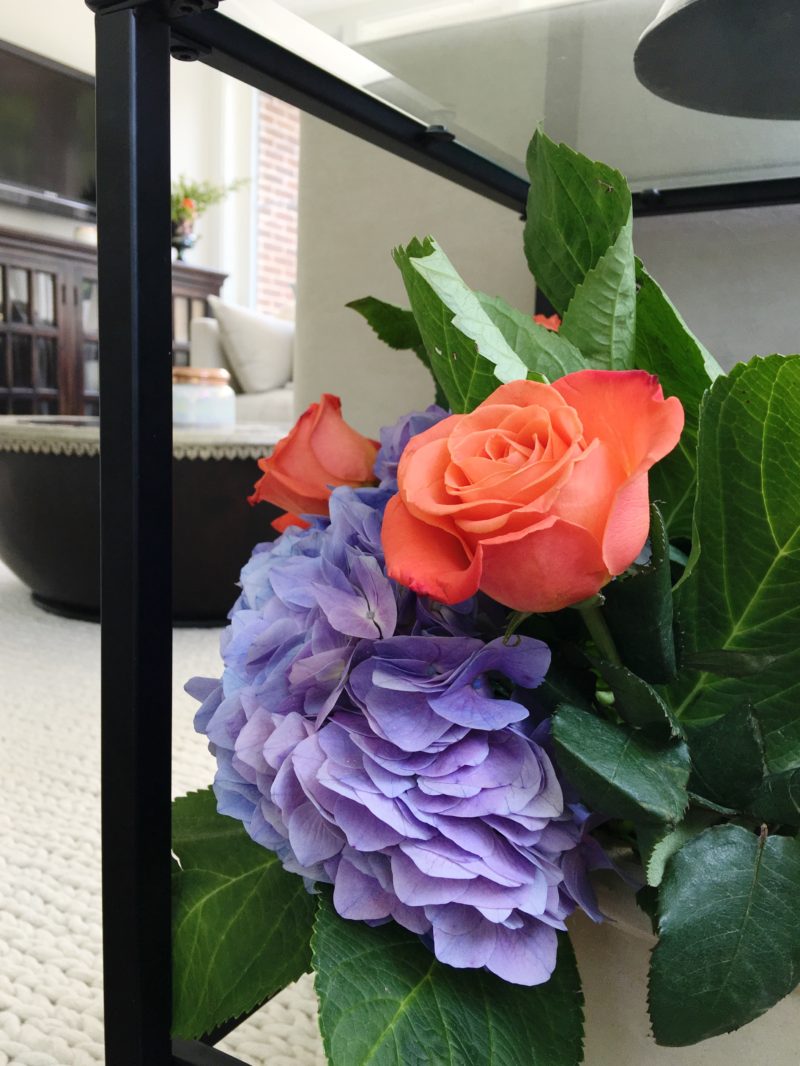 I also love that the side table is tall enough to store items under!  And well since this is a summer home tour I figured what better to showcase under our glass table top than some summer blooms!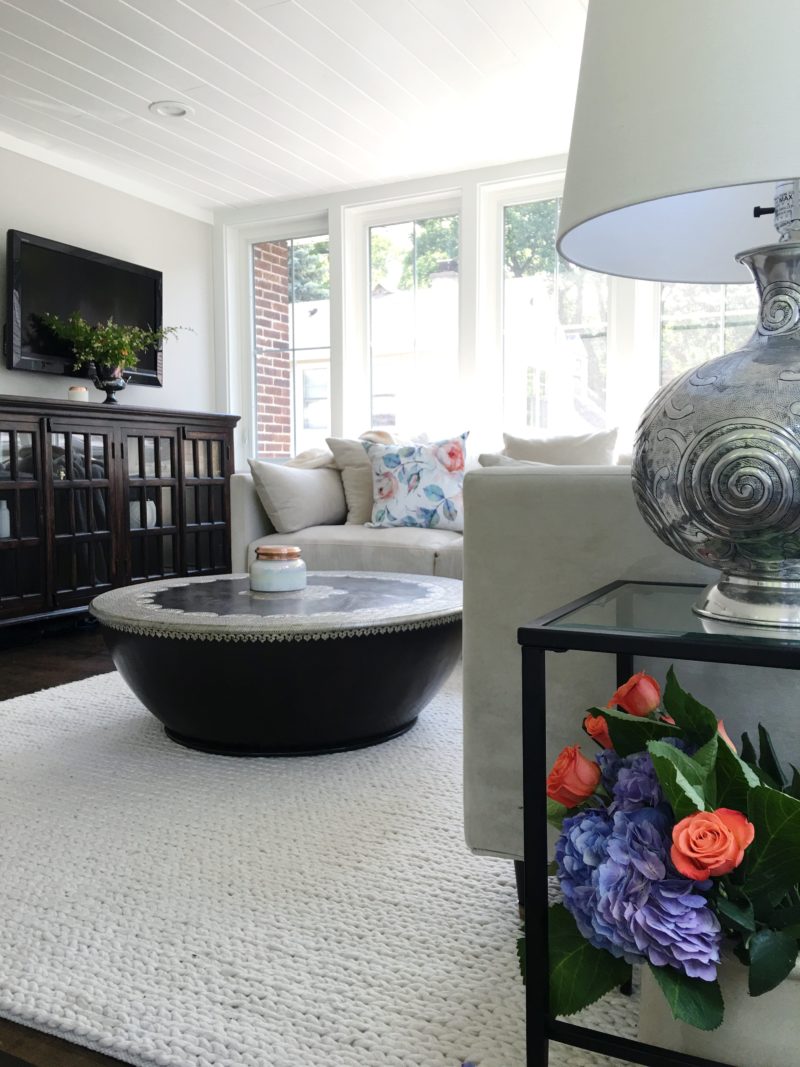 Speaking of blooms, I chose these ones especially to match our lovely new pillows from Jolie Marche!! Aren't they simply breathtaking??!  I can't get enough, I adore her prints so much I want them in every single room!  Not to mention, they are such great quality.  Bringing fresh, fun patterns into the space really lightened it up and gave it an overall sense of summer that makes me so happy!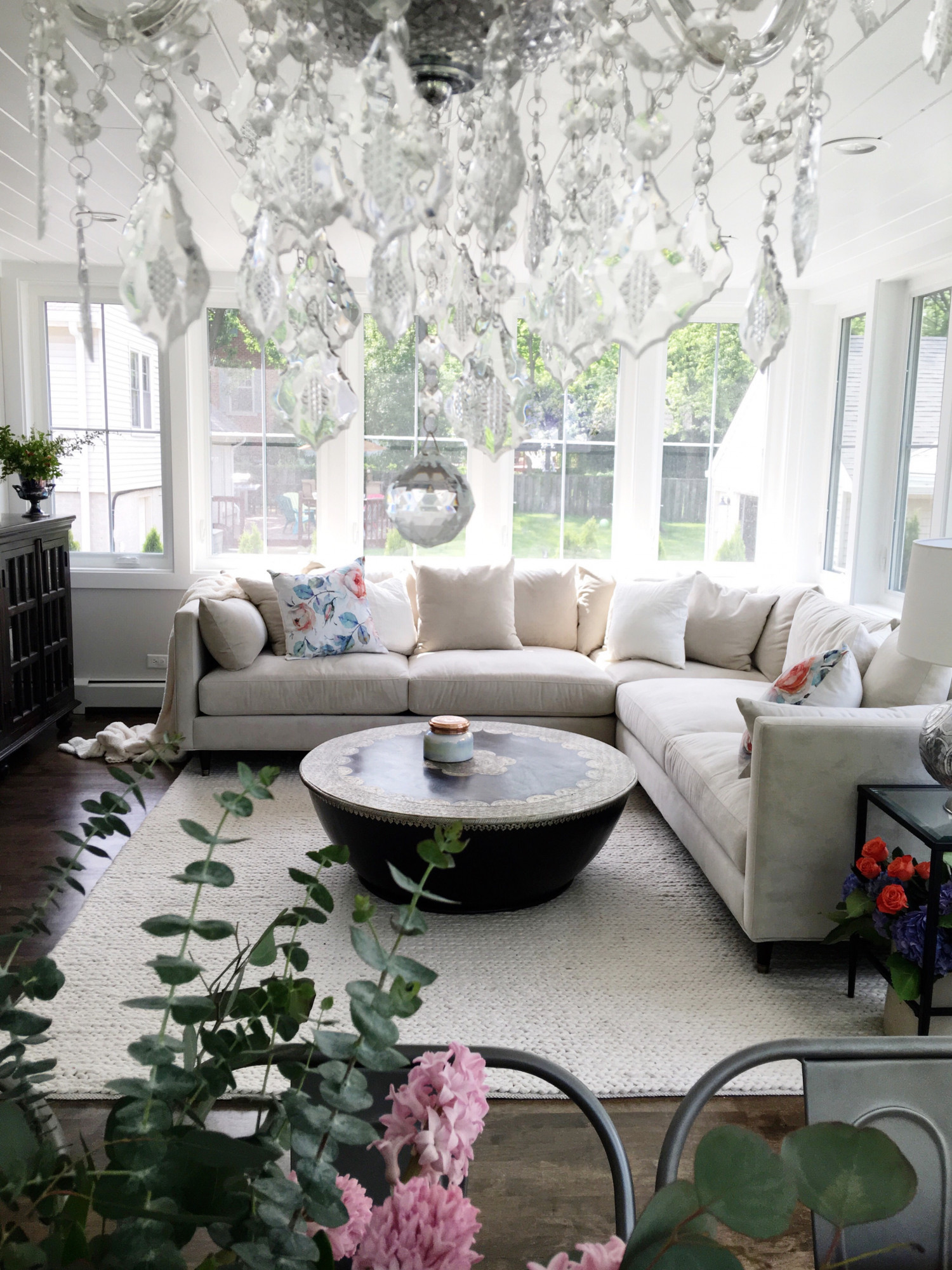 Our Anthropologie drum shaped – coffee table is complete with unique metal accents that add unexpected charm to the room.  It is one of my all time favorite pieces! You can also find the braided, wool rug here.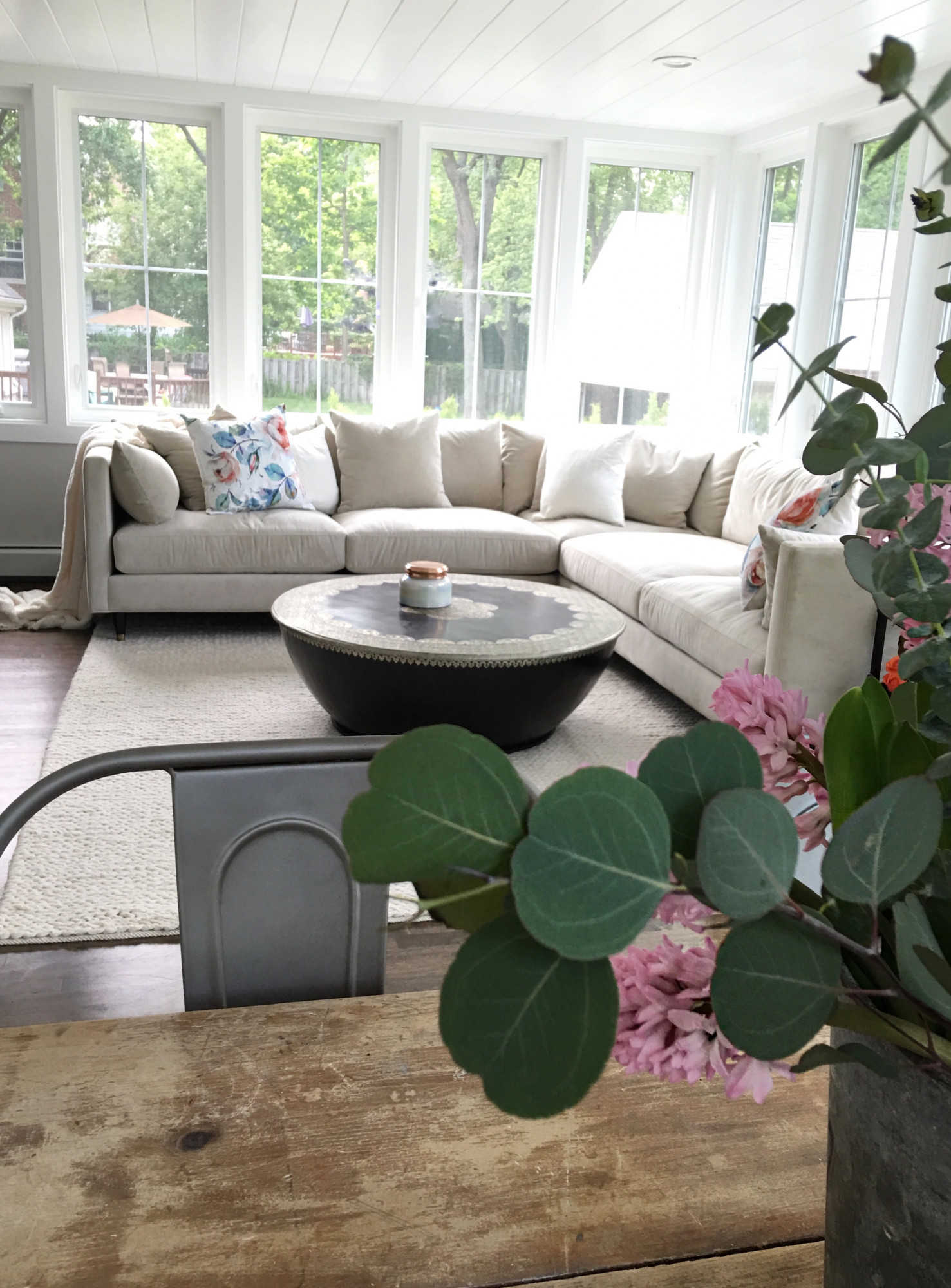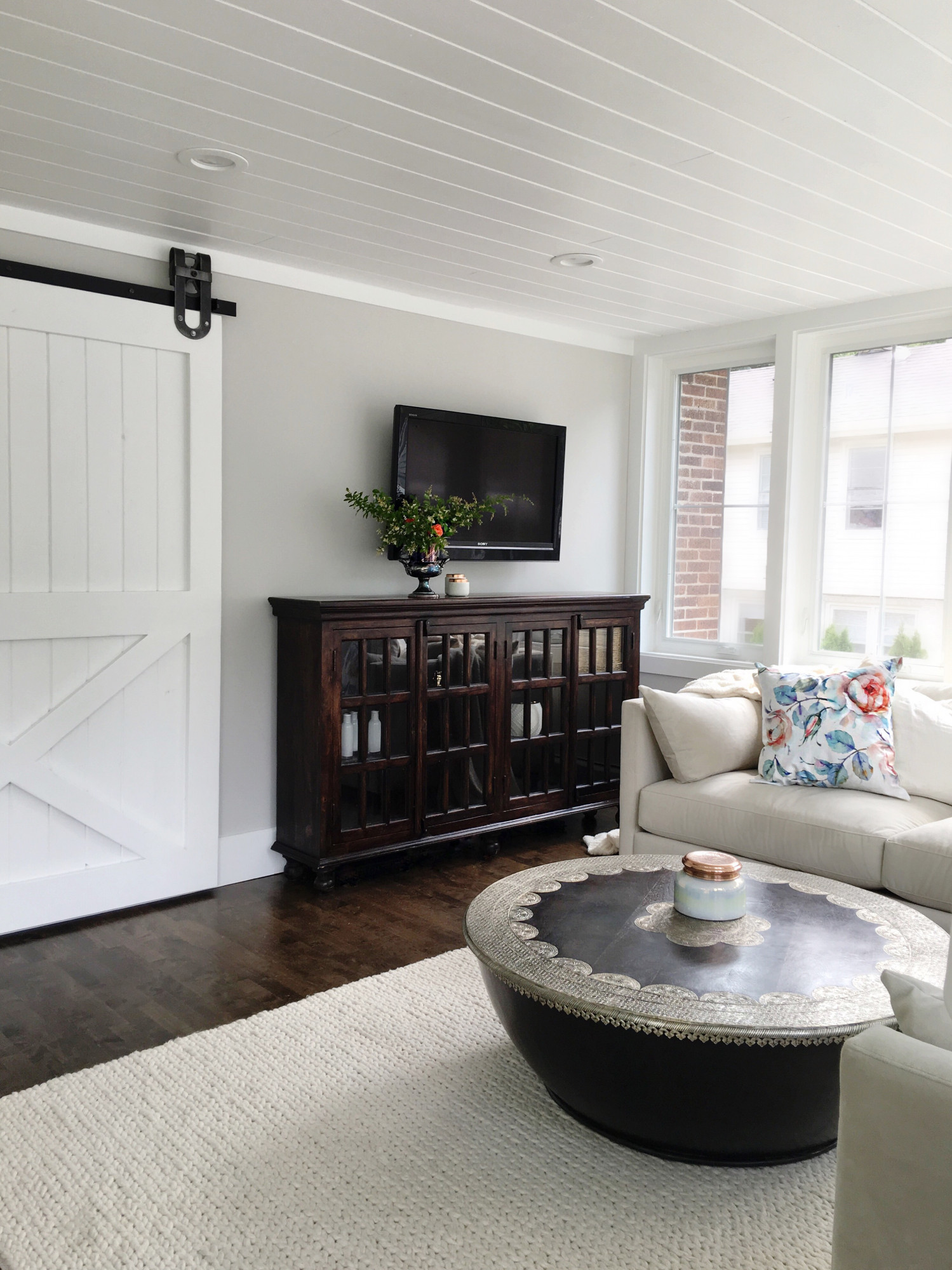 Recently my mother gave me this planters hutch from my childhood home.  It means so much to me that I now have a piece of my home then in my home now.  This hutch is gorgeous and although it isn't your traditional tv console I think its perfect! Now all we need is a new television! 😉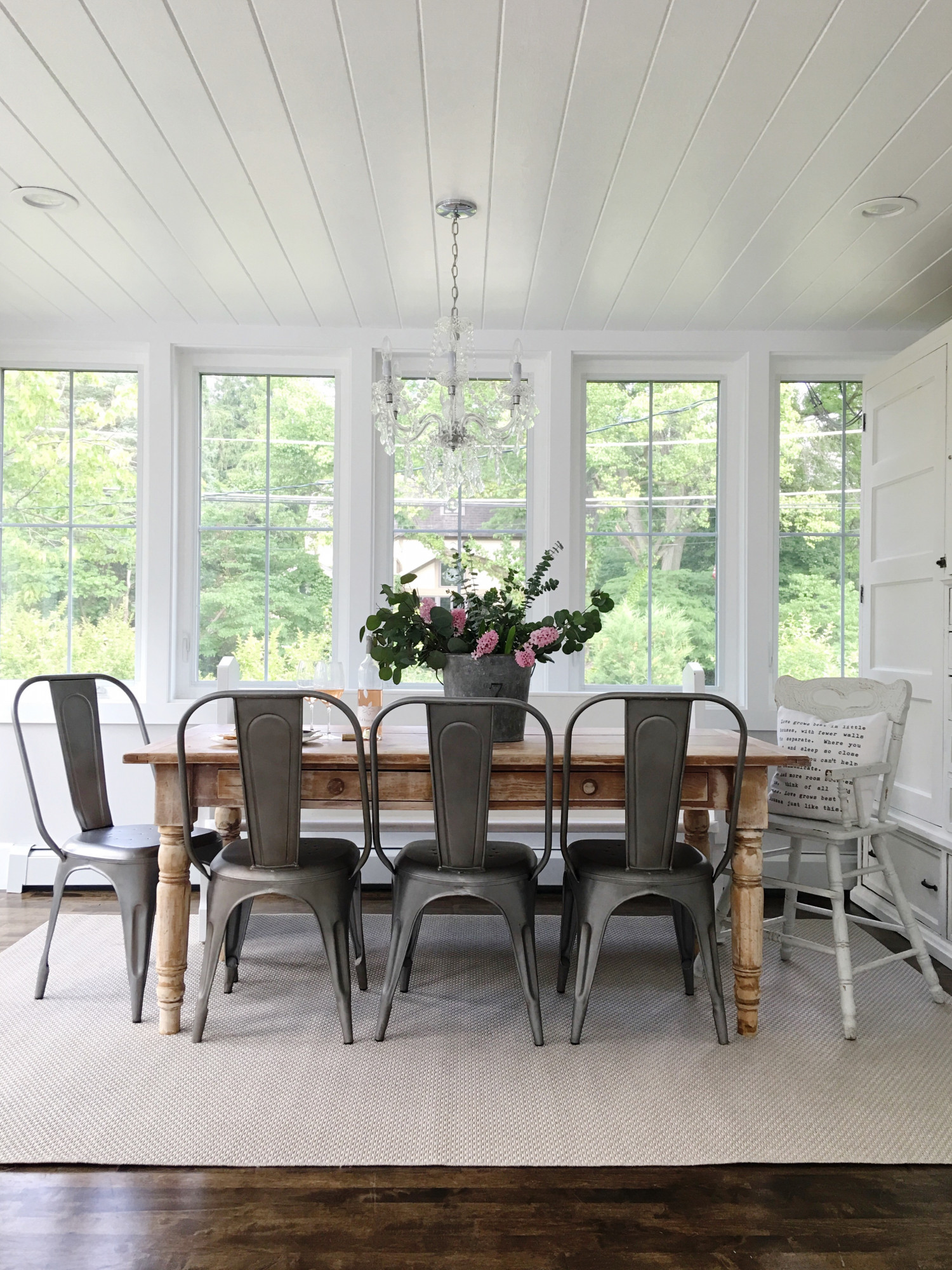 Across the room we have a farmhouse table we recently refinished that we use for casual, everyday dining.  I love that we now have a space to gather to eat, play games or have a girls' night with friends that is separate from the rest of our home.  All we have to do is pull the barn door closed and whala an instant sound barrier for sleeping babies!  It's the little things. 🙂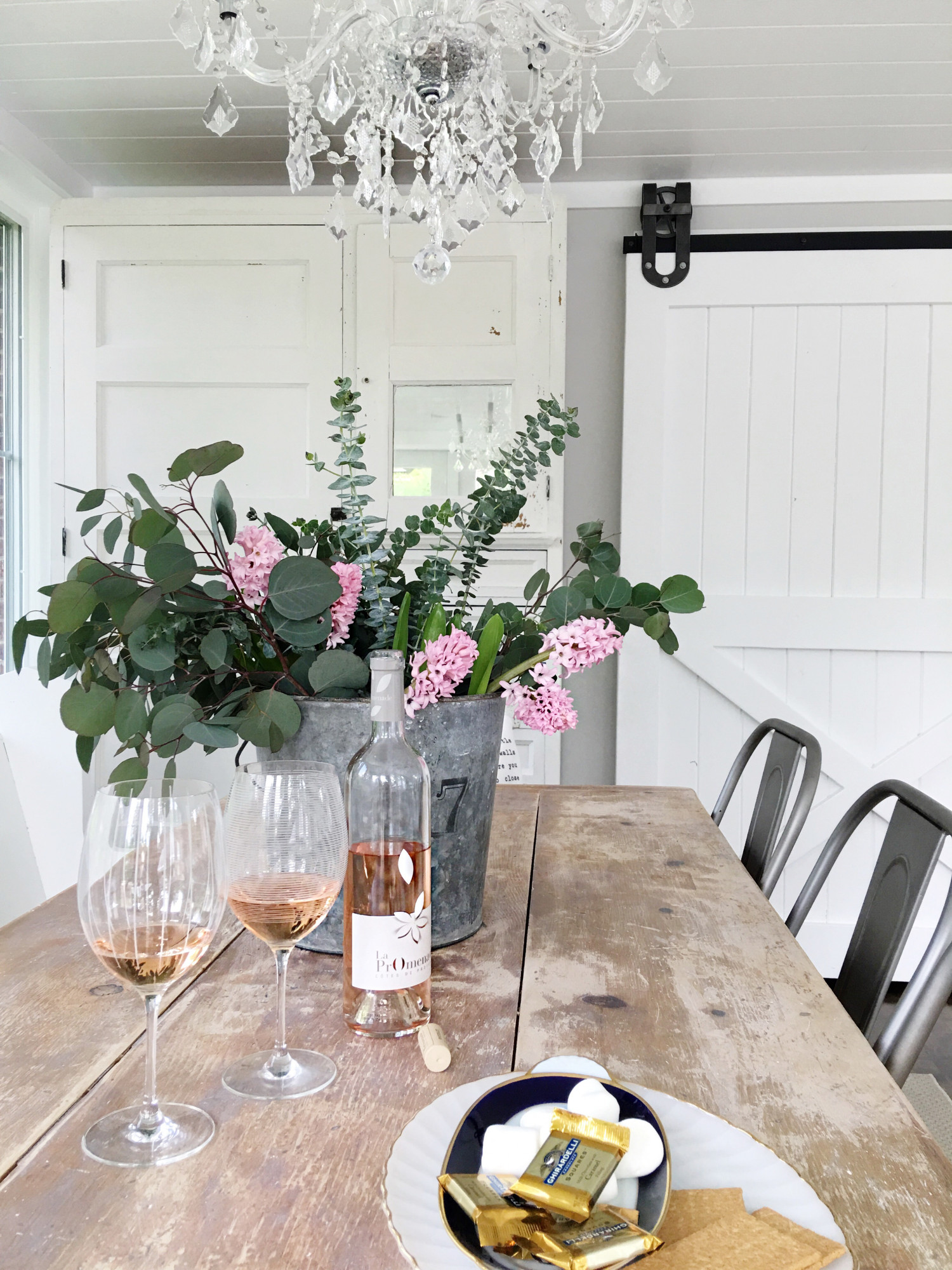 Beautiful barn door is from White Shanty Designs.  Handmade and handcrafted in the USA with such great craftsmanship!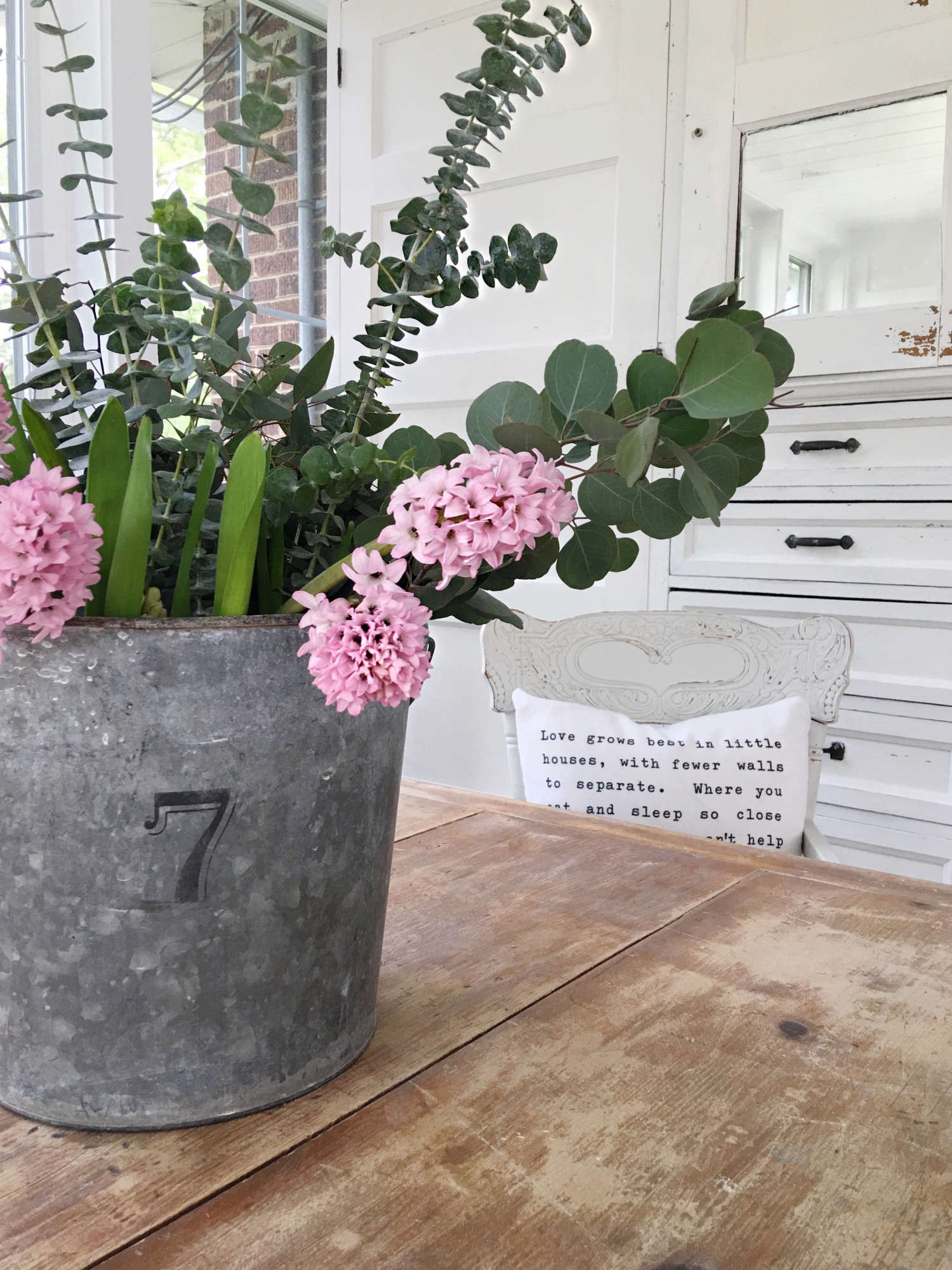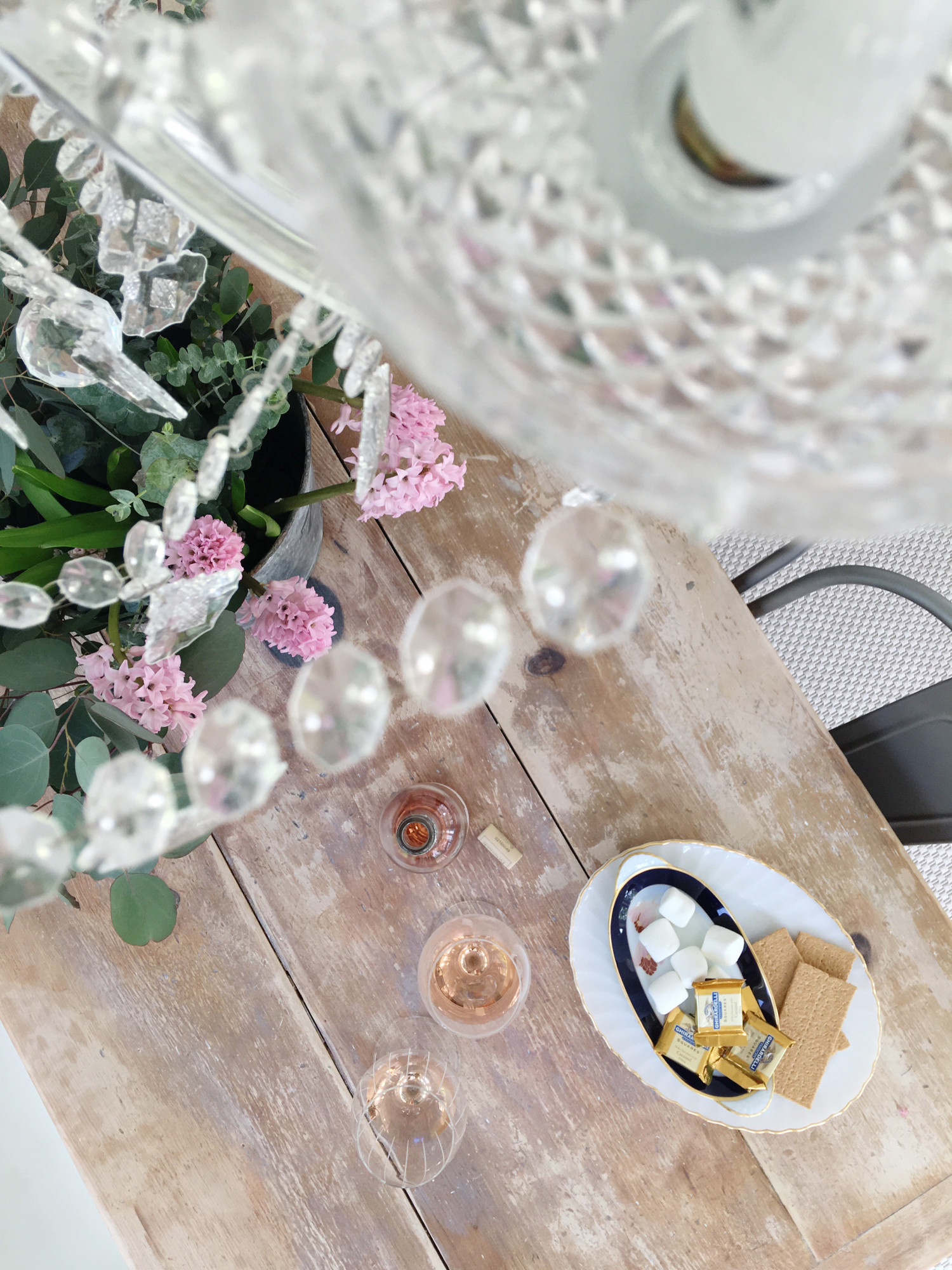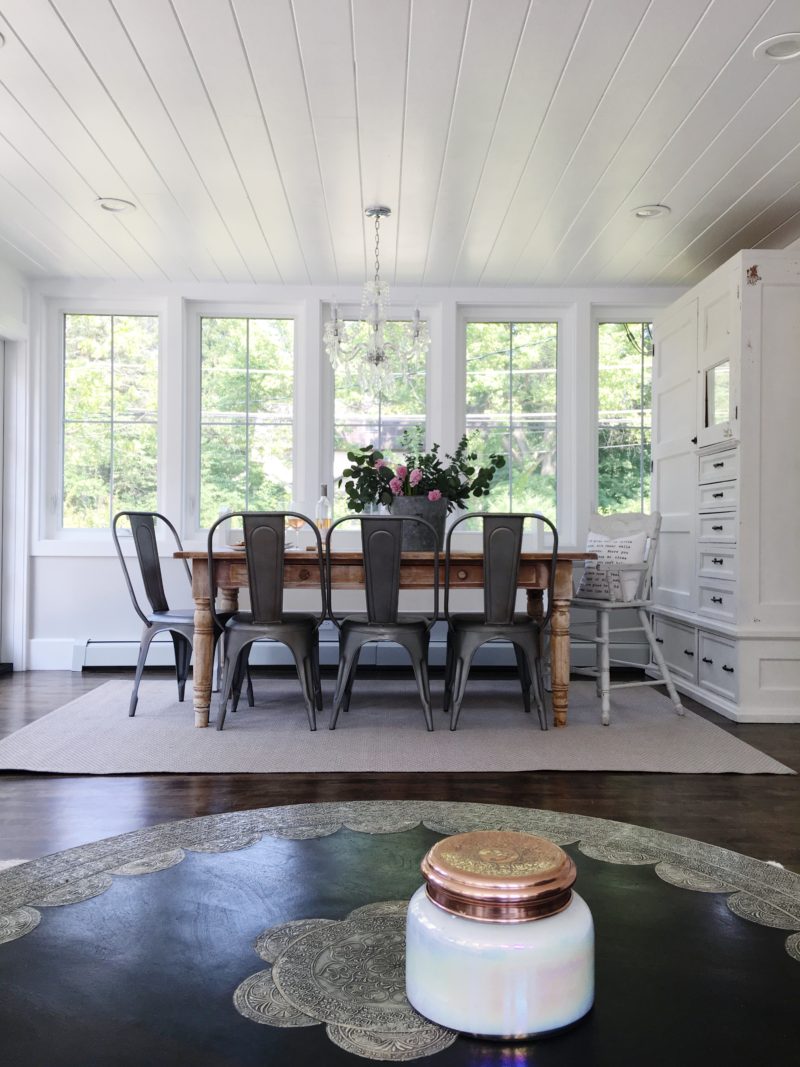 Next on our summer tour is the playroom!
We have several fun new items in here that complete the room, one of them being this beautiful handmade hammock from HammockChair.eu.  It is the perfect lounging spot for our three and five year old daughters and it is so spacious that they both climb up and swing together!  It is also the best nook for mom and dad to read stories to the littles!  We can't say enough good things about it!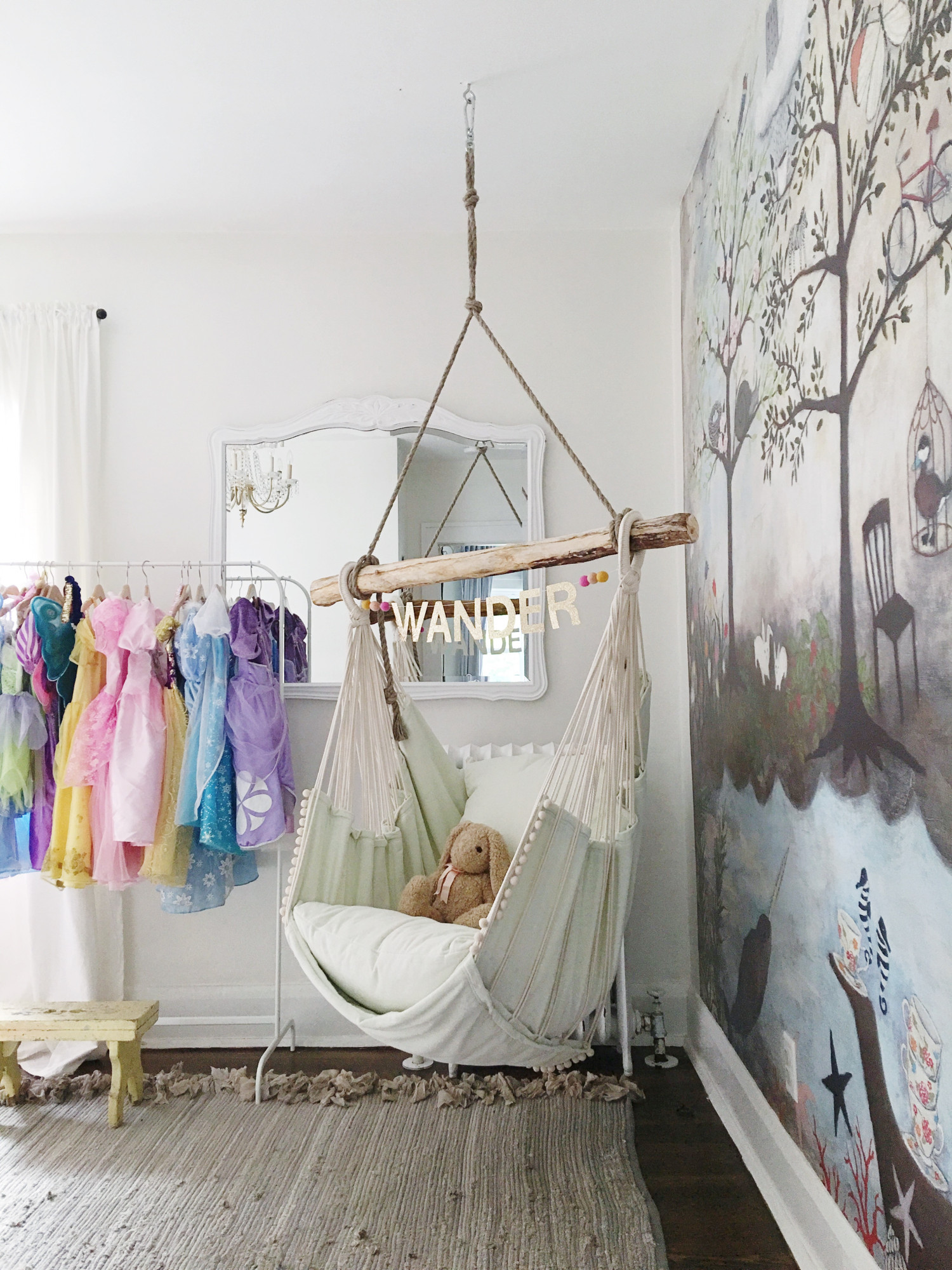 Enchanted Forest Mural is from Anthropologie, Wander banner is from HoorayEveryday!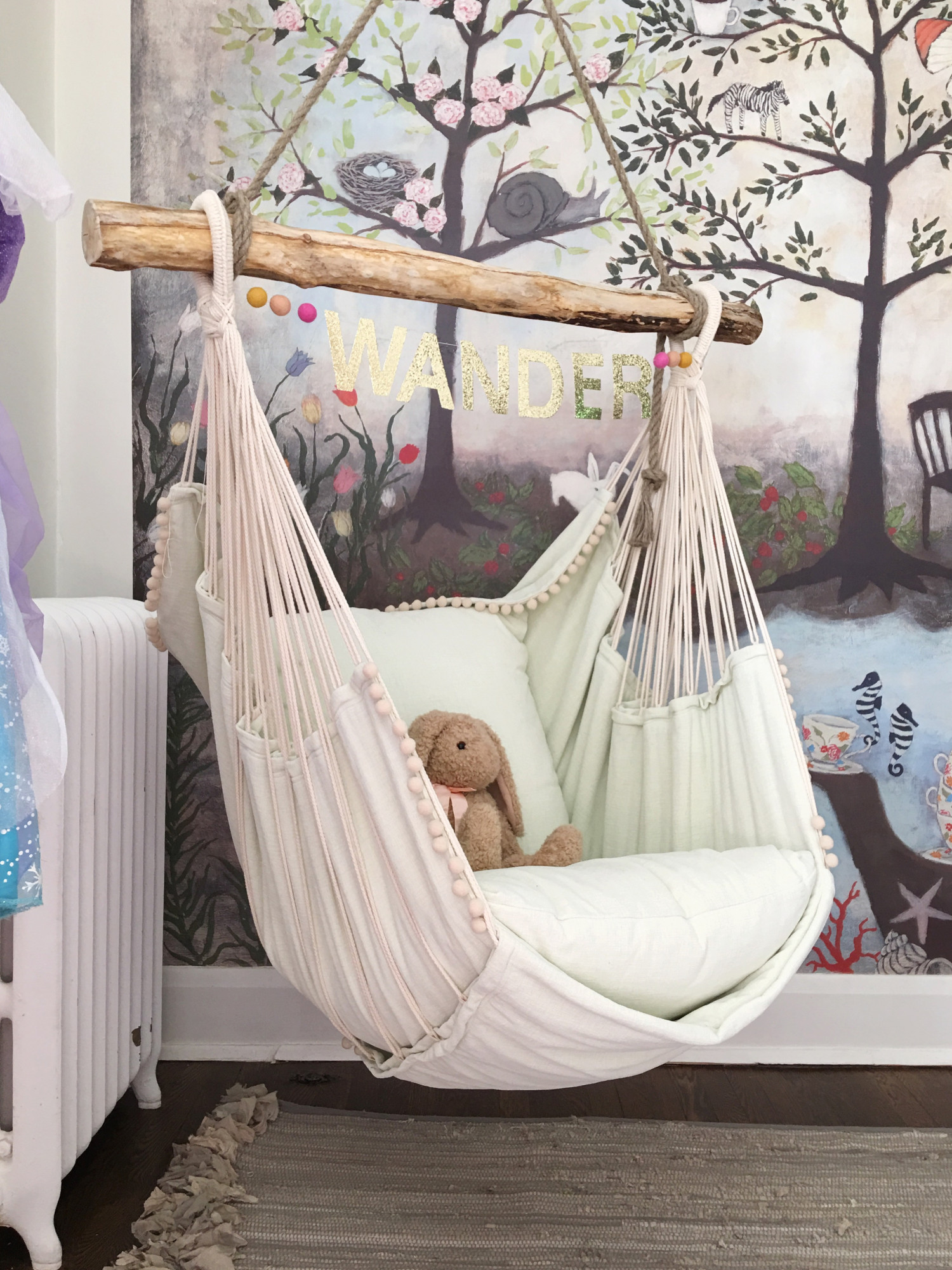 During the playroom makeover one of my goals was to find toy organizers that were not only easy on the eyes but also functional!  I cannot tell you how many ways I have tried to keep this space tidy with bins and chests that simply didn't work.  These toy organizers from Ikea have been a major game changer!  The top bins are used for craft supplies, paints and markers, you know the things we try to keep out of little hands reach without adult supervision! And the bottom bins are those that the girls' can easily pick up their toys after play and toss them back where they belong.  (Now if I could only get them to do that we would be set! haha!)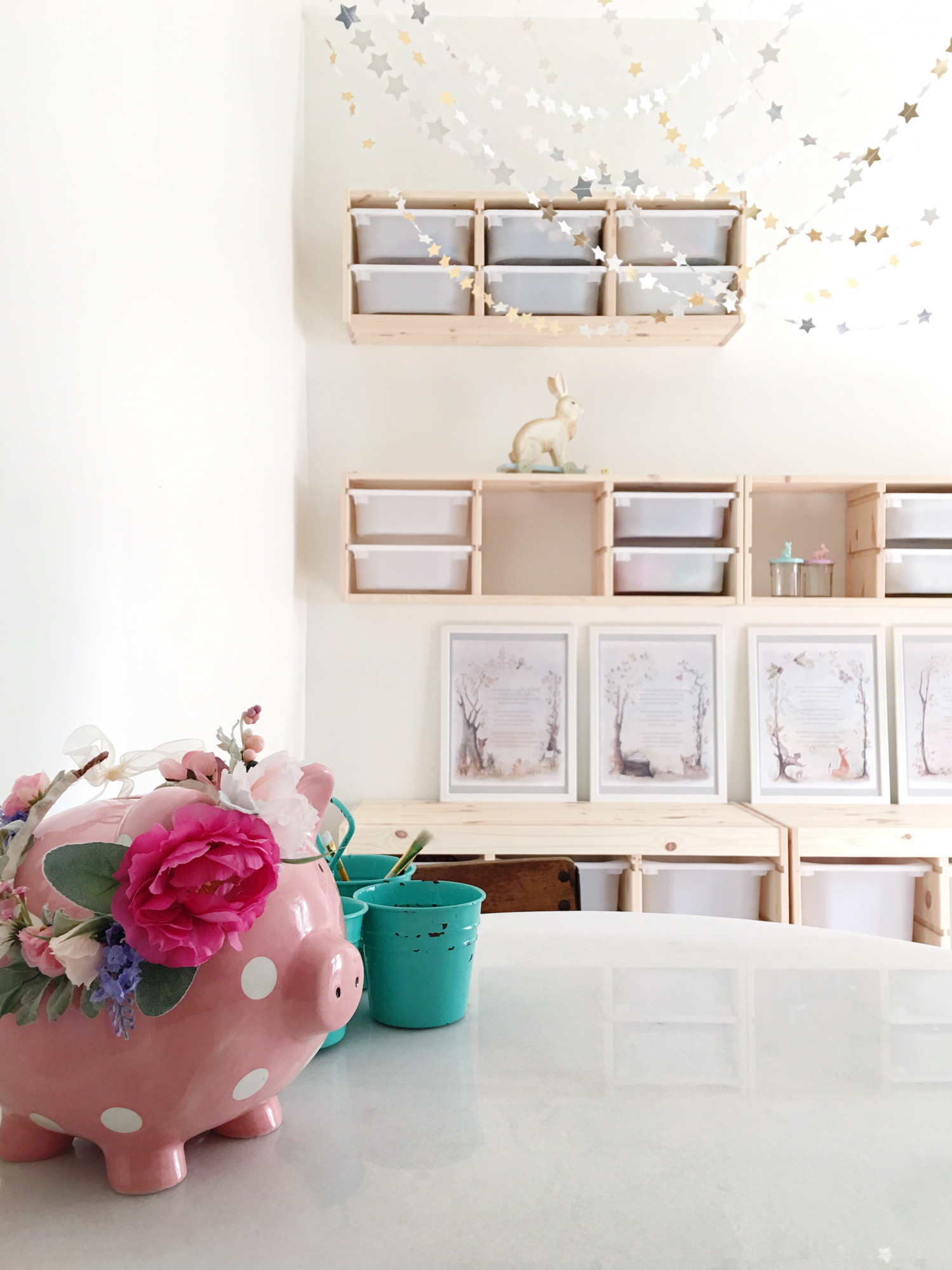 The darling Farytale pictures are from Dear Lillie and we adore them! The storyline is written by Jamie at Bluestonehill and illustrated by Lucy at Craftberry Bush.  What a talented bunch of ladies' right there!  I looked and looked for art work for this room that complimented the mural and came up short every time!  That is until I saw these sweet prints and instantly fell in love with not only their look but their whimsical message!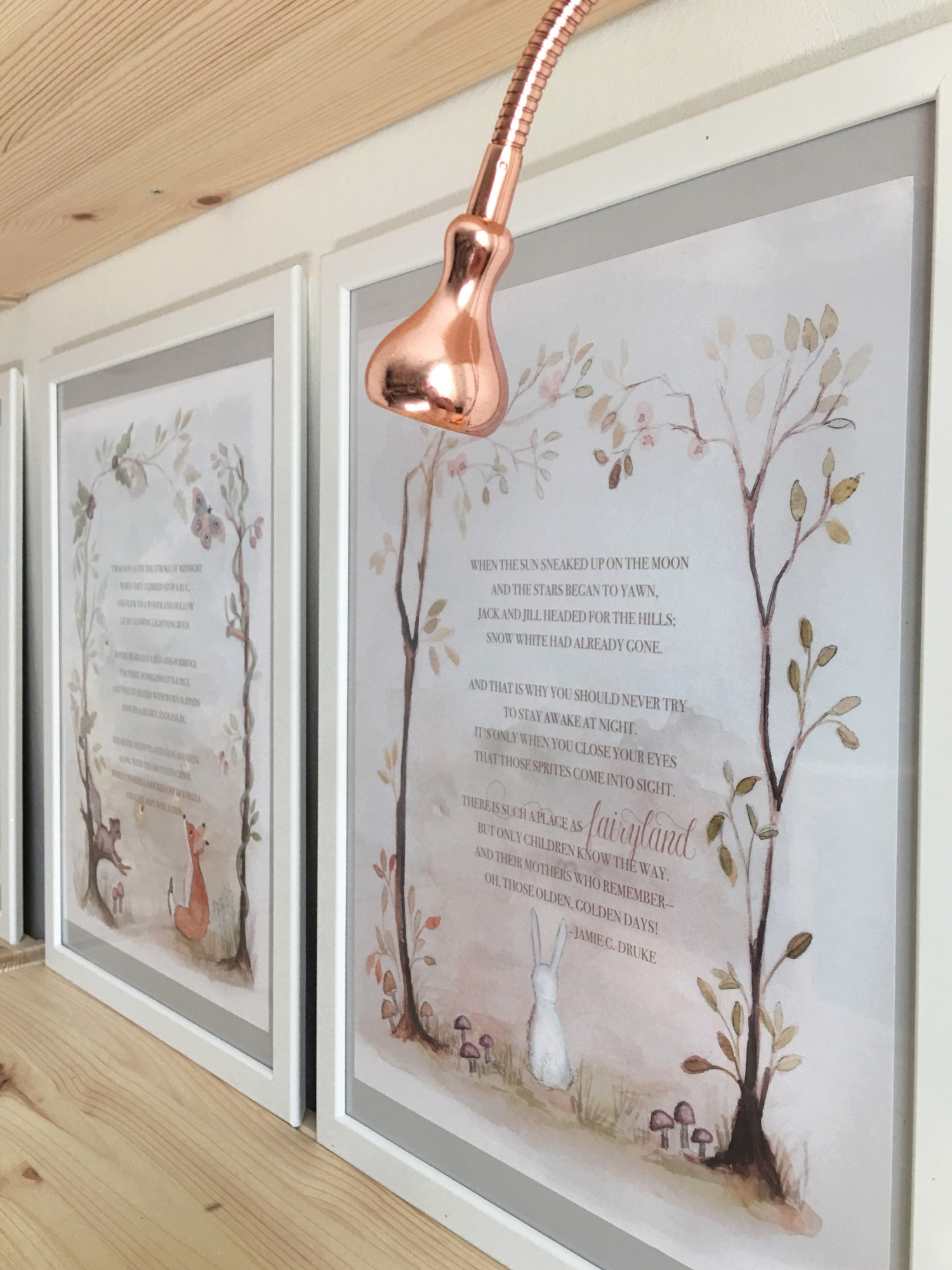 To give these Ikea organizers a bit of flair we used furniture legs made especially for Ikea pieces from Prettypegs.  They were so easy to install, such great quailty and they look terrific!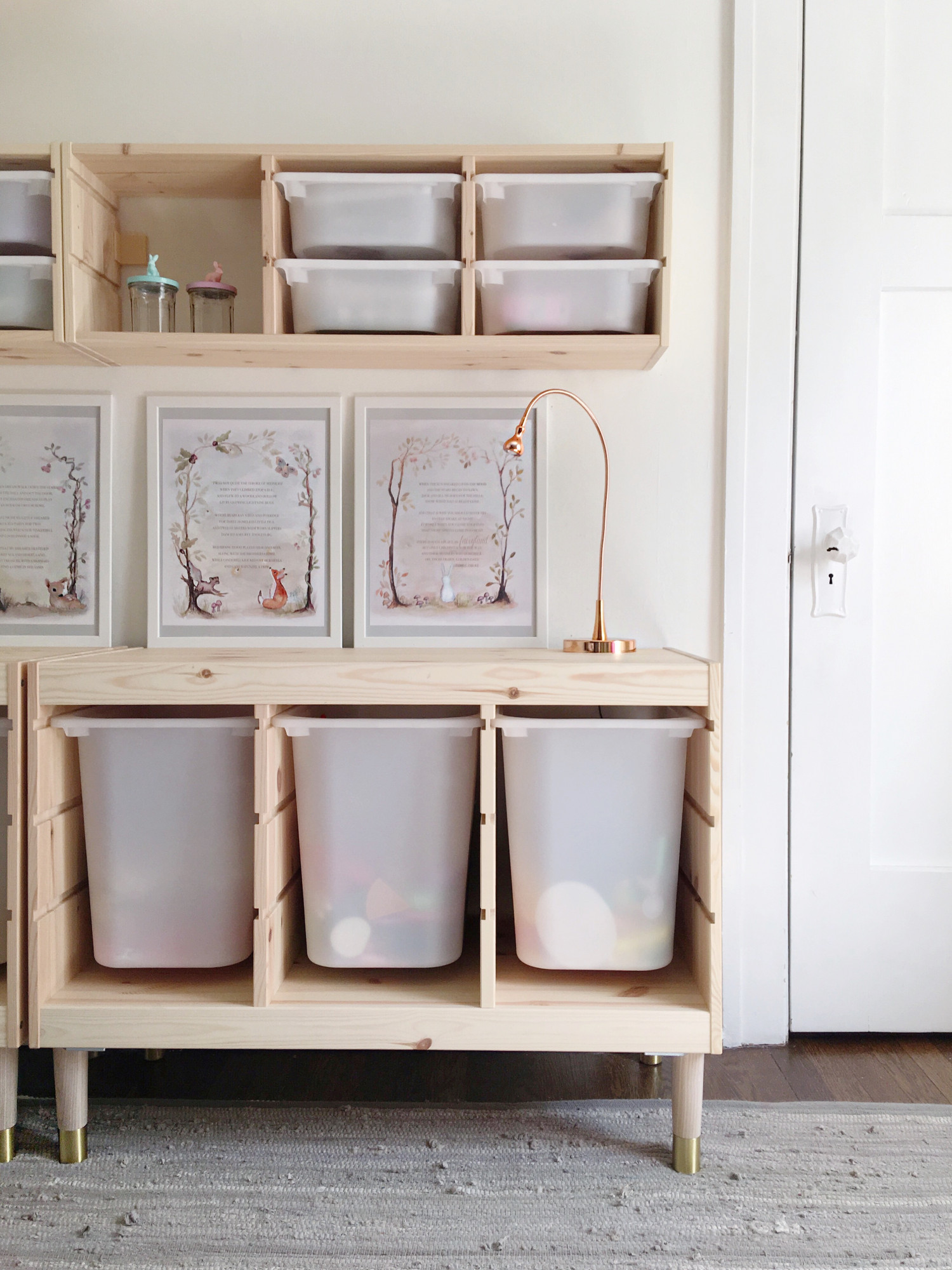 We loved having you this morning and we hope you enjoyed visiting just as much!  Now I am off to grab some coffee and join some little girls in the hammock swing! Wishing you a blessed day! xoxo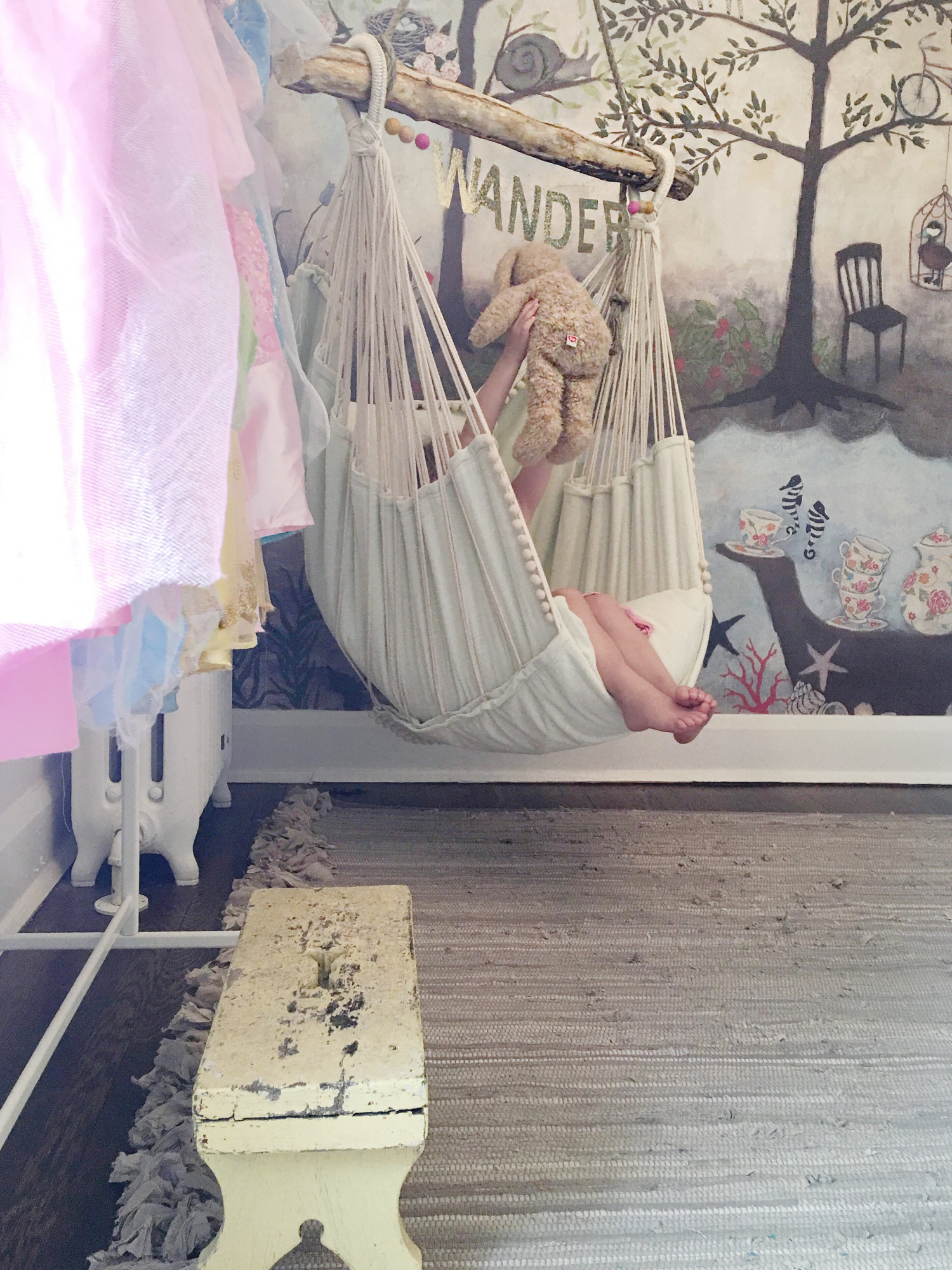 And don't forget to visit Amy at The Blissful Bee next, you know it will be worth it!  So much eye candy yet to come! 
Monday

Nina Hendrick | Maison de Pax | Cherished Bliss | AKA Design | A Burst of Beautiful | Liz Marie Blog
Tuesday

Migonis Home | So Much Better With Age | Zevy Joy | Just a Girl and Her Blog | Shades of Blue Interiors | Making Home Base
Wednesday

Rooms FOR Rent | The Wicker House | Bless'er House | Love Grows Wild | Finding Silver Pennies | Design, Dining + Diapers
Thursday

Craftberry Bush | Jennifer Rizzo | The Wood Grain Cottage | Ella Claire | Tidbits | City Farmhouse
Friday

Kindred Vintage & Co | The Blissful Bee | The Happy Housie | House By Hoff | Nesting With Grace | Life on Virginia Street