---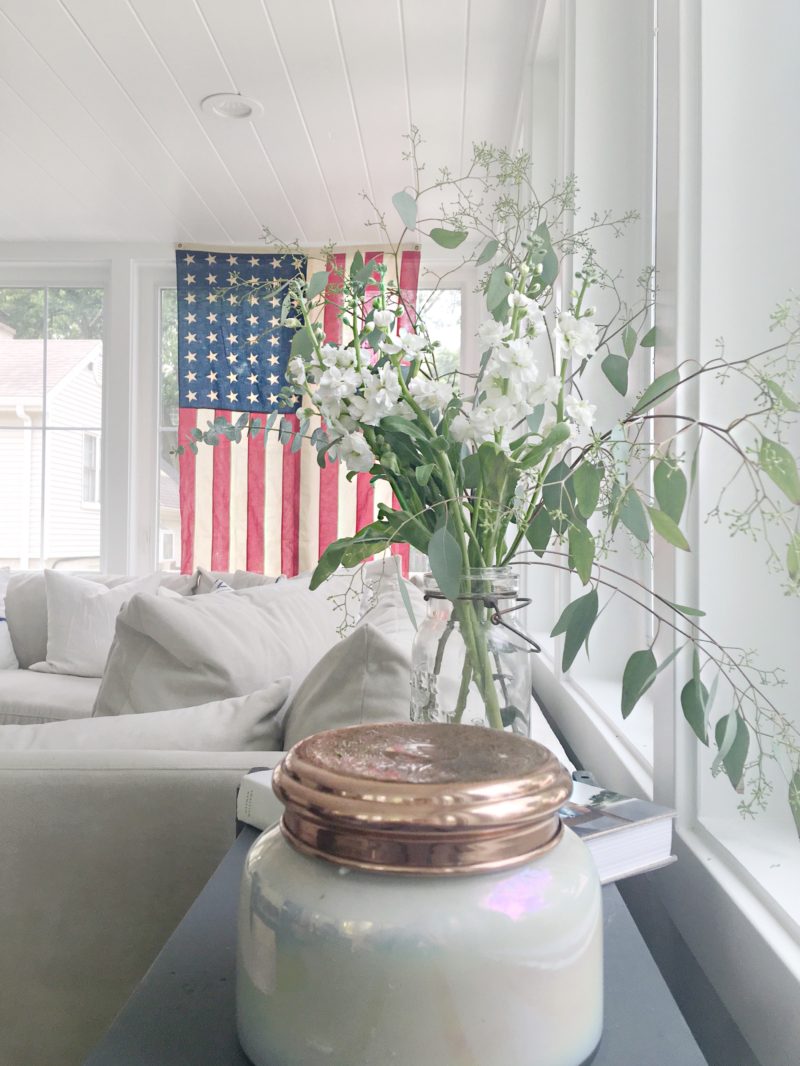 A few months ago when we finished up our new sunroom/ family room I was so excited with the finished product although I'm glad for the construction to be completed. The process was fun yet tedious since I was able to design the entire room from scratch, a challenge that was both exciting and intimidating! I worked with an architect and a contractor to bring my vision to life and I am so pleased with the way it turned out! Choosing everything from the maple floors, to the sixteen large windows, from the double French doors, to the planked tongue and groove ceiling, you name it, I had a hand in it. When it came time for us to inspect the final product we were so pleased. It was totally a space to be proud of! But more so than being pretty it was a space that fit our family's needs; a space that was bigger than style, because it was a space that was ours, it reflected us, it was home.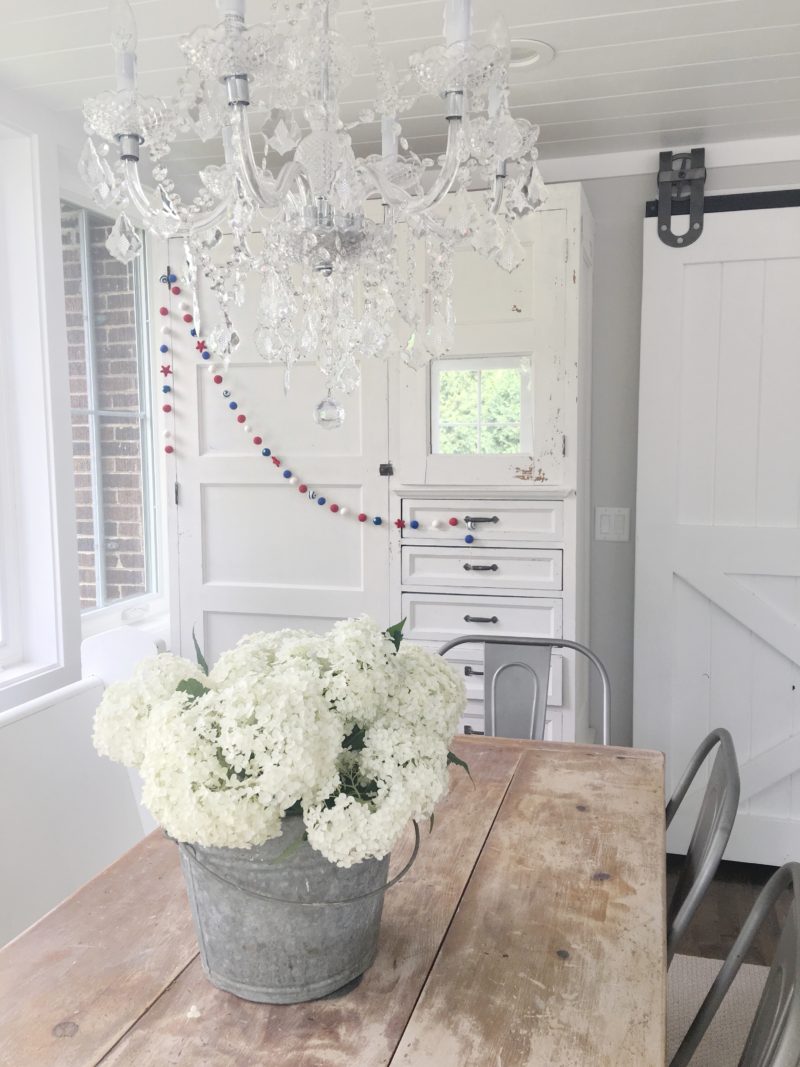 After all the dust cleared I couldn't wait to start the really fun stuff, the stuff that makes my heart race – you guessed it, it was time to decorate! Since this room is the biggest and brightest in the house I knew it would be the most used. I decided to split the room into two separate sections. One section with a farmhouse table for casual everyday dining and one section with a couch and television to use as our family room.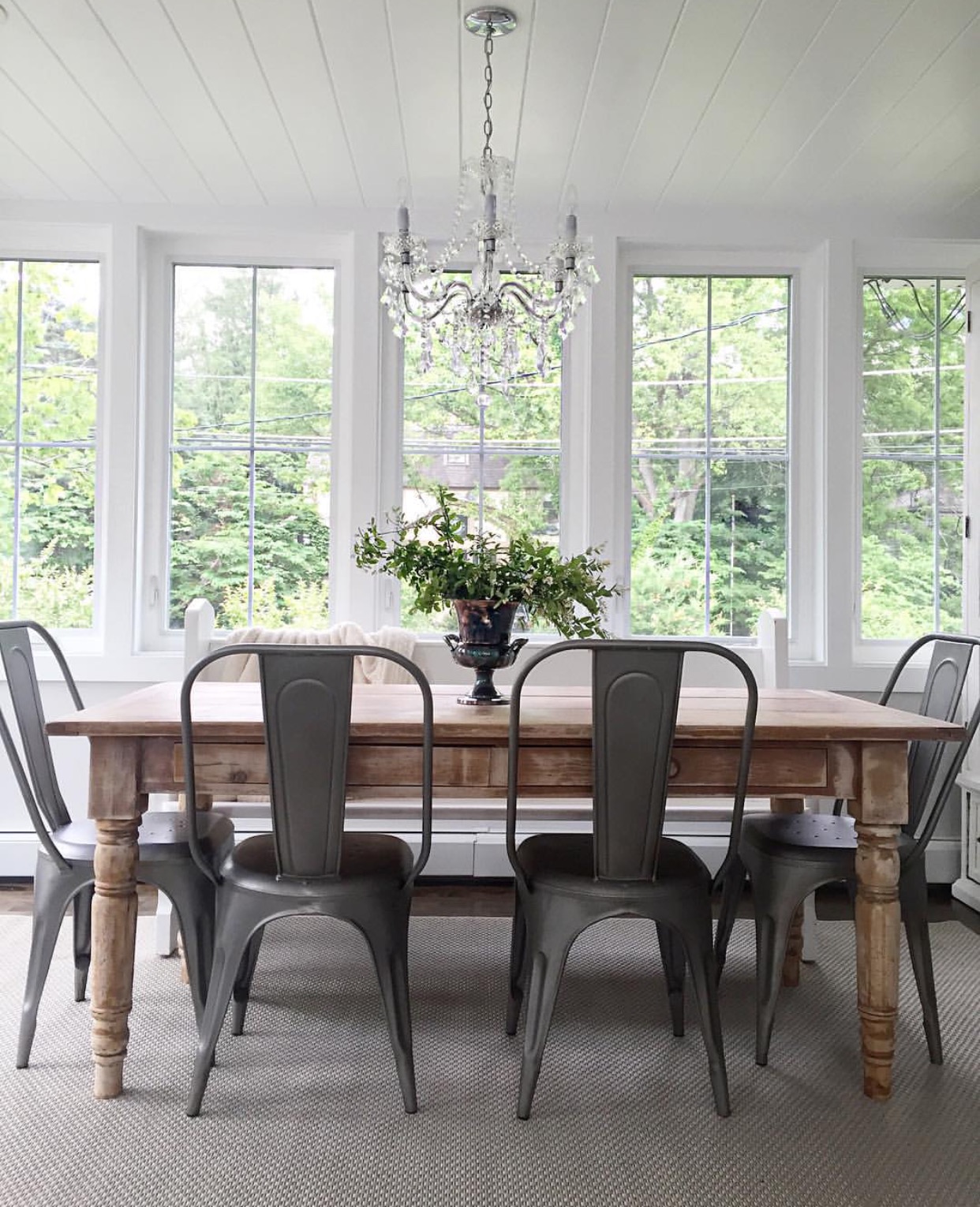 The farmhouse table was a craigslist find from the cutest little town just a few miles away. Once we refinished it it was a perfect addition to the space. The metal chairs are from Restoration Hardware and the bench is actually an old church pew my husband painted from a thrift shop. That part of the room came together fairly easily so now it was time to move onto the family room portion!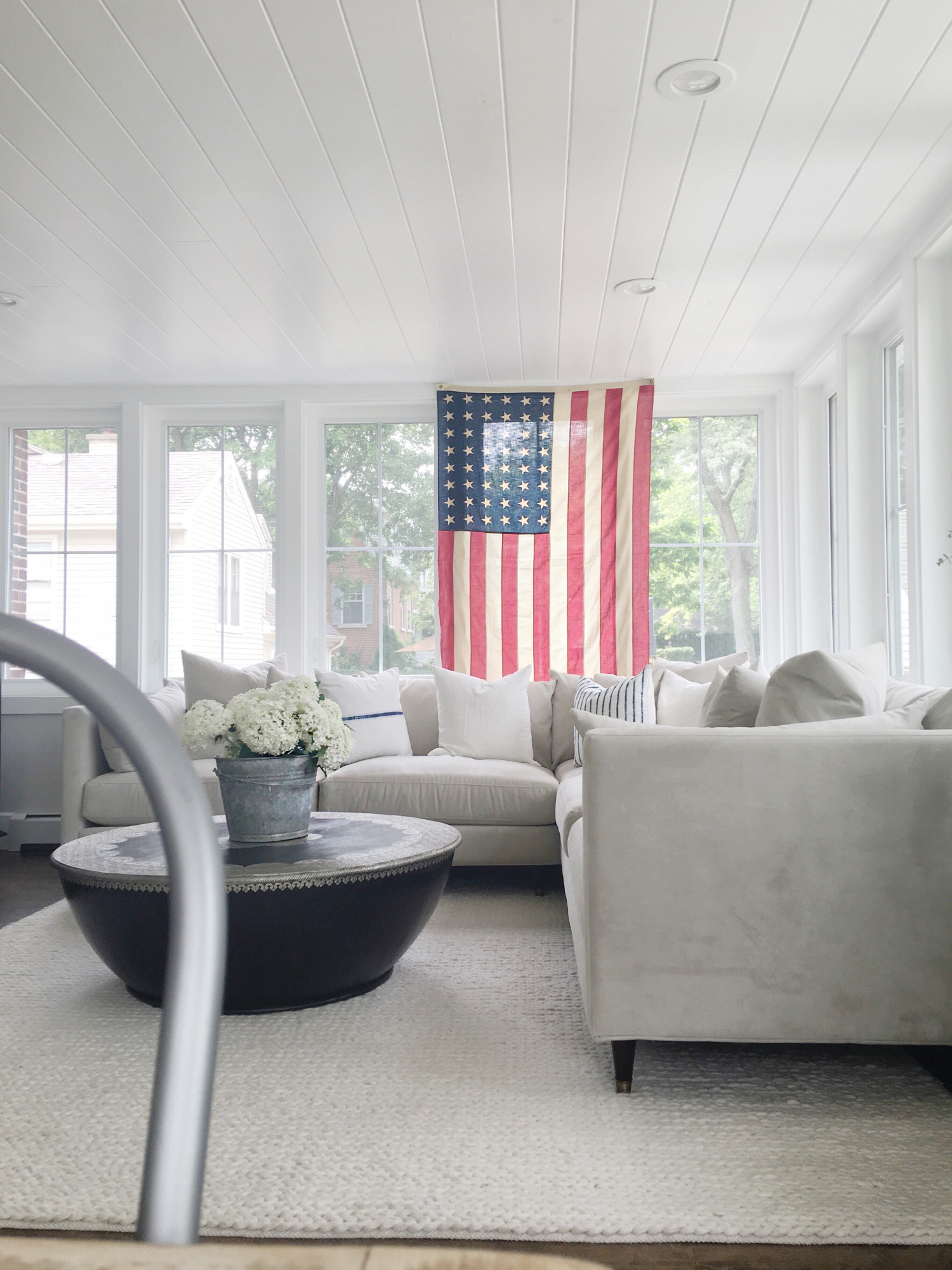 This part did not come along so easily for me! I actually dreaded it. I had so many ideas in my head of what the space should be, but after several attempts, buying and selling furniture that was great but that just wasn't quite right for the space, I finally sat back and focused on what it was I truly wanted out of the space. And it didn't take long to come up with the answer, I wanted stylish comfort! Comfort being the key word here. My husband was not a fan of the IKEA kivik couch we had in the space. He would mumble every time he sat down to watch television that it wasn't comfortable enough, but if it made me happy he didn't care, even though he mumbled his opinions nonetheless. Sneaky, sneaky! I personally don't watch television all that often so a couch wasn't high up on my priority list. That is until the rest of the room started coming together. We found an amazing coffee table from Anthropologie, a comfy rug from Rugs USA, and we moved a gifted TV console from my childhood home into the space. It all flowed so beautifully, everything felt like home – that was except for the couch. All of a sudden that grey couch we had was all I could see in the room, and not in a good way either. It didn't take much convincing my husband that the search for the PERFECT sectional was on!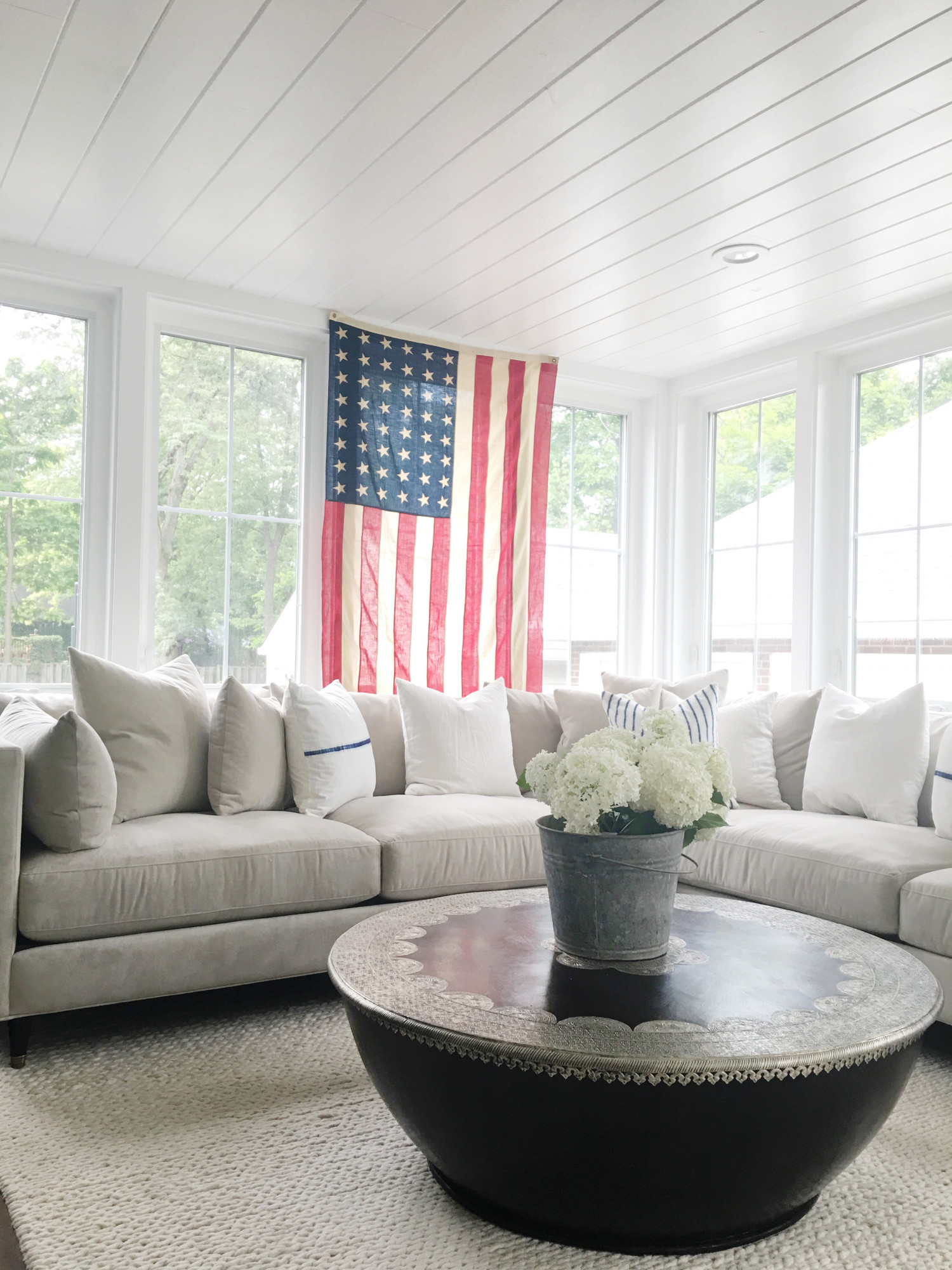 This is when I came across Jonathan Louis Furniture! I researched the company and loved what I learned! Jonathan Louis Furniture started with a dream in 1985 to create a fine furniture line that would inspire people to use colors, styles and fabrics to transform their rooms. Today, Jonathan Louis is a family-owned and operated business that's an internationally known fashion-forward brand for home expression. They take pride in offering artfully designed furniture that reflects today's lifestyle and delivers exceptional value.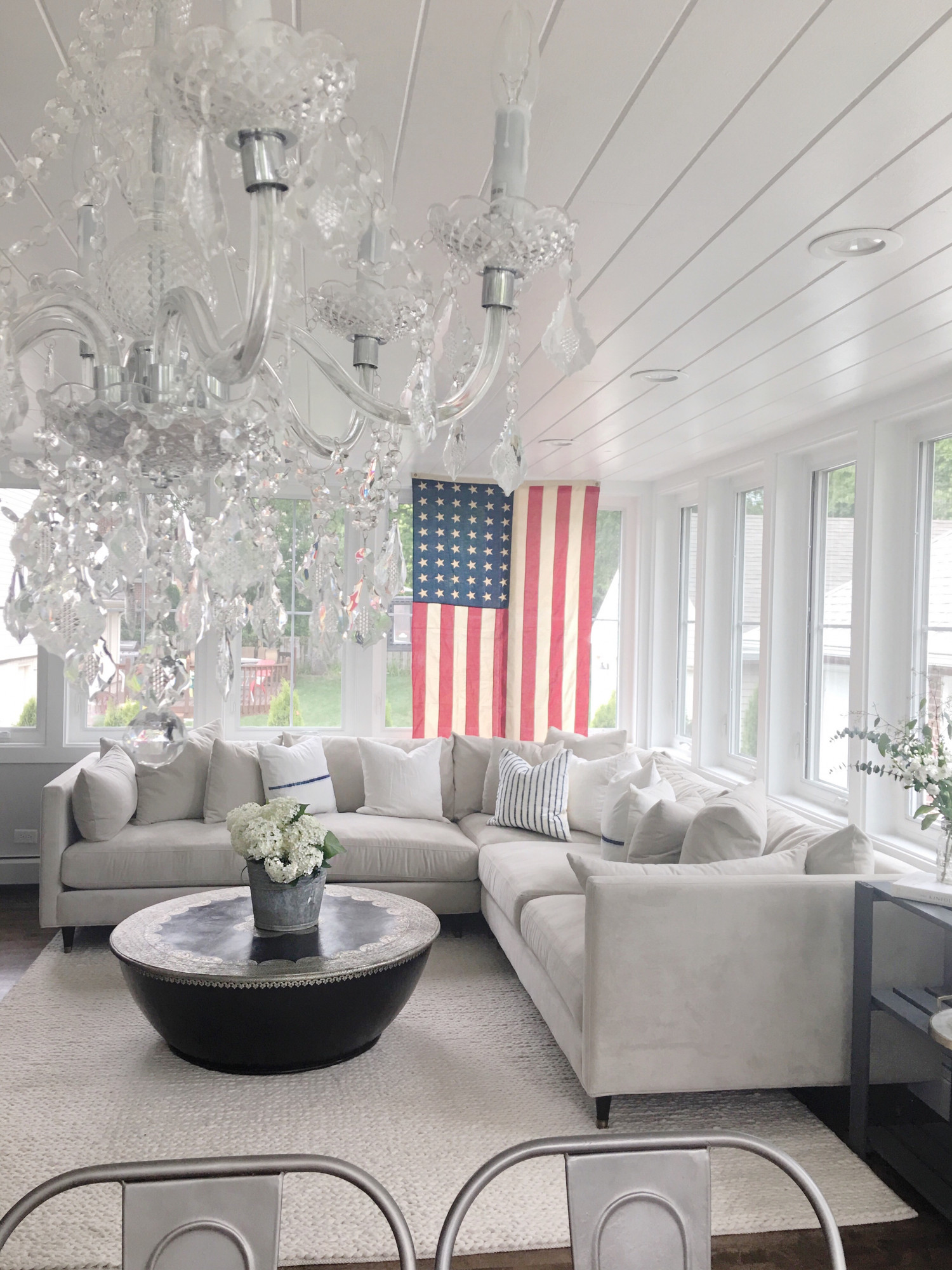 Jonathan Louis Furniture is a boutique firm that may be new to you; however, you have most likely seen or heard of their furnishings through places like Macy's and Z-Gallerie, or local retailers like Roy's Furniture and Steinhafel's if you live here in Illinois. You can find a retailer near you by checking out their Dealer Locator. When it came time to choose the perfect style for our family room, I decided on the Pia Sectional with a removable ottoman. We love swapping out the coffee table for our ottoman during movie nights. It's much more comfortable to rest your legs upon the soft velvety fabric when you're getting nice and cozy! Did I mention, since we have had this couch I now love watching television in here?! I went from a non TV watcher to someone who loves a good movie, and even if the television is off, this couch is where you will find me snuggled up with the family most every night! Now back to how I came to know that this sectional was the one for us.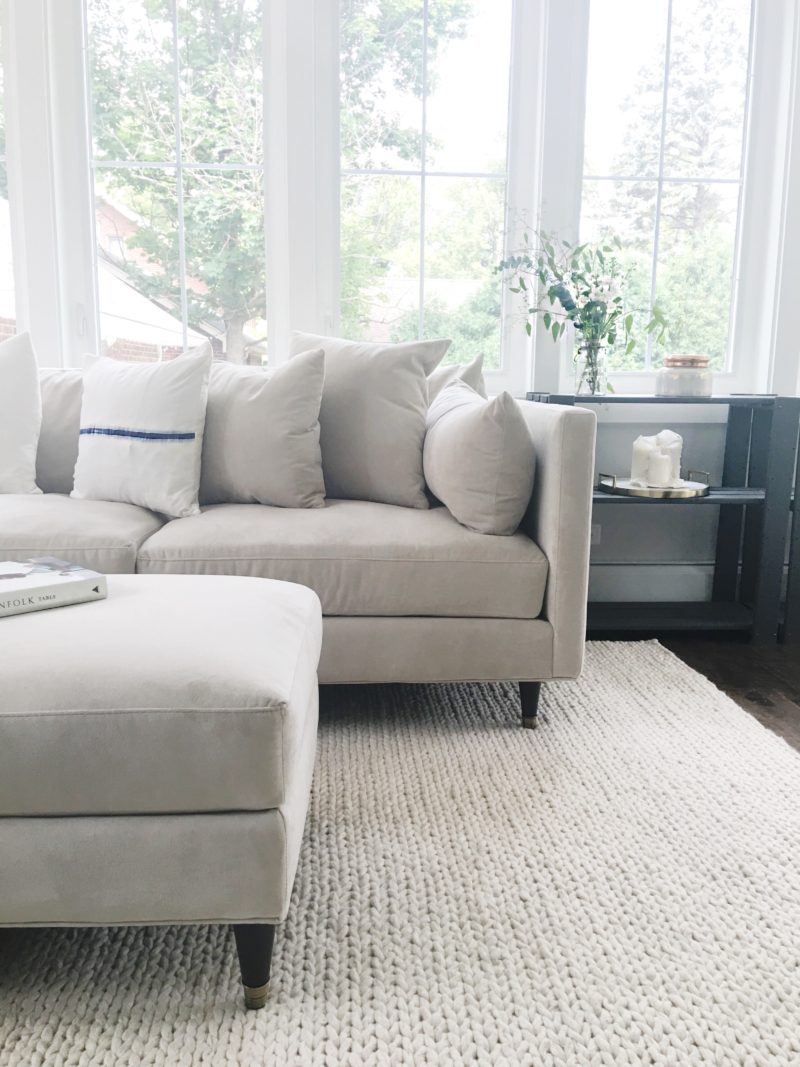 The moment I took one look at the Pia sectional from Jonathan Louis Furniture I knew I had found our dream couch and that the search was over! When I spotted this structured, sophisticated, chic sectional with clean lines, deep seats (which is so important when your husband is 6'2) and soft comfortable cushions, I was sold!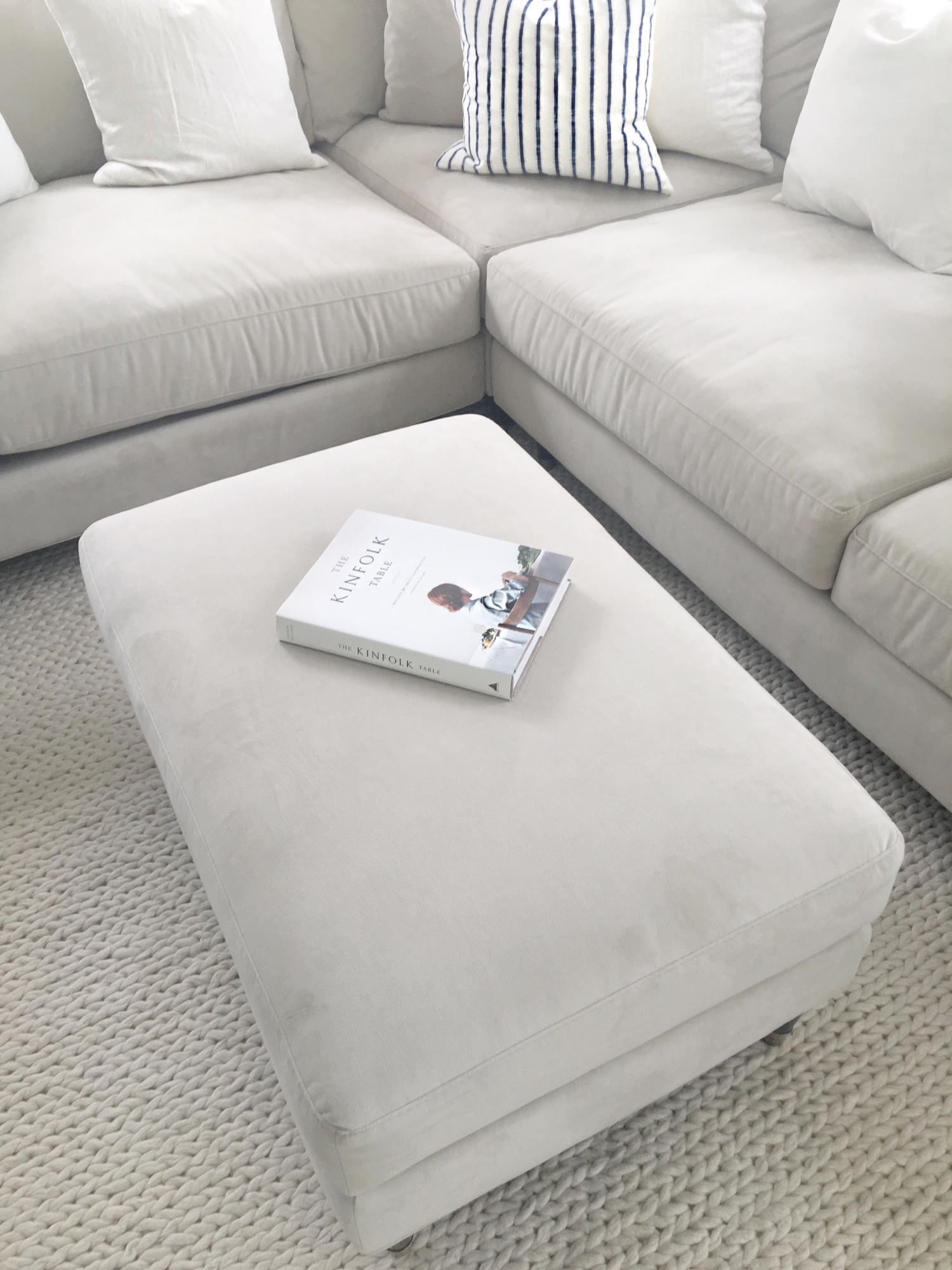 I ordered several fabric swatches to our home so that I could physically hold them up in our space and compare the swatches to our existing furniture and paint. The process was incredibly easy as the swatches came very quickly, which allowed me to get to work right away 🙂 Out of the swatches I instantly fell for the Bella Beach fabric, which is a soft, warm, velvety cream, that complimented the room perfectly.  Within weeks our dream sectional showed up at our door. I could hardly wait for it to be set up! As soon as the packaging came off I was instantly giddy with excitement!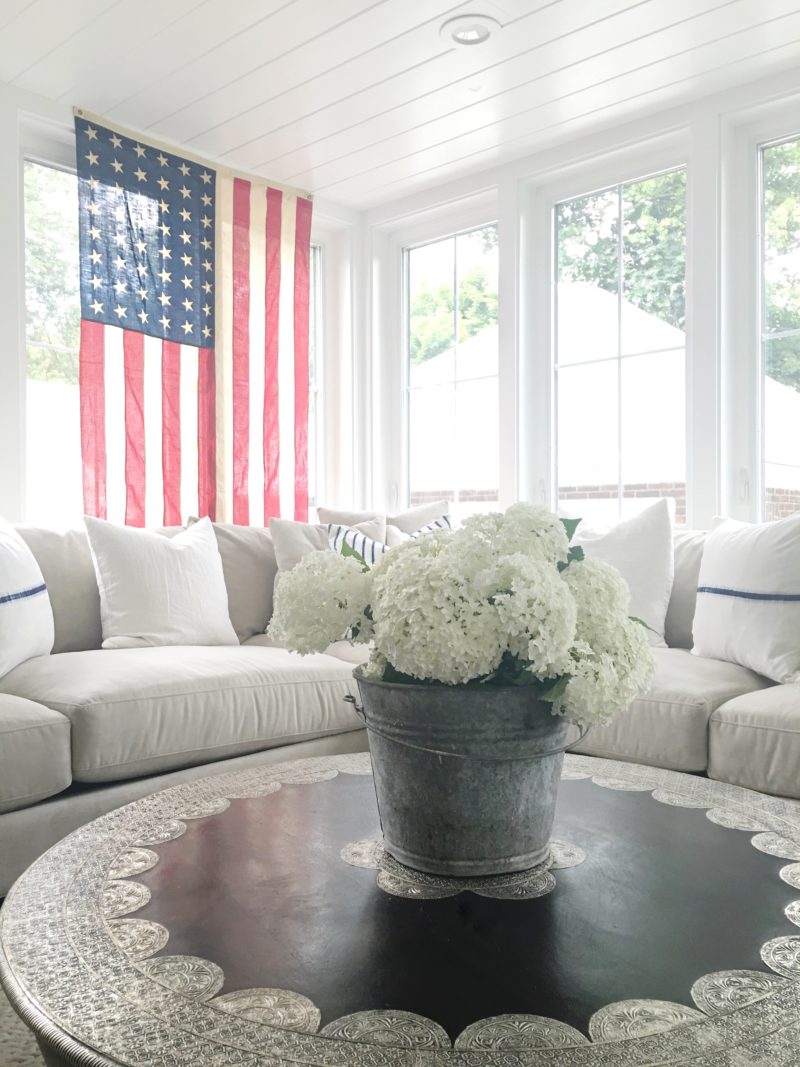 The fabric on the sectional was even more beautiful and bright. And the frame was even more classy and elegant than I had imagined! Now for the real test, was it comfortable? Before I could even get the last few cushions on our two girls came running into the room and jumped onto the couch, immediately sprawled out and shouted, "Mommy, this is the BEST couch ever! It's so soft and comfy, cozy, we love it!! Let's not get rid of this one okay, Mommy?!" My husband and I quickly joined my girls on the couch and consensus was reached! This sectional is nothing short of amazing and it is oh so comfortable!
Now back to my girls' comment for a moment, do you think they've caught onto how much I love rearranging and switching things around here?! Haha! However on that note, one things for sure and that is, this Jonathan Louis sectional is here to stay!