Good morning beauties!
I hope you have a hot cup of coffee, tea or apple cider, a pen and some paper handy so that you are nice and comfy and stay a while! The pen and paper, well I suggest having those around because trust me, once you begin reading you are going to want to take notes on this yummy treat!  These rose shaped apple tarts are amongst some of my favorite treats to bake, especially once the cooler weather starts rolling in. Crispy pie crust, warm apples, sweet jam and powdered sugar all rolled into a delicate rose shape? Yes, yes, yes, yes, YES, PLEASE!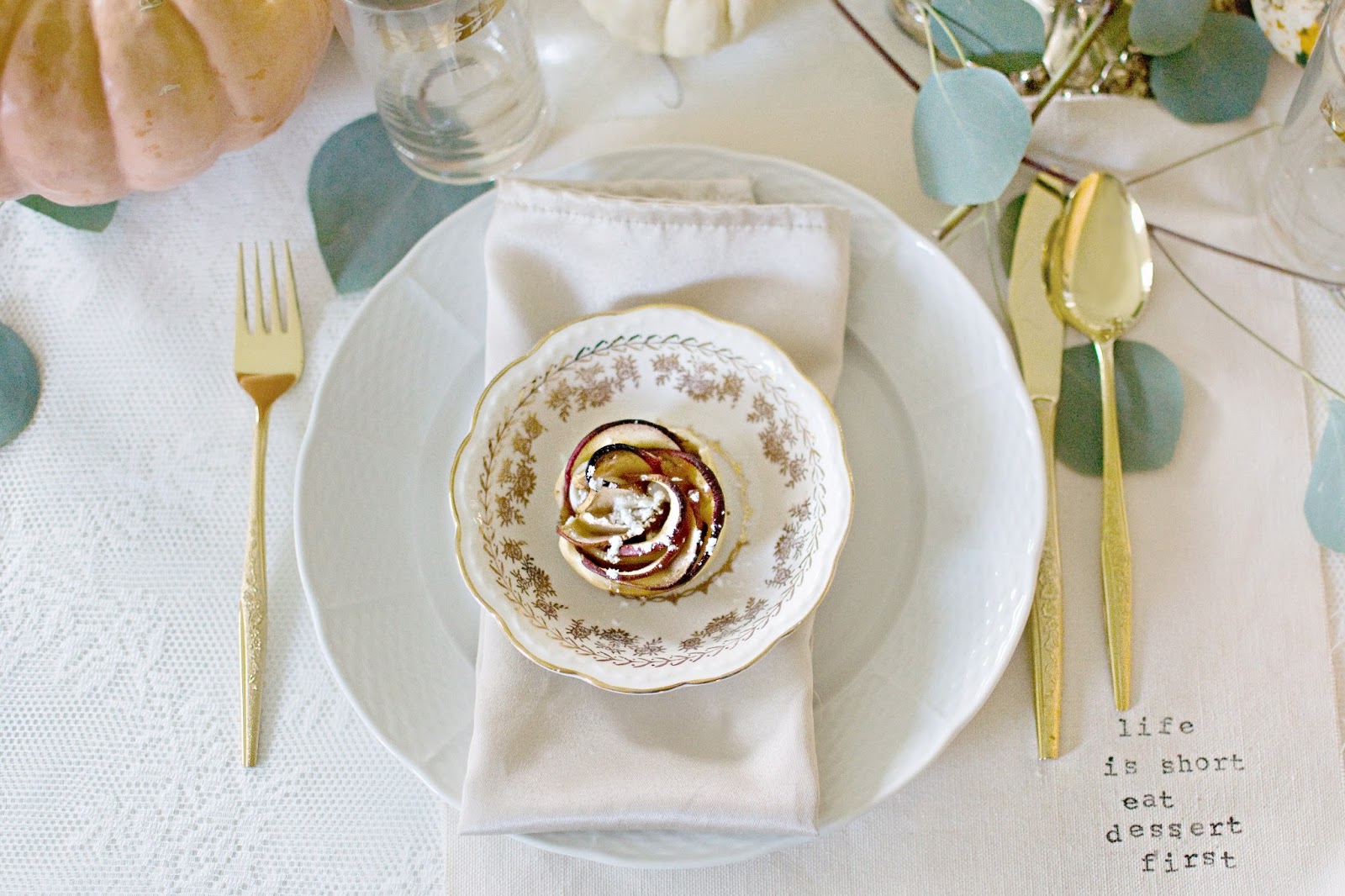 I can barely wait to share more but first, I would like to thank sweet Kristin over at
Ella Claire Inspired
for inviting me to be a part of this special holiday tour.  A tour that is different than most, since it is one that shares small smidgets of the season, the ones we share with our loved ones during this cozy time. Our hope is that you feel as though you are here with us as we share these intimate moments with you, because after all, if we could have you over for a treat we most definitely would. xx
First I would like to talk about the setting of the space in which these yummy holiday treats can be served. Creating a space that is both warm and inviting is a goal I try to achieve throughout our entire home. In order to achieve this warm feeling of coziness it is important to pay special attention to those areas where people tend to gather most, you know, those spaces where many laughs and plenty of good conversation take place? Well, in our home, one of those gathering places is most definitely our dinning table, especially around the holidays!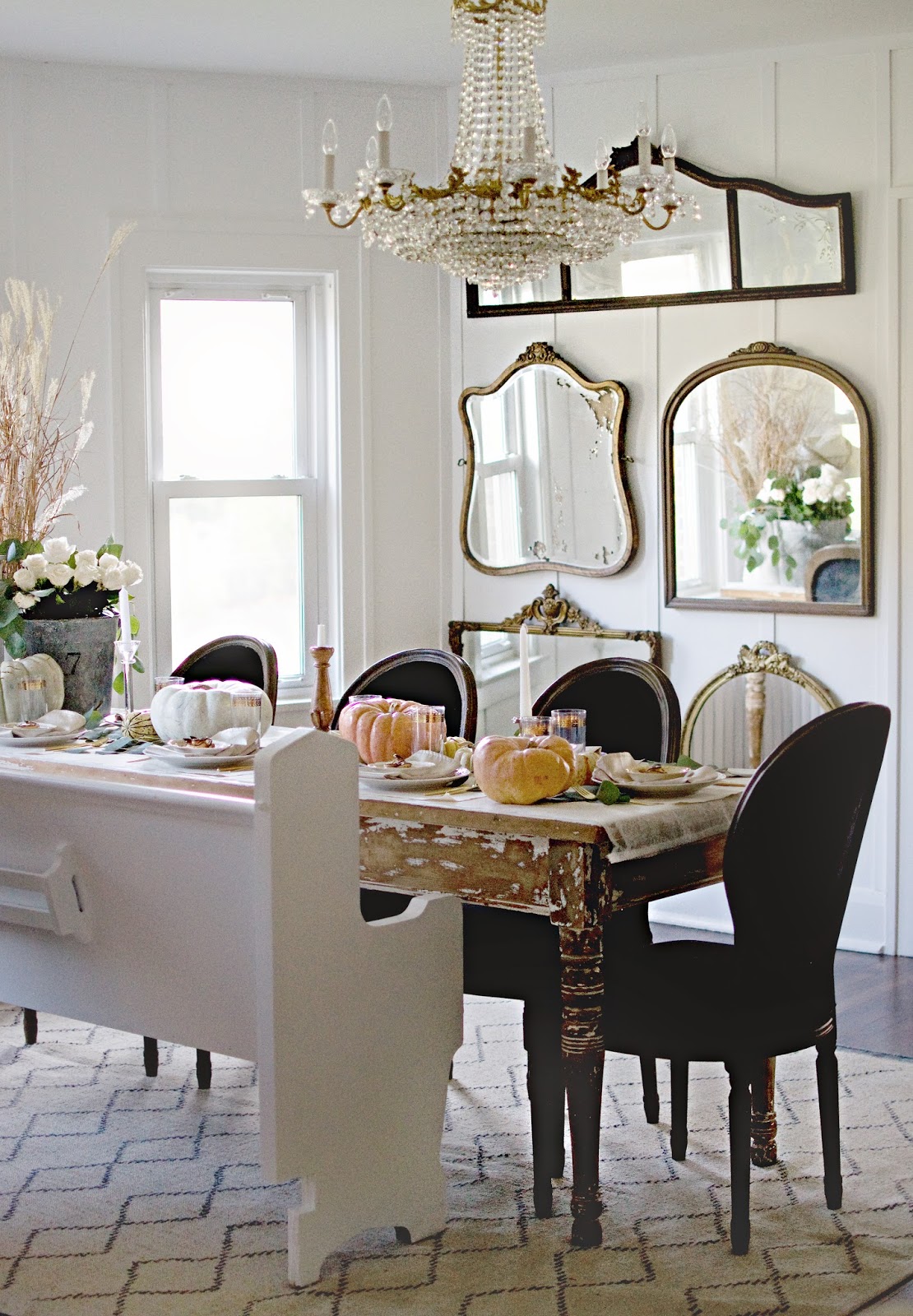 Styling tables and creating cozy environments is one of my most favorite things to do!  I love to mix fancy elements with rustic ones every chance I get! For instance this old, worn farmhouse table paired with our fabulous chandelier is a prime example of my decorating style. Therefore, you can gather that it was second nature when styling our table to mix glamorous elements such as this beautiful, dainty gold ware with this big rustic, metal bucket. 🙂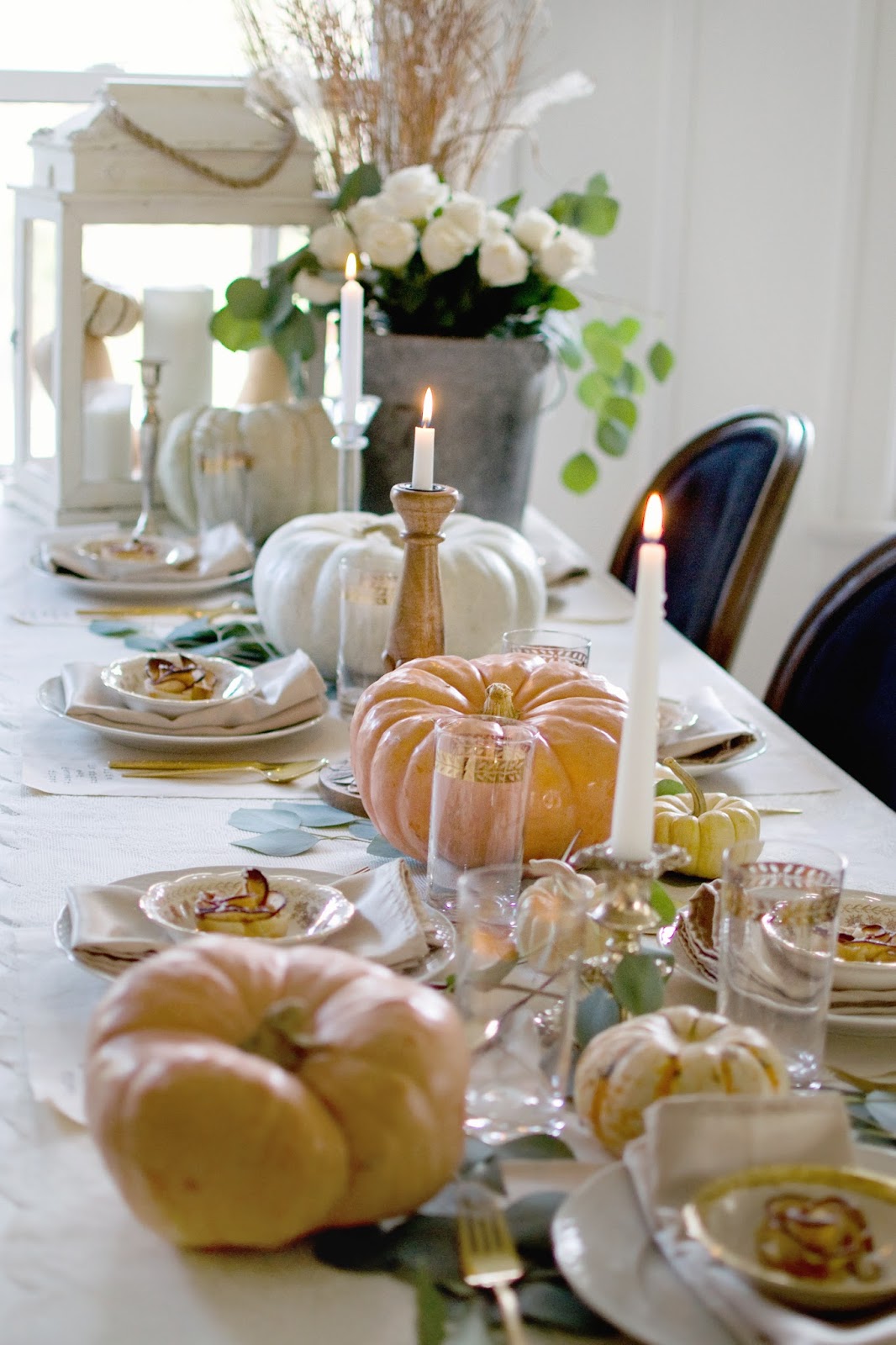 I brought in soft natural tones through pumpkins, wheat and flowers in pale greens, whites and oranges. Then added in layers with a lace table cloth (psst, it's actually an
ikea curtain panel
folded in half!), some vintage gold ware and glassware, some candle stick holders mixed in silvers, woods and glass tones and one of my most cherished decorations of all, that lovely white lantern from one of my favorite online retailers,
Painted Fox
! Isn't it just gorgeous?! See our shoppee page to find more details about them!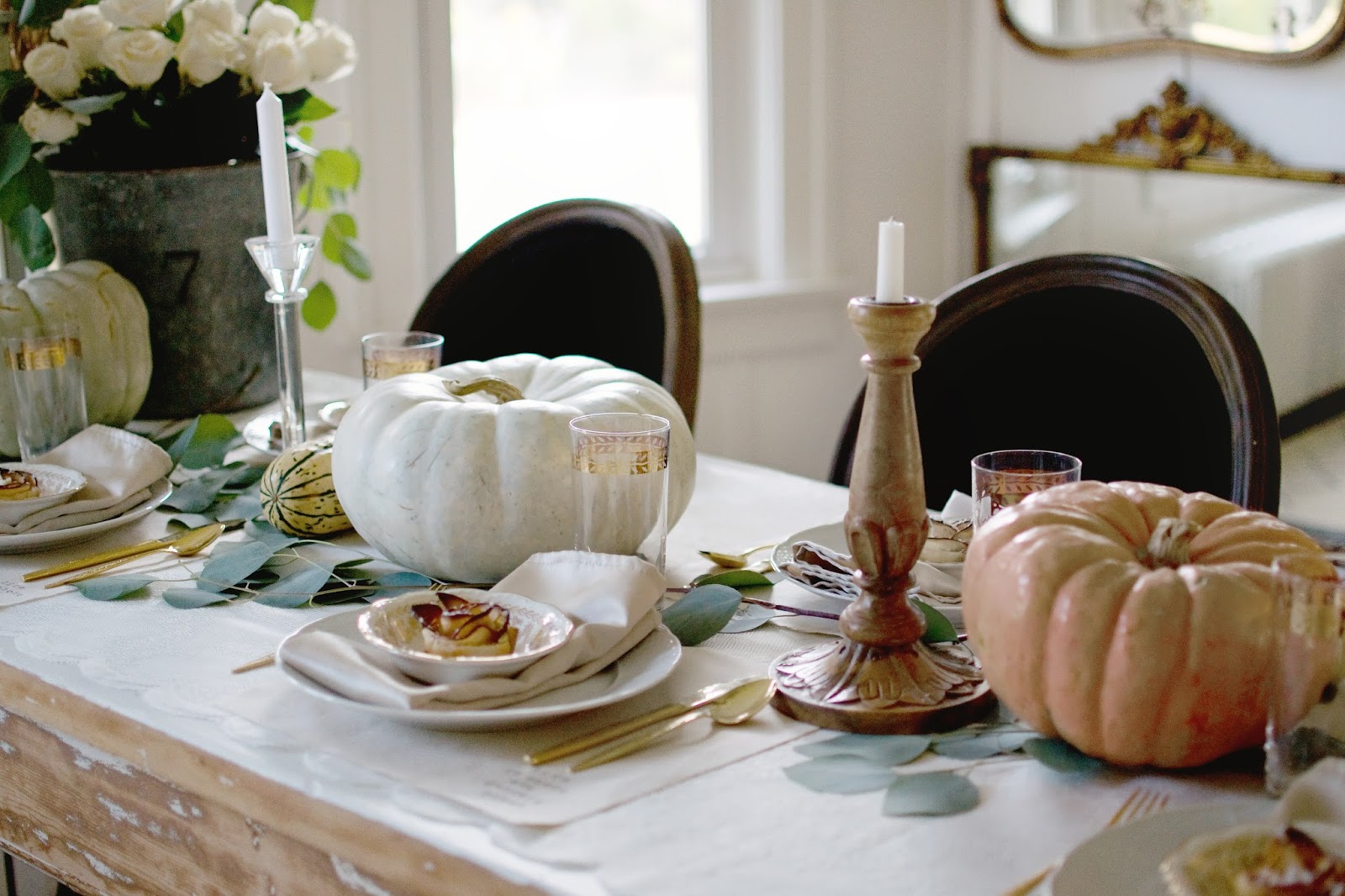 In addition, I also wanted to bring warmth and fun to each place setting by showcasing my passions for crafting, baking and most of all, my love for desserts! I thought it would be fun to adorn each setting with a homemade apple rose tart, baked with love by yours truly, so that's exactly what I did! These apple tarts are incredible and seriously ya'll, they're so simple to make! Trust me, I may be known somewhat for my decorating but not so much for my cooking/baking. Ha!
 You can see the tutorial I used for the apple roses
here
.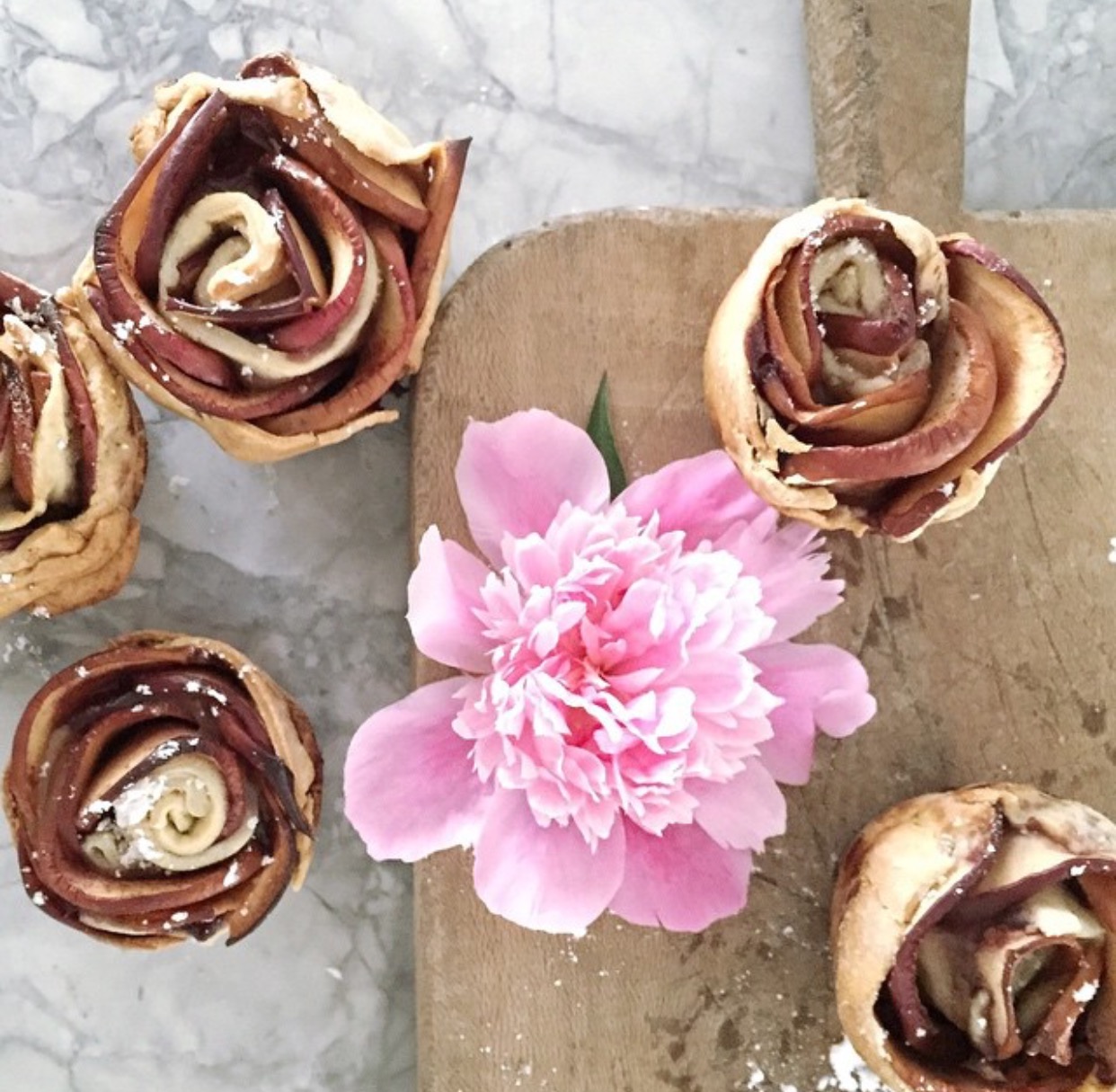 In addition to this pretty single served dessert, guests will be welcomed at their place setting with a fun, quirky message. When I came across the phrase, "Life is too short, eat dessert first" it brought a huge smile to my face and I instantly knew this was the perfect quote for me! These DIY placemats were so easy to make and I just love the way they turned out! I simply bought some pre-cut burlap sheets from the scrap book section at Hobby Lobby and hand stamped the quirky quote. Easy peasy and oh so cute!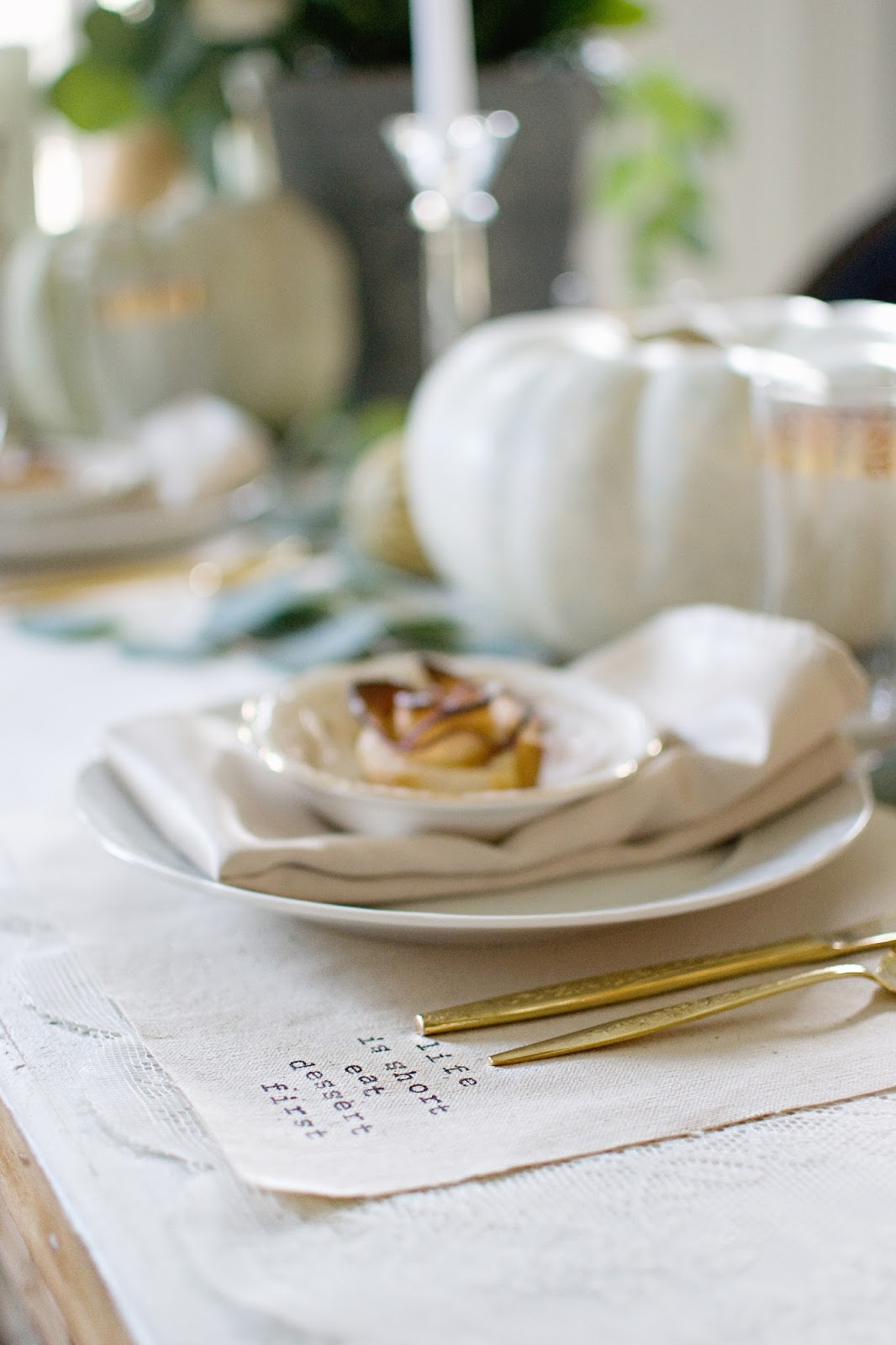 That friends is a wrap! I hope you enjoyed day one of our Farmhouse Holiday Tour!  If I can leave you with a piece of advice this season, one that I live by in my own home, I would say to choose pieces from your dining table all the way down to the treats you prepare, that truly represent you and your family. Whether you are decorating your entire home or baking a warm treat for the ones you love, my motto is as long as you love what you are creating, the environment will truly represent you! And what better way to greet the guests you love into your home than with the things you love? Can I get an Amen?! 🙂 Happy decorating and happy Holidays, friends!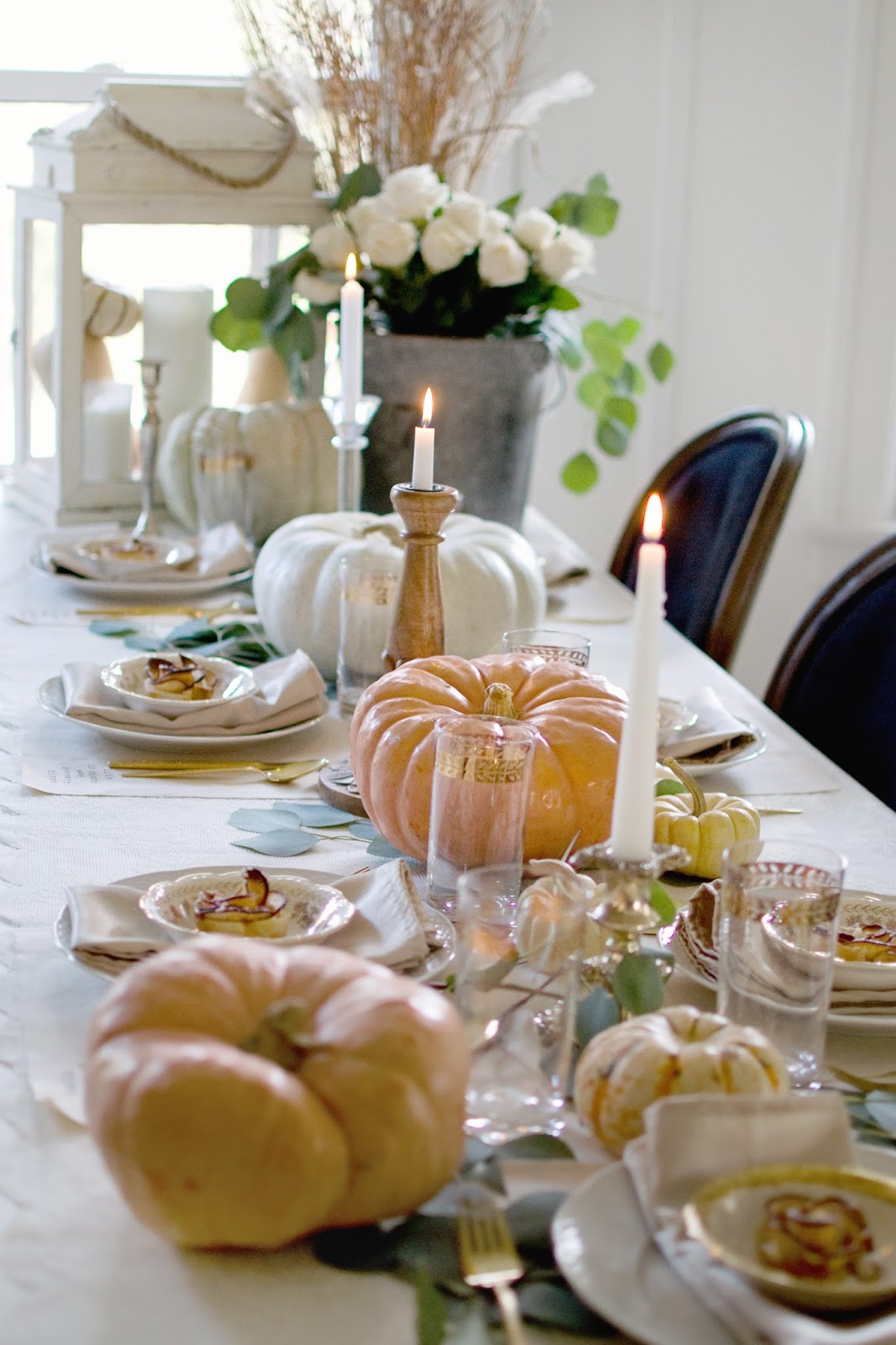 Thank you again for stopping by, it was a pleasure having you!
Also a humble thank YOU for joining in the Farmhouse Holiday Series fun, I hope you enjoyed it and even more I hope that you felt right at home.  Please mark your calendars for the other tour dates (mentioned at the beginning of the post) we would be so honored to have you join us as the tour continues!  Now don't forget to check out the super talented bloggers below who made this wonderful opportunity possible.
Enjoy! xoxo
Susan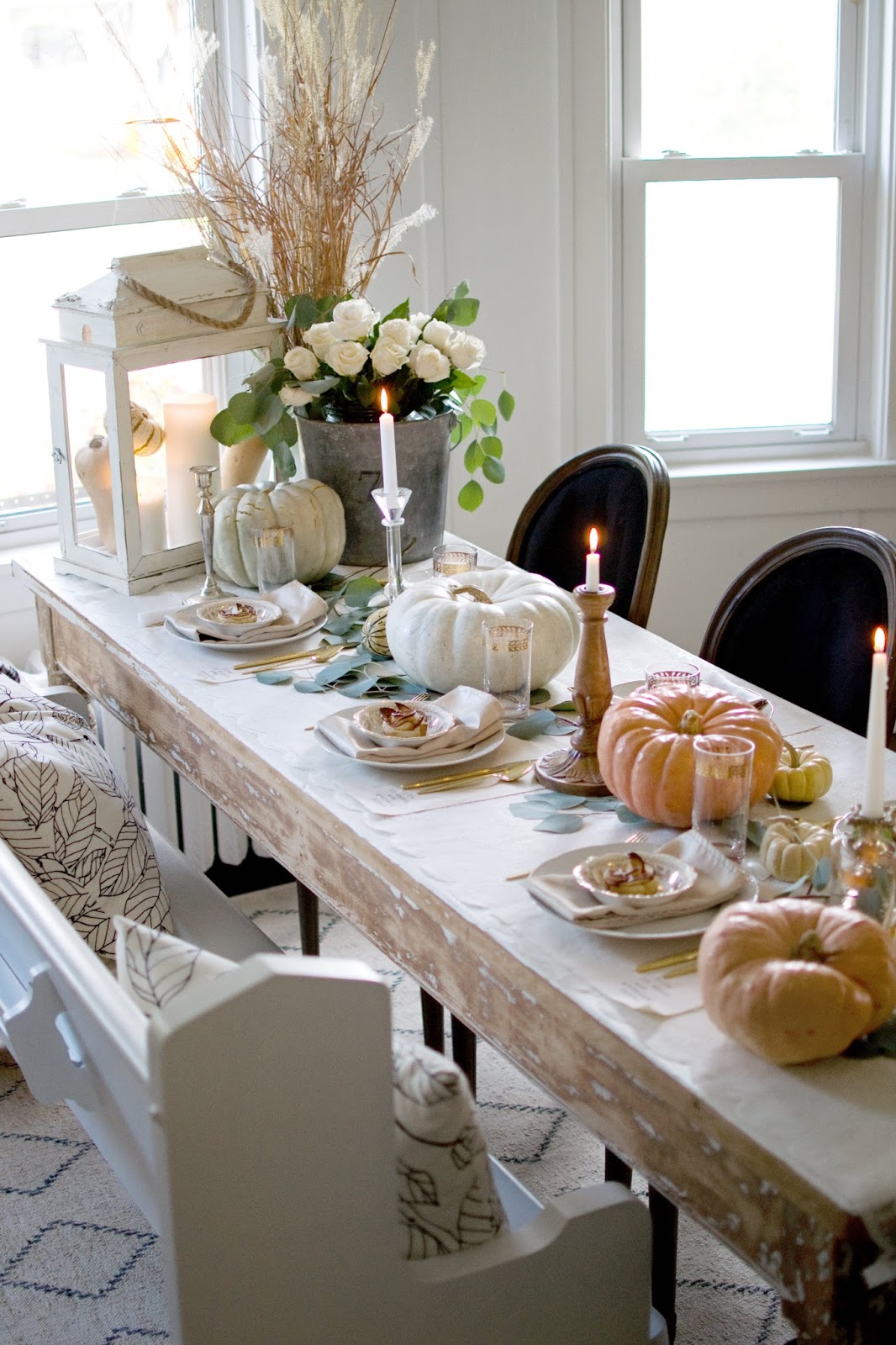 PS If you are a regular Kindred Vintage Co follower you may have noticed that a post similar to this one was shared last year.  This is not the post I intended on sharing today, however, both of my daughters' and husband came down sick this weekend just as I was scheduled to photograph my new blog material. I still plan on blogging that intended recipe along with our kitchen soon but in the meantime the wonderful women involved in this tour were gracious enough to let me use what I had for the time being.  The world needs more uplifting, talented, caring and understanding women who share a positive voice just like the ones listed below, and from the bottom of my heart, I mean that. xo

Ella Claire | Craftberry Bush | Miss Mustard Seed | Jeanne Oliver

Love Grows Wild | Rooms FOR Rent | Shades of Blue Interiors | Dear Lillie

French Country Cottage | My Sweet Savannah | Kindred Vintage | Jennifer Rizzo