I hope you have a hot cup of coffee, tea or apple cider, a pen and some paper handy so that you are nice and comfy and stay a while! The pen and paper, well I suggest having those around because trust me, once you begin reading you are going to want to take notes on this yummy treat!  This coconut pudding is one of my favorite things to make, especially once the cooler weather starts rolling in.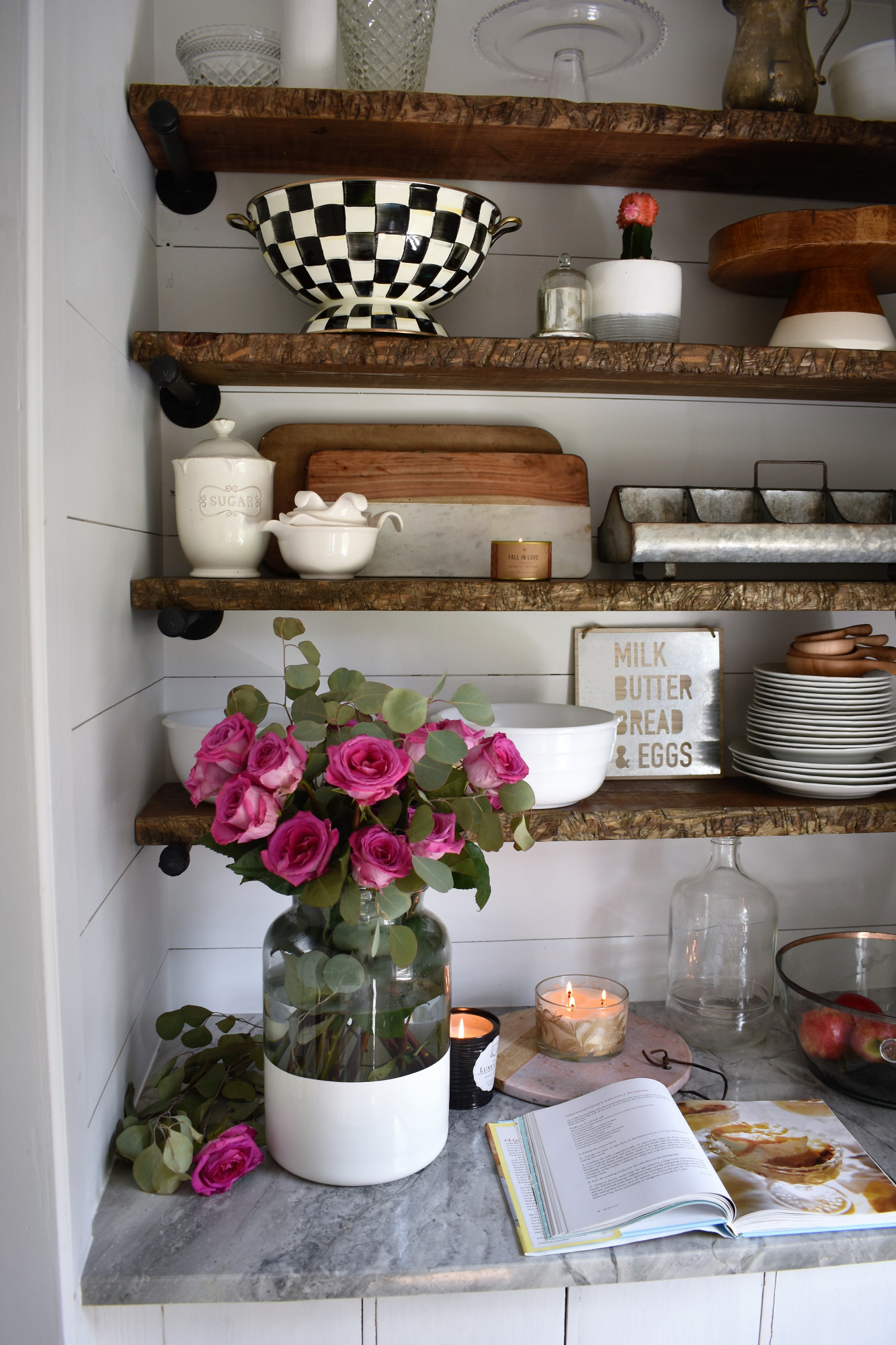 I can barely wait to share more but first, I would like to thank sweet Kristin over at Ella Claire Inspired for inviting me to be a part of this special holiday tour.  A tour that is different than most, since it is one that shares small smidgets of the season, the ones we share with our loved ones during this cozy time. Our hope is that you feel as though you are here with us as we share these intimate moments with you, because after all, if we could have you over for a treat we most definitely would. xx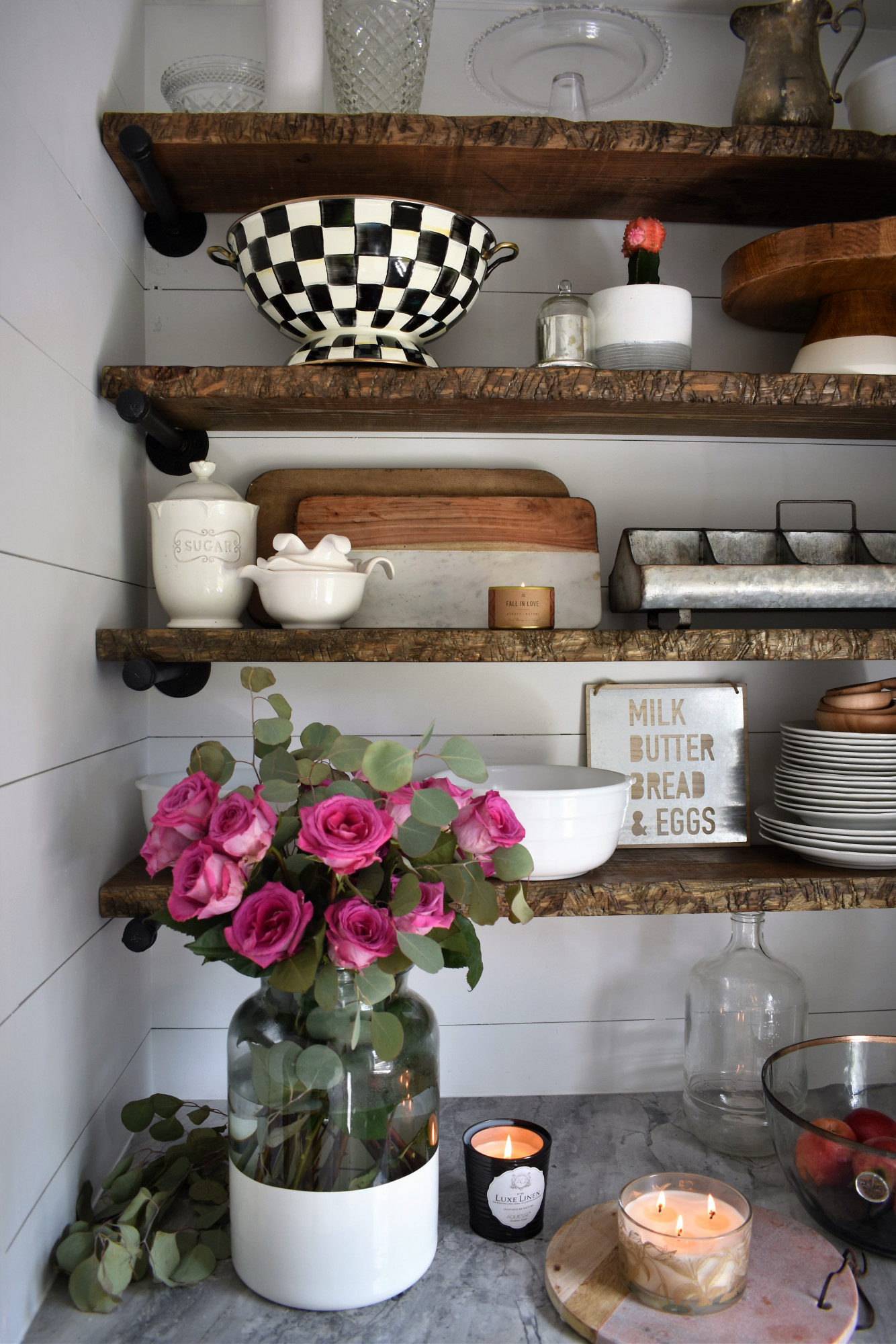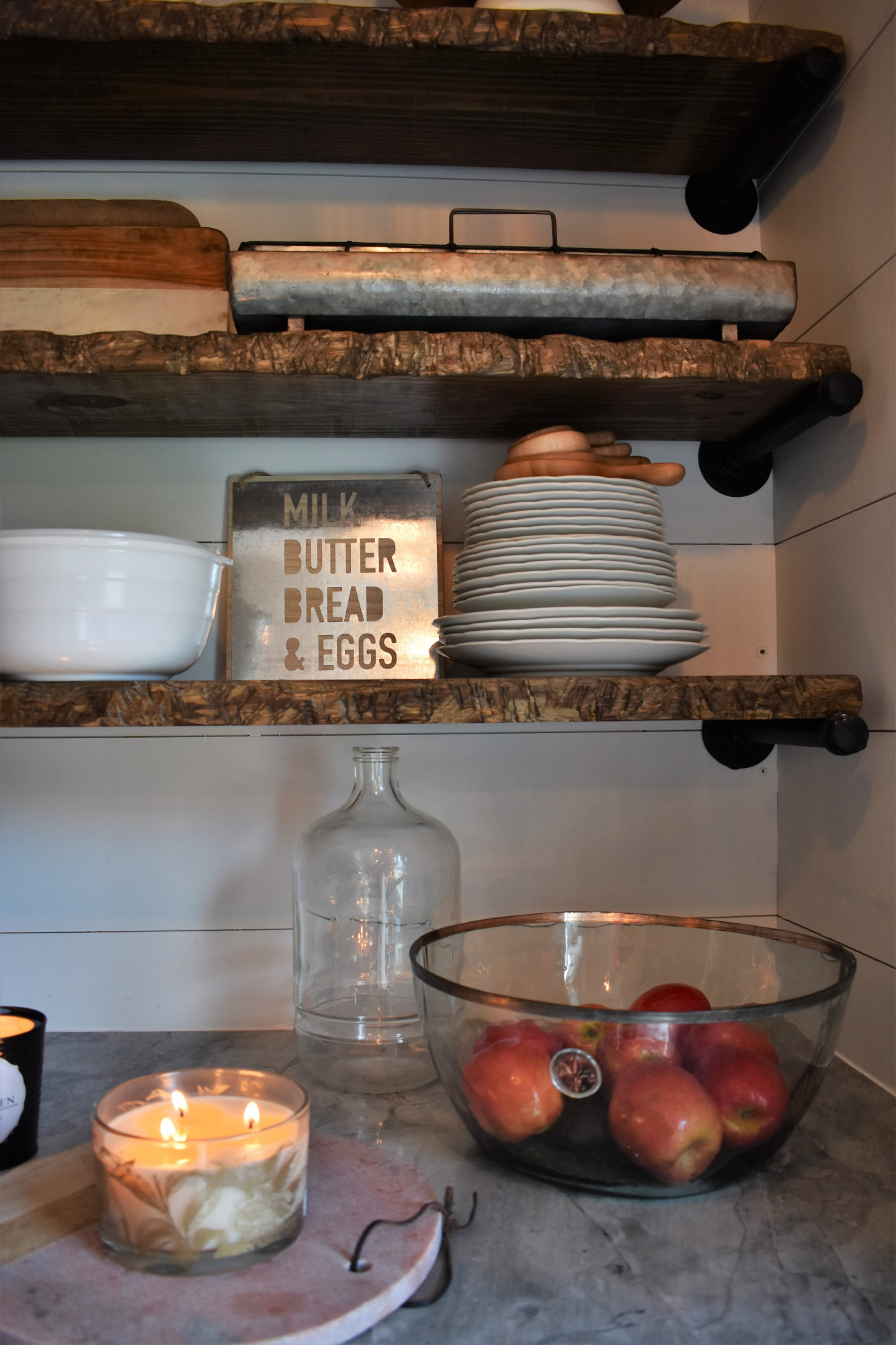 Creating a space that is both warm and inviting is a goal I try to achieve throughout our entire home. In order to achieve this warm feeling of coziness it is important to pay special attention to those areas where people tend to gather most, you know, those spaces where many laughs and plenty of good conversation take place? Well, in our home, one of those gathering places is most definitely kitchen, especially around the holidays!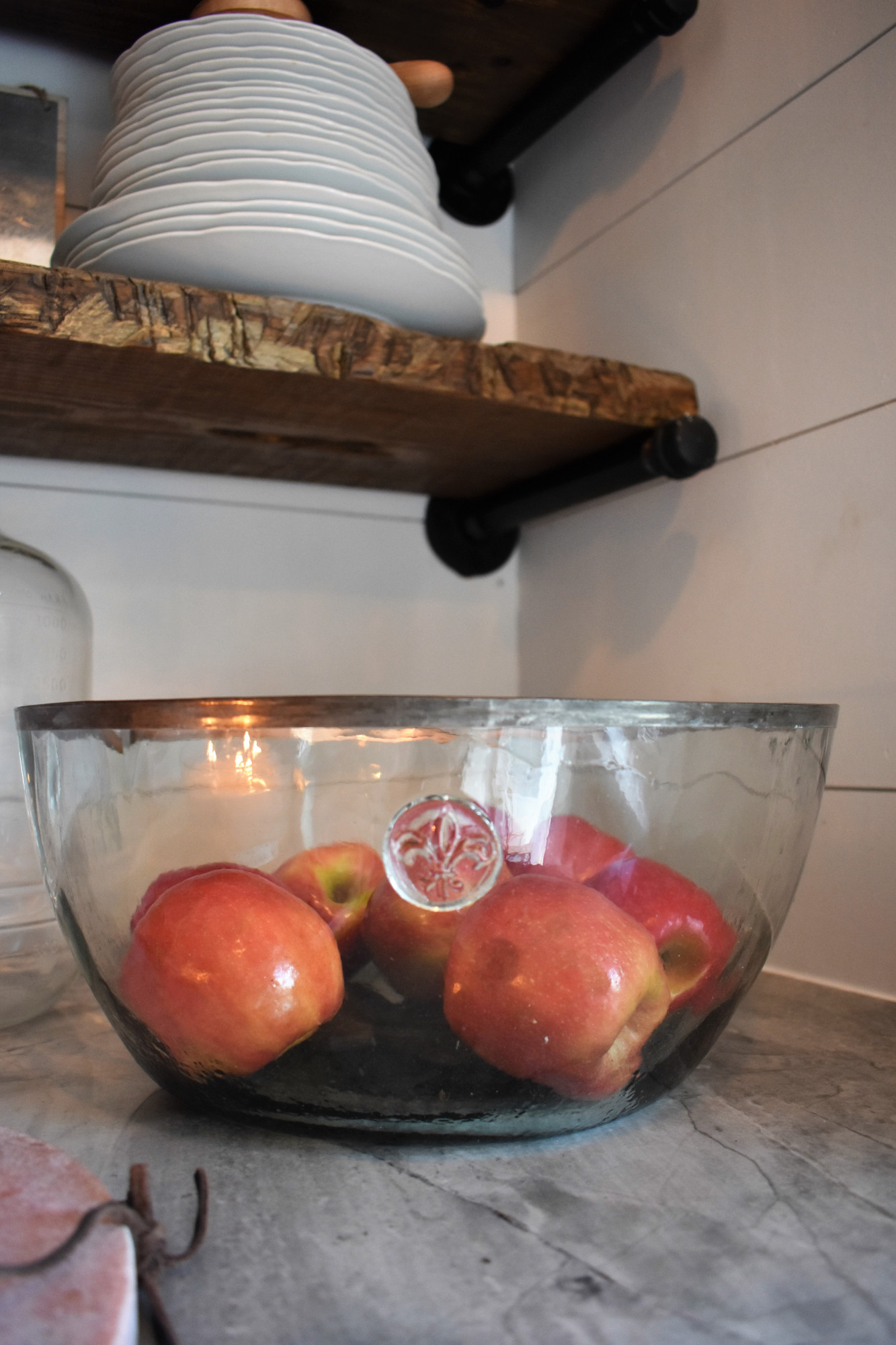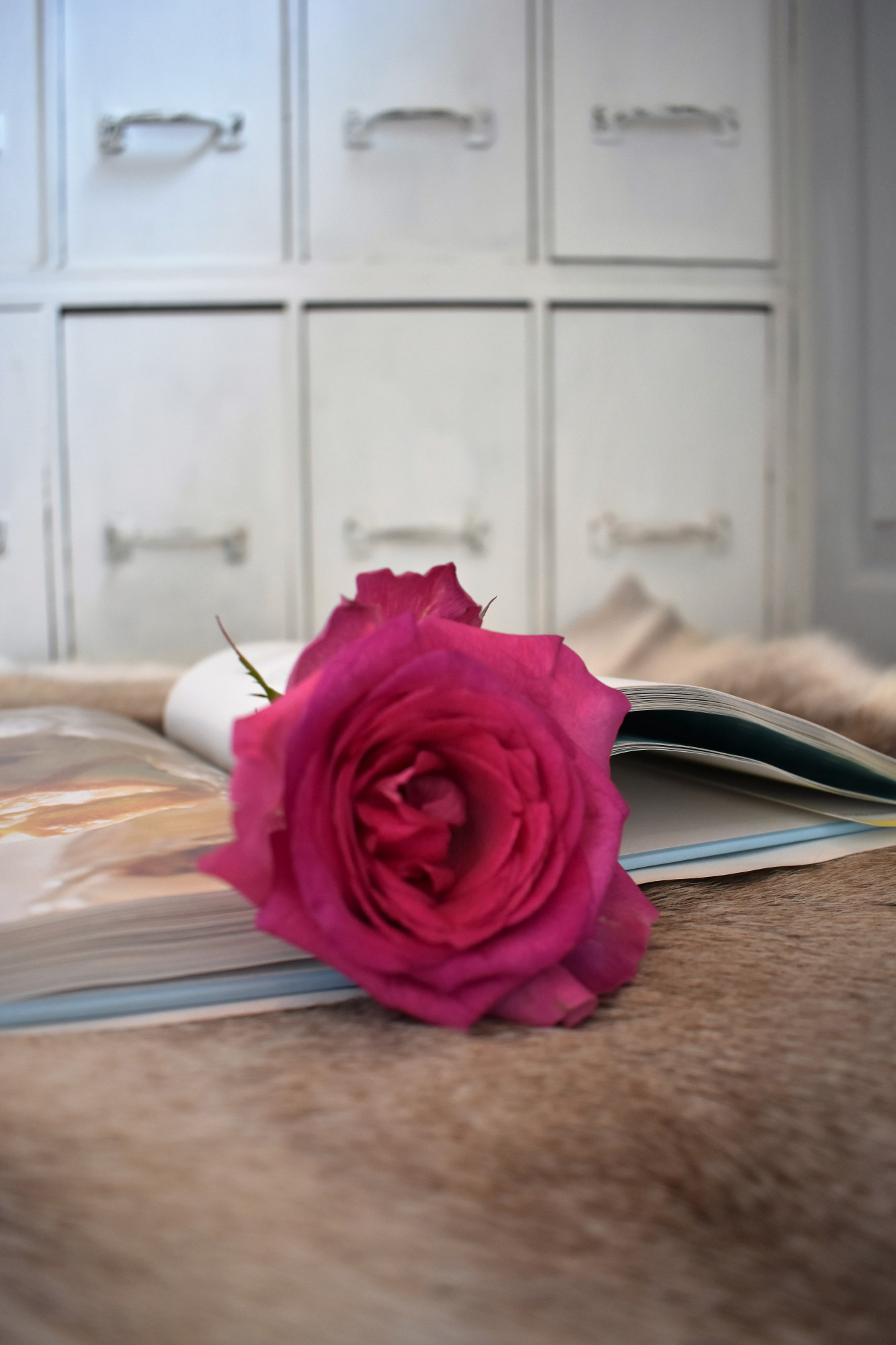 This nook in our Kitchen is one of my very favorite features. It has history to it, (seeing as though the chest of drawers was actually a barn-sale find!) and it displays some of my favorite things, which is a conversation piece in itself!
Once I decided to make this old file cabinet a built in, all the rest just fell into place. We added in these great shelves by Rustic Shelving Inc. and the space immediately started to take shape. The shelves are not only beautiful, they are also multifunctional. If I choose one day to not want to "love, textured edge" I simply just flip the shelving over for a smooth, crisp finish! So cool right?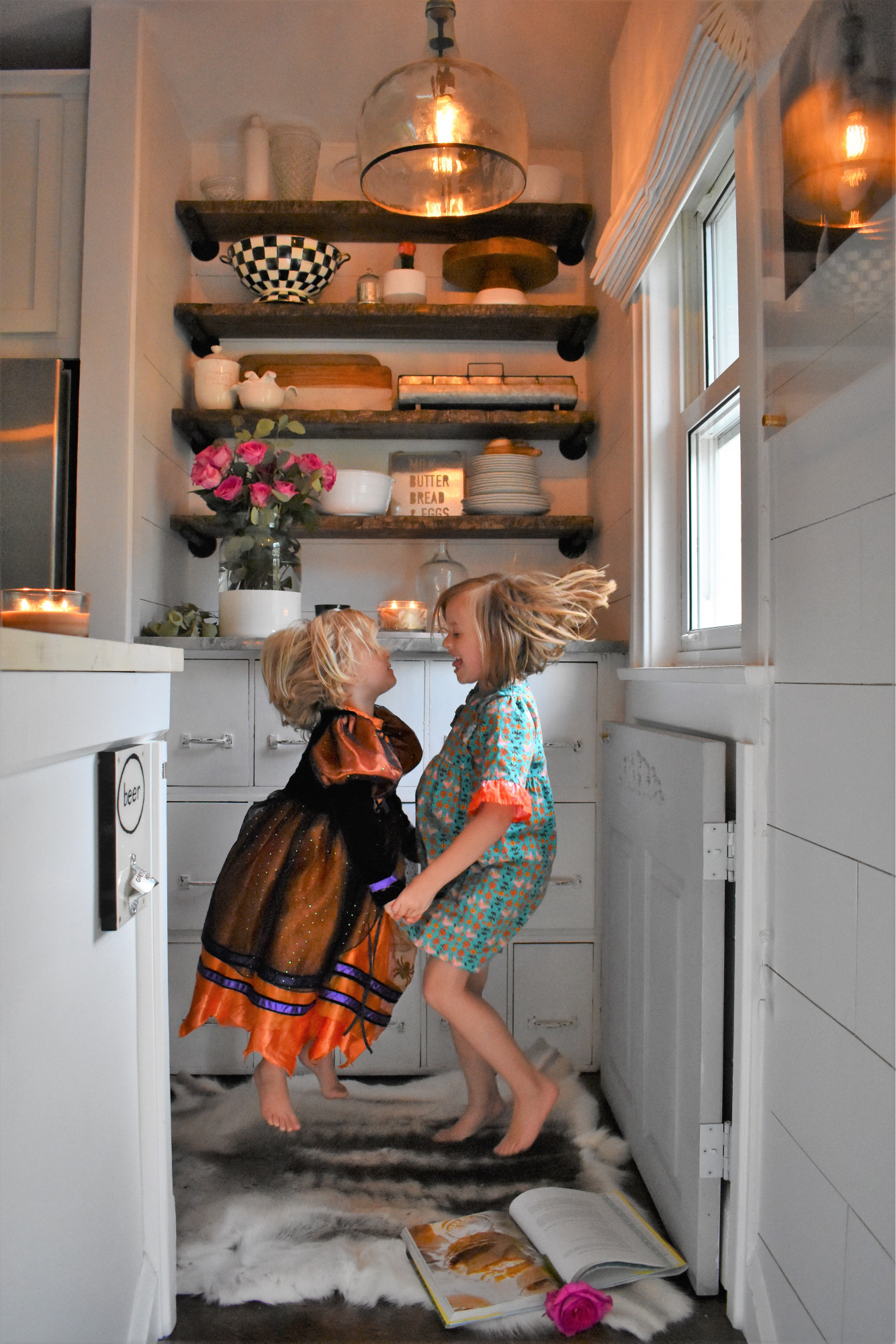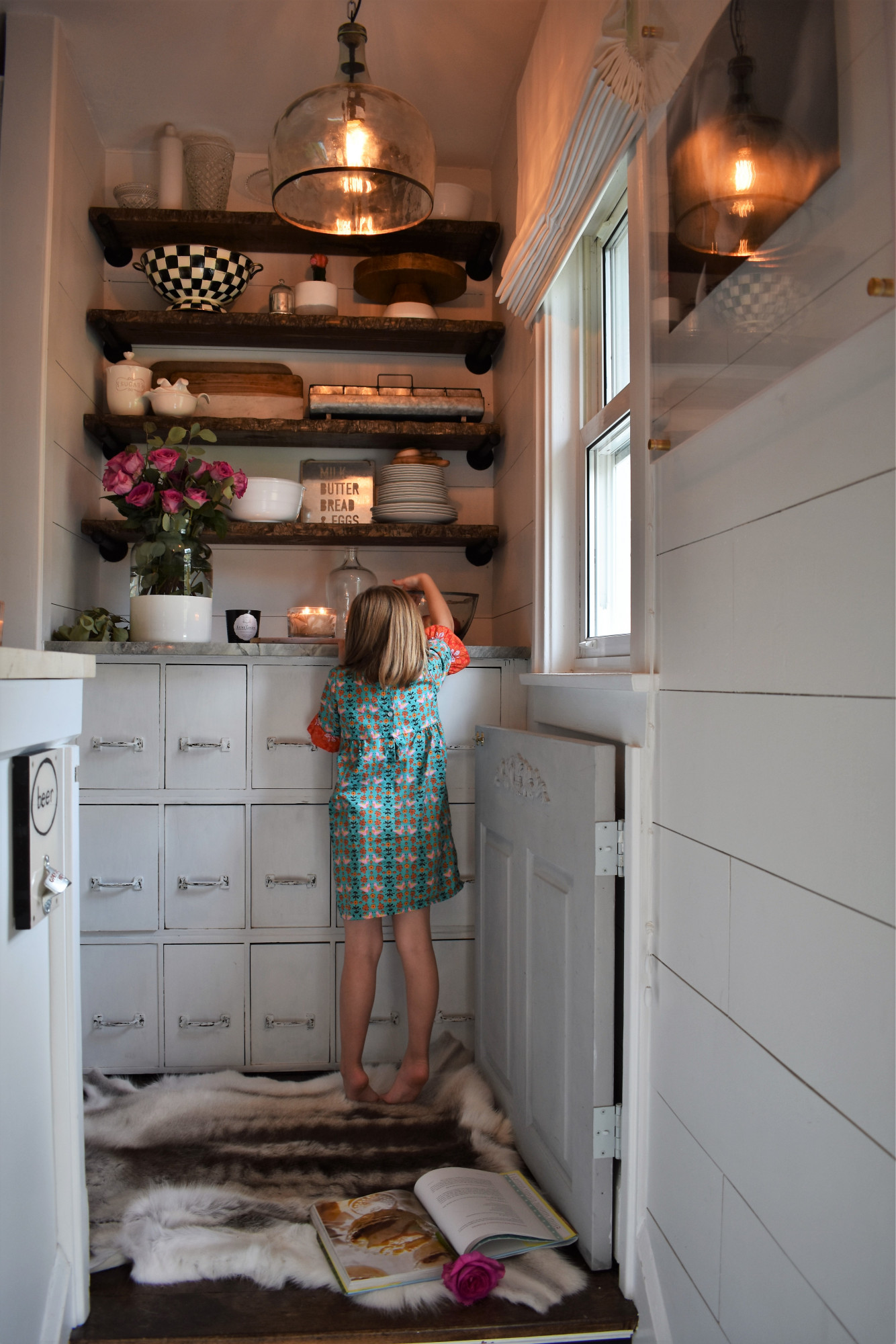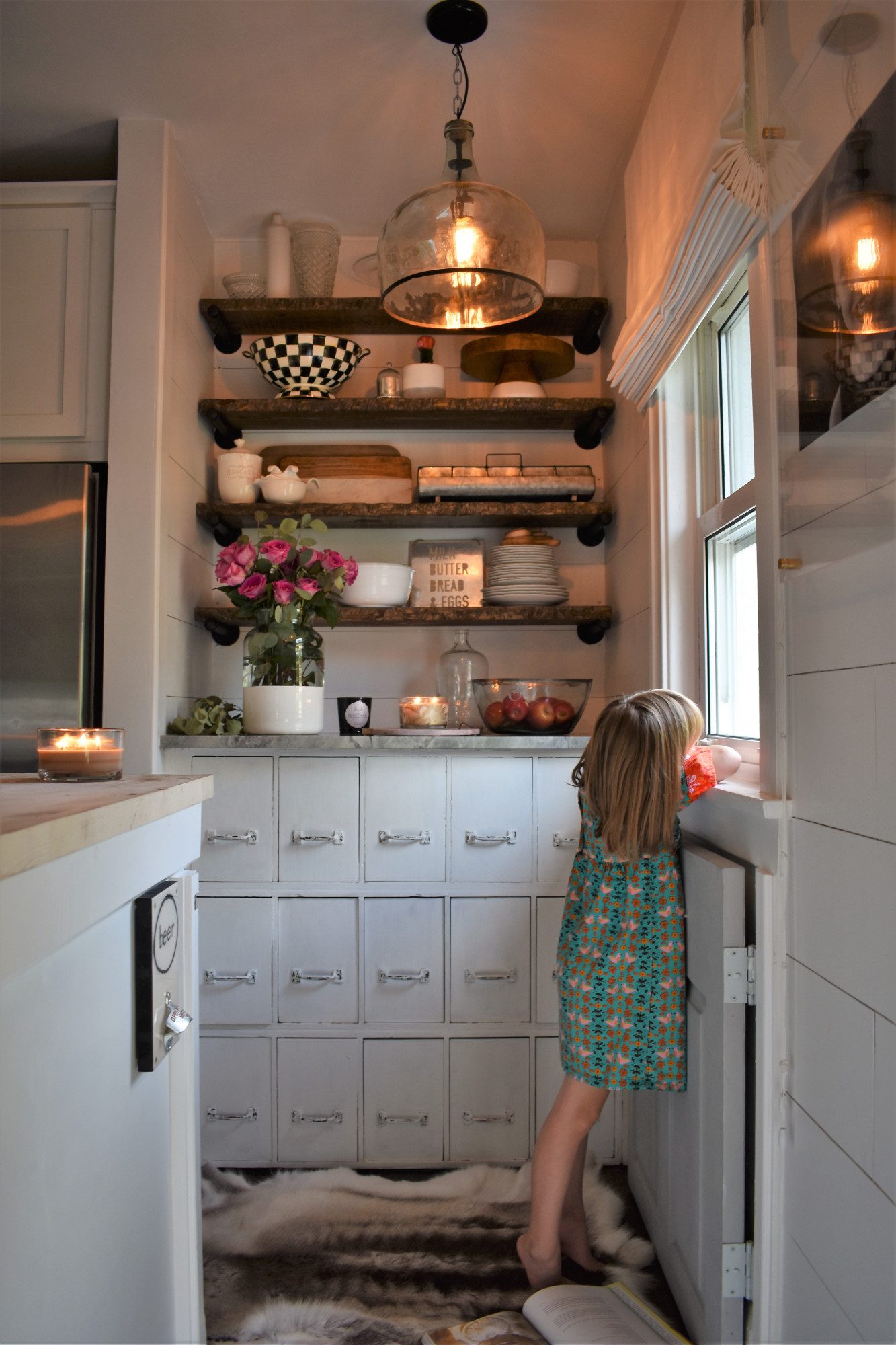 Adding items to this space is not as random as it may seem. I carefully picked out a few statement pieces for our nook that I knew would bring both beauty and functionality. I wanted certain items that would radiate the feeling of old world charm to match the feeling of the rest of the space and I loved being able to find those statement prices at etúHOME. The dipped mason jar vase, copper trimmed bowl, and these fabulous recycled glass pendants tied the entire look together. I couldn't love them more!
Gathering, cooking, baking and creating in this space are some of our favorite things to do. This coconut pound cake is one of our favorite recipes! We hope you enjoy it too!! 
Here's what you'll need:
INGREDIENTS:
FOR THE CAKE:
1 & 1/2 cups sweetened shredded coconut

2 cups all-purpose flour

1 teaspoon baking powder

1/2 teaspoon baking soda

1/2 teaspoon salt

3/4 cup unsalted butter, softened

1 cup granulated sugar

3 large eggs

1 teaspoon vanilla extract

1 cup buttermilk
FOR THE GLAZE:
1 cup confectioners' sugar, sifted

2 tablespoons buttermilk
DIRECTIONS:
TO MAKE THE CAKE:
Preheat oven to 350°F. Grease a 9″x 5″ loaf pan.*

Line a small baking pan with aluminum foil or parchment paper. Spread the coconut in an even layer on the lining. Bake for 6 to 8 minutes, stirring every couple of minutes to prevent burning. Remove from the oven when the coconut is lightly toasted.

Set aside 1/4 cup of the coconut to use for the topping.

Whisk together the flour, baking powder, baking soda, and salt. Set aside.

Using an electric mixer on medium speed, beat the butter and sugar until light and fluffy. Add the eggs, one at a time mixing well after each addition. Mix in the vanilla.

Reduce mixer speed to low. Add the flour in three portions, alternating with two portions of buttermilk. Mix just until combined.

Stir in the toasted coconut not reserved for the topping.

Transfer the batter to the prepared pan and spread evenly. Bake 1 hour, or until a pick inserted into the center comes out with a few moist crumbs.

Cool the cake in the pan on a wire rack for 1 hour. Then, remove the cake from the pan and allow to cool completely on a wire rack.
TO MAKE THE GLAZE:
Whisk together the confectioners' sugar and buttermilk until smooth. Drizzle over the cooled cake.

Sprinkle the cake with coconut and berries.

Serve with a side of vanilla pudding.
(Recipe adapted from BakeorBreak.com)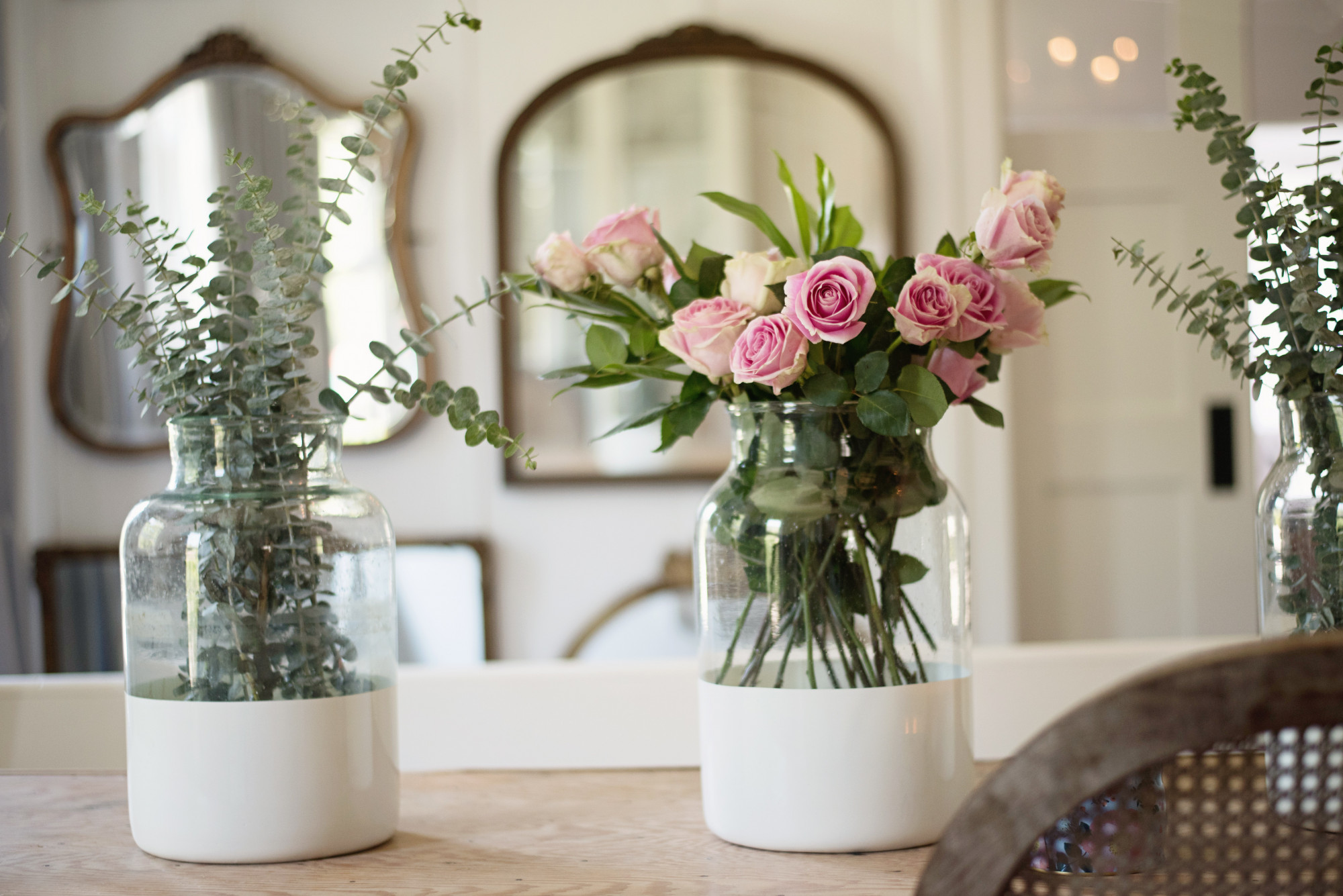 That friends is a wrap! I hope you enjoyed day one of our Seasons of Home Holiday Tour!  If I can leave you with a piece of advice this season, one that I live by in my own home, I would say to choose pieces from your dining table all the way down to the treats you prepare, that truly represent you and your family. Whether you are decorating your entire home or baking a warm treat for the ones you love, my motto is as long as you love what you are creating, the environment will truly represent you! And what better way to greet the guests you love into your home than with the things you love? Can I get an Amen?! 
Happy decorating and happy Holidays, friends!
Ella Claire | Shades of Blue Interiors | Dear Lillie | Love Grows Wild
Craftberry Bush | Nesting with Grace | Rooms for Rent | Julie Blanner
Jeanne Oliver | Kindred Vintage | French Country Cottage | My Sweet Savannah
and our featured guest this week, Michael from Inspired by Charm
Courtly checked enamel everything bowel found at MacKenzie-Childs
Pink and marble cheese board by PCB Home
Java Me, Galloway Girl, Let Them Eat Cake are from the awesome and super cool ladies at Painted Fox
Huckleberry and Demi from etúHOME