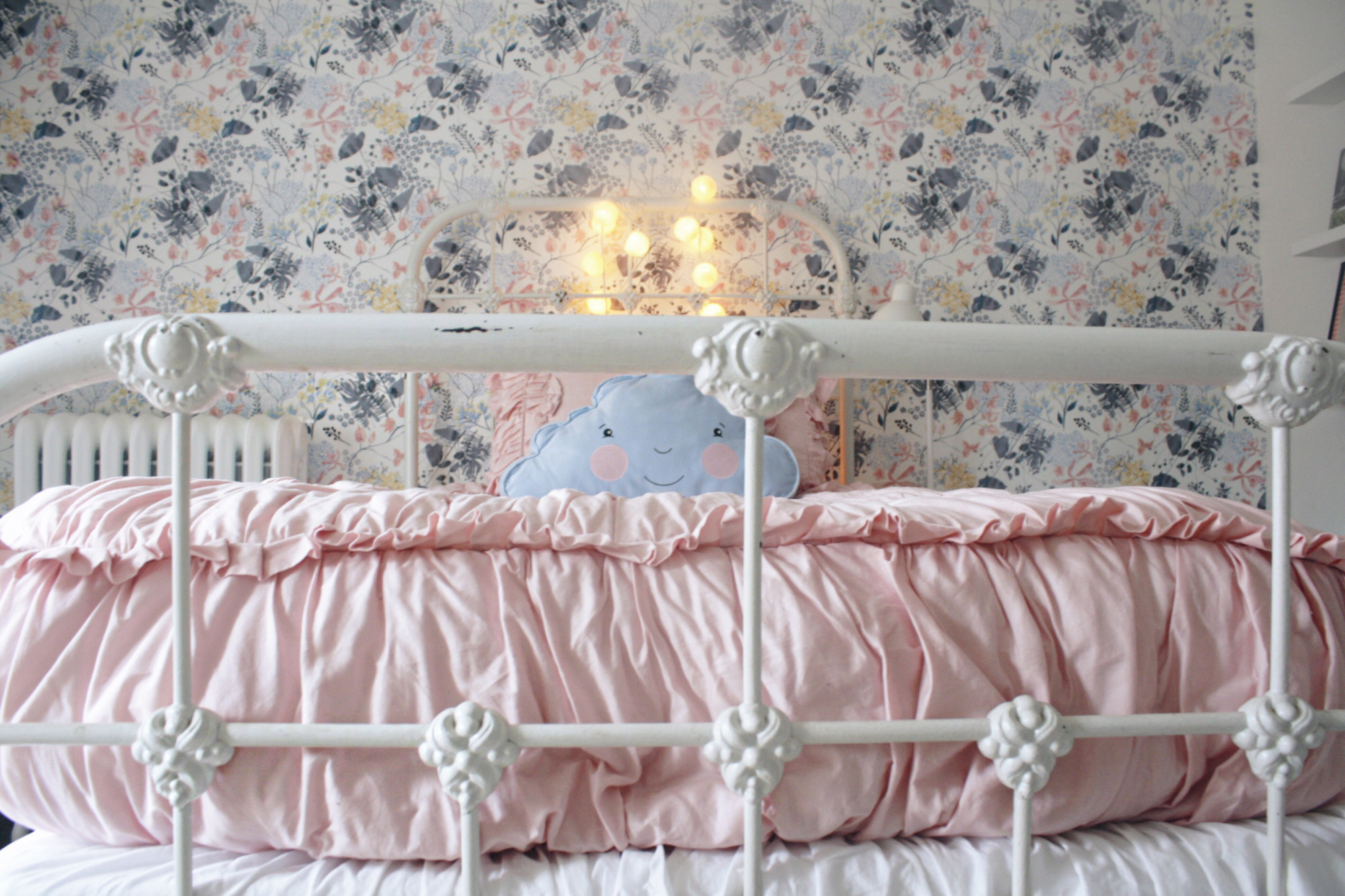 We don't live in Seattle but from the looks of our weather these past couple days you would think we did. As I was photographing our oldest daughter's room for this mini makeover reveal, all inspired by her new cast iron bed frame, the sky was heavy with light clouds, sprinkles of rain, fog and overall early Spring mist. I actually love that weather, for some reason it triggers memories in my mind of Easter as a child. So to celebrate the changing season, I opened the windows to let the thick smell of damp Spring air fill the room. Although the photos are not as bright as I would prefer, the memories of this day are happy ones and that sets the mood for success in my book!!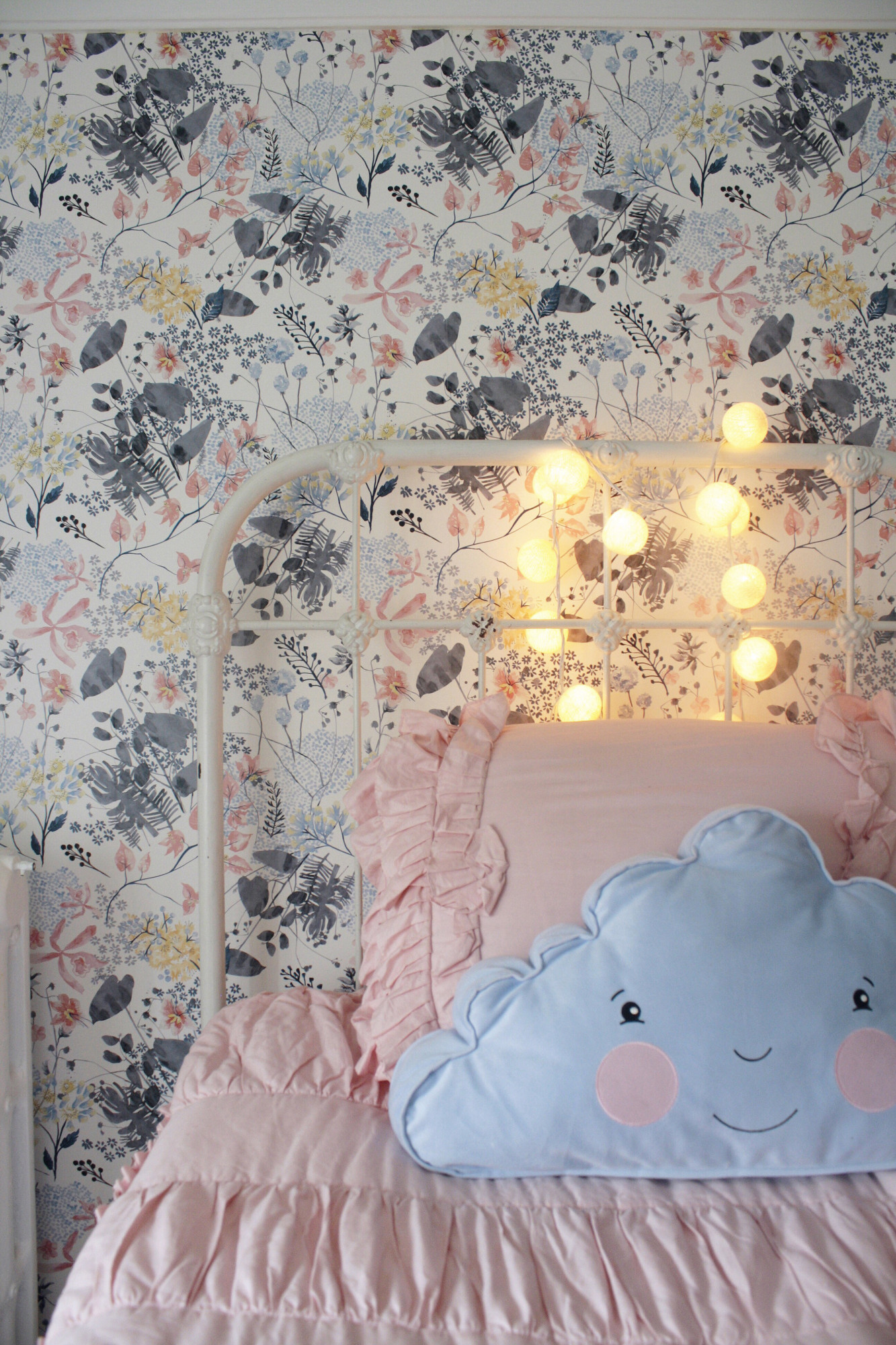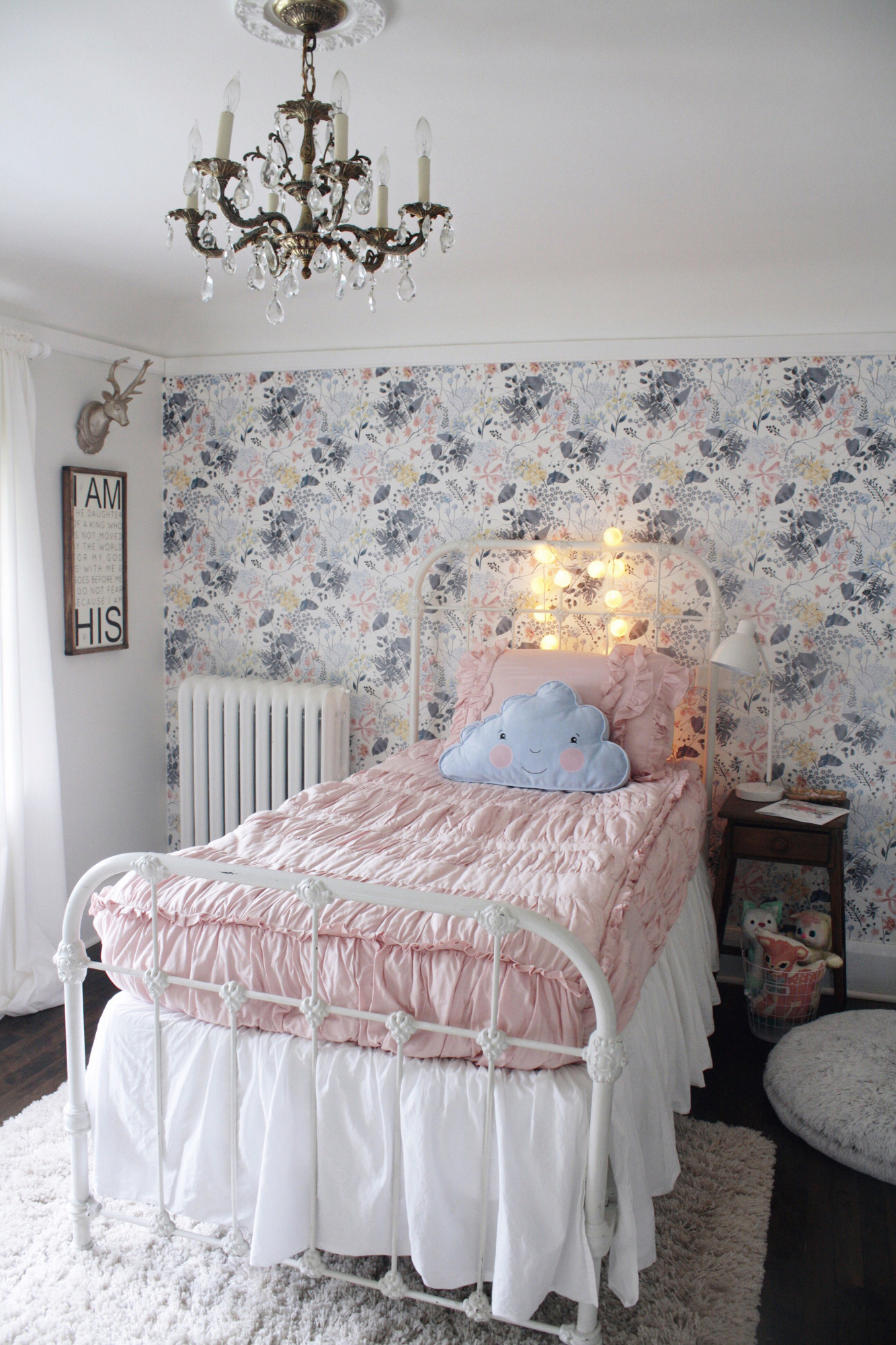 Okay so enough of my blabbing about the weather. 😉 What you really would like to hear about is this room, am I right?! So here we go, although I only made a few changes in here I feel as though they have a huge impact on the room and I am so pleased with the way it turned out.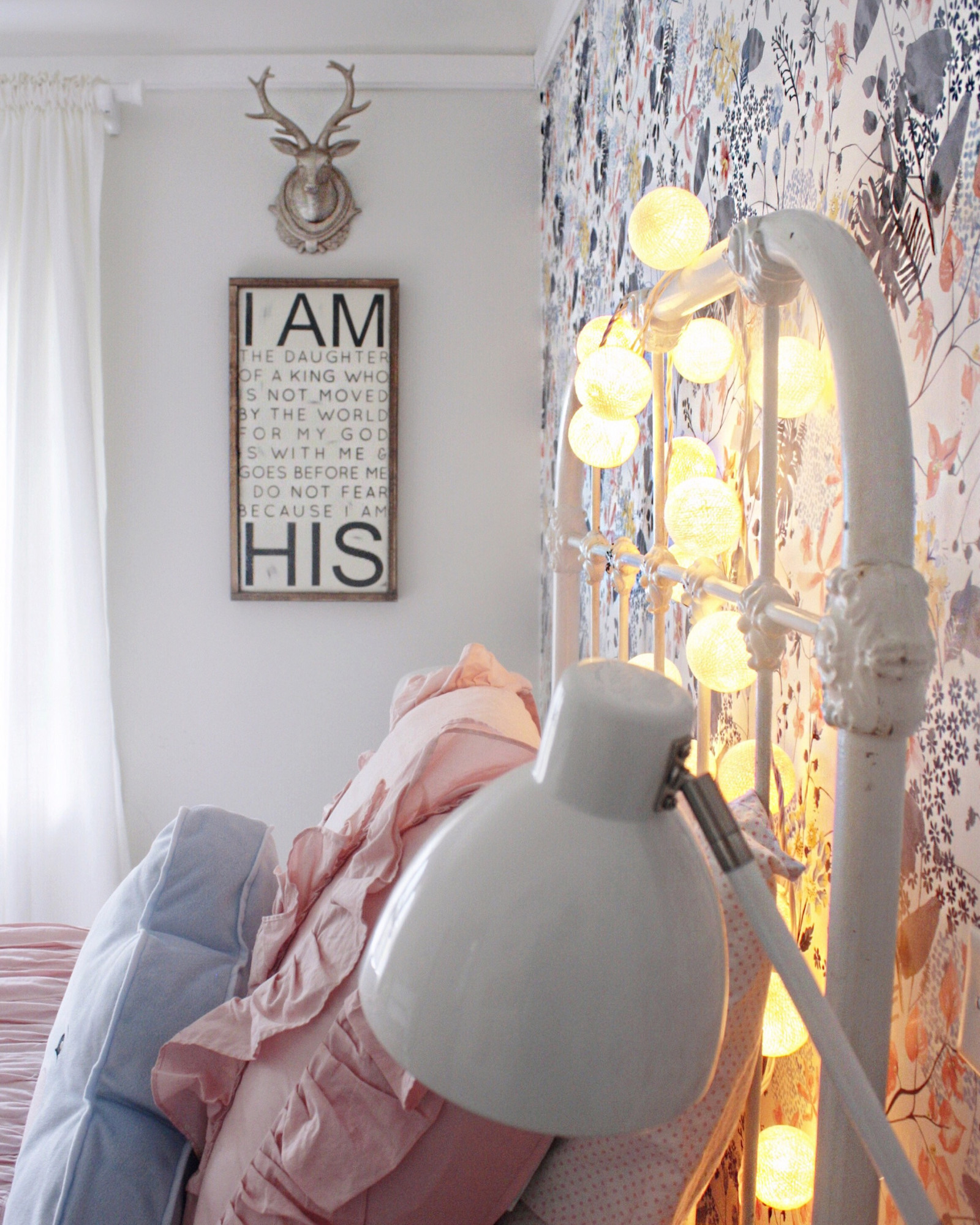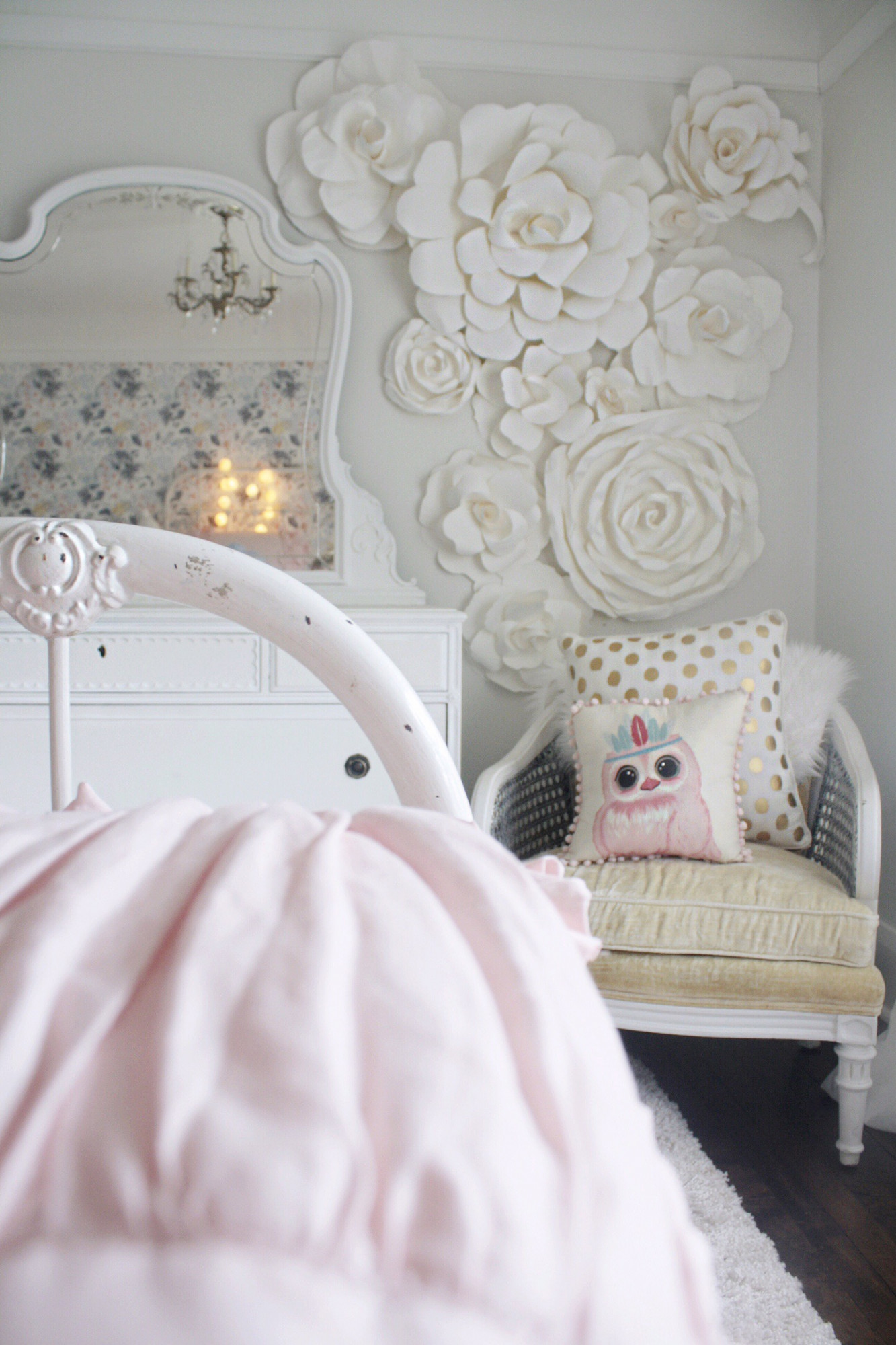 Inspiration sprung for the change while looking at pictures of this room from our holiday house walk that were taken this past December. Although I loved the space, in my opinion there was something that just wasn't working and that was the bed. The wooden frame we had in here is part of a set that we purchased prior to owning our home. I envisioned both girls sharing a room, with these two matching beds, a look that I adore. However, after moving in, each of our daughters ended up getting rooms of their own, so therefore we only used one of the matching beds and stored the other. Although the beds are great, when paired with the wallpapered accent wall the area just felt a little crowded to me. So the search for a new bed frame was on and I was excited!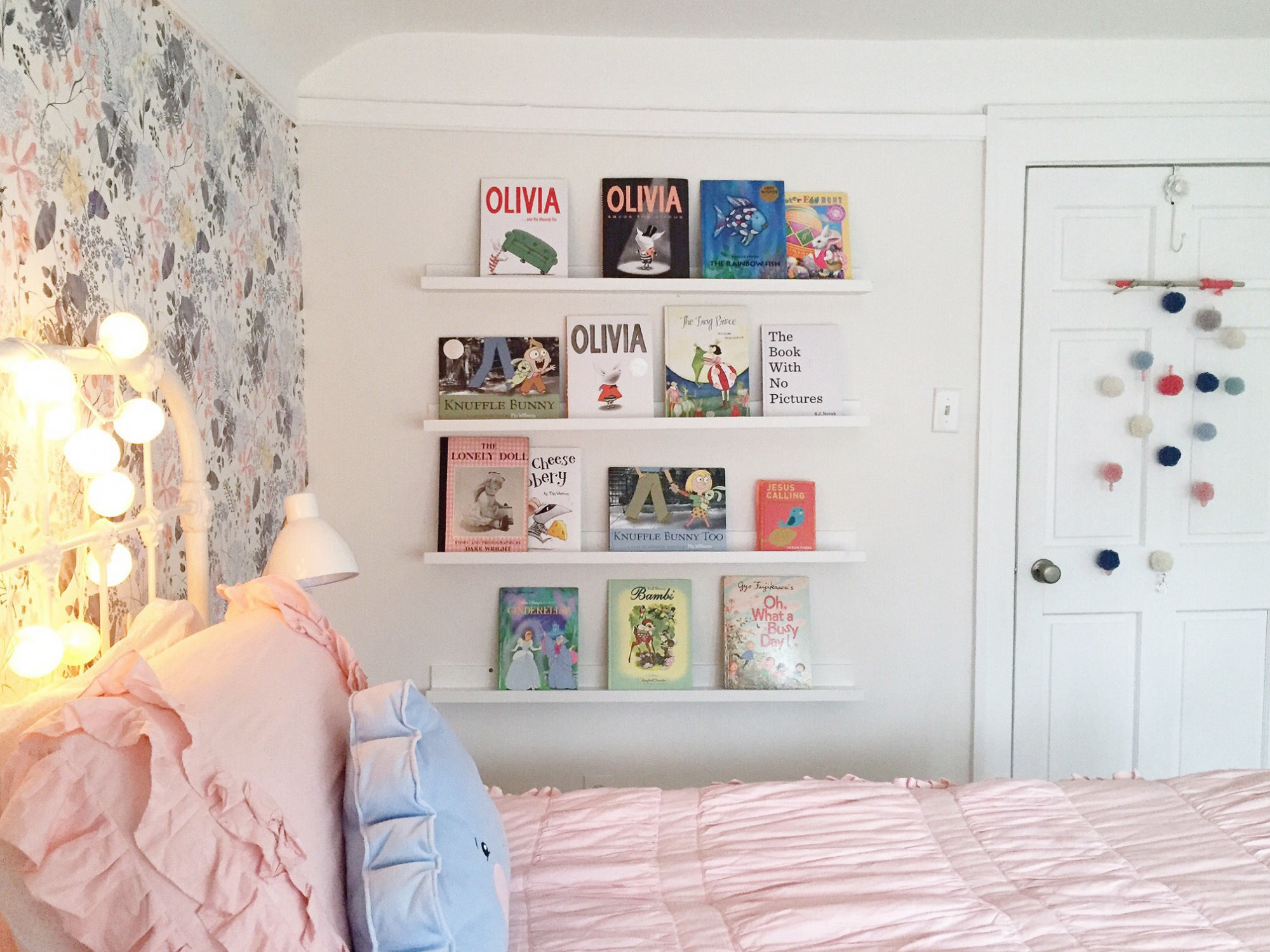 I knew I wanted a bed frame that was a little less "heavy" for the space. One that complimented the wall behind it, instead of competing for its attention. I was really drawn to this one from The Land of Nod, because it had the simple look I was craving but couldn't bring myself to pay close to $400 for it.
Here's a closer look at the thrifted bed I found.  As soon as I laid eyes on it, it was love at first sight!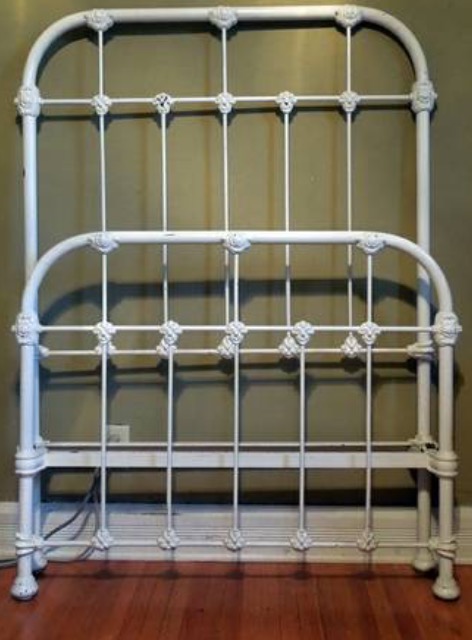 The cool thing about the app is that it provides you with a tighter, more intimate search simply by plugging in your town and the distance you would like to travel. Unlike some of the other buying and selling sites that give you a wide travel range based on a much larger metro area. Also, I love the ability to chat directly to the seller through the app itself rather than having to coordinate my already too full inbox.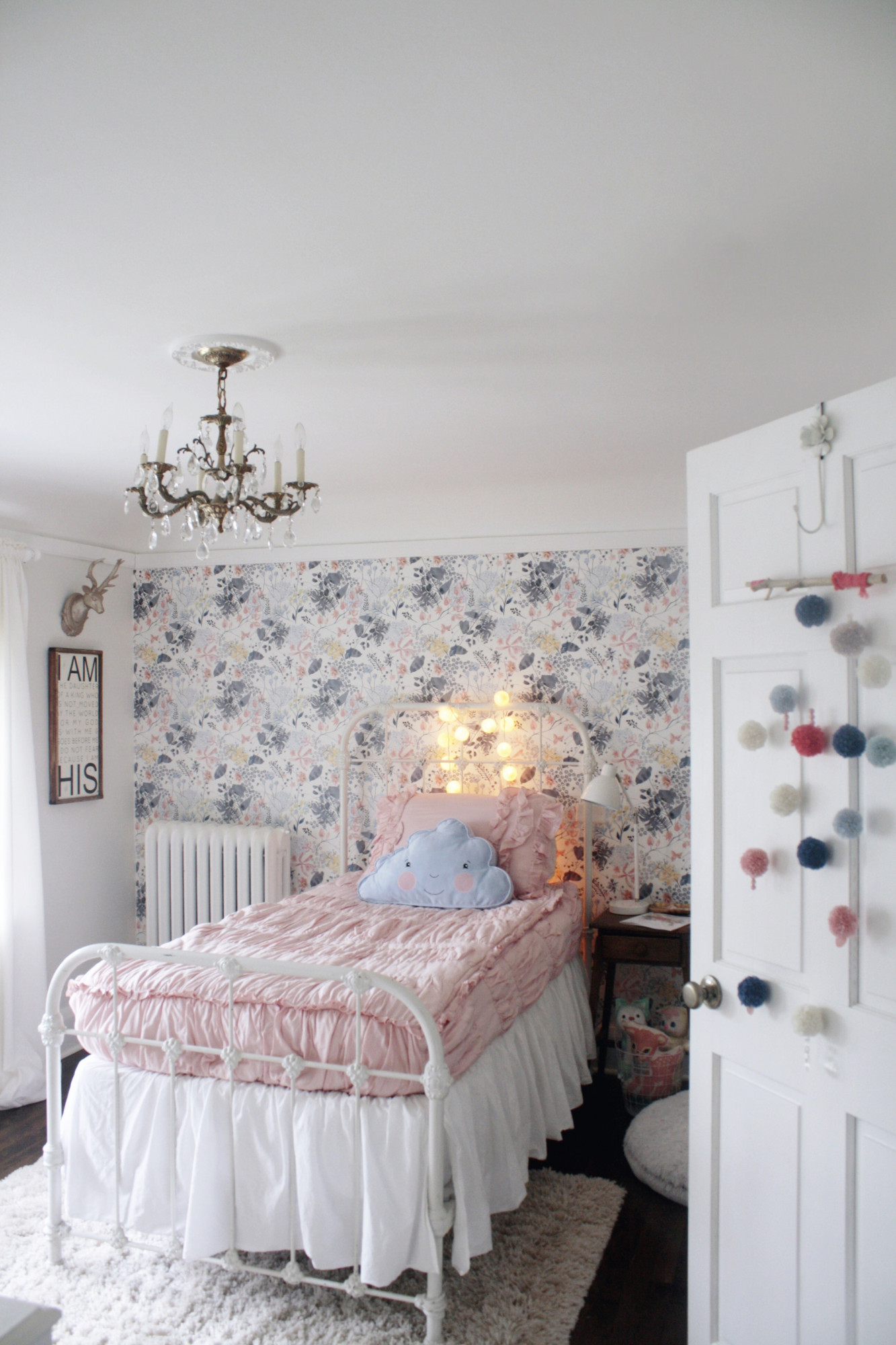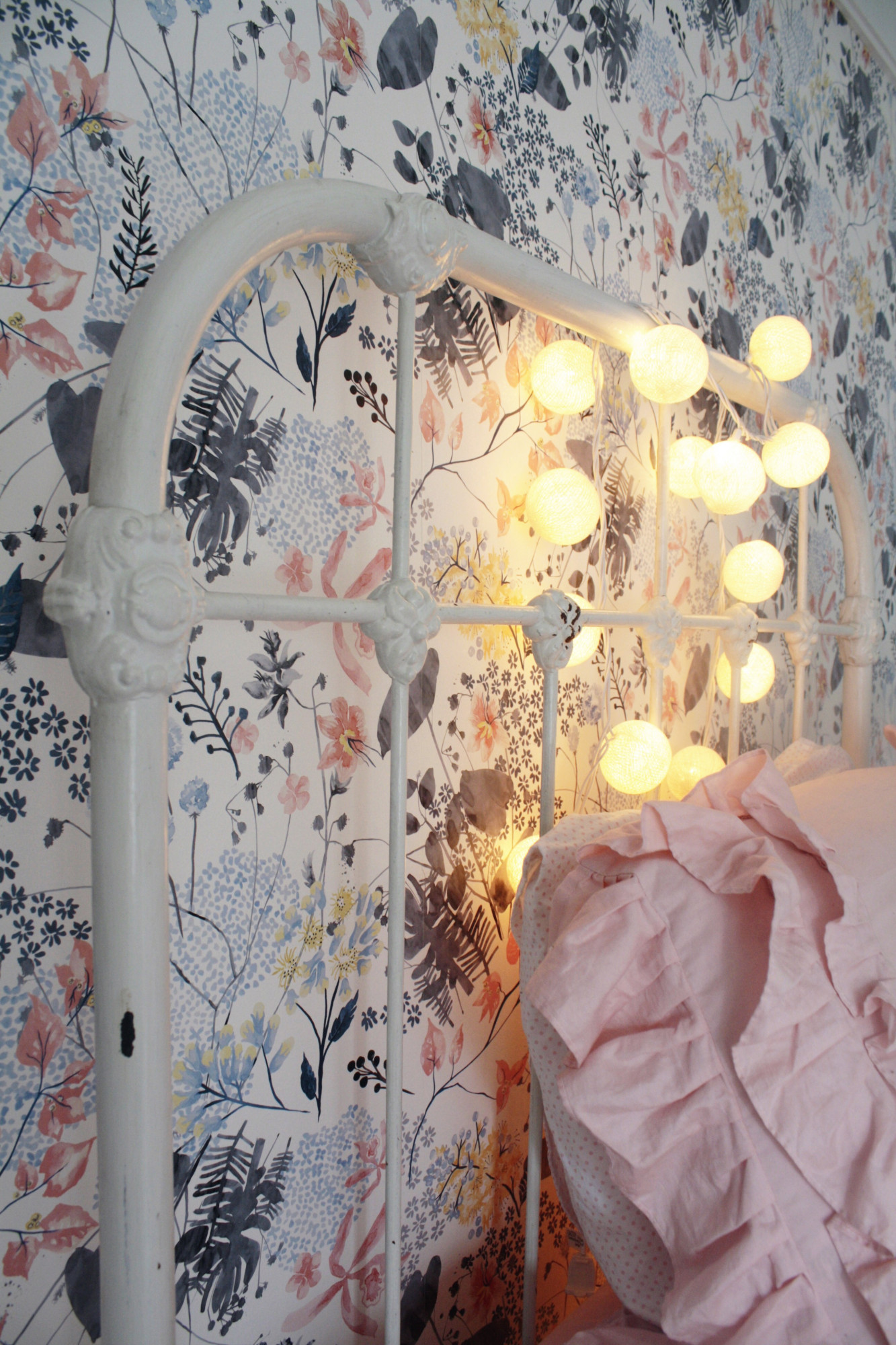 As many of you know I LOVE, LOVE, LOVE thrifting. Finding that perfectly imperfect piece to fix up and use for myself or resell. And half of the thrill for me is the search! I find close to half of my stuff online, and nothing is worse than finding out that that perfect piece is hours away based on the broad search location!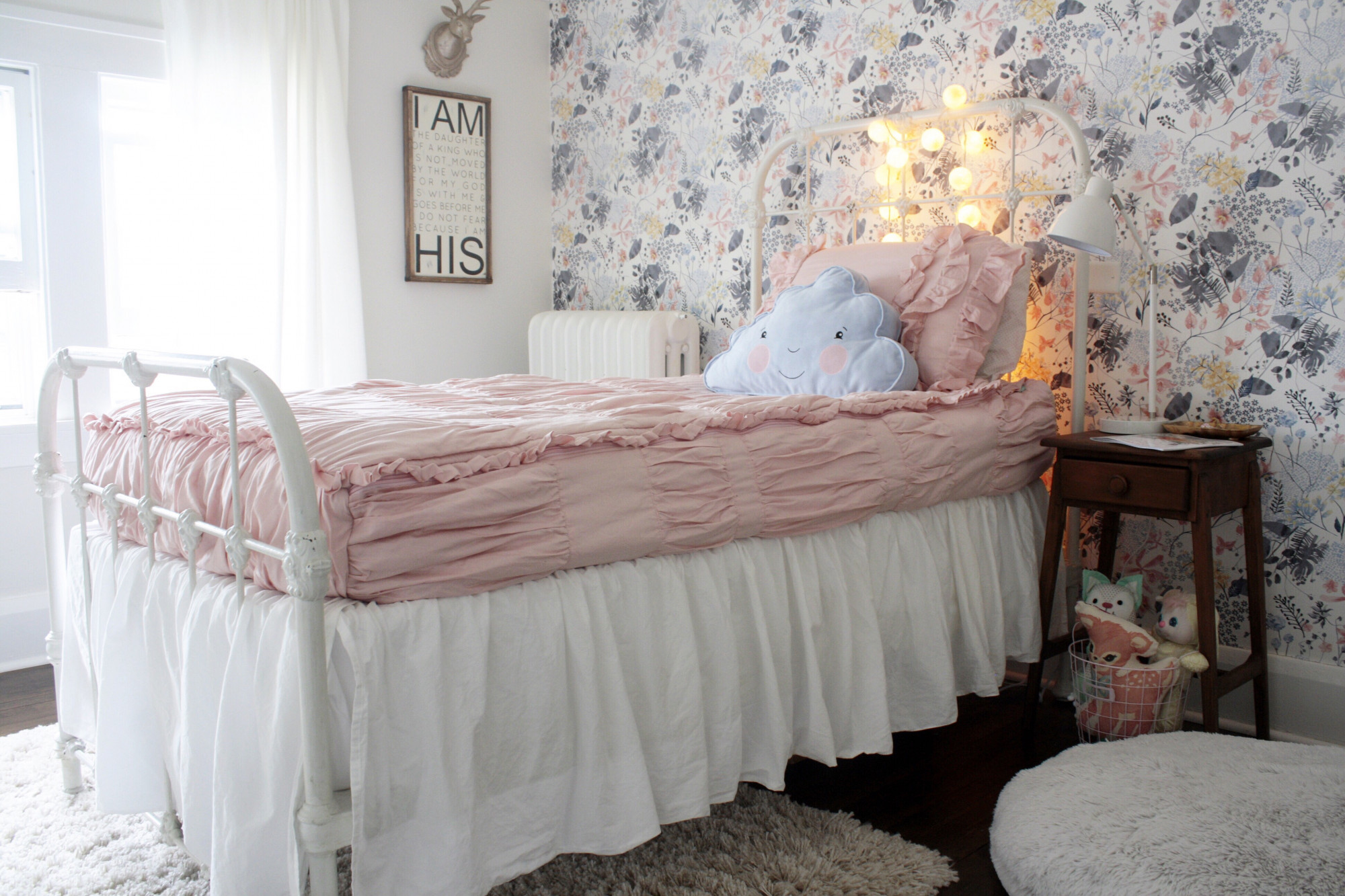 I am loving the way the room looks with the new to us vintage bed! I also am pretty smitten over these beautiful flowers I moved into this room from the playroom downstairs! They are hand made by such a sweet shop named Fanciful Designs, and I will be sure to share more on them later!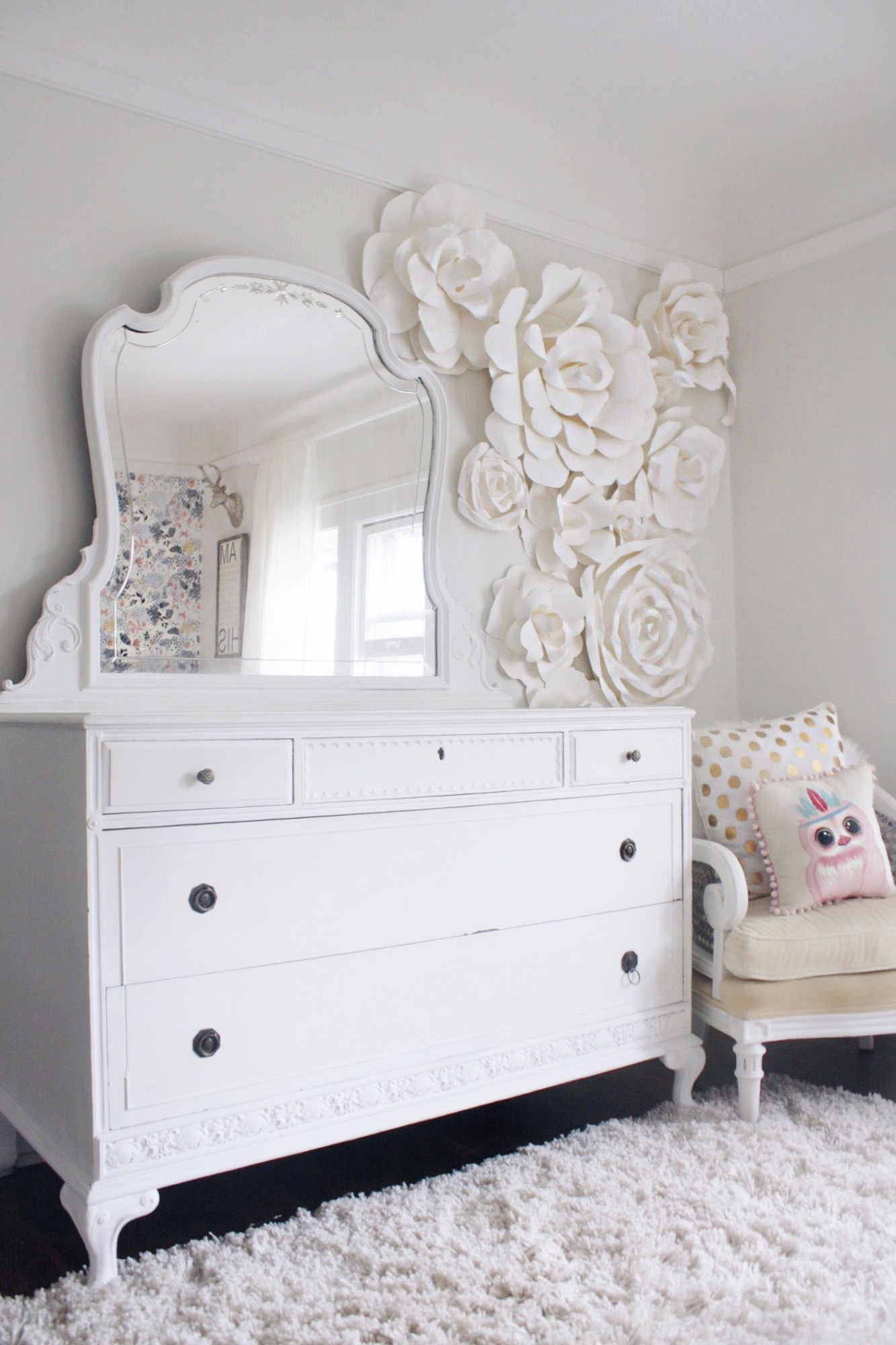 So in love with the tiny details of the space. They truly reflect my daughter's personality and I love that she loves her little getaway.  More on this gorgeous book later!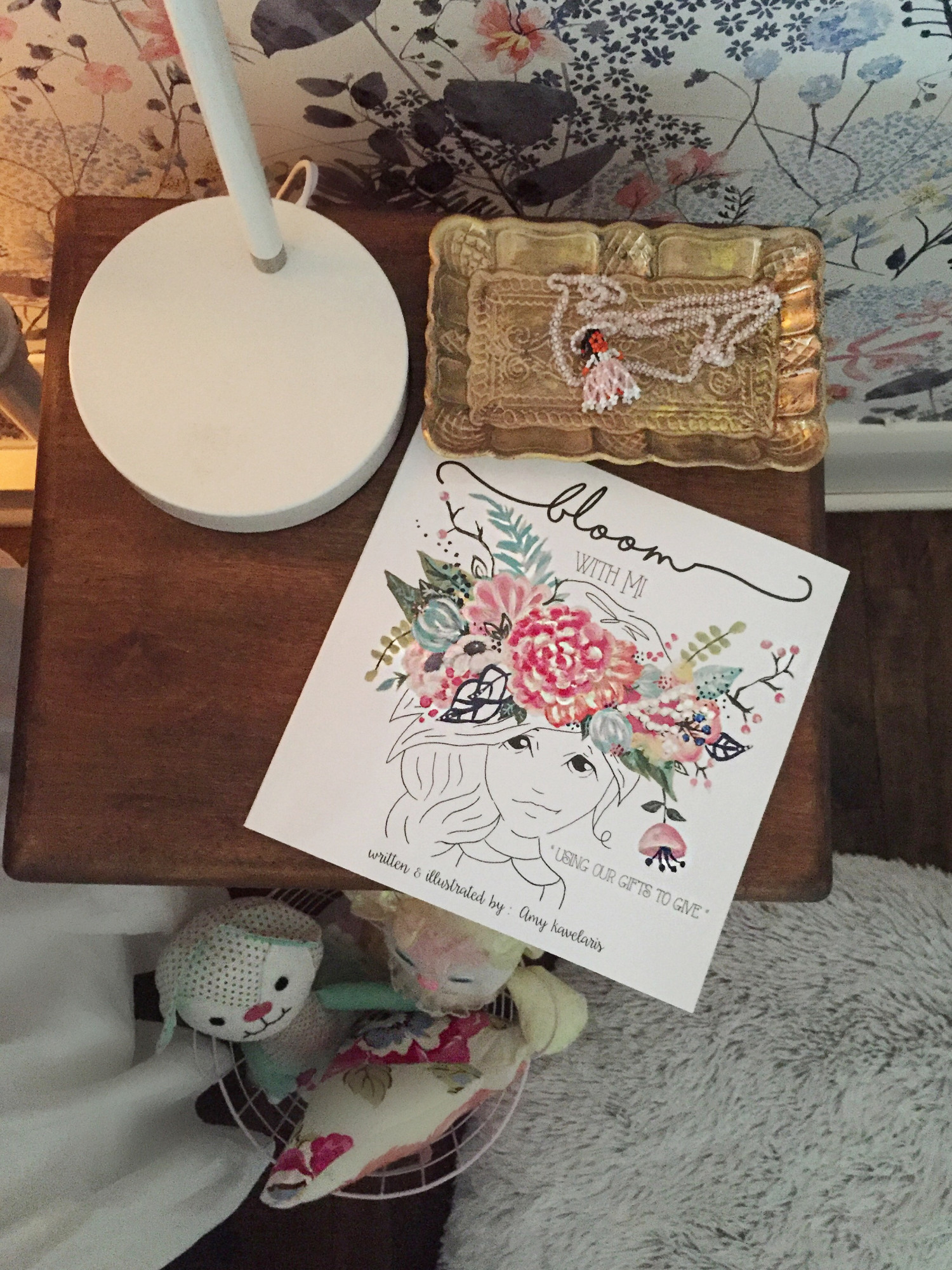 Thank you all for stopping by today. I would love to hear what you think of the changes to the room?! Also, let me know if you find a perfectly imperfect vintage gem of your own!
Have a beautiful Day,
xo Susan
____________
Sources:
Bedding:
Paper Flowers:
Gold jewelry tray:
Bloom With Mi Children's book:
Owl Pillow:
I AM HIS sign:
Shag Rug & Cloud Pillow:
Rose Petals Wallpaper:
Pom Pom mobile: