Welcome friends!
As always, I wish I could reach through the computer screen and hug each and every one of you for taking time out of your day to visit this little space of ours on the web! If I could, I would have loved to have you over face to face for a coffee (or a mimosa) 😉 but since that doesn't seem to be all that realistic, I hope you'll grab a hot cup of joe', a warm blanket and make yourself cozy as you visit our Christmas home tour! Just a warning, I like to "talk" a lot so I mean it when I say get nice and comfy. 🙂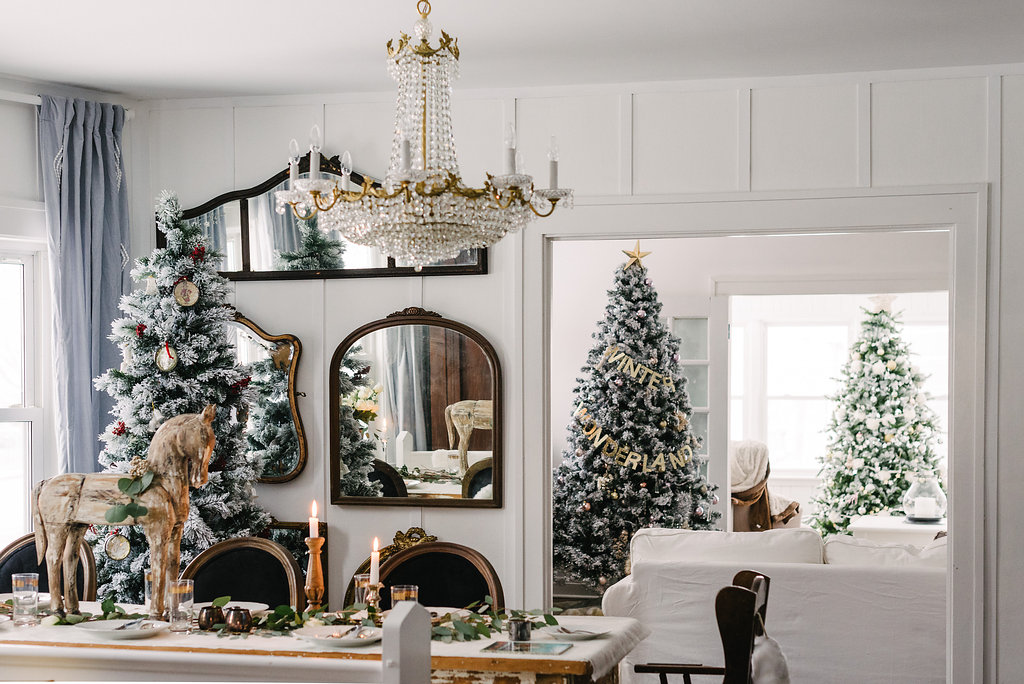 For starters, I am not sure if there are words to accurately describe just how thrilled I am to be a part of Jennifer Rizzo's Holiday HouseWalk this year! Way back when before I even dreamt up that I, in fact would be sharing my love for decorating, styling and interior design I would sit goggly eyed at my computer admiring and adoring Jennifer's gorgeous holiday house walk and all of the talented bloggers that were a part of it. Fast forward to today and here I am! Not only do I get the opportunity to be a part of this incredible tour, held by the insanely talented Jennifer Rizzo herself, follow the full tour from the beginning here, but I am sandwiched in-between the first blog I have ever fallen head over heels for (and still am!), written by the beautiful soul, Jennifer over at Dear Lille and another insanely talented lady who inspires me with every post, Jennifer over at City Farmhouse! Look at that, it's a big ol' Jennifer inspiration fest and I am so honored to be cozied up right between the beautiful hearts and homes they share!
Speaking of which, if you haven't already done so, please make sure to head on over to Dear Lillie's beautiful home. It is gorgeous and decorated to the nines! There is no doubt in my mind that you will fall head over heels for Jennifer's charming home the same way I did!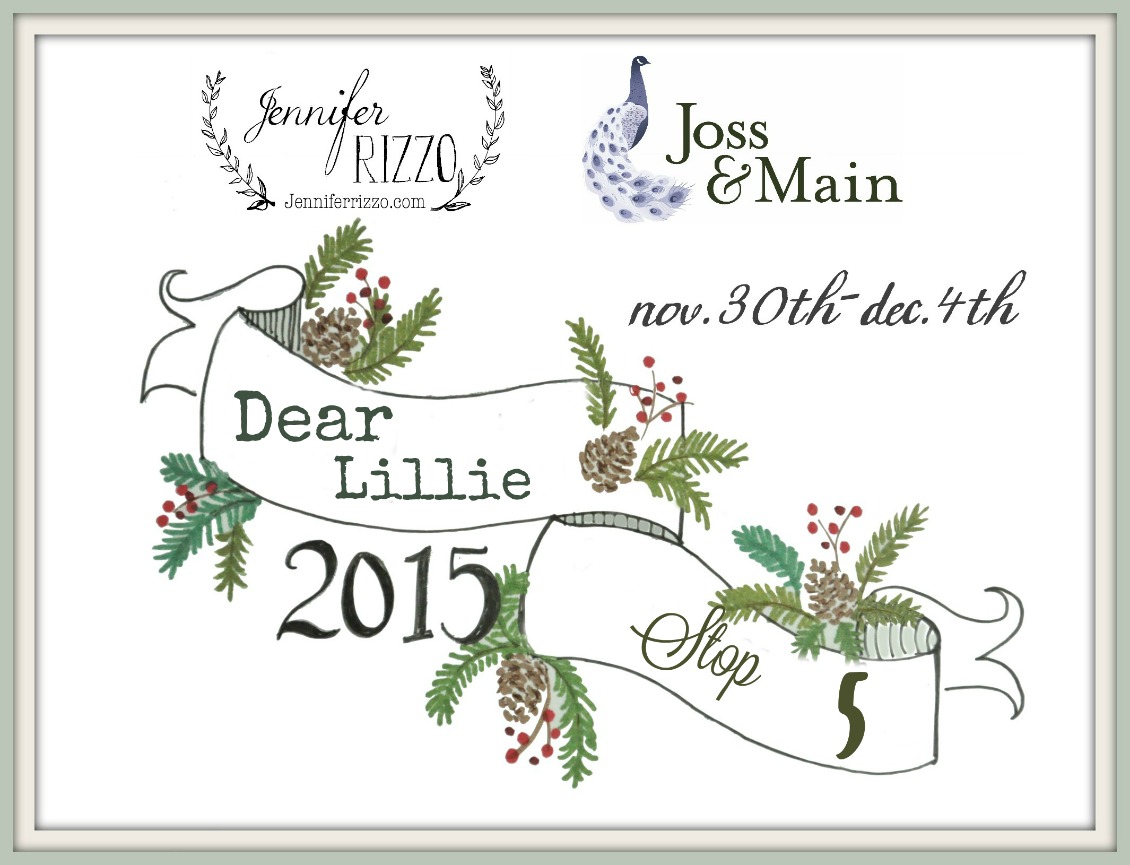 I would also like to add that a majority of these photos are taken by some of the very best photographers I know!! Truly and honestly from the bottom of my heart I would recommend T & S Hughes photography to anyone! I have no clue how I got so very blessed to call Sharon and Tony family but I know that God has a plan and them being a part of the Kindred Vintage Co's story is just one of them.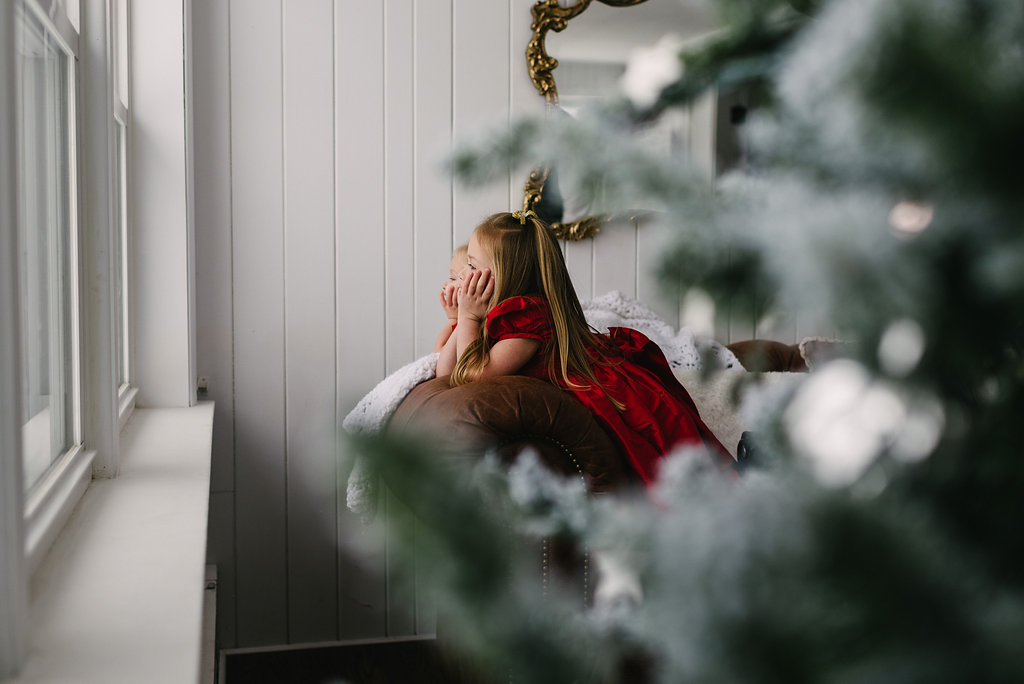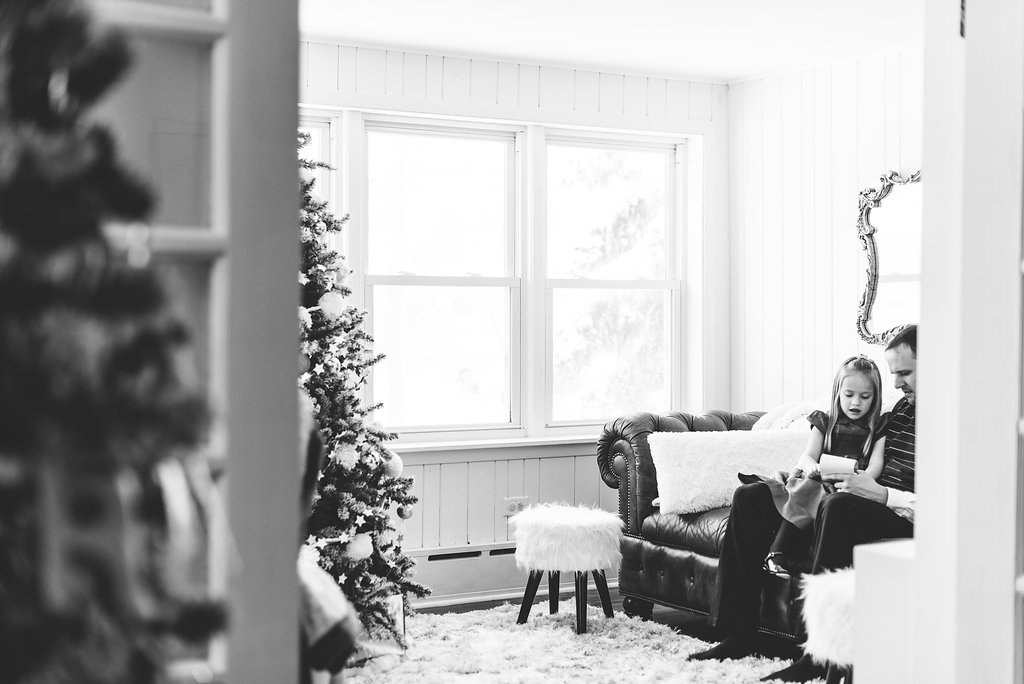 The day Sharon and Tony came over to photograph our home for the Holiday HouseWalk I was getting out of the shower and much to my surprise discovered that our entire neighborhood's power had gone out due to the heavy snowfall outside. Just great, wet hair and no lights on the trees, that's all I needed. Let's just say some stress-tears were shed.  But with my husband, mother, daughters and Sharon, Tony and their baby Austin by my side I put on a smile and thanked God for the people around me, and that was my focus for the shoot! So all photos with lighting were done by yours truly. (Not that you wouldn't have figured it out, haha!!) Okay, enough babbling, here we go!!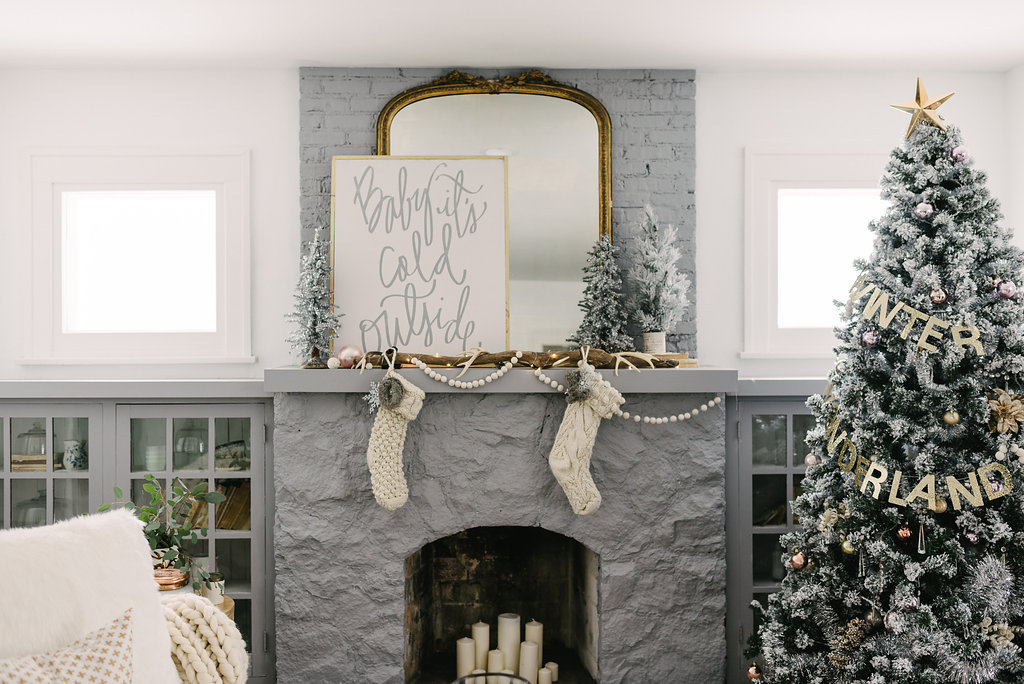 This year I was really looking forward to decking the halls in our new home. And by new home, allow me to clarify, we were in fact here last year, and that was our first official Christmas here in our new house but we were only here for three months prior. So although beautiful and cherished, Christmas in our place felt a bit like getting to know an unfamiliar acquaintance as opposed to spending time with an old friend. This year I can assure you, these walls have been well discovered, lived in and loved on and that makes me one happy lady! *I should add in a small note here; although we've lived here a year, there are still some major renovations taking place. I will touch on them more throughout the tour, but just in case you are curious early on, yes, we do have a kitchen – it is just currently covered in plastic wrap since our remodel is just wrapping up and our floors were refinished… yesterday! haha!
Lets start with the front entry. Although we still haven't quite figured out how we want to permanently decorate this space, I do however know one thing for sure and that this that I adore this darling painting by Deann Art! It is amongst one of my favorite things. What I love most about it is that you can use it for any season. In the summer its reminds me of the true definition of a blossoming cotton field.  Then in those frigid Chicagoland winter months the cotton can easily appear as snow in a vast field. The artwork just brings me such genuine joy and I am so honored to have it in our home!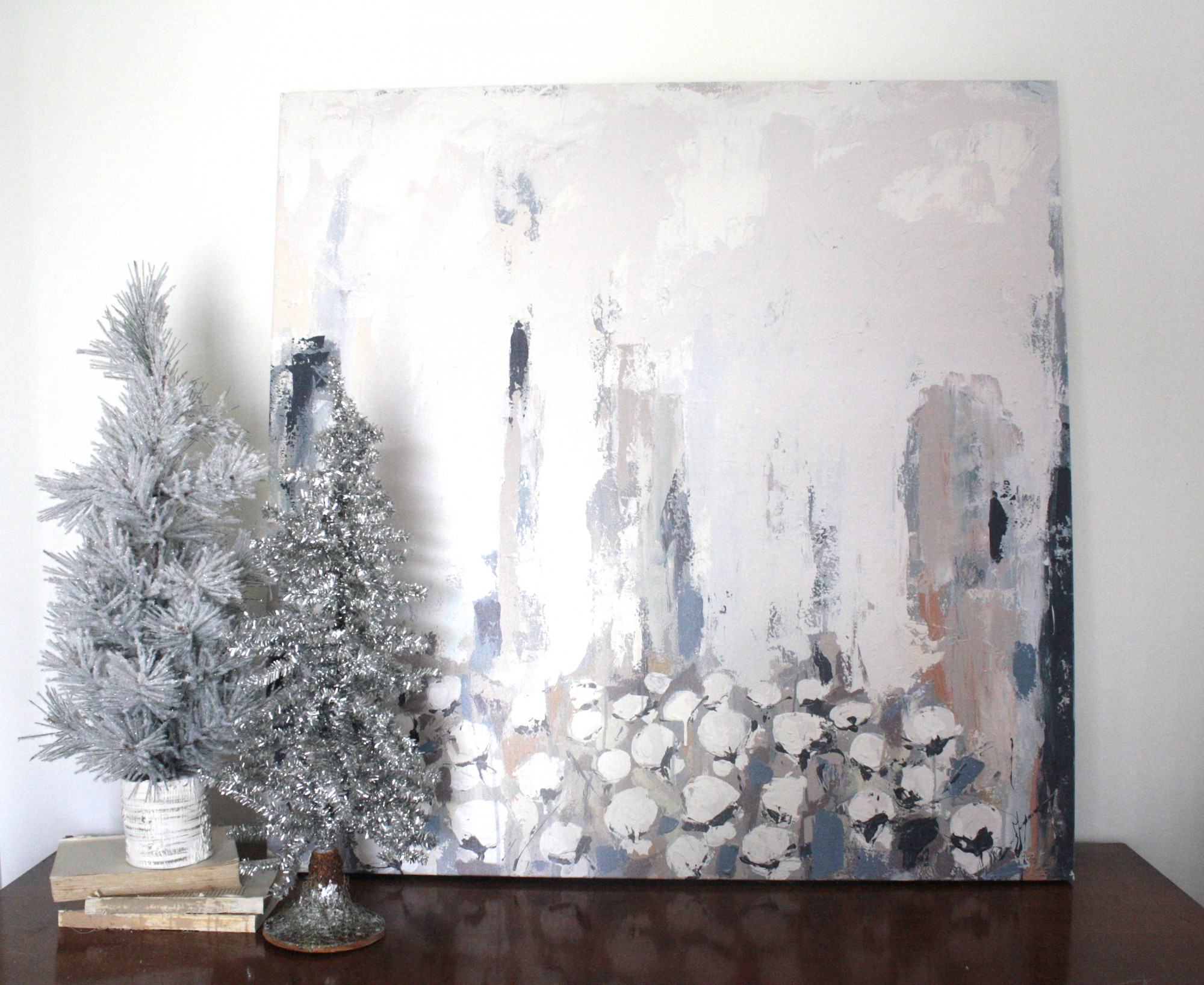 Next room you enter in our home is our living room. I love this room so much so that I put our main tree in here. If you have followed me for the past year you may realize that the furniture was switched up between this room and our sunroom. I just couldn't help it! I had a vision for where each tree should sit and therefore we had to change things up a bit. 😉 The overall feel and vibe I hoped to achieve for our home this Chrsitmas was a mix of everything our home currently is. The vintage, bohemian, "Anthropologie" meets early 1900's glam, meets rustic, farmhouse, cabin in the woods are all the vibes of our home so it was important for me to play off of those elements. Mixing natural elements, like the driftwood we found on a boating trip, with vintage ones such as the chandelier crystals we hung from our Christmas tree, truly tied this space together.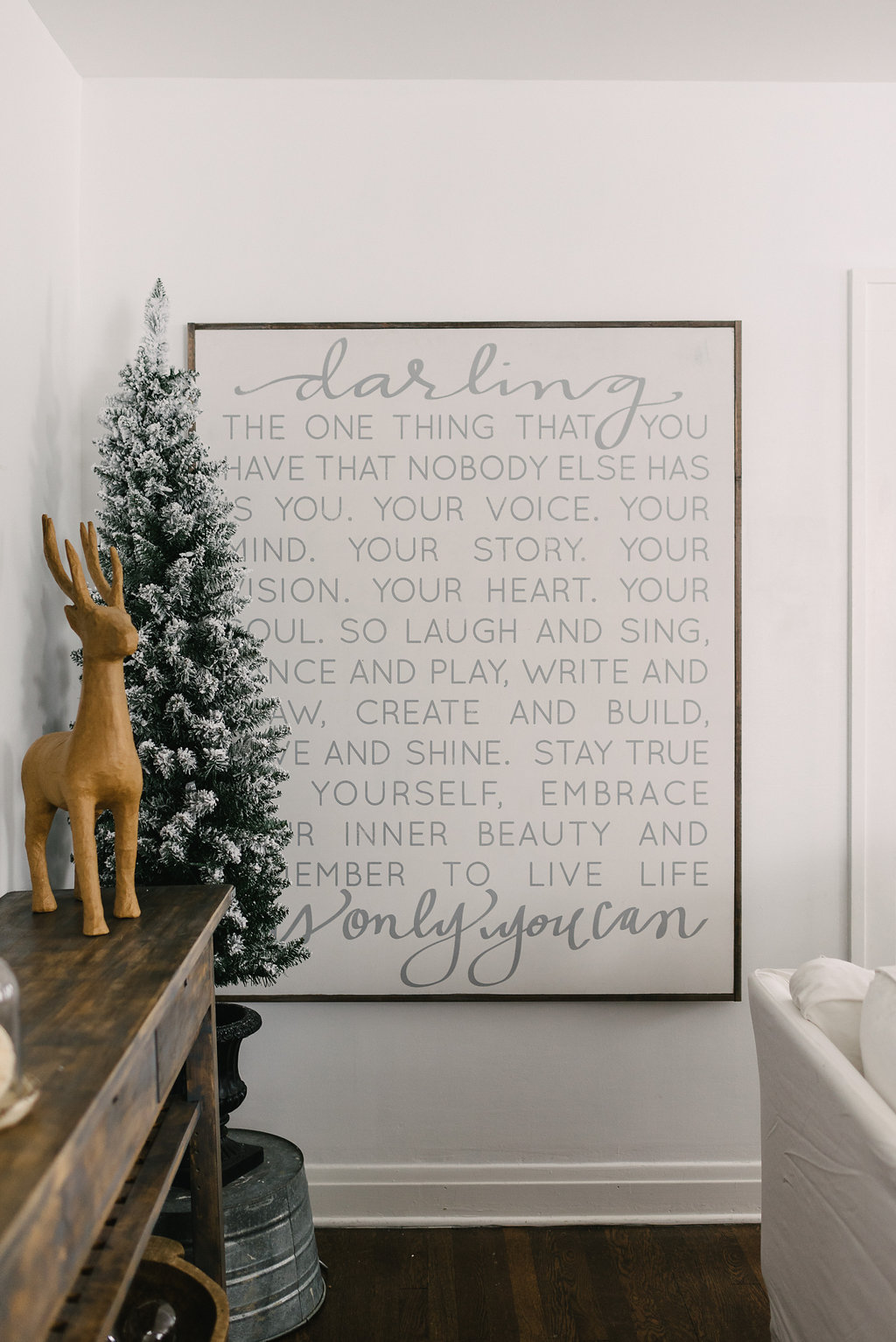 Stunning Darling sign hand lettered by Aedriel and handmade by House of Belonging.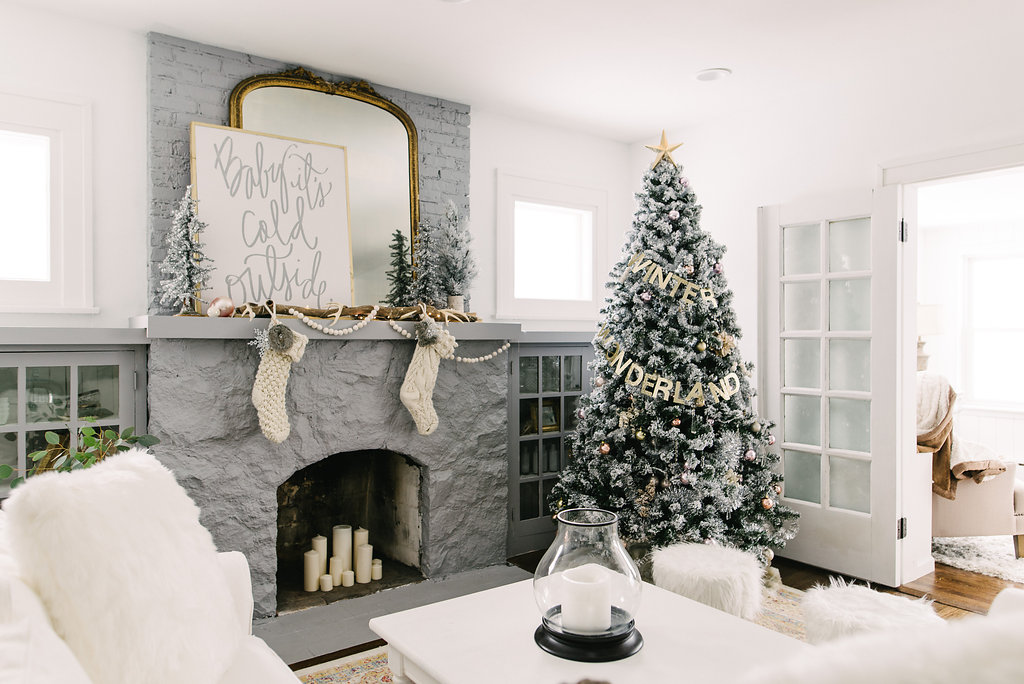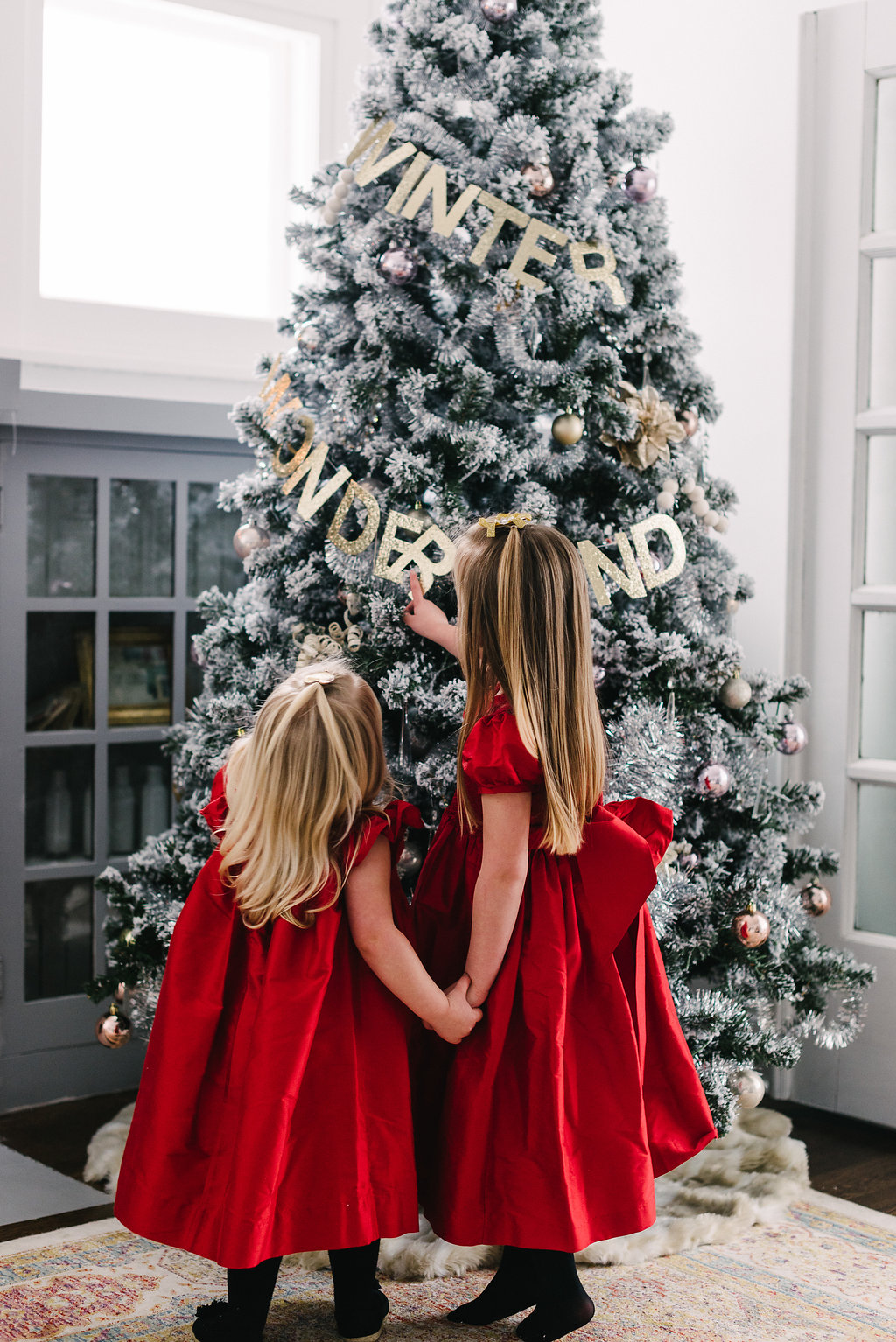 The girls STUNNING dresses are from Starsburg Children. I could not be more happy with them! The quality is unbelievable!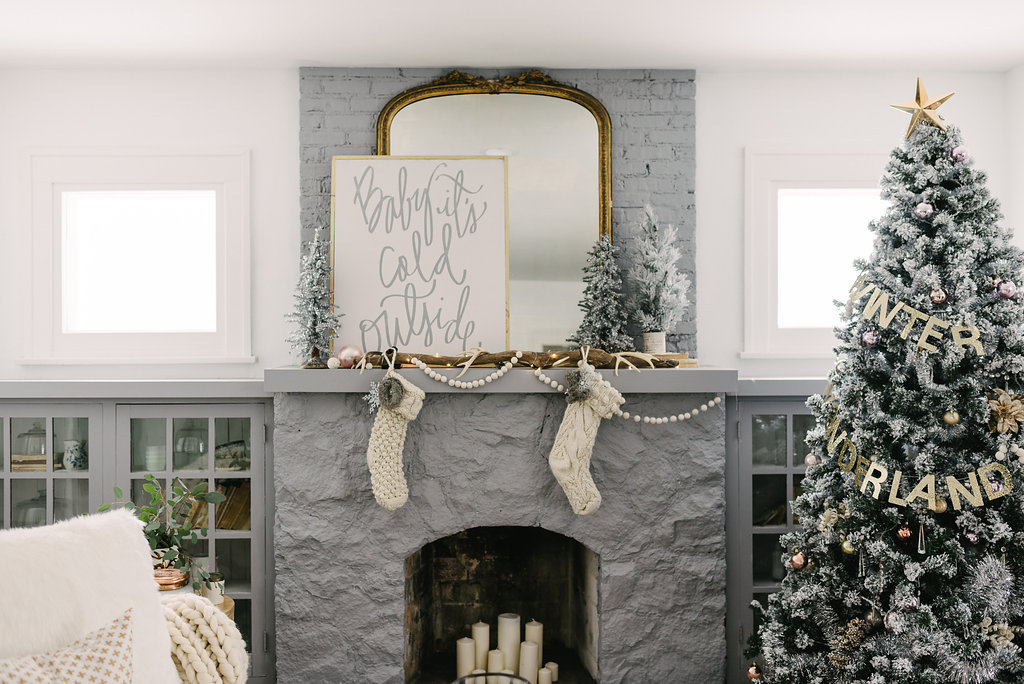 I adore the amazing woolie-ball garland on the mantel and the incredible winter wonderland garland on the tree, both by Little Dovie! This beautiful flocked tree is by King of Christmas and it's fabulous!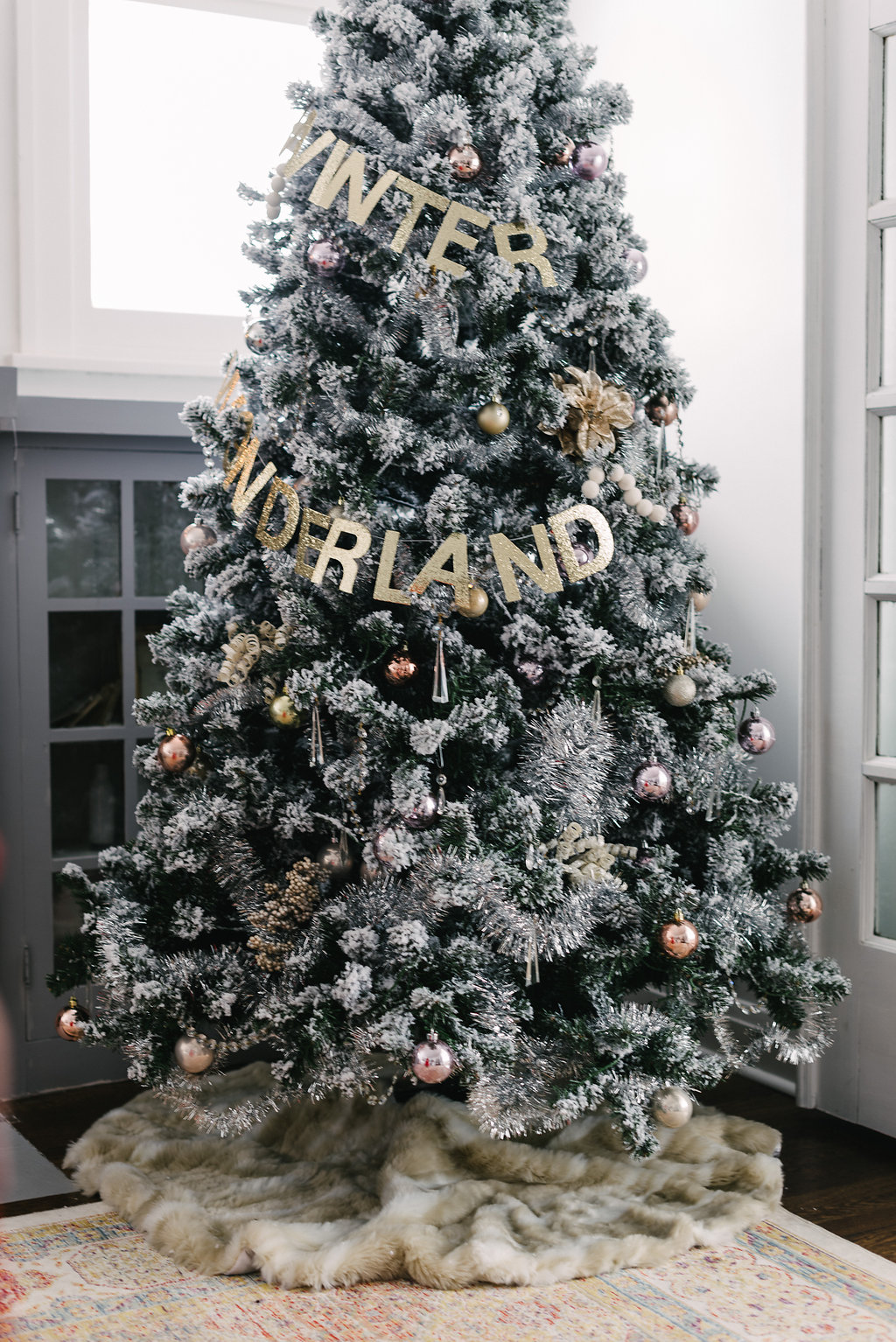 In this room we also added the faux fur tree skirt from Homegoods. I just love the warmth and texture that fur brings to a space, especially during the cold months! The small trees on the mantel and the rug is from there as well. The twinkle lights on the mantel and the fur letters on the stockings are Target! The gorgeous knitted stockings are from Anthropologie last year and they have held up great!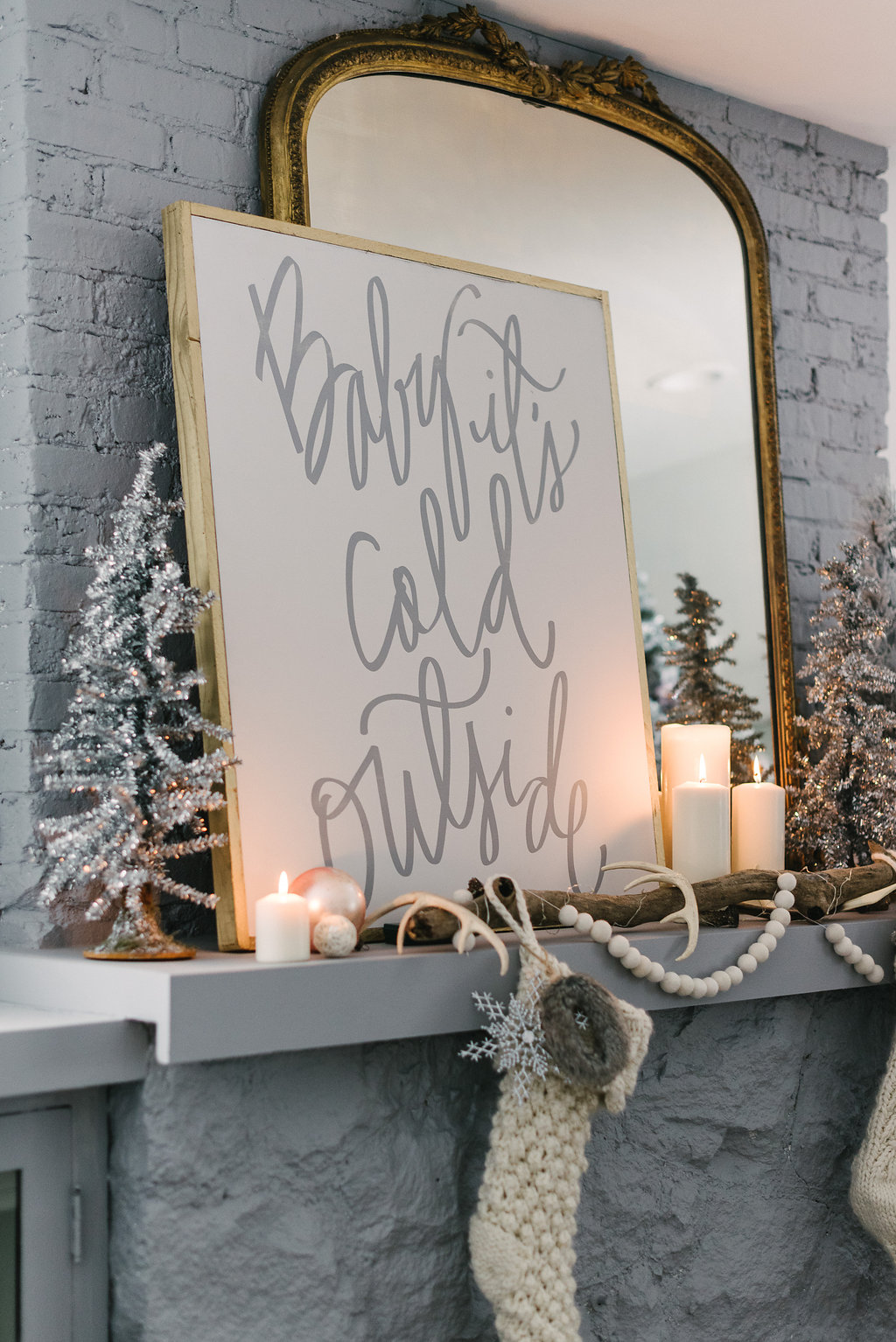 This sign from House of Belonging lettered by Aedriel most definitely pulls the entire room together and serves as jewelry for our mantel!! It couldn't be more perfect for the space! Layering the Painted Fox antlers on the driftwood was a last minute decision that I am so very pleased with!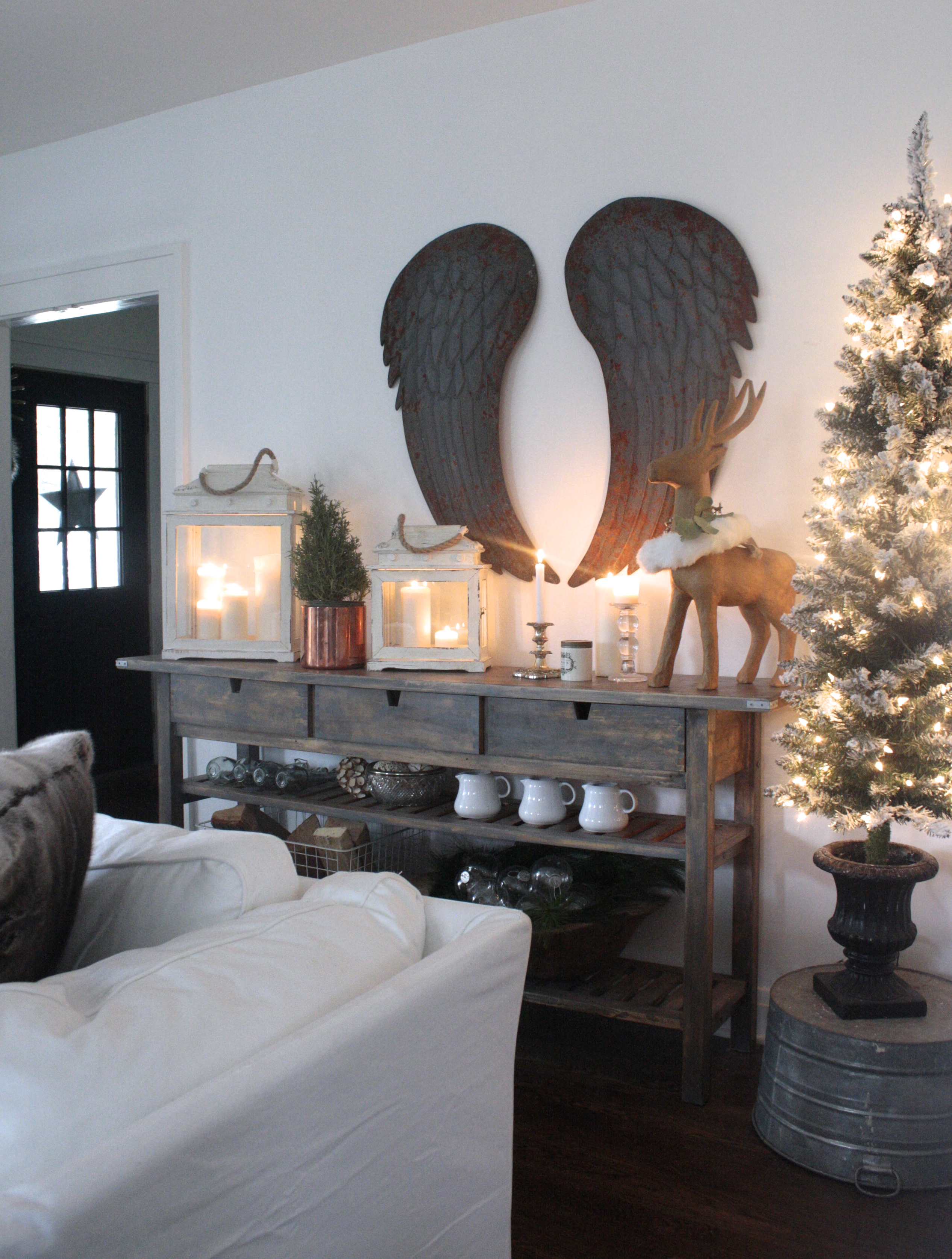 These Angel wings are also from our Kindred Vintage Curated Collection over at Painted Fox. They have been a huge hit!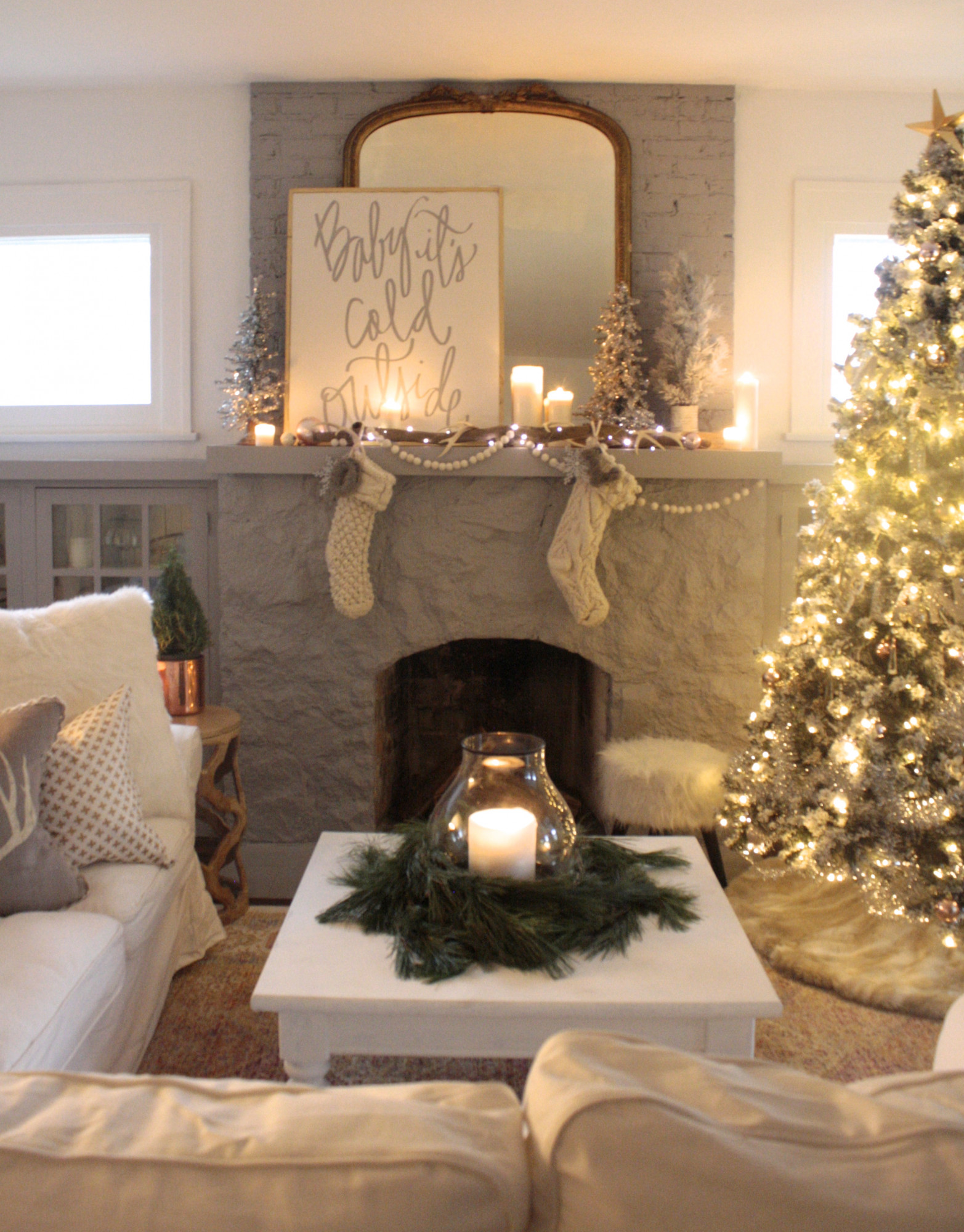 A couple of weeks ago I attended the Three French Hens Christmas Market a couple towns over and as soon as I spotted this vintage mail organizer I knew exactly what I wanted to use it for this Christmas, an advent calendar! Yes, an advent calendar but not just any old calendar, this one would hold an ornament for the girls' to pick and place on the tree for each day of December leading up until Jesus' big birthday celebration on December 25th!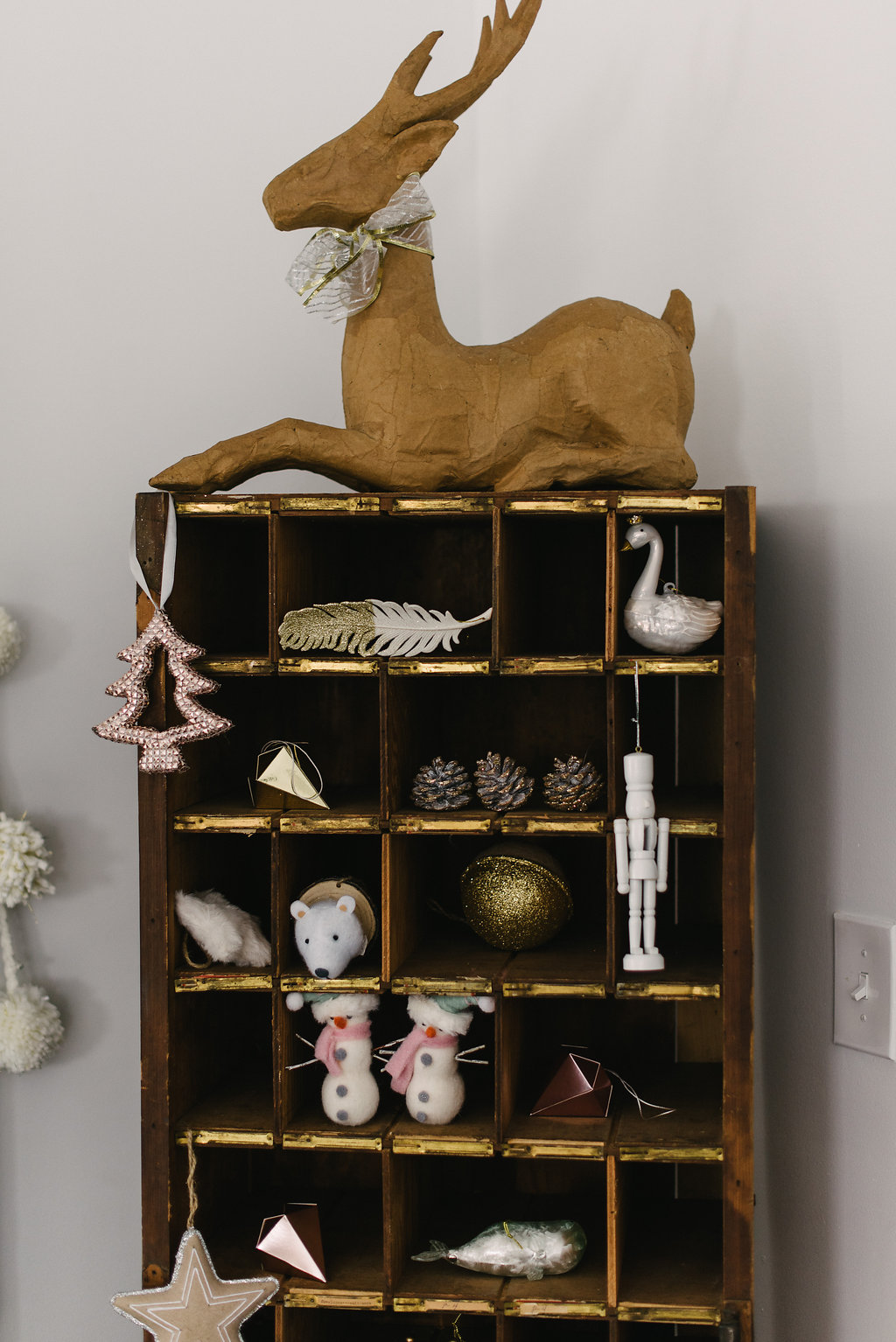 They are so excited to get started on it tomorrow!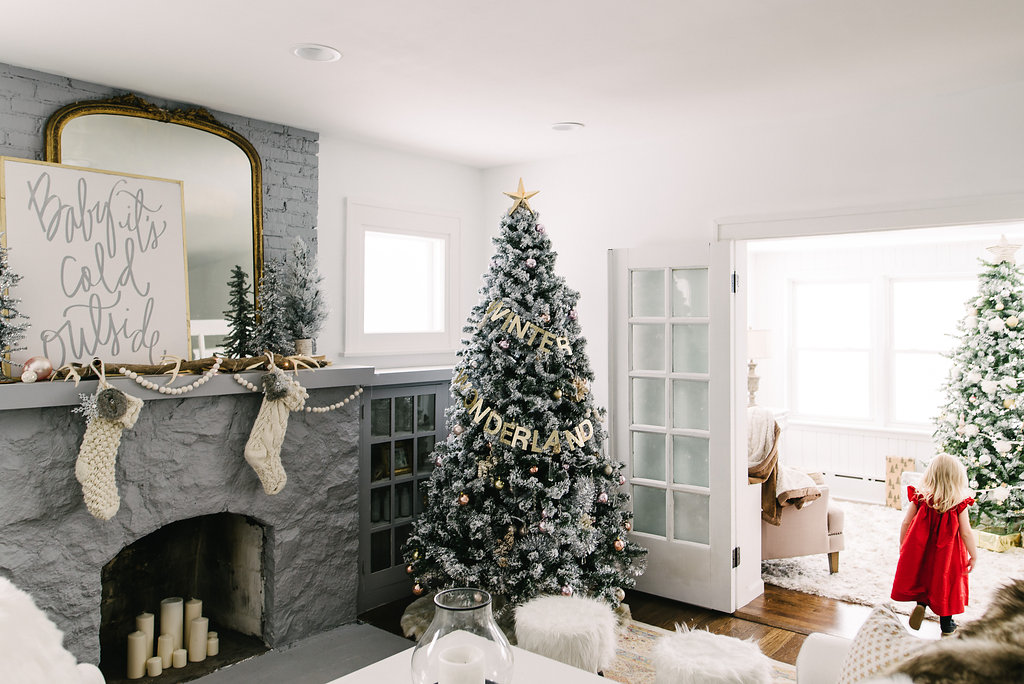 Next we head into the sunroom and I adore this room not only for the bright, vibrant light it gives off but because when we moved into out house it was nothing but an abandoned, unloved, unused room that we made over into one of our favorites!
Sweet drummer boy pillow is by Dear Lillie.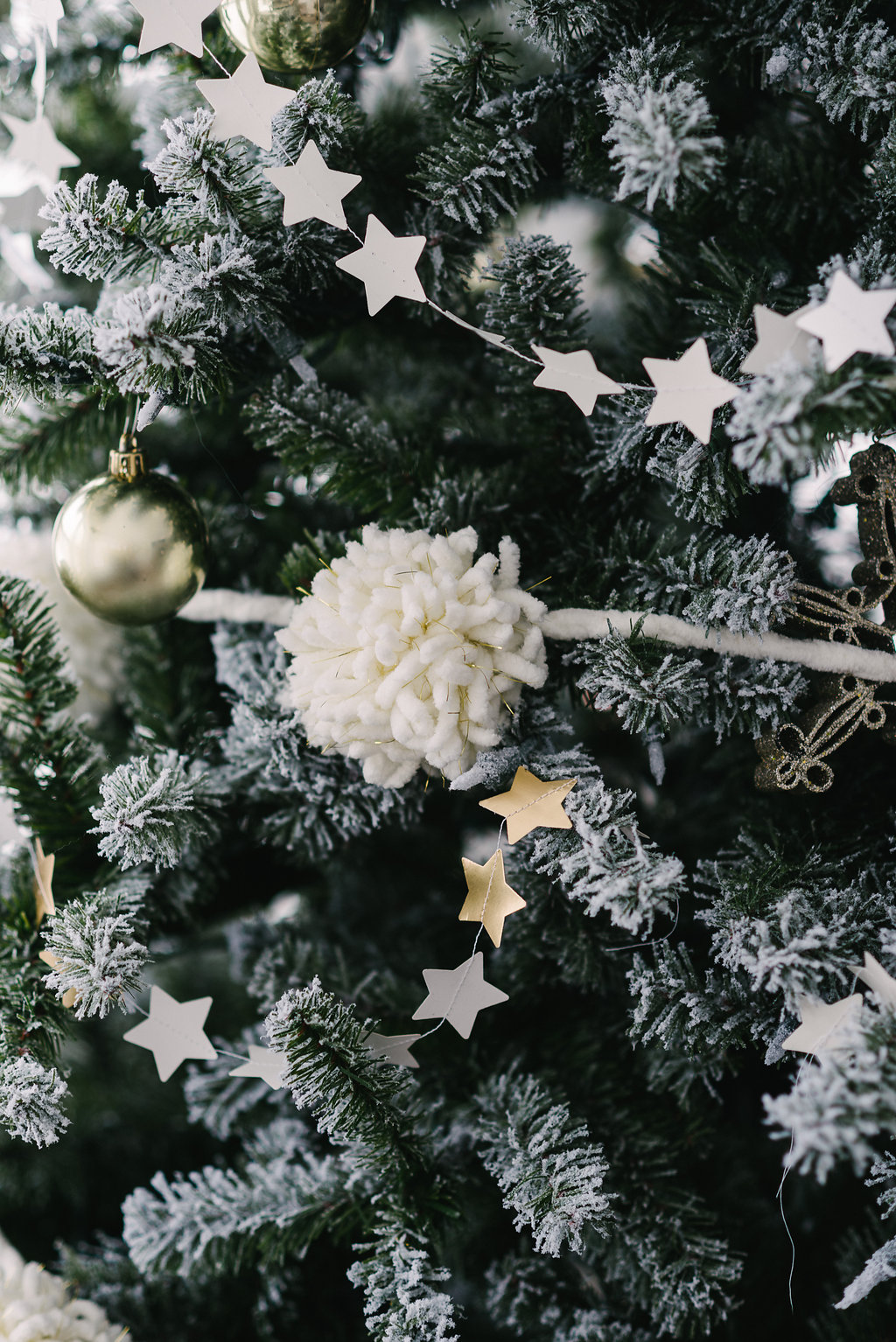 The tree in this room is gorgeous and it definitely makes a statement since you see it front and center at the end of our open concept home. One of my very favorite elements about this tree is the gold and silver star garland we added from Mrs Morris Made! Isn't it darling?!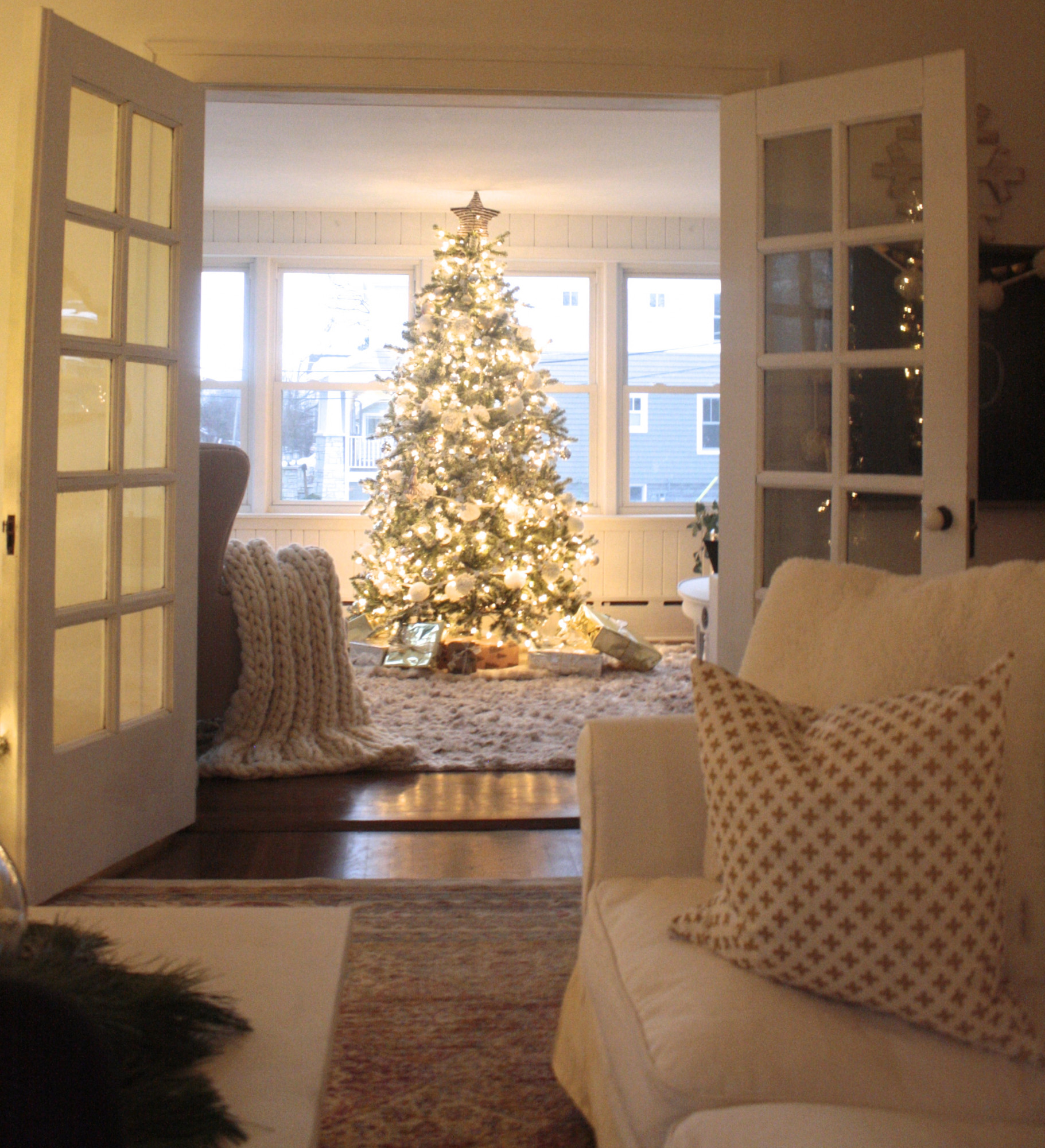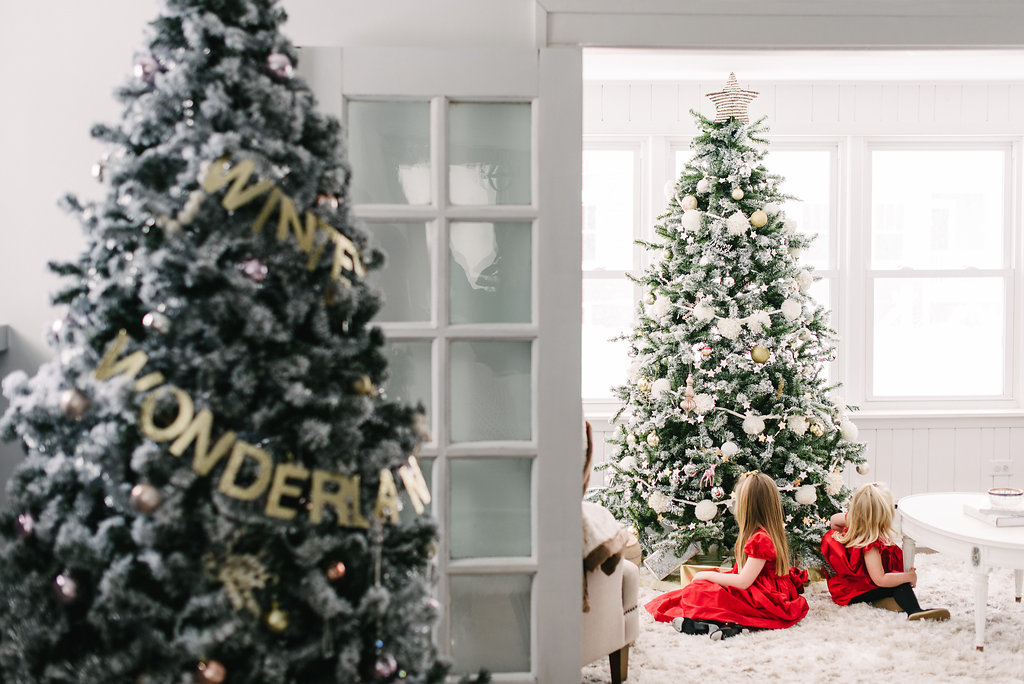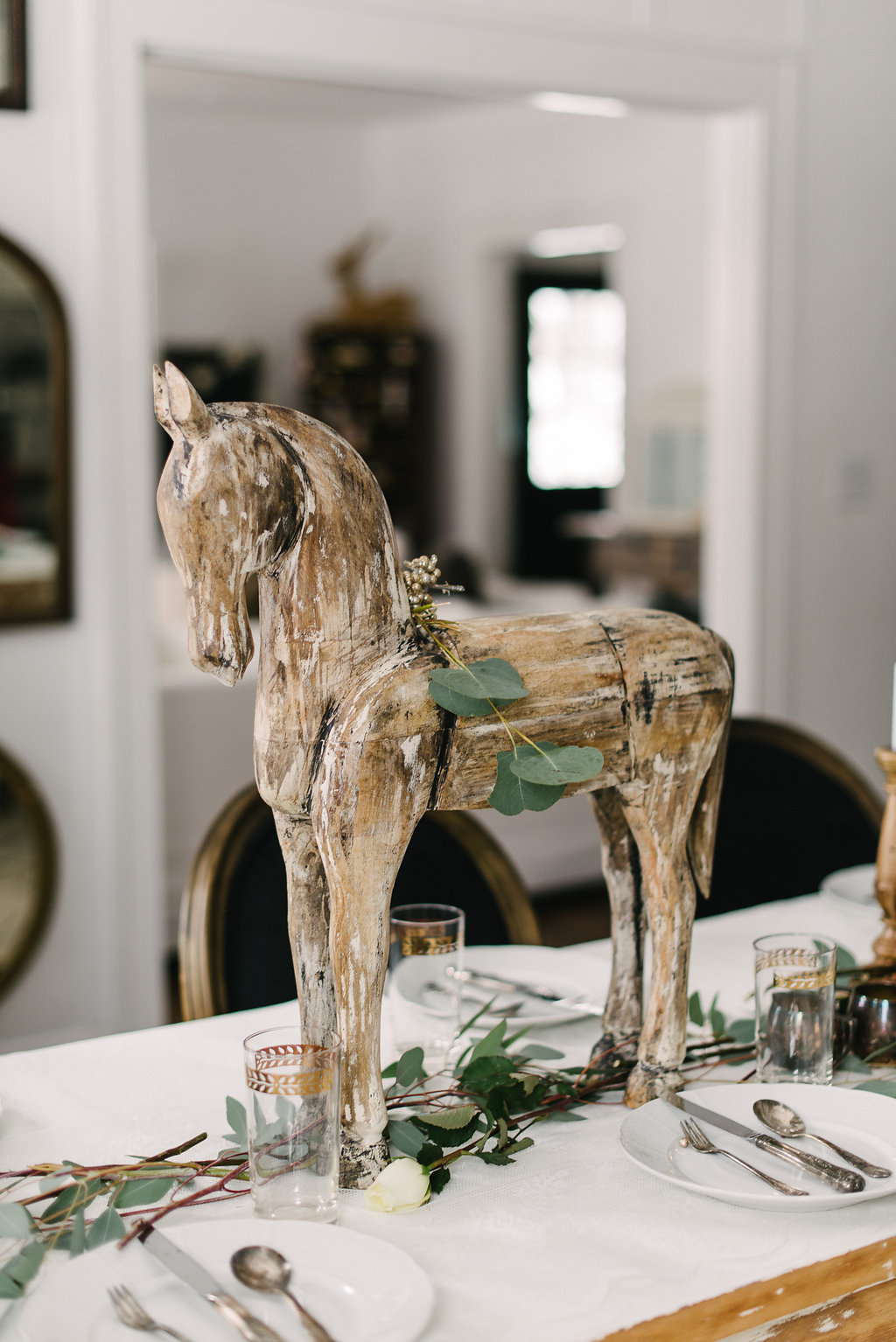 Moving into the room in our home that makes me feel like a princess, our beloved dining room! As most of you know, this room is by far my favorite. I decorated with some subtle pops of red on the tree, some more natural elements like winter roses and fresh eucalyptus, my mother's vintage silver, and then added some new velvet curtains from Anthropologie and this room was set! Little miss Old Getty the horse finished off the space with an unexpected pop of charm and all over this room gives me those warm, cozy, wintery feelings!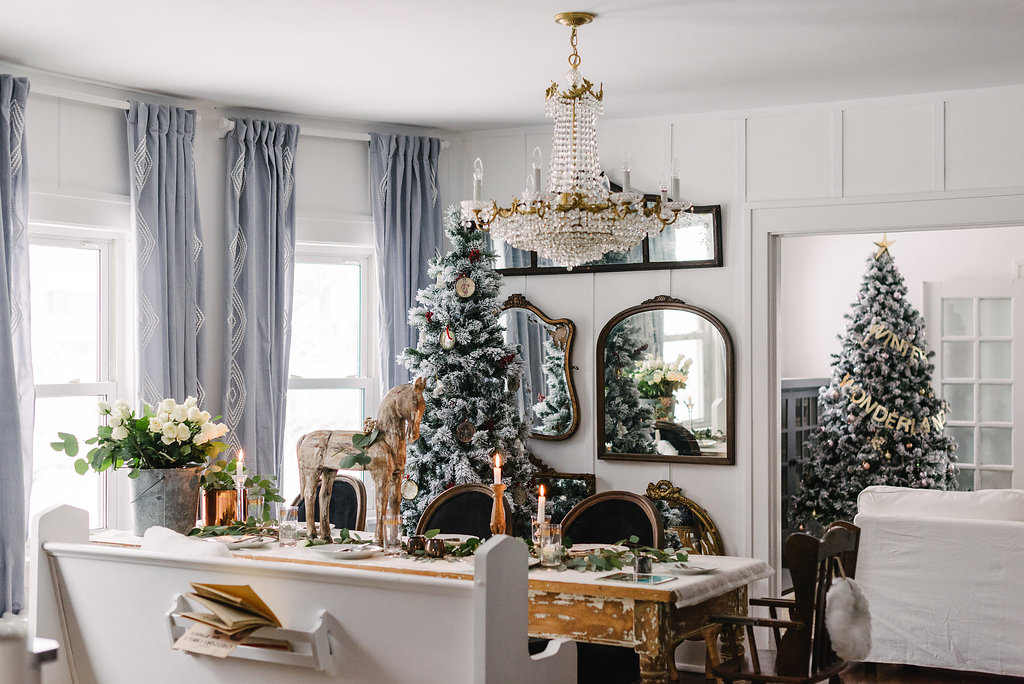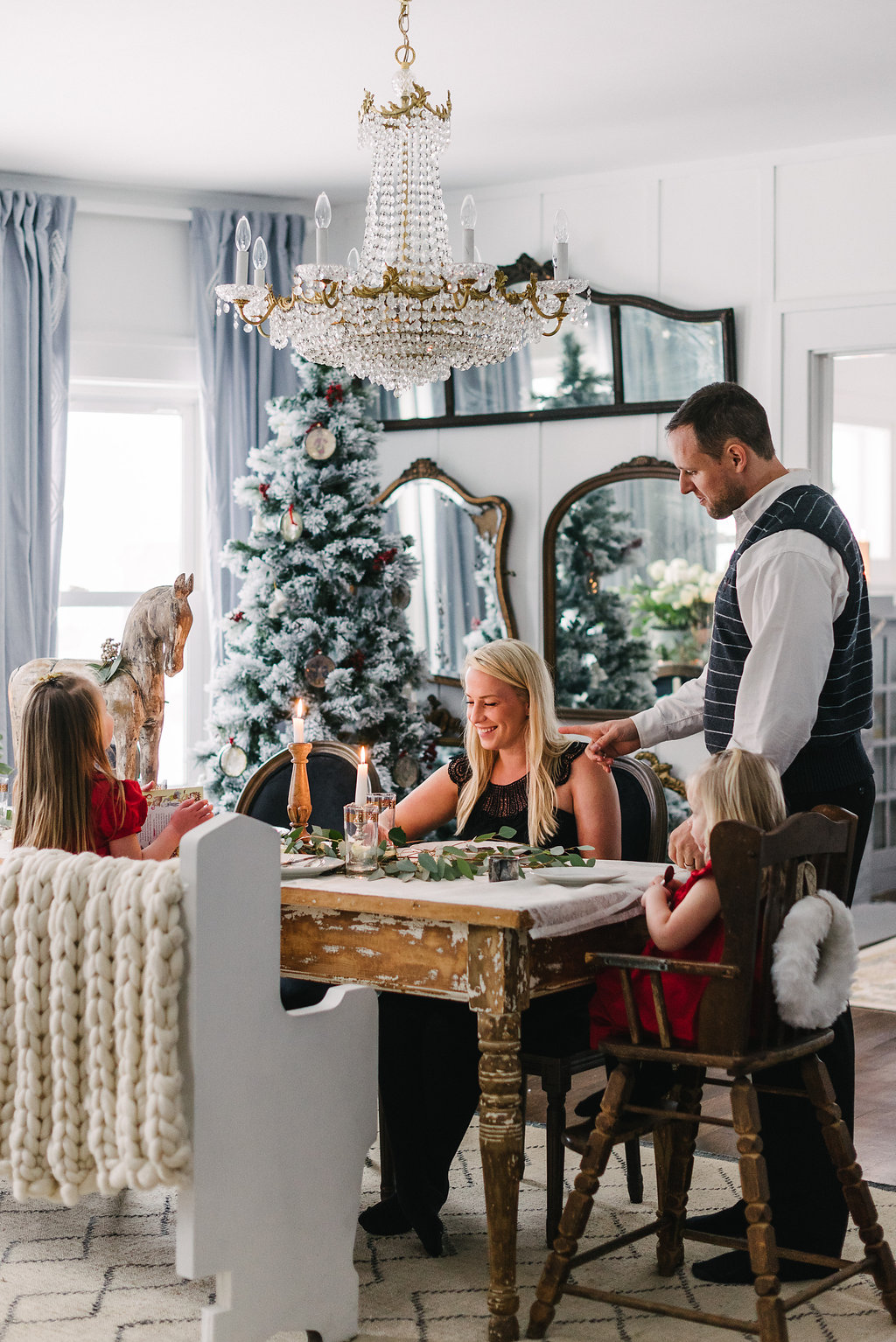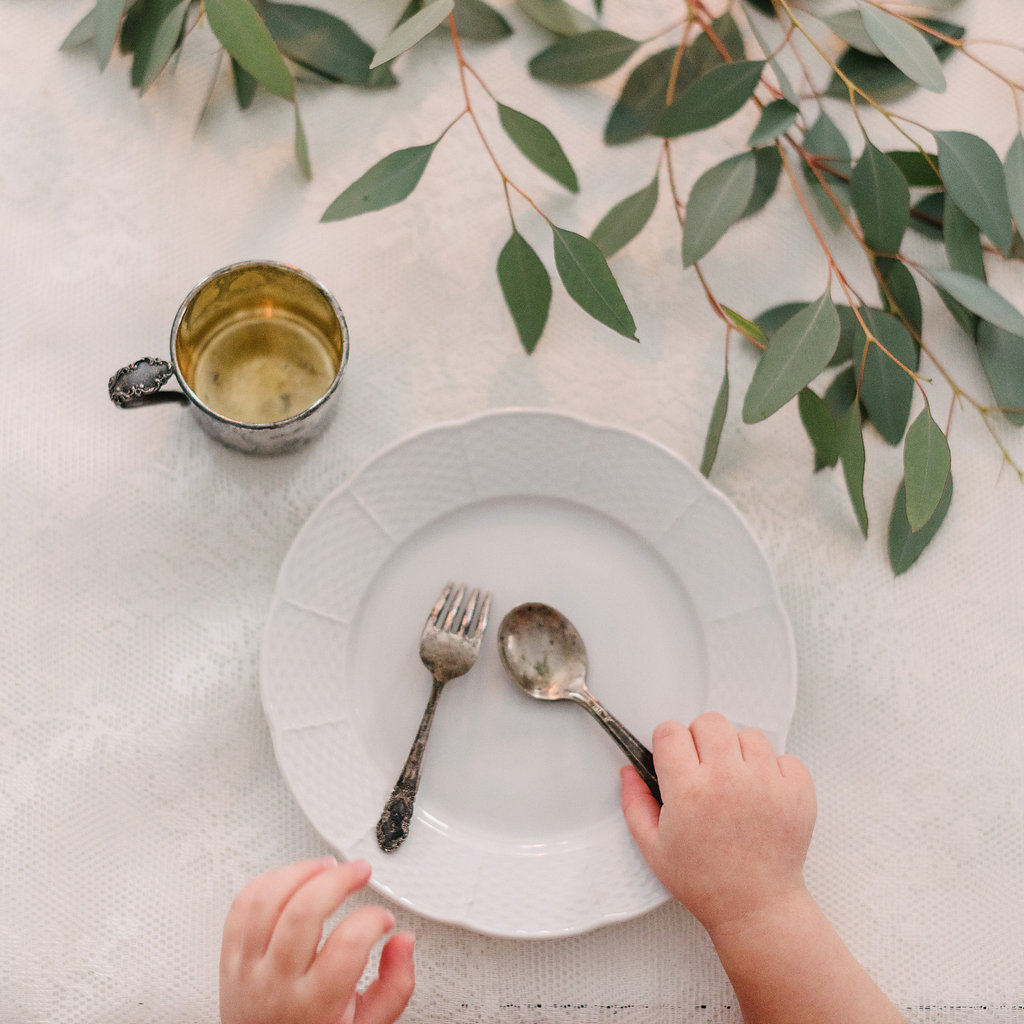 These baby hands absolutely melt this mama's heart!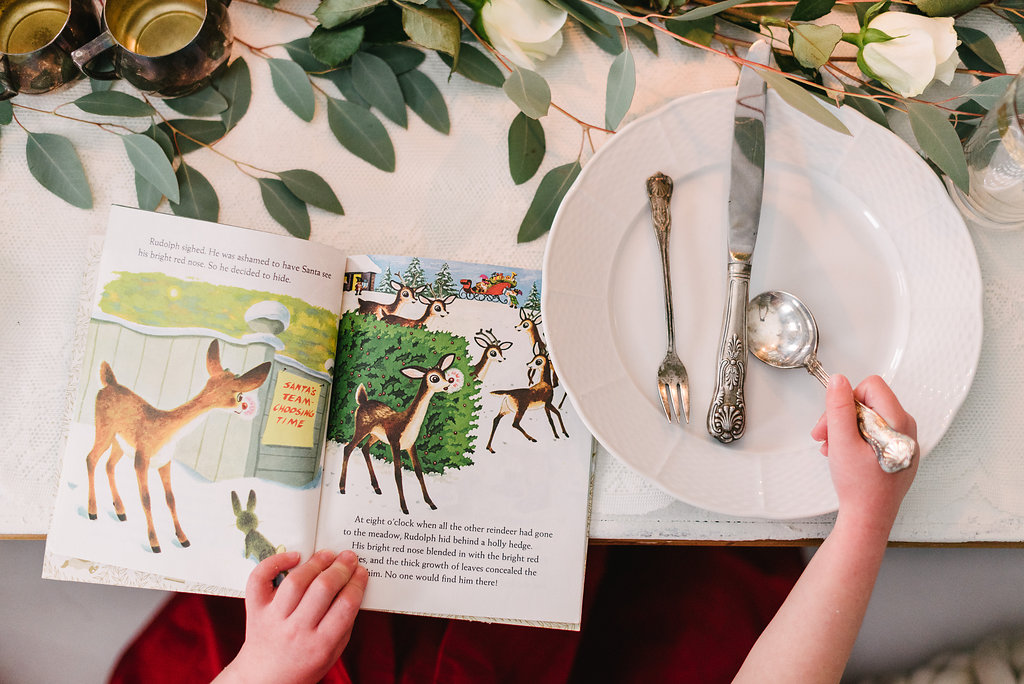 Vintage Christmas books join us at our Christmas gathering and hearing the story told by a sweet four year old who doesn't quite know how to read may just be the sweetest sound I have ever heard.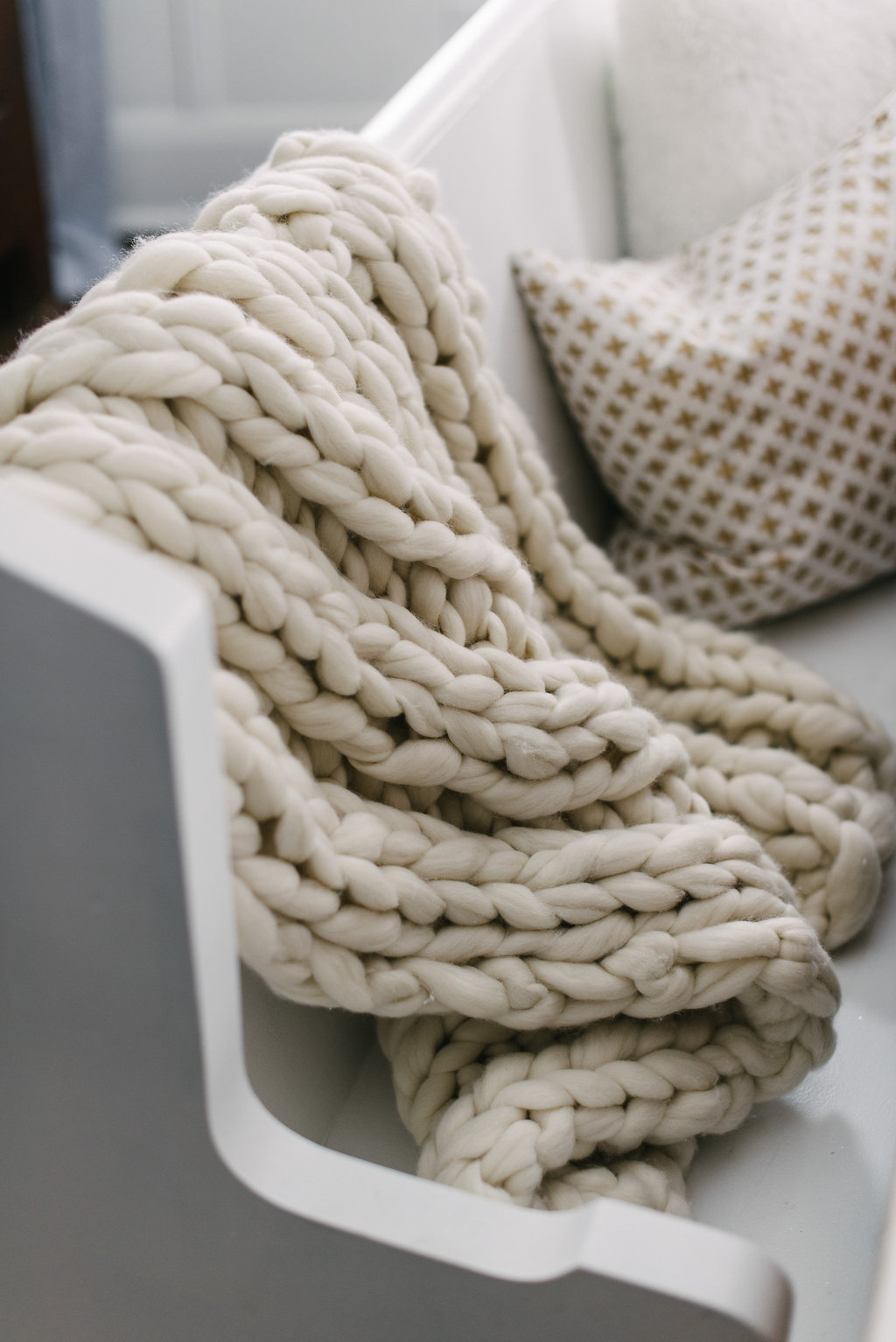 This stunning hand knit throw is the perfect addition for snuggle time during our Christmas story.
Beautiful gold cross pillows from Always Lou Designs.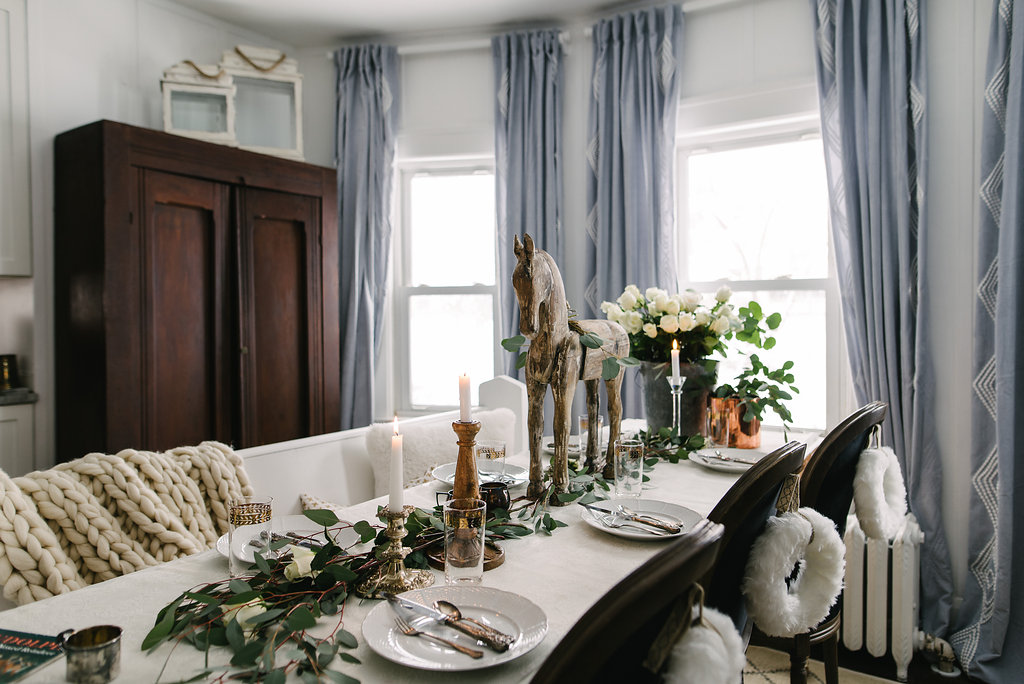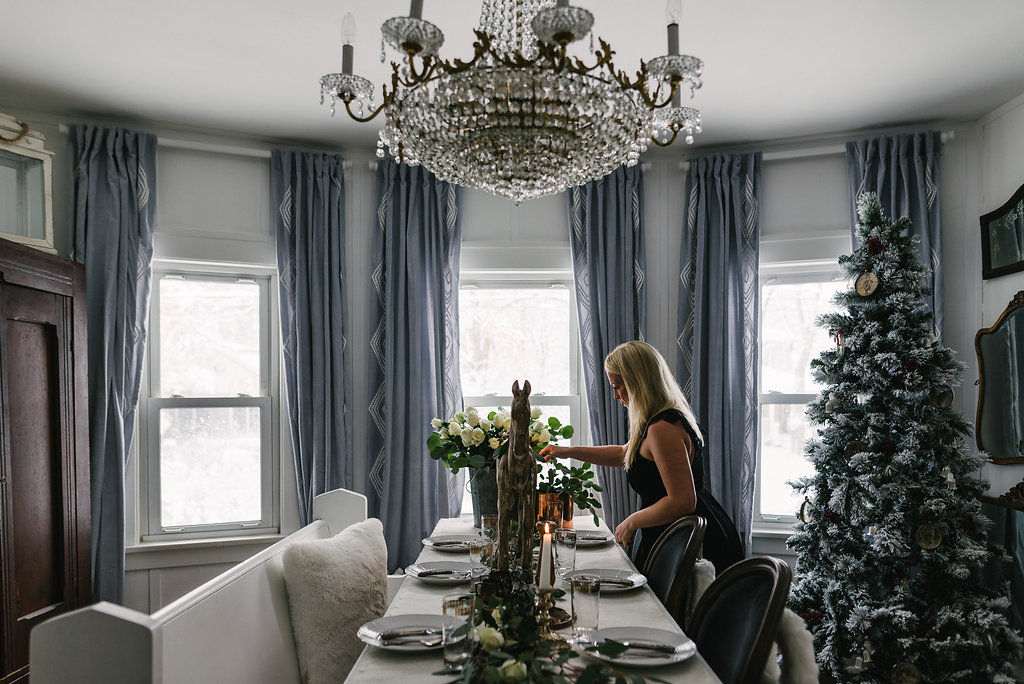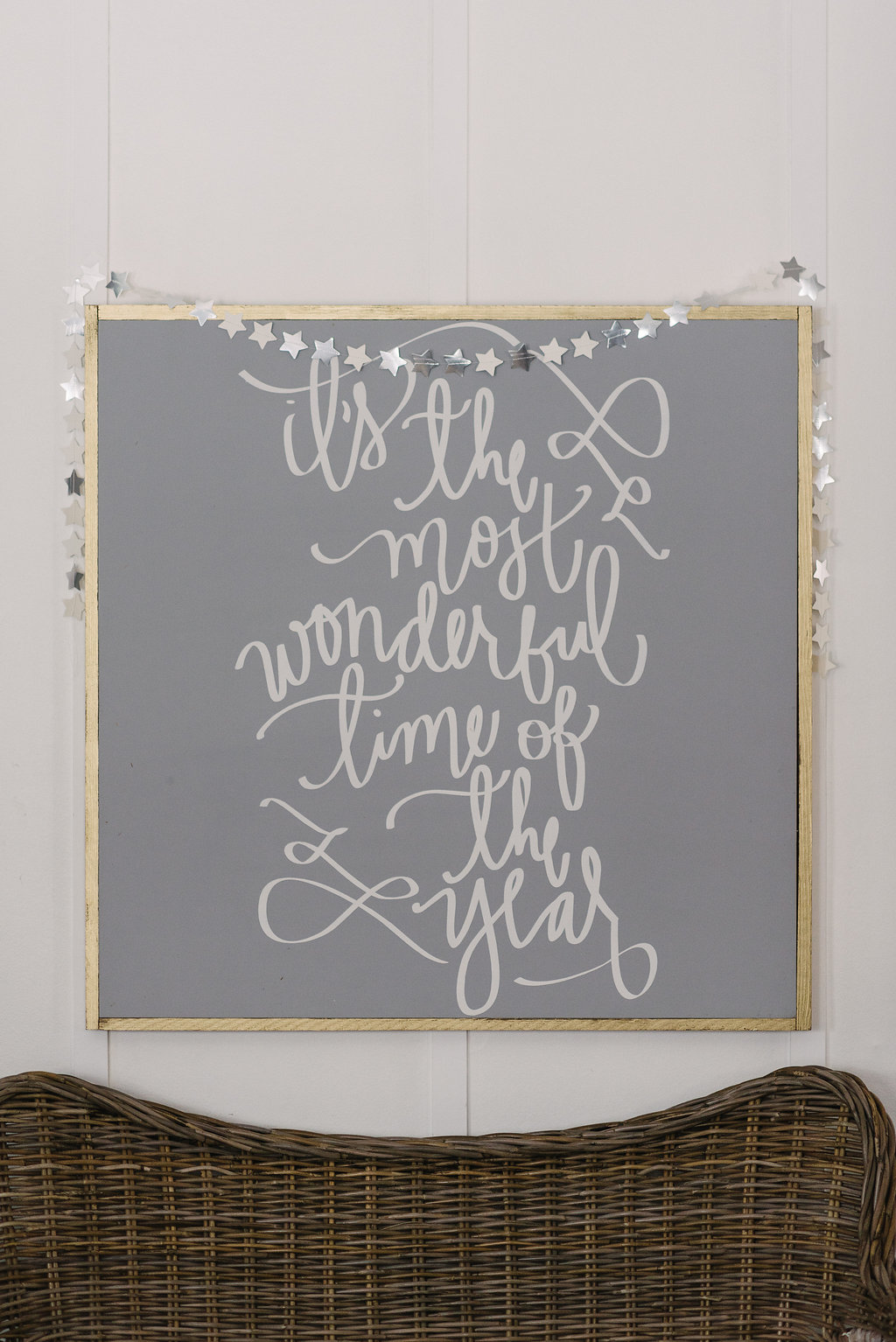 Beautiful sign hand lettered by Aedriel and hand crafted by House of Belonging.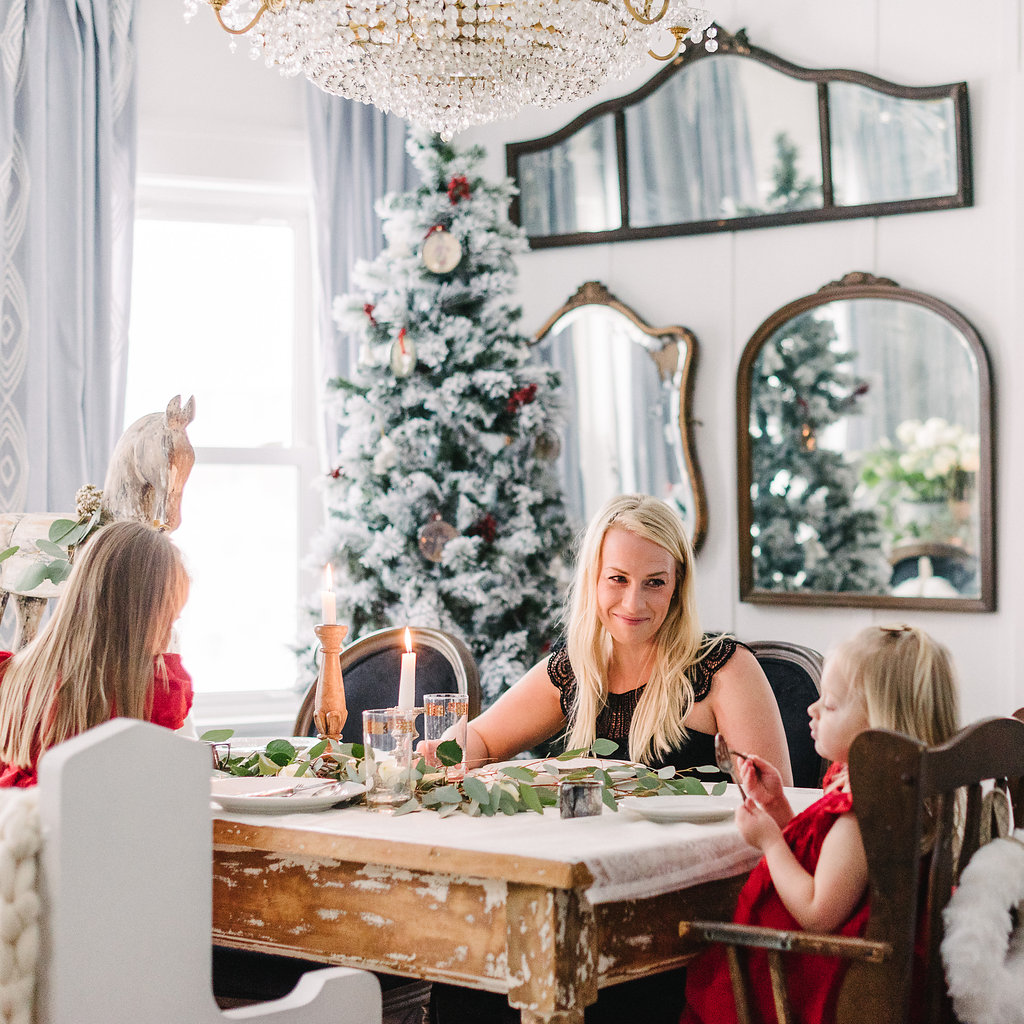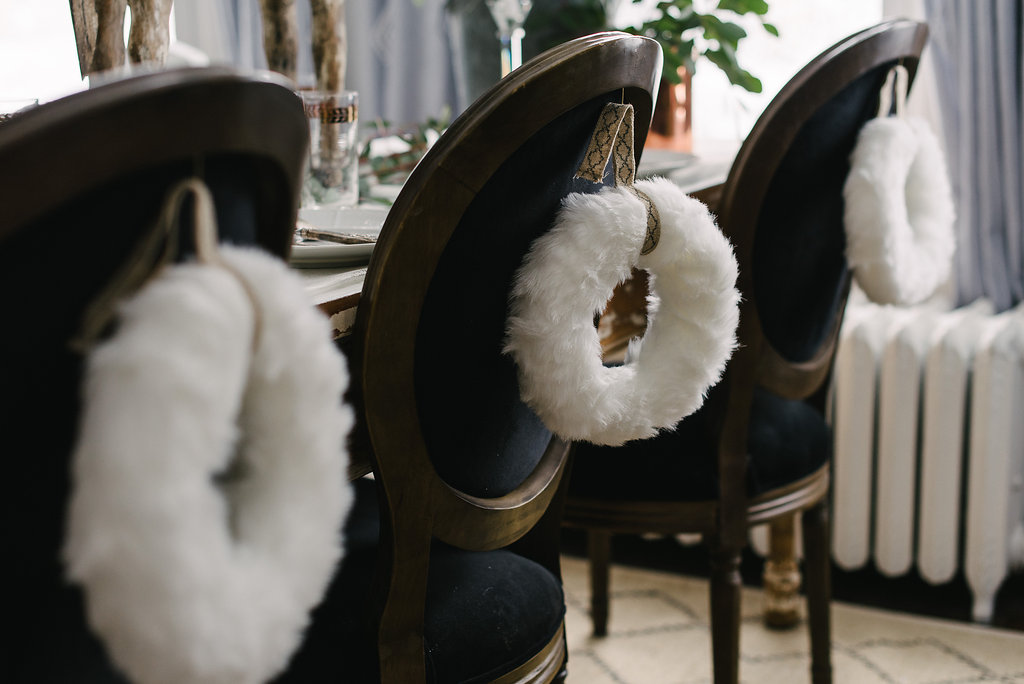 Pretty Ikea wreaths adorn velvet seats.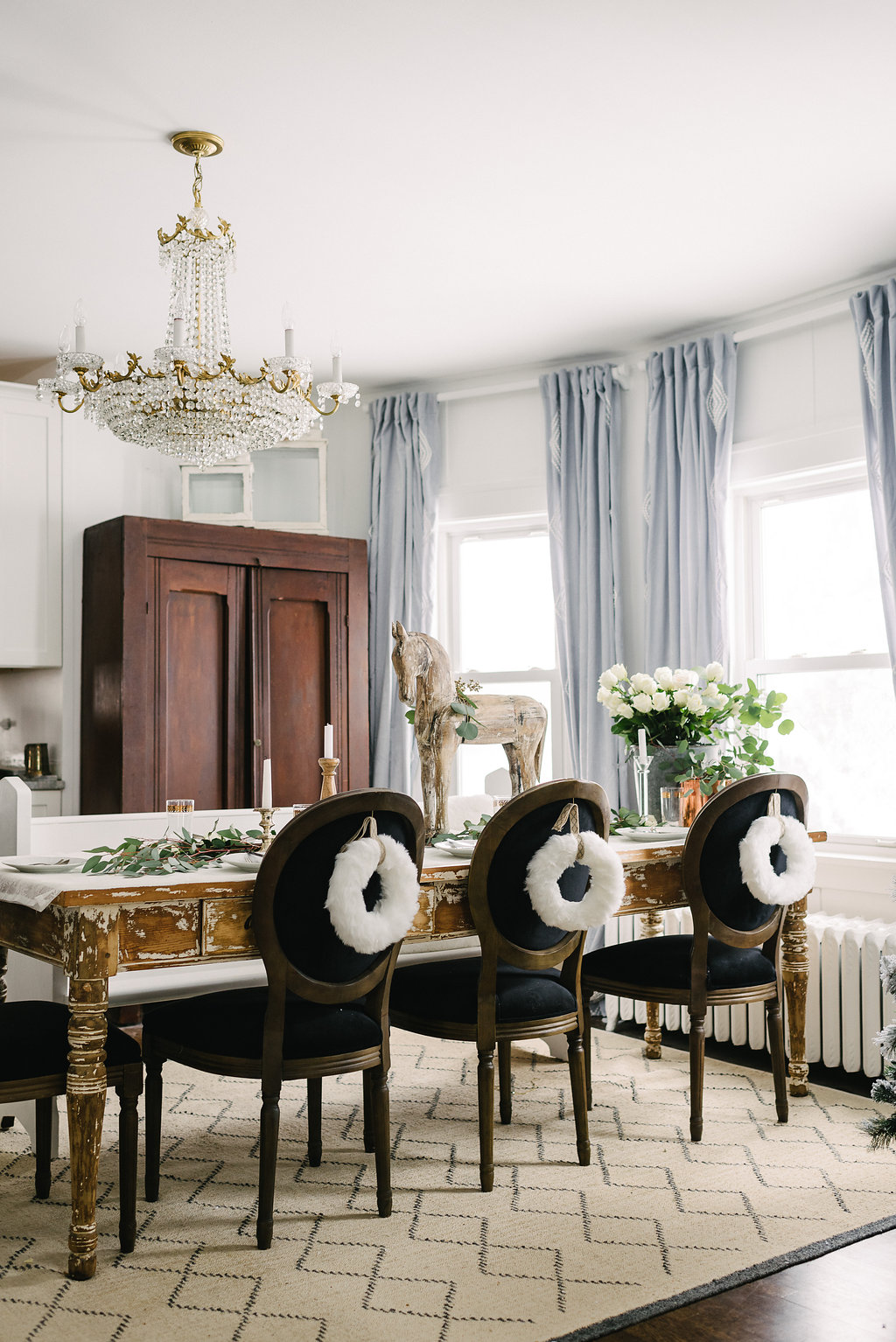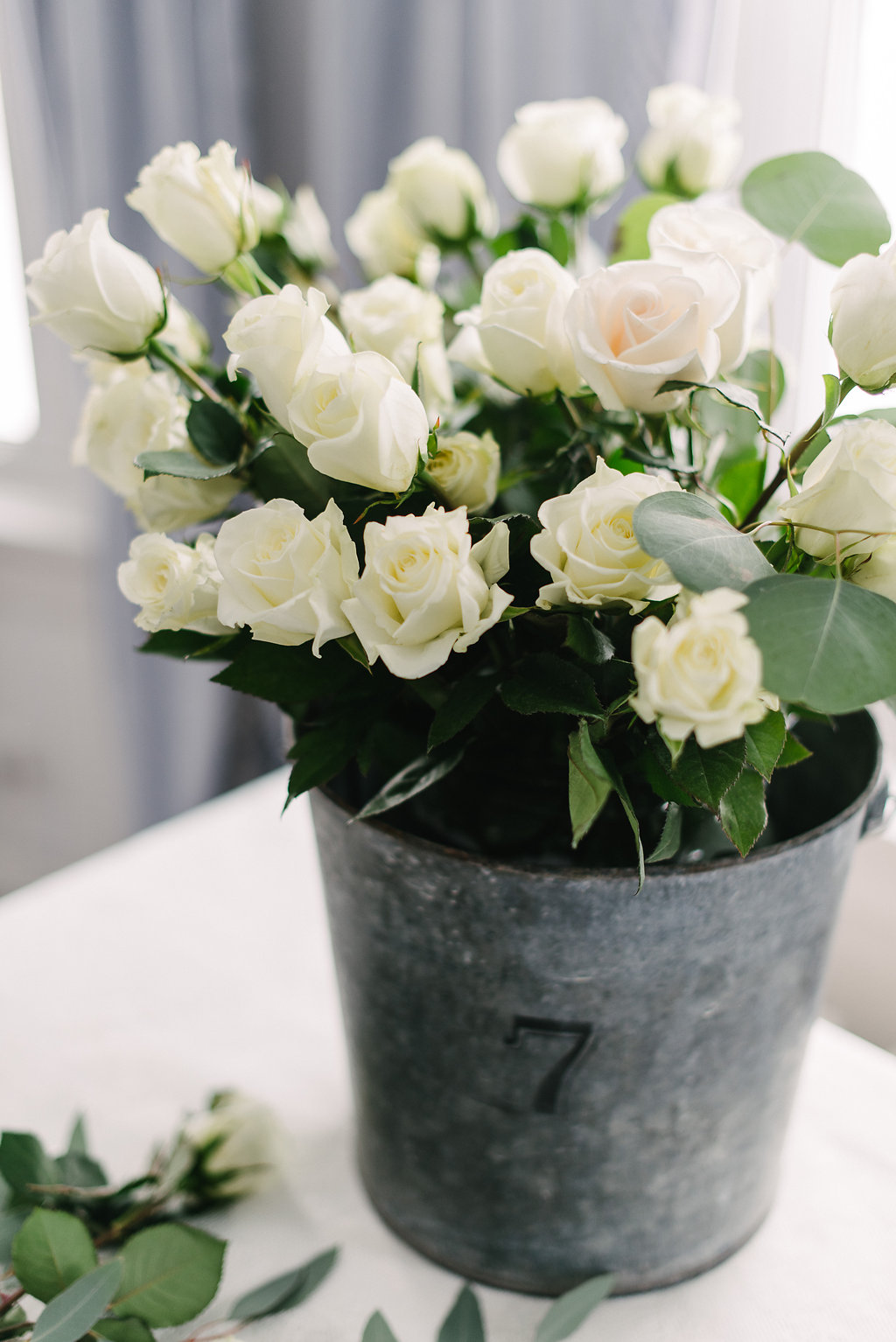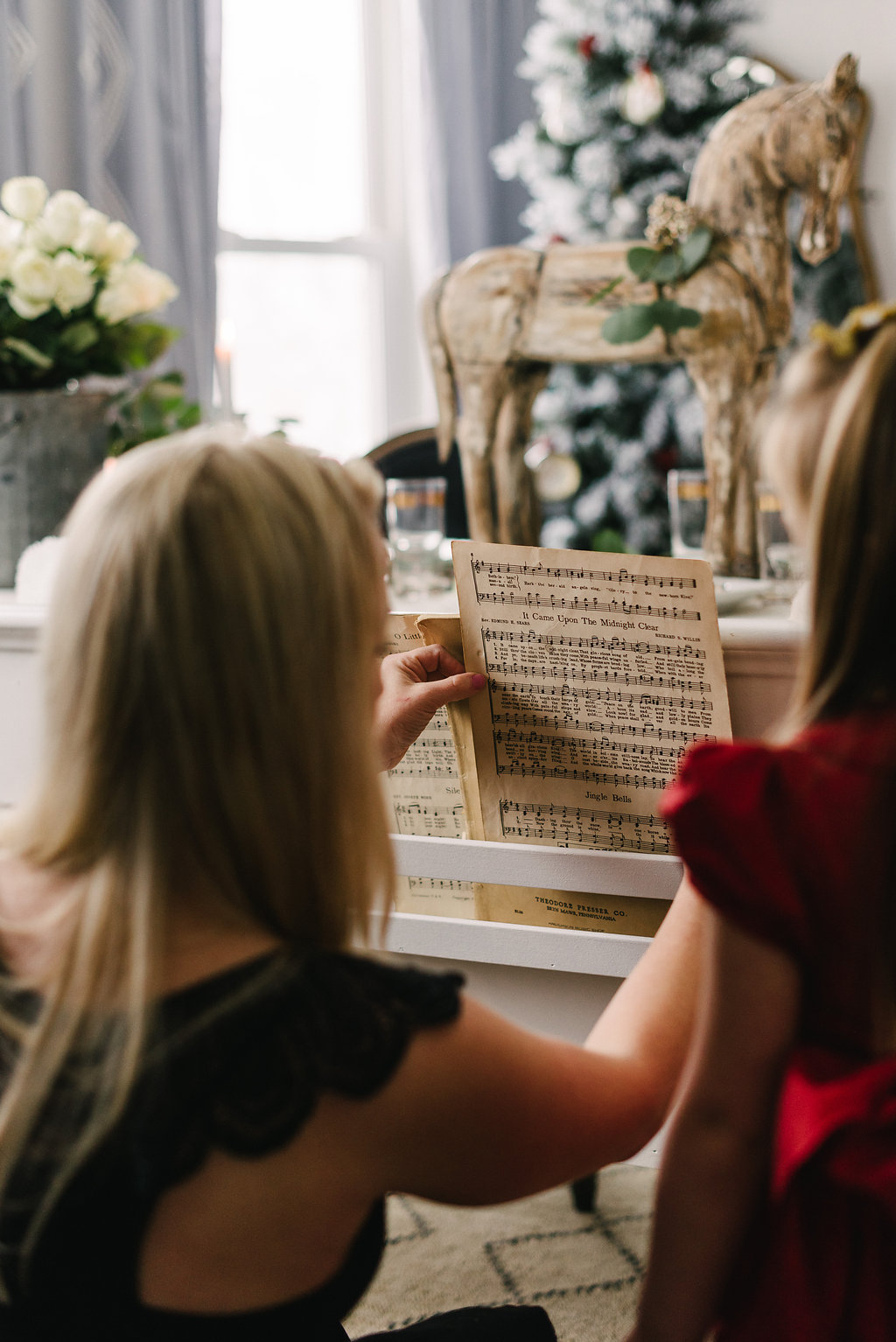 Right off of the dinning room you enter one of the sweeter rooms in our home, the girls' playroom. The magical mural from Anthropologie adds a bit of whimsy so a white tree with pastel ornaments was the perfect fit!
Adorable Mr & Mr Claus pillows from Pocketful of Paint!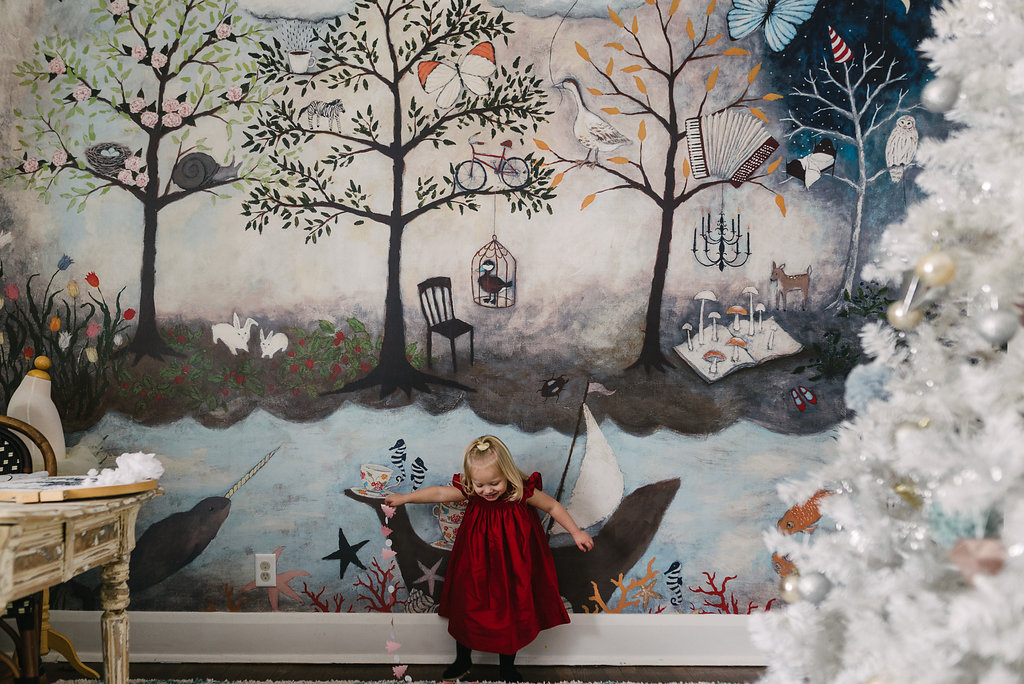 Darling pink tree garland from Mrs Morris Made.
Moving on to upstairs in our home. I am excited to share three out of the four bedrooms with you! I added small touches of  the season to each one and I am smitten with the way they turned out! First up our oldest daughter, Olivia's room.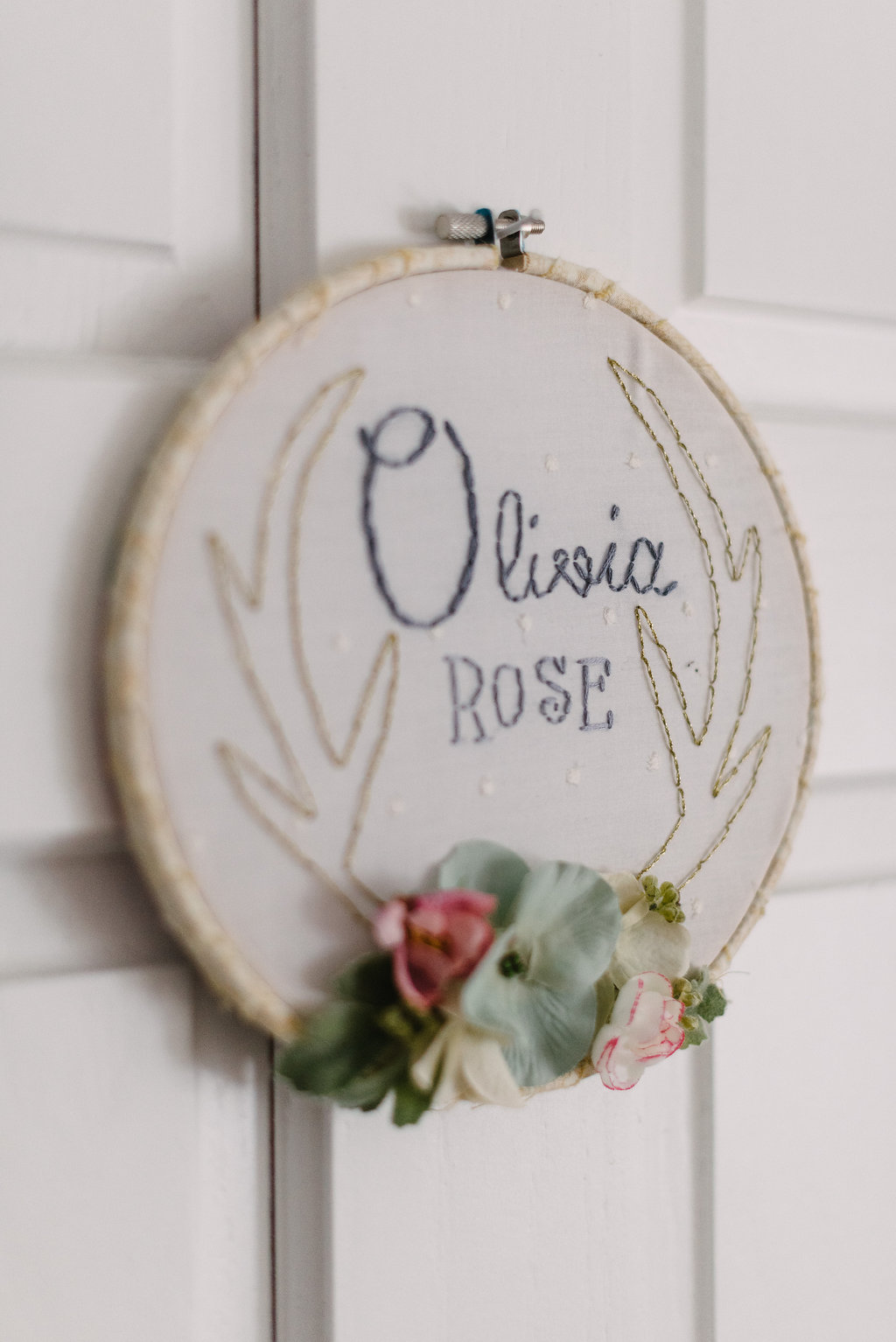 Gorgeous looms are hand made by Bloom Prints Studio.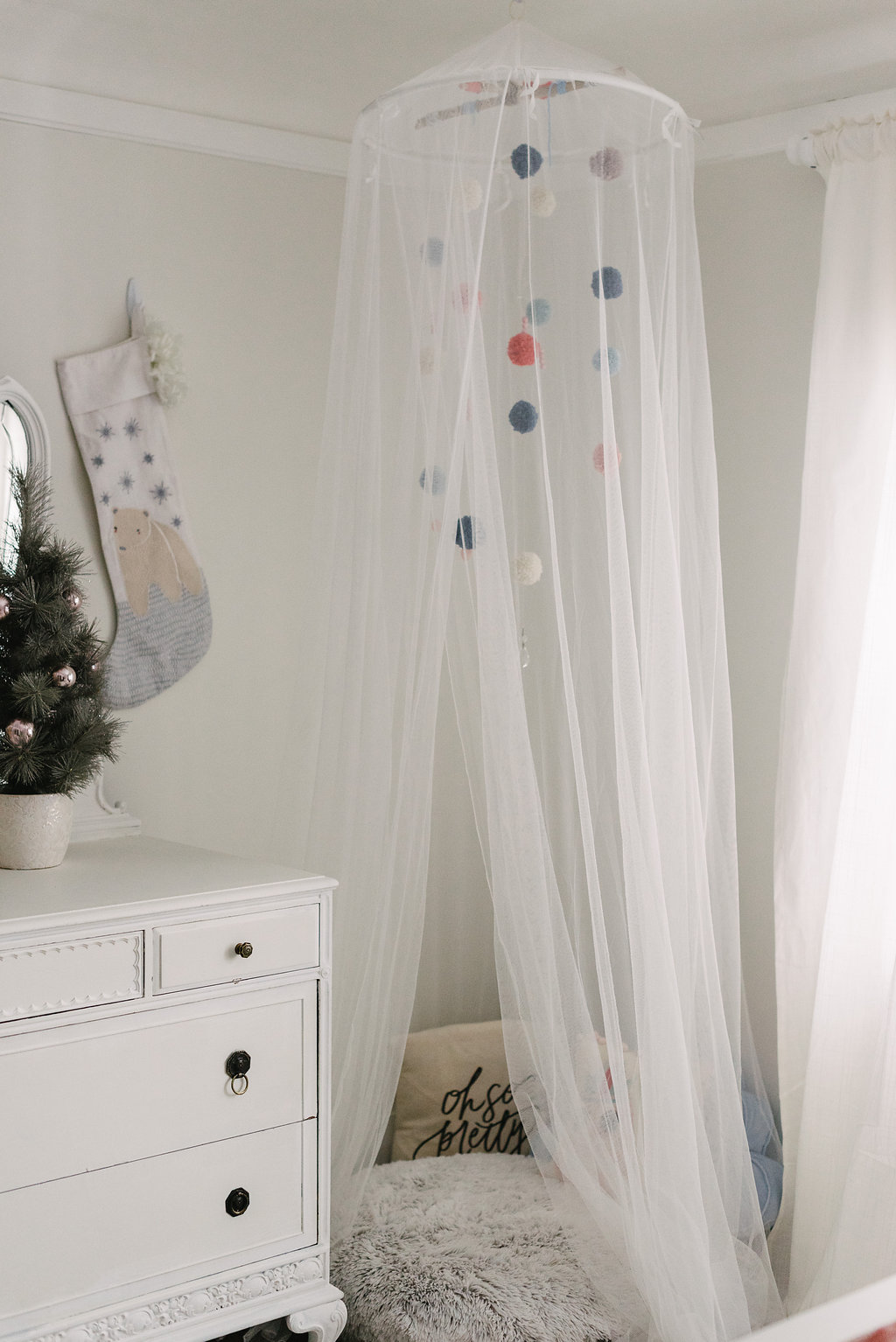 This beautiful handmade pom, pom chandelier from Dazzle and Delight Parties added just the right amount of whimsical fun to the space and Olivia loves to pretend it's snowing while in her reading tent.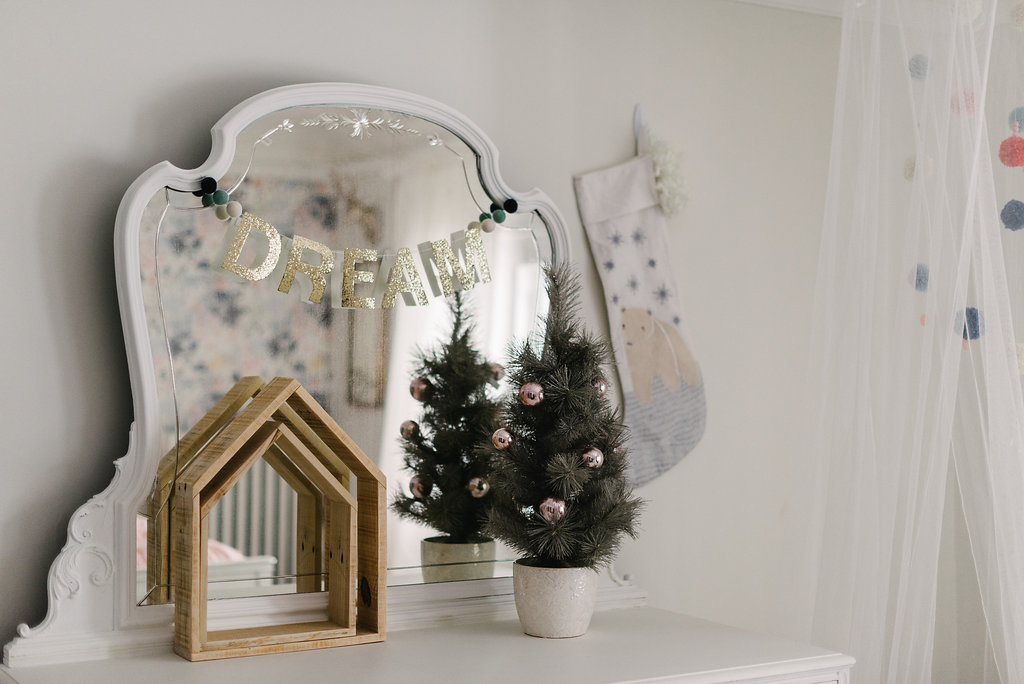 Dream banner by Little dovie, wooden house shelves by Axel Co., bear stocking by The Land of Nod and cute tree is from Homegoods.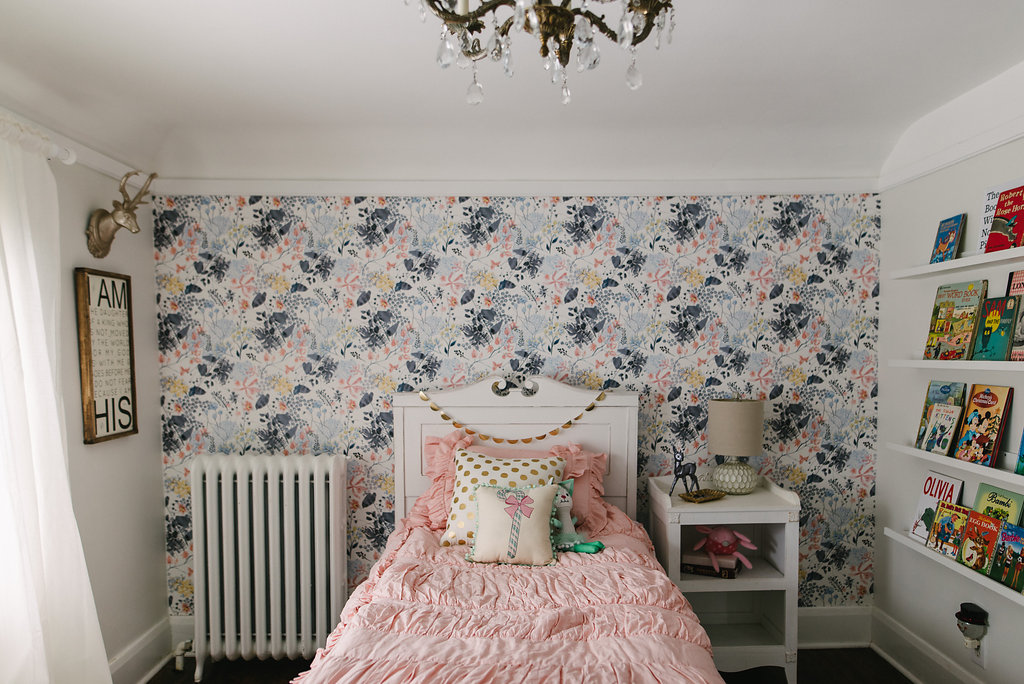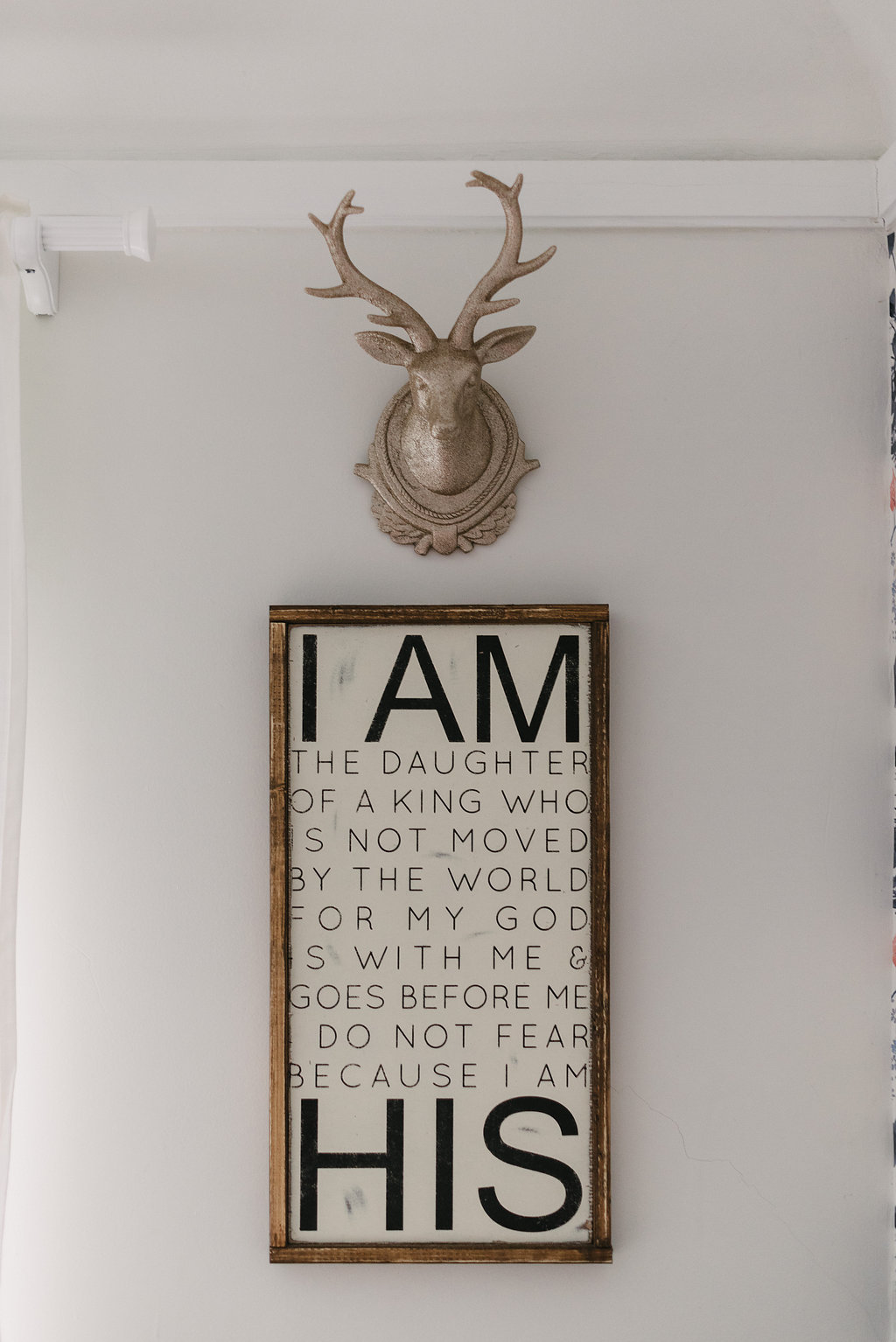 I am His sign by House of Belonging and glitter deer is from Homegoods.
Next up, is little miss Lorelei Mae's space.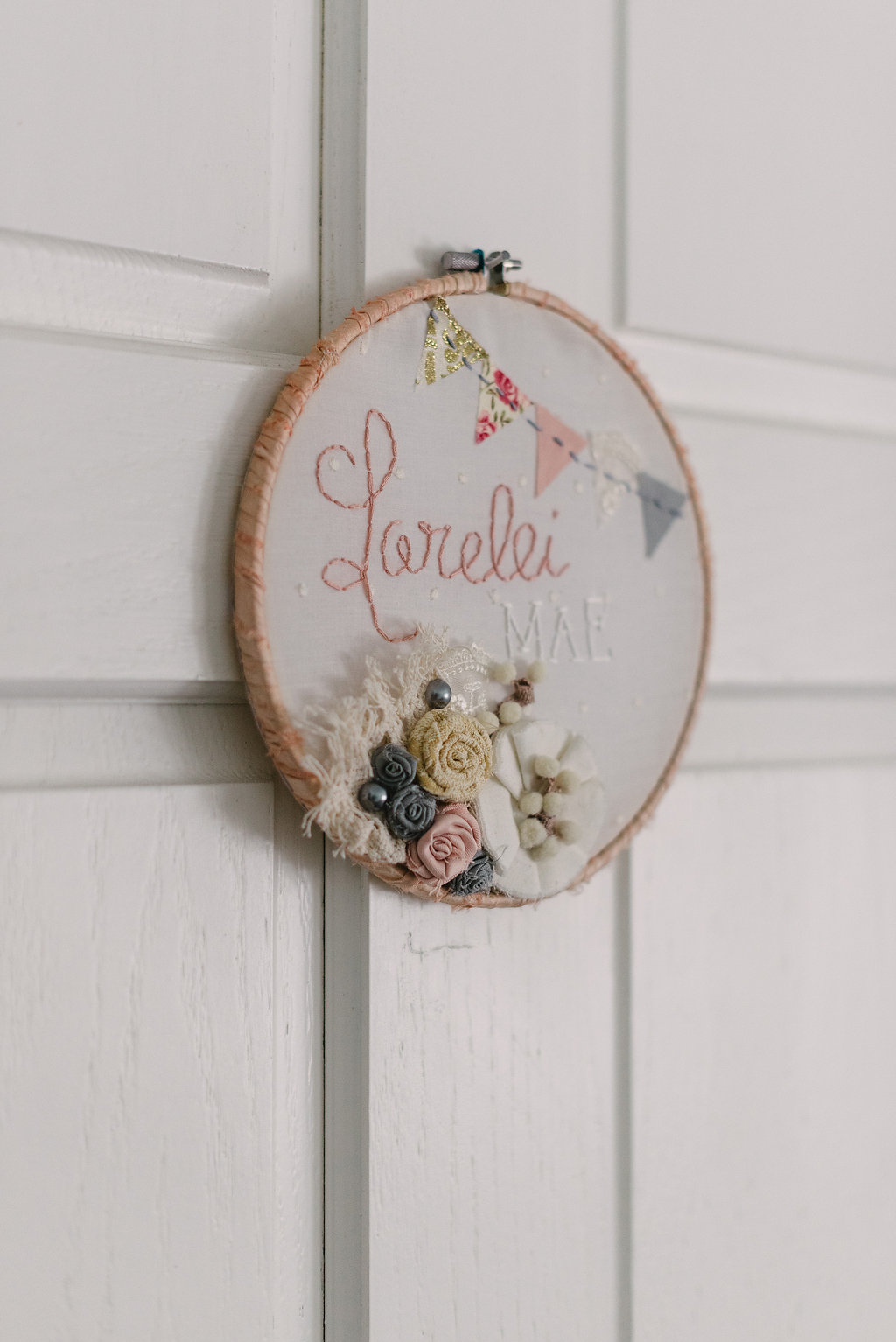 We just completed this darling space a few weeks ago and it couldn't have turned out more "Lorelei" than it did! It is fantastic! The Christmas elements added take the sweetness to a whole new level! This time of year is the best!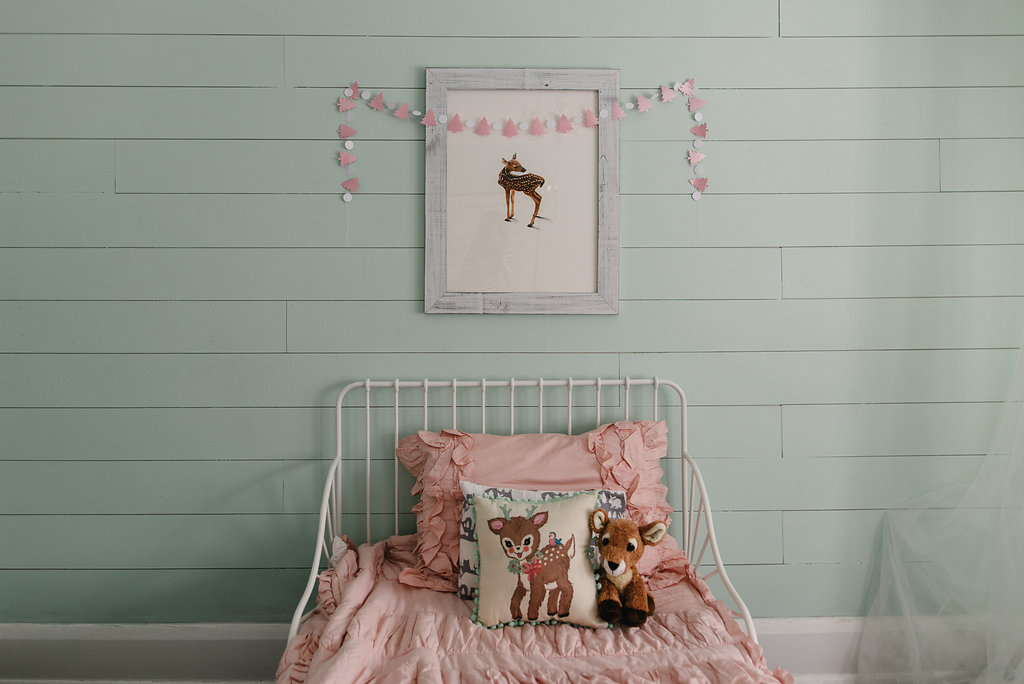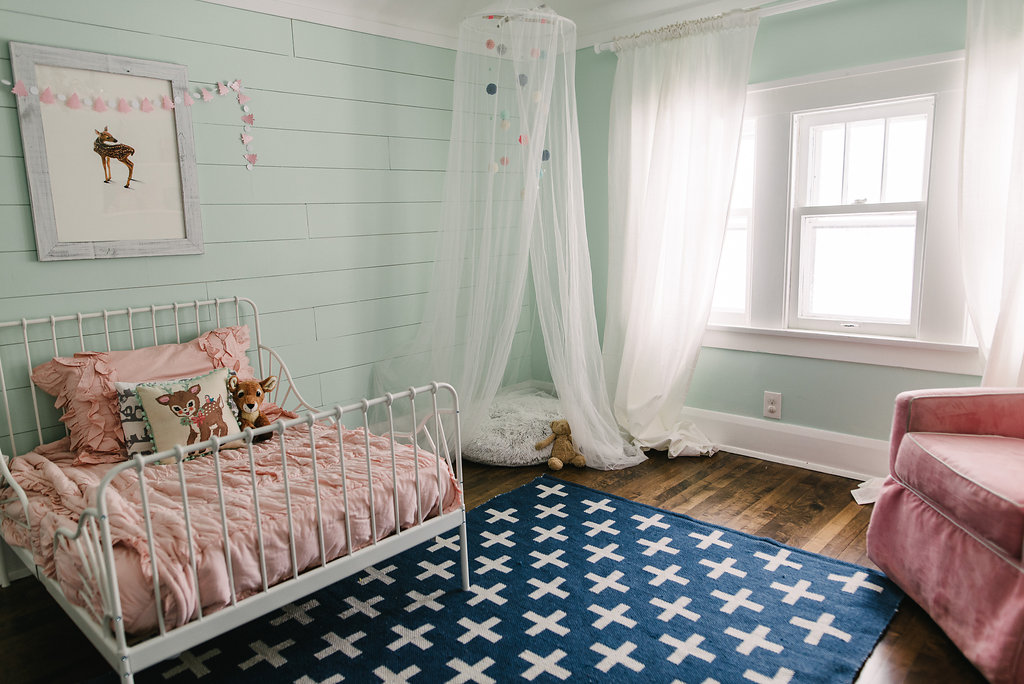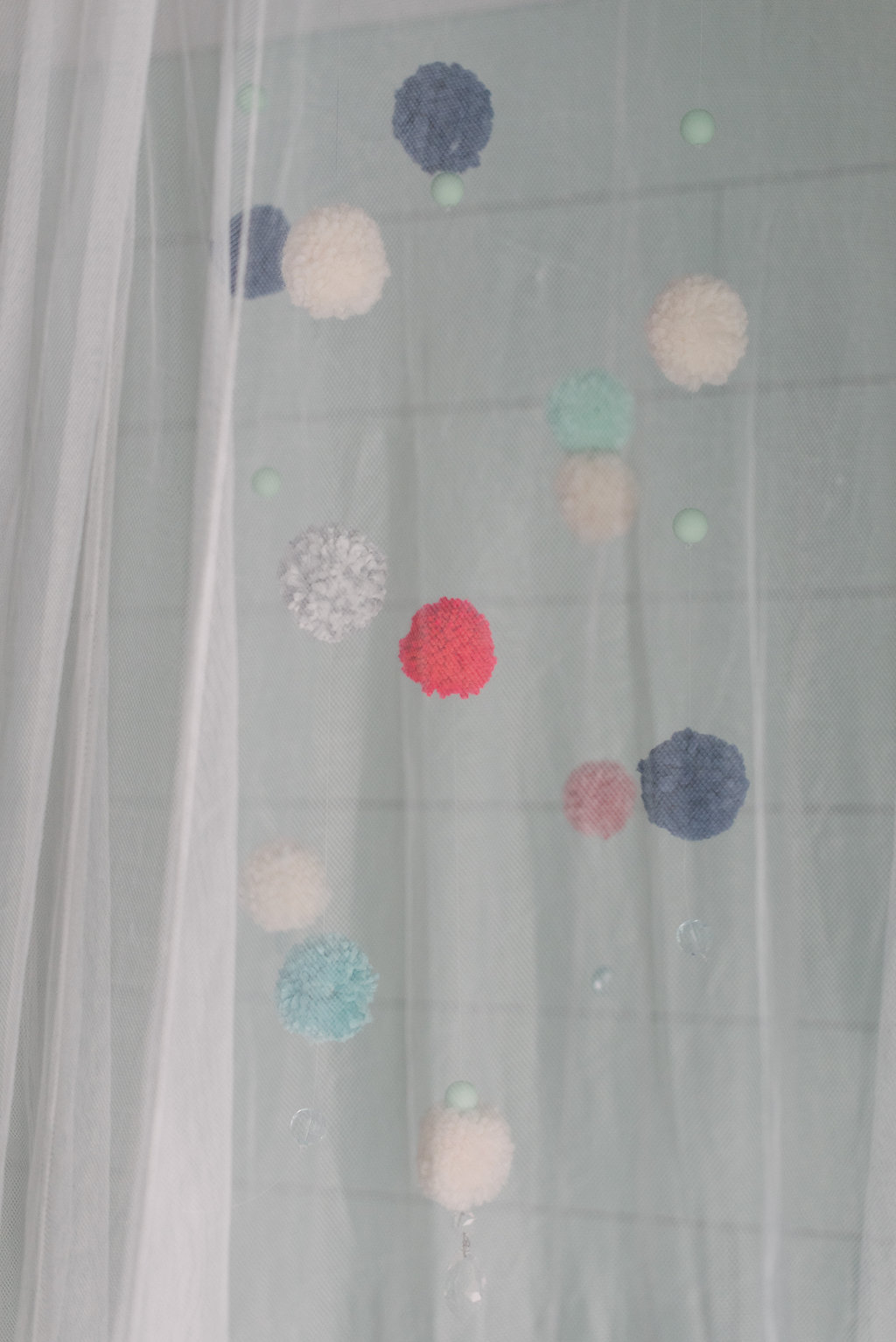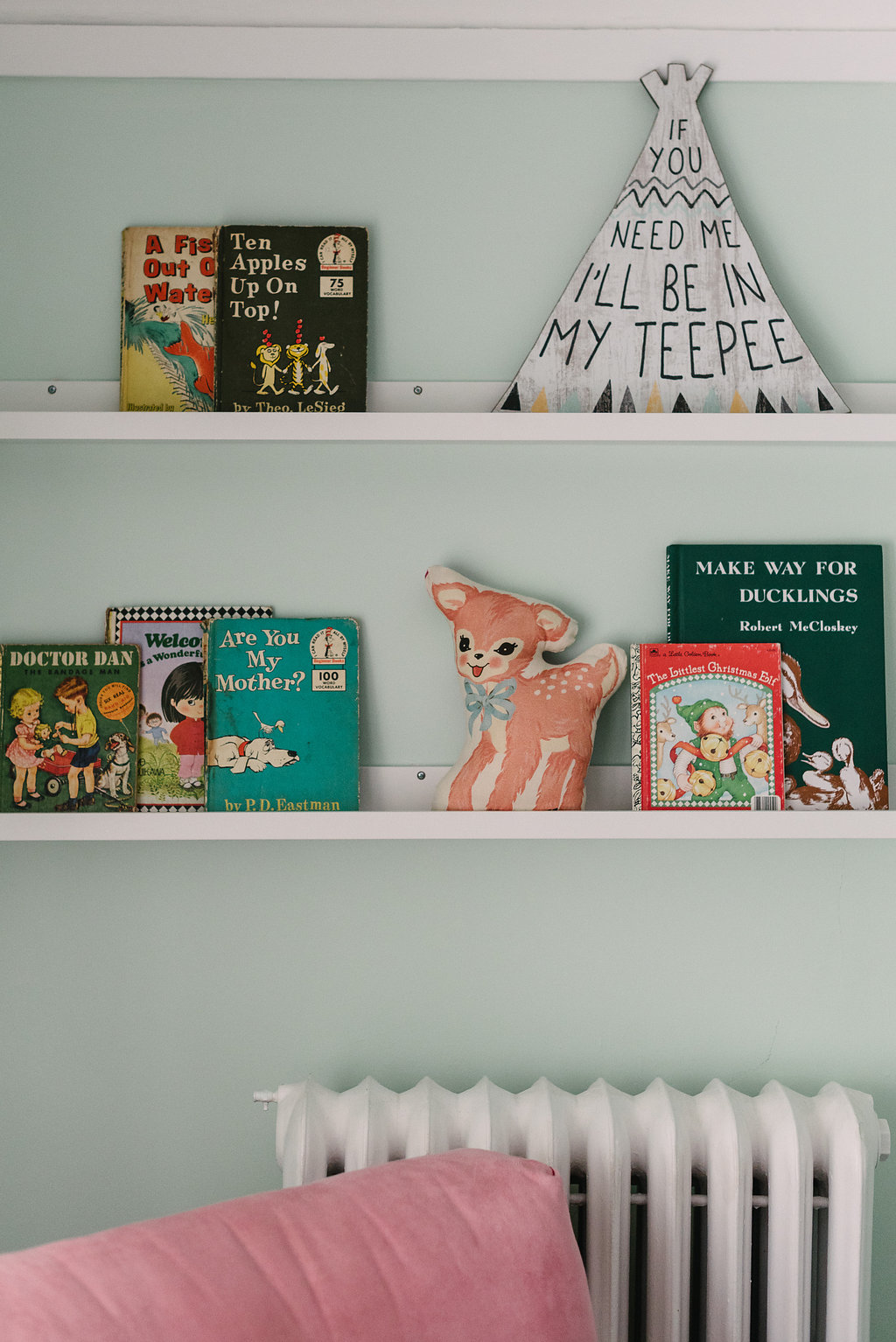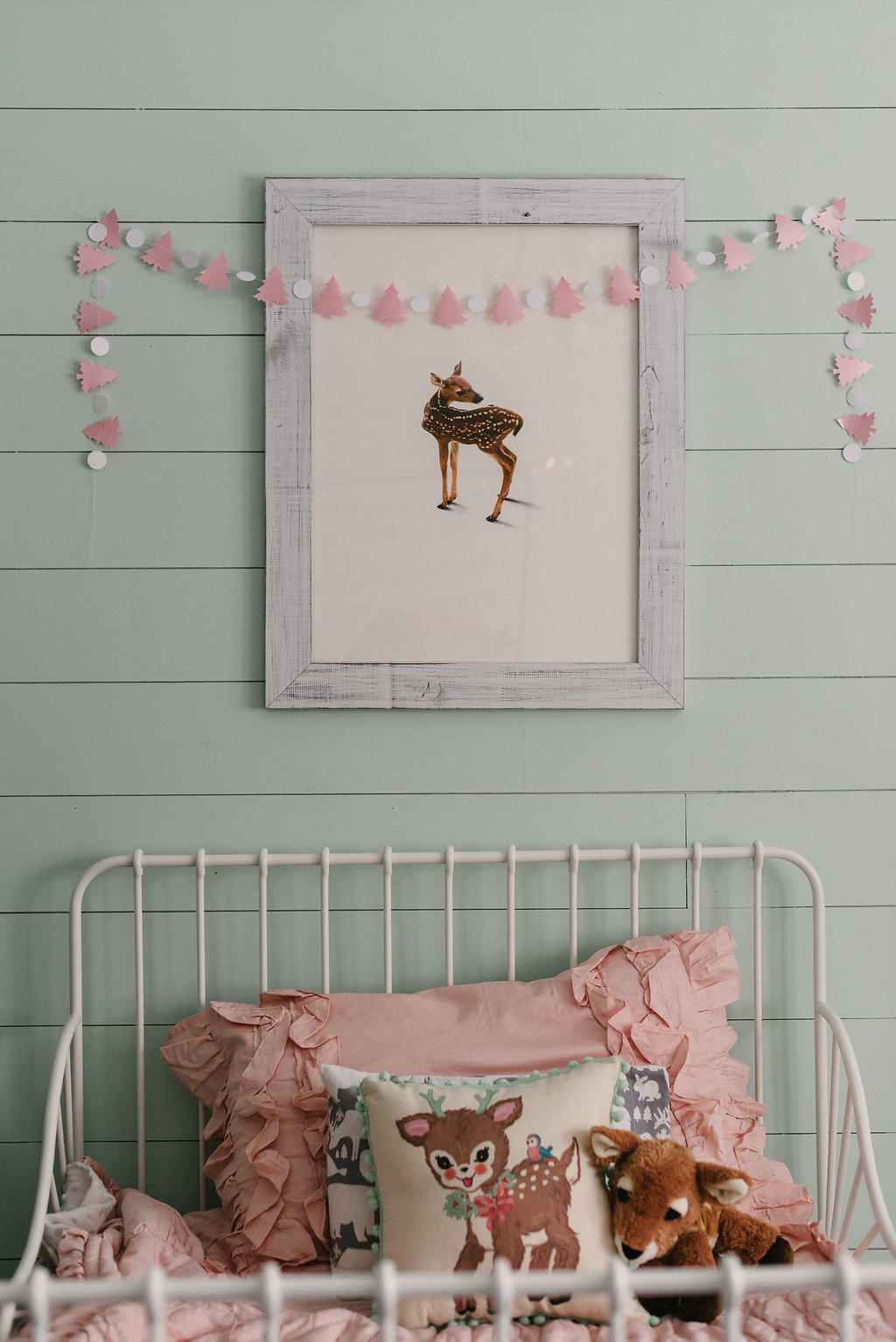 Beautiful deer art is from Minted and this adorable Christmas deer pillow is from Live Sweet Shop.
Last but not least we added a new chandelier, side tables and a couple touches of Christmas to our newly wallpapered bedroom. This is a very small room, with a very large bed, haha but adding these tweaks to the room has totally transformed it and I am in love with it now!!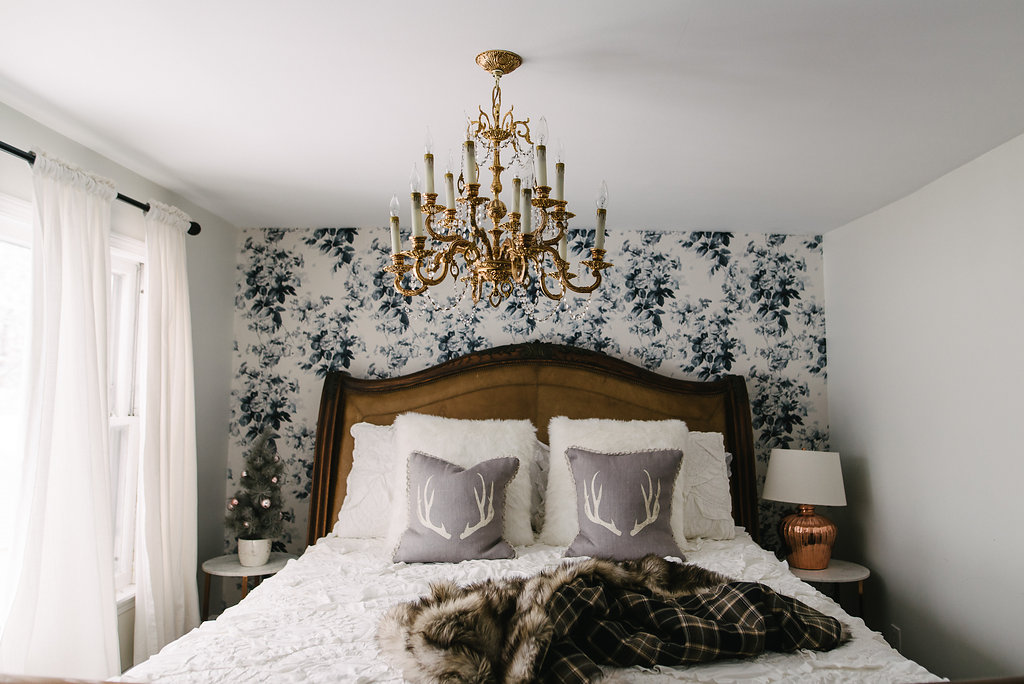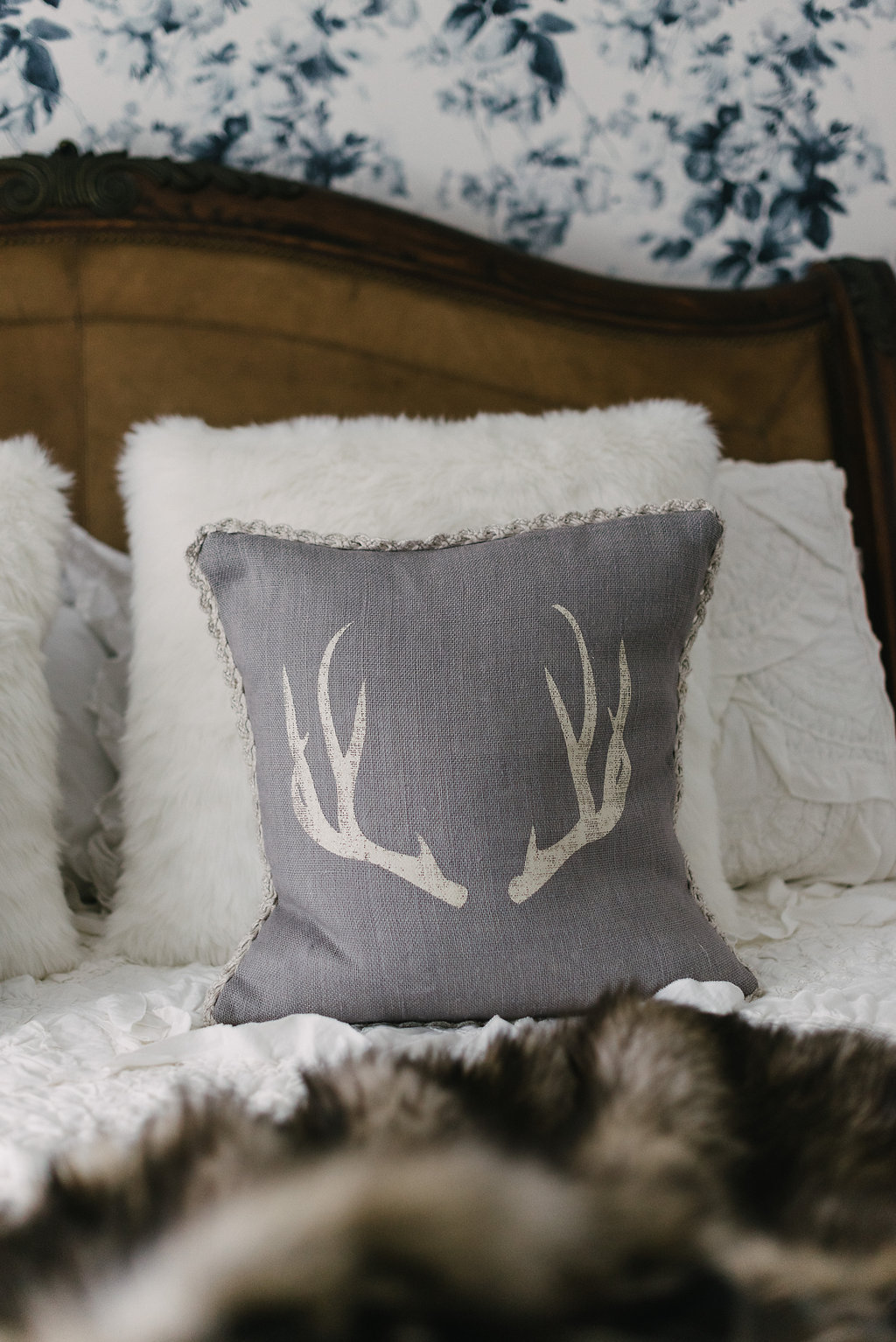 Stunning throw and pillow are by the elegant Royal Scout & Co. shop.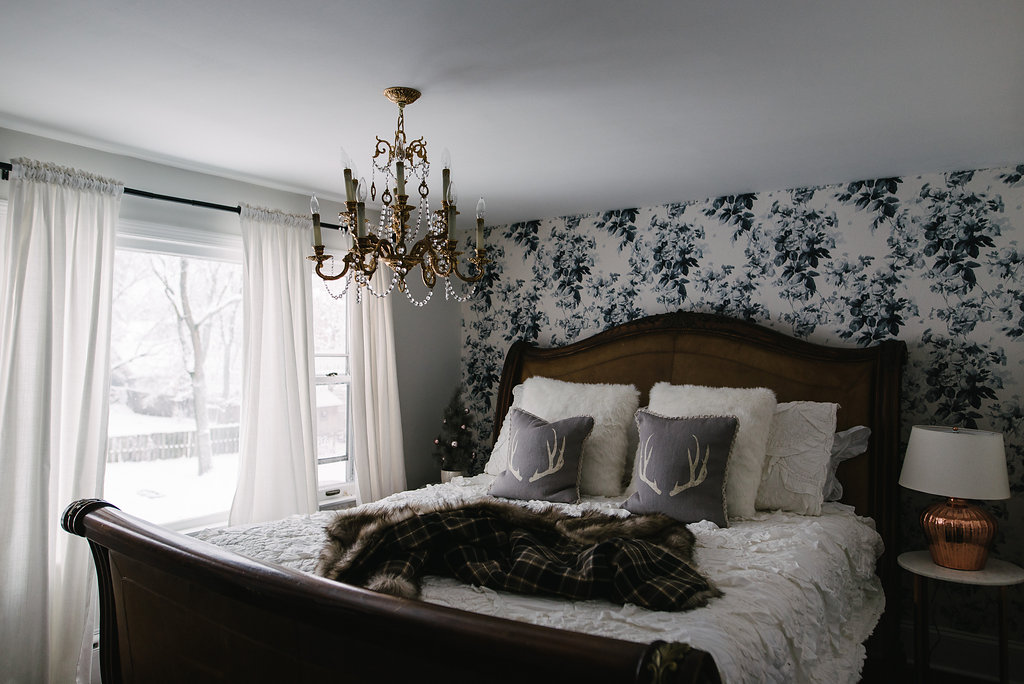 Thank you all so very much for taking time out of your day and visiting us! We appreciate your love and support more than you could possibly know!
Please stop on by City Farmhouse's blog tomorrow and continue to follow the tour for much more inspiration this Christmas season and don't forget to check out all of these wonderful Christmas ideas over at Good Housekeeping!
http://cityfarmhouse.com/2015/12/cozy-christmas-cabin-house-tour.htmlWishing you and yours a very Merry Christmas! Love the whole Kindred Vintage Crew!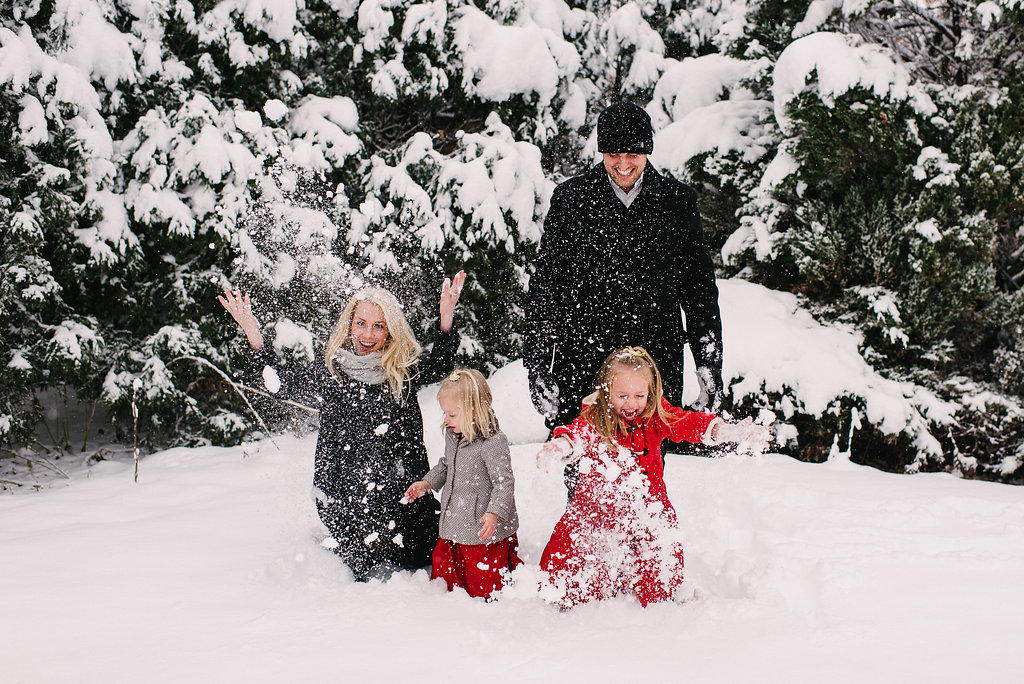 Warmest Regards, Susan
Make sure to go back to the beginning of the tour, if you haven't already! For more holiday inspiration you can also check out our Housewalk Pinterest board with Good Housekeeping!
Here's the full Line-Up of the Holiday Housewalk:
1. Jennifer Rizzo
2. Liz Marie Blog
3. Just Destiny Mag
4. Eclectically Vintage
5. Dear Lillie
6. Kindred Vintage
7. City Farmhouse
8. My French Country Cottage
9. Lily Pad Cottage
10. Jeanne Oliver
11. Rooms for Rent
12. Paige Knudsen
13. Craftberry Bush
14. Rusty Hinge
15 .Town and County Living
16. Duke Manor Farm
17. Shabby Nest
18. Restoration House
19. Jenna Burger Design
20. At the Picket Fence
21. Yellow Cape Cod
22. East Coast Creative
23. Golden Sycamore
24. Jennifer Wagner
25. Unskinny Boppy
26. Ella Claire
27. My Uncommon slice of Suburbia
28. My Sweet Savannah
29. My Golden Boys and Me
30. Susie Harris
31. Number 53