Hello Friends!
As some of you may know, before we started this WordPress blog we had a Blogspot one where we shared a couple of posts before switching over.  As promised, we are excited to share with you our Ikea Norden sideboard makeover!  The post below is copied over from our old blog, so pictures are dated back to about a year ago and since then Ikea has unfortunately discontinued this particular item.  However, they do have a new style that comes in an extendable table and a few other products in their Norden series but even if you decide to not go with anything from this series, Ikea has many products made out of solid birch, sealed with clear acrylic lacquer like this one so you can use these steps for any of them!
I hope you have success remaking some pieces using these simple steps! If you do, tag us on Instagram @kindredvintage, we would love to see them!
Our home and our sideboard as it is today: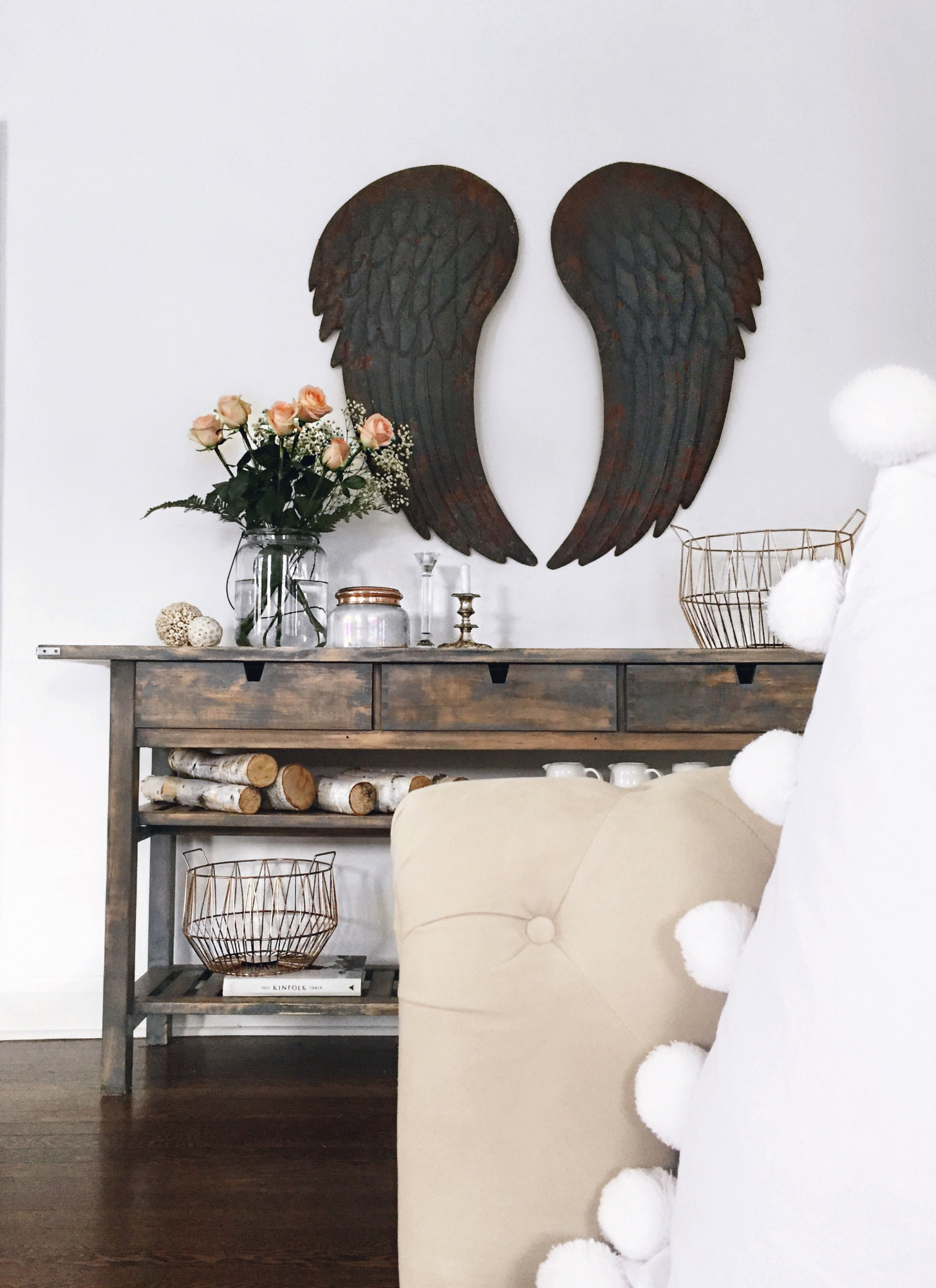 (wings are a part of our Kindred Vintage + Painted Fox collection! You can purchase them HERE!)
Now here is a look back at our Ikea sideboard makeover, and our home a year ago: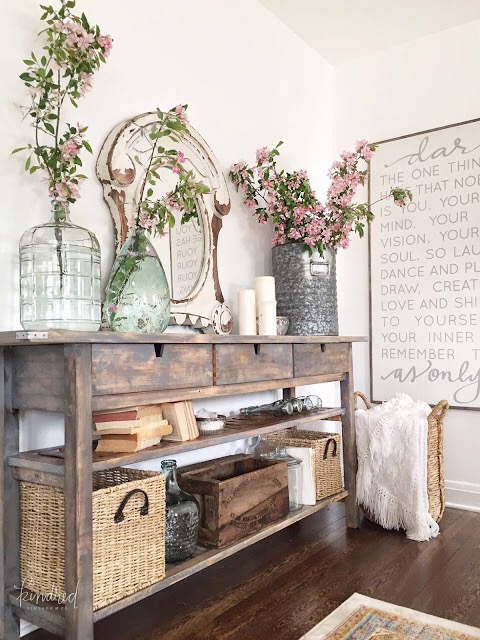 I am in love with our IKEA Norden sideboard makeover! I am so pleased with the way it turned out and how it went from any ordinary to a piece of Ikea furniture to one with loads of character and charm.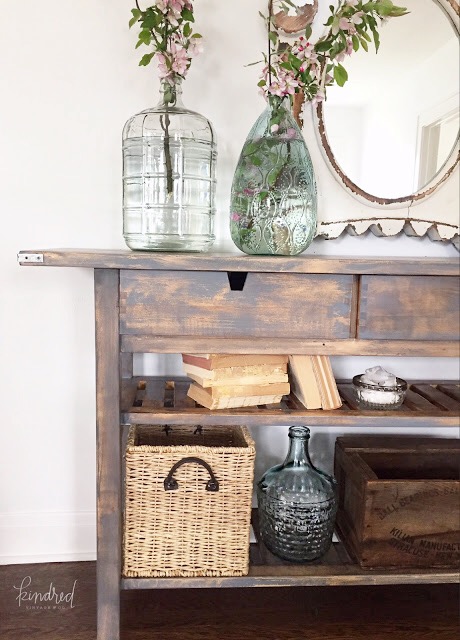 Today I am going to share with you my latest DIY project that transformed our Ikea sideboard from ordinary to rustic chic and I love the way it turned out.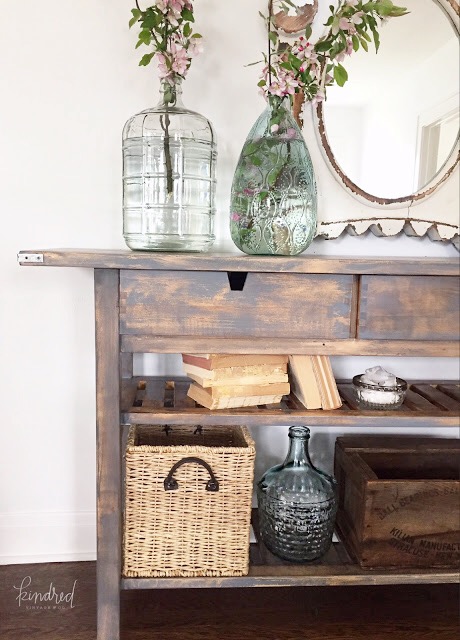 BEFORE: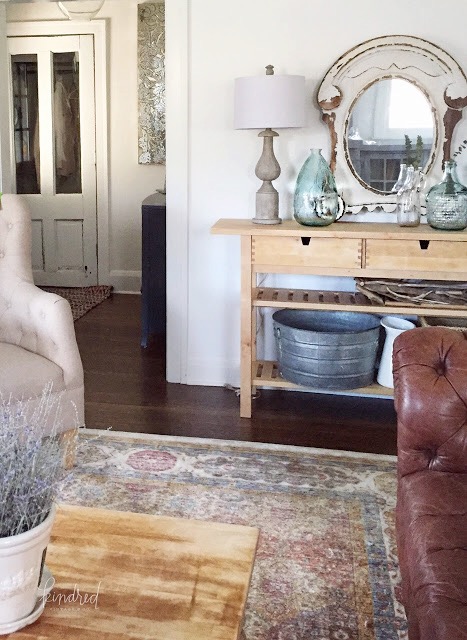 The process was fun and easy and can be done on any raw wood surface. If you are looking to recreate something similar just follow these simple steps and have fun!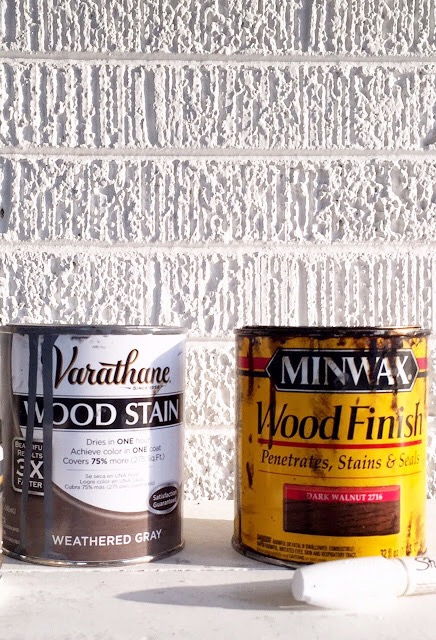 Supplies you will need:
1. Hand sander
2. Miniwax wood stain in dark walnut finish
4. Varthane weathered gray stain
5. Cotton rag to apply stain
6. Paper towels
7. Clear wood wax
8. Metal L brackets
9. Screw driver
LET'S GET STARTED:
Step 1-
Sand down wood to get off any old stain or finish in order to make the surface smooth.
Step 2-
Apply dark walnut stain with your cotton rag making sure to coat the entire surface. Wipe off excess with paper towels. Wait two to three minutes for stain to settle in. Then wipe down sideboard with a rag to take off any access stain.
Step 3-
Apply weathered gray stain with your rag, on top of the dark walnut stain you just applied. As little or as much as you would like, depending on how weathered of a look you are going for. When you have achieved your preferred look, let the stain dry for a few hours before waxing.
Step 4-
Once the stain has completely dried apply a liberal amount of clear wax to the sideboard.
Step 5-
Screw on L brackets to the corners of the table top to add some decorative flair.
Step 6-
ENJOY!!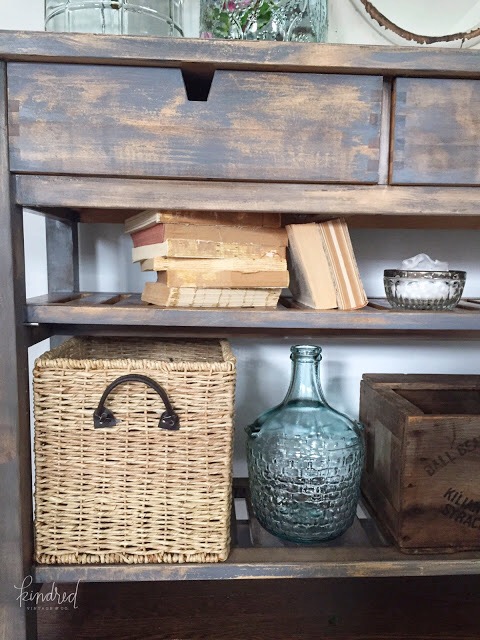 AFTER: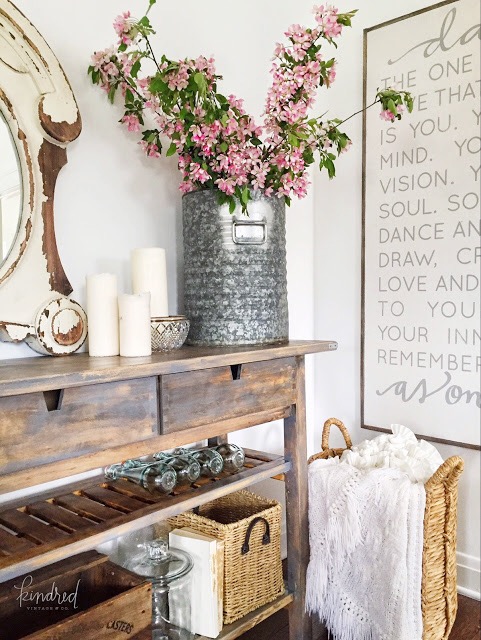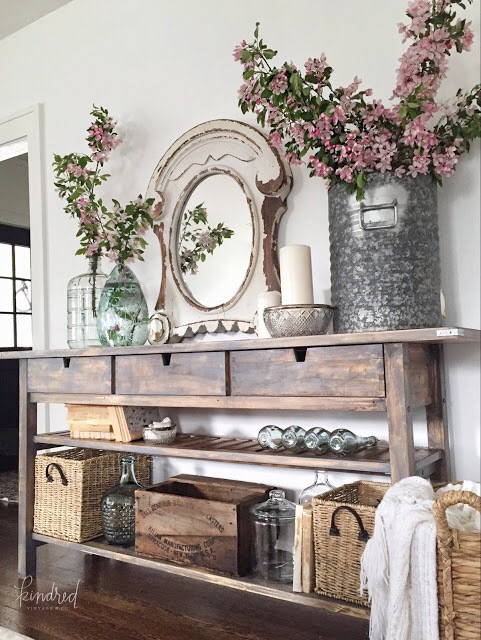 We would love to know what you think of the makeover and answer any questions you may have for us in the comments section below! Thanks for stopping by! Oh, and while you're here, if you like what you see, make sure to enter your email into the "Subscribe" box on the sidebar so you can get notified when we post! 😉
Have a beautiful day!
xo