Let it snow, let it snow, let it snow. We just love This season and although it is so much bigger and more meaningful than the Jolly Old Man In Red, having kids who believe makes the season that much more fun, and along with all the fun, comes presents!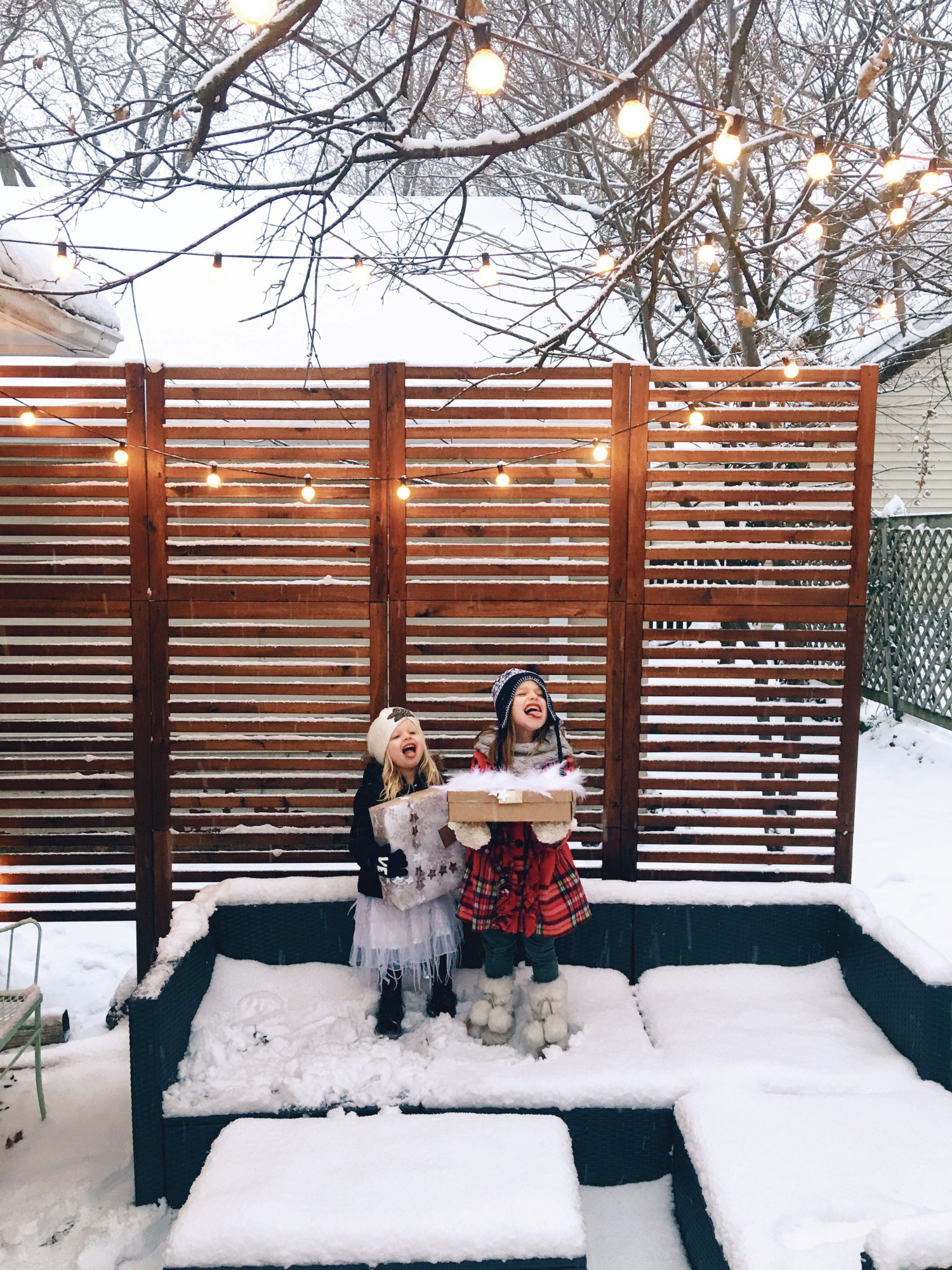 I'm so happy to be back with another post for the Farmhouse Holiday Series. It has been such a joy to be a blogger in this series! I am truly blown away by the talented the other women in the group share.
This is a bit of a different post for me. Not only is it a DIY post, it is an 'on a whim, stuck in a pickle post'. 🙂 My Minted wrapping has not arrived in the mail yet, so in the meantime, I am going to show you what to do if you're stuck at home in a blizzard without wrapping paper and have gifts to give! 😉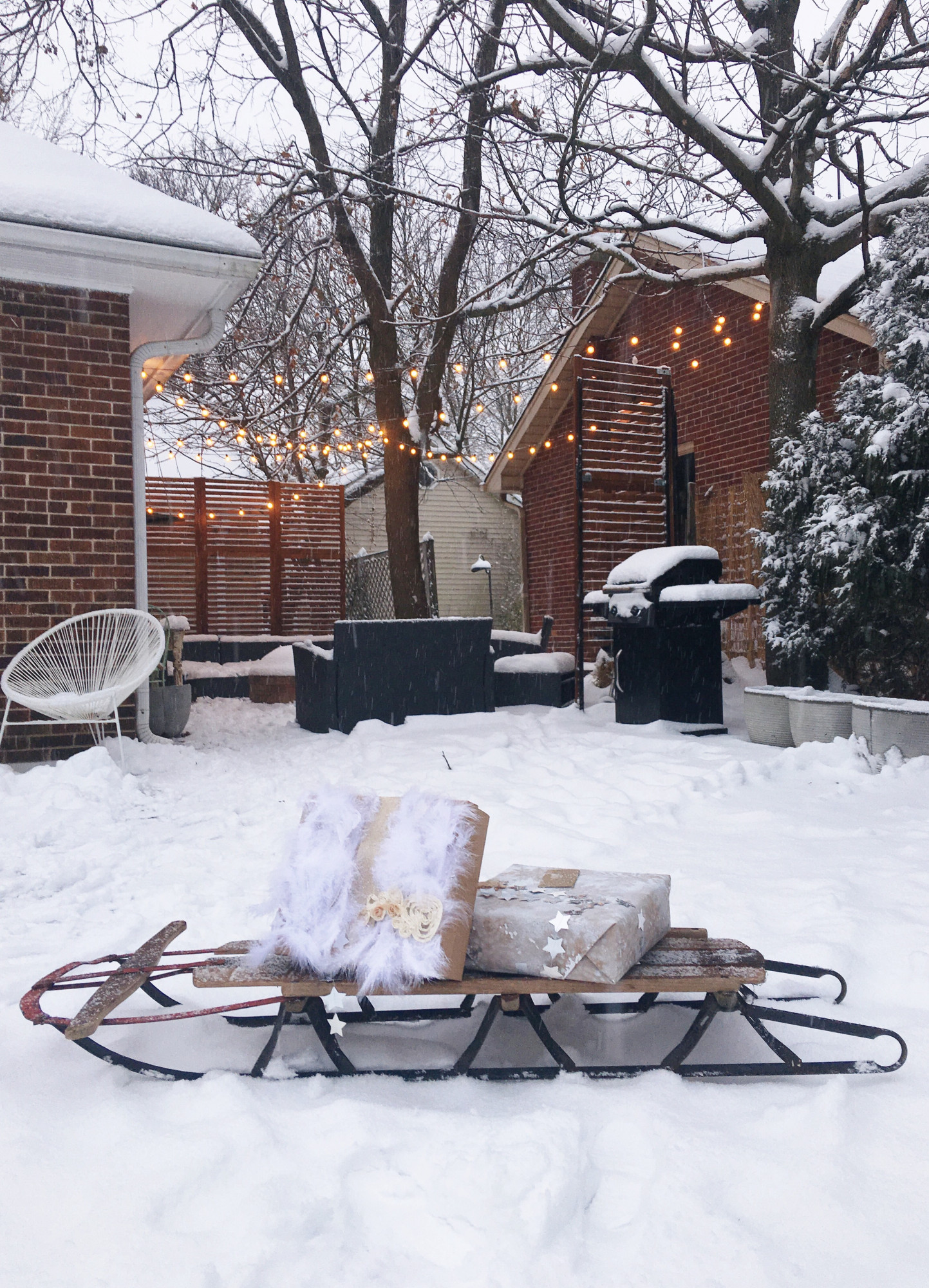 I started off by looking around at my home decor and the freshly fallen snow outside the window and then headed down to the basement where my craft supplies is stored for some more inspiration. I came across some gold glittered paper, feathers, spray paint and brown paper. Done, I had everything I needed.
I wanted some softness under the tree so for my first wrapping job I grabbed the brown paper and wrapped my first gift. I then grabbed an ornament off the tree that I had duplicates of and wouldn't mind losing. It was a snowflake and it went perfectly with my snowy vision. I took it outside onto our porch and gently sprayed white paint over the ornament, moving it slightly, not in any specific manner, just enough to cover the paper. Then let dry for a few minutes before bringing it inside. Once inside I added some star garland I had left over from last year and it was a wrap! 😉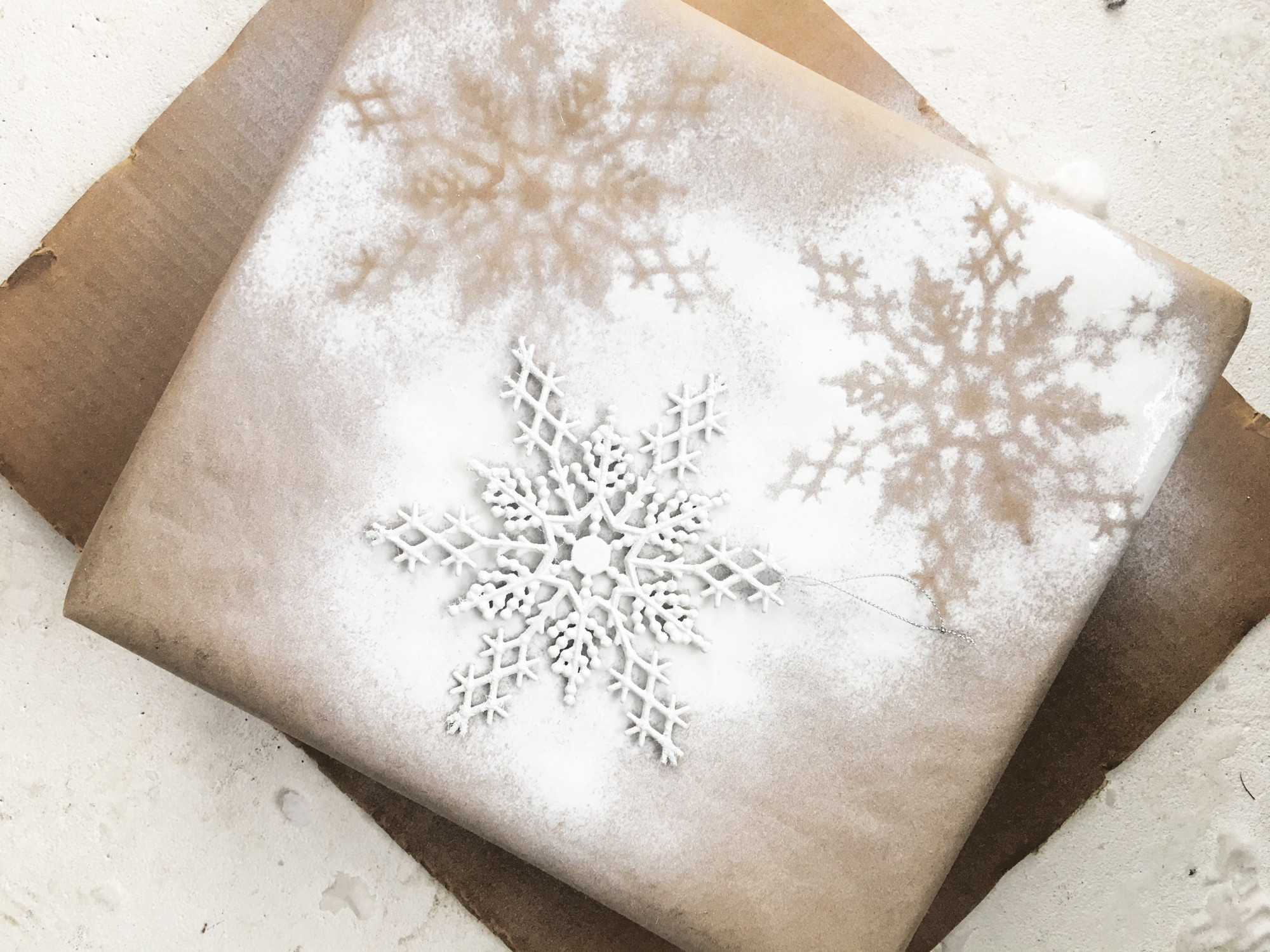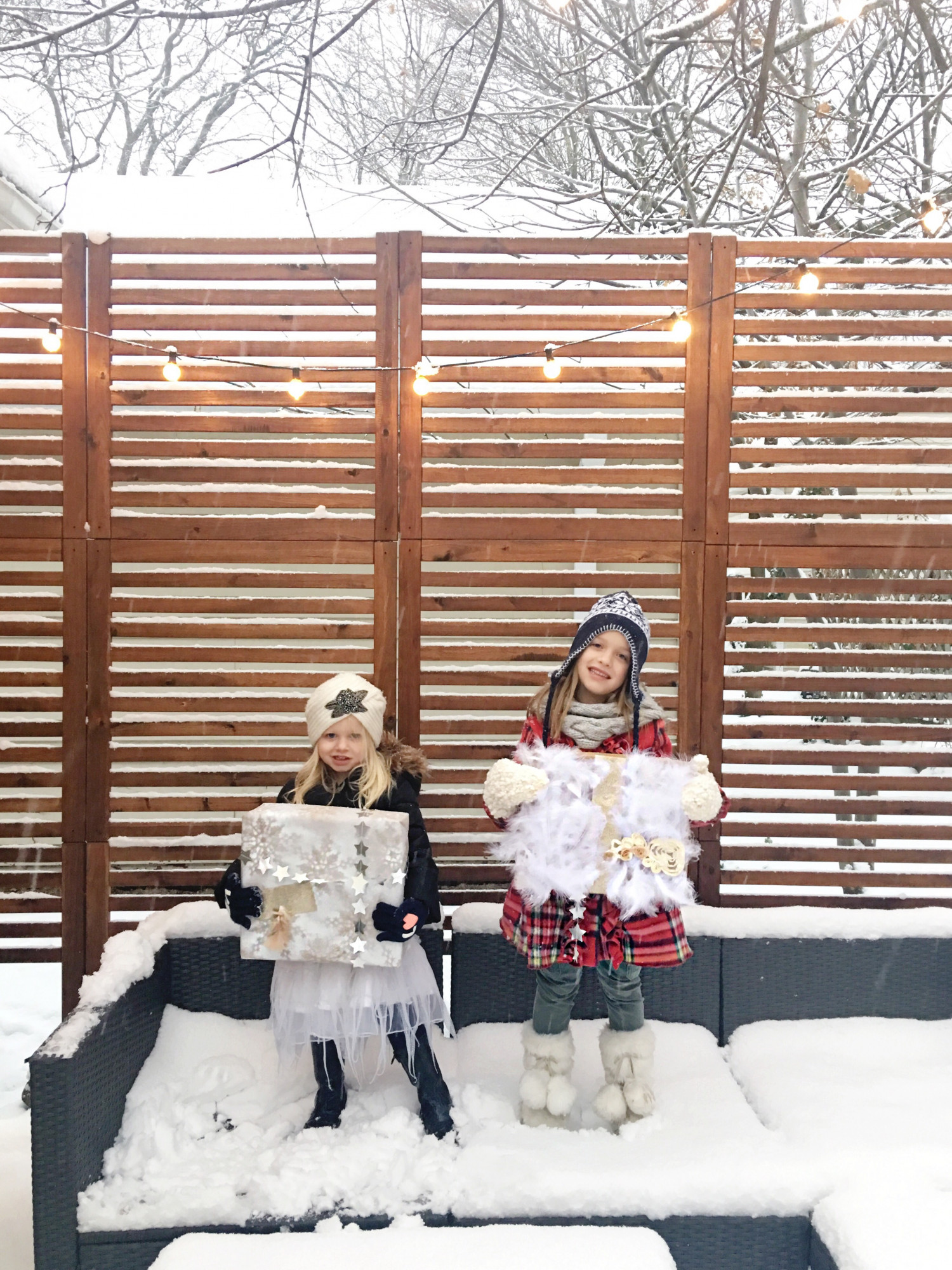 The next package I wanted to try something a bit different and out of the ordinary. I believe it's due to my love of all things fluffy and furry lately (pillows, faux fur rugs etc) so once I saw the feathers I knew exactly what I wanted to do with them, create a wrapping paper of course!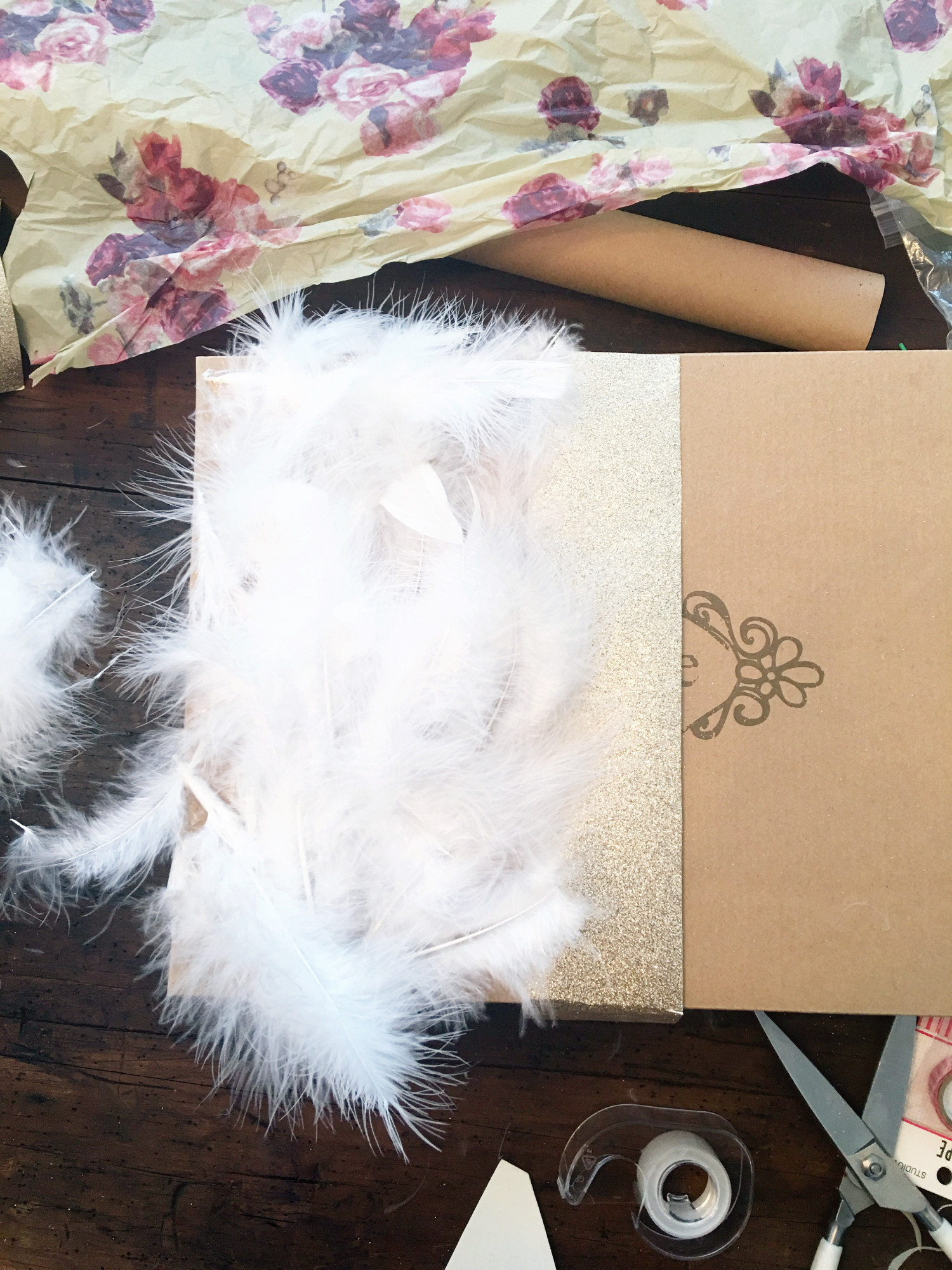 Since I was out of glue I tapped a strip of rose gold, glittered construction paper down the center. Then proceeded to fill in the remaining blank space by taping down the white feathers. To finish I garnished the package with a lace floral decal and I love how it turned out!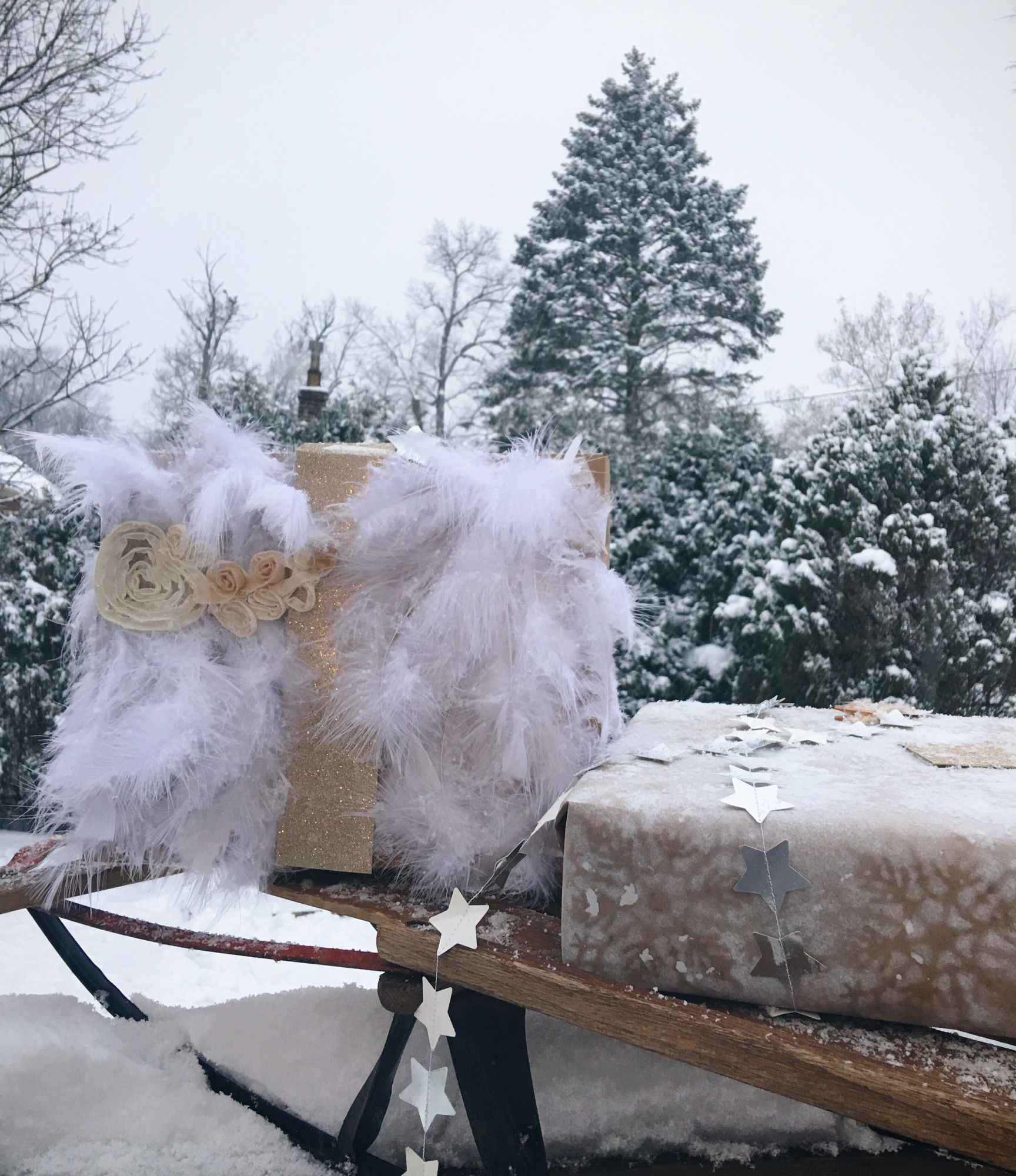 Although the wrapping my not be perfect, it's  perfect enough and that's all that matters in my book! And in this neck of the woods Jolly Old Saint Nick agrees. So make the best out of what you have, and enjoy! The holidays are about having fun and relaxing, so in the midst of the hustle and bustle if a package doesnt arrive when you'd wish'd it would've, sigh, relax and make some hot cocoa out of that chocolate Hershey's bar. 😉 Merry Christmas!
xoxo susan
Ella Claire | Liz Marie Blog | Jeanne Oliver | Shades of Blue Interiors
French Country Cottage | City Farmhouse | Dear Lillie | My Sweet Savannah