Hi!
Thanks for joining me over on the blog today! I really want to talk to you today about our family and chance encounters.  Rob, the girls, and I love, love, love to sit and watch movies, or talk about our days, or to simply gather and relax.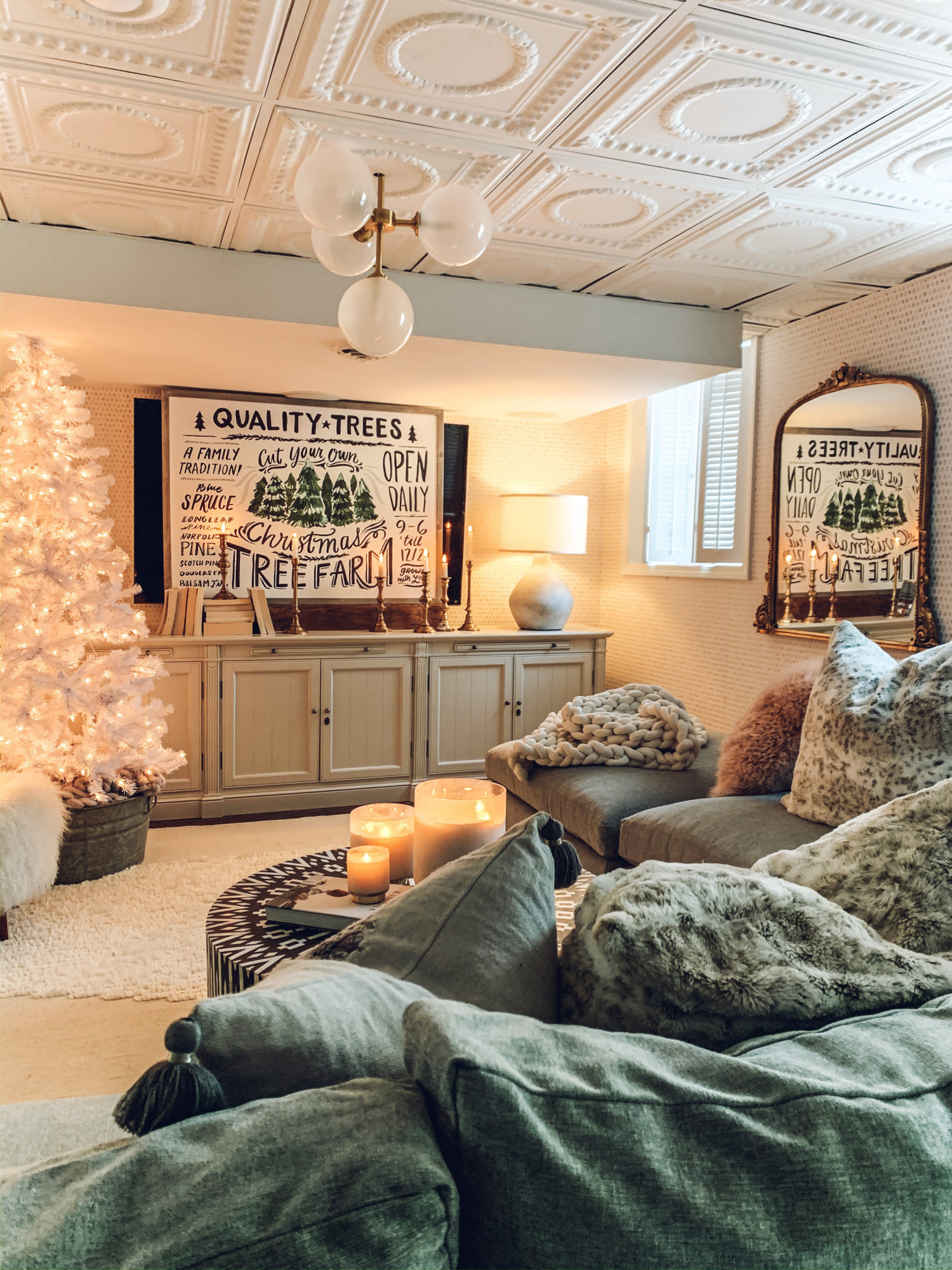 To me, the most effective way to do that is to set up the opportunity for those spontaneous gatherings.  With Rob's job, my continuous work, and the girls chaotic school/gymnastics/playdate schedule we just never know when we're all going to randomly be together.  And really, it's those in-between moments that a mom lives for you know?  So why not give yourself as much of a chance to enjoy time together as you can?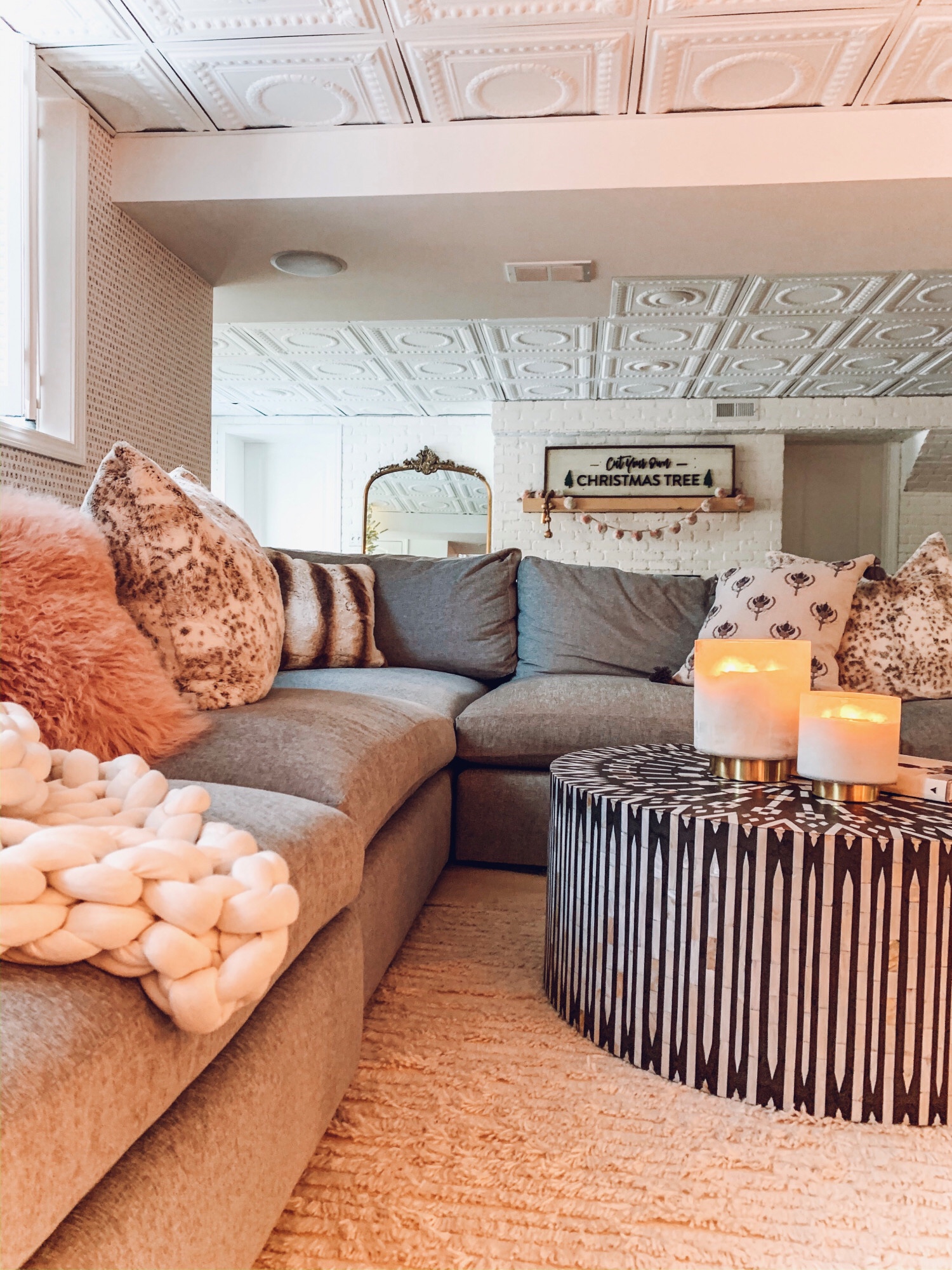 So as you read this I imagine you're probably envisioning gathering around a table or possibly a kitchen island.  And yes!  You're right those are great gathering places.  Rob and I have enjoyed many moments gathered together with friends and family. But I believe the next best gathering place after those two is a couch.  And Arhaus has outperformed itself again with this amazing Kipton four piece sectional.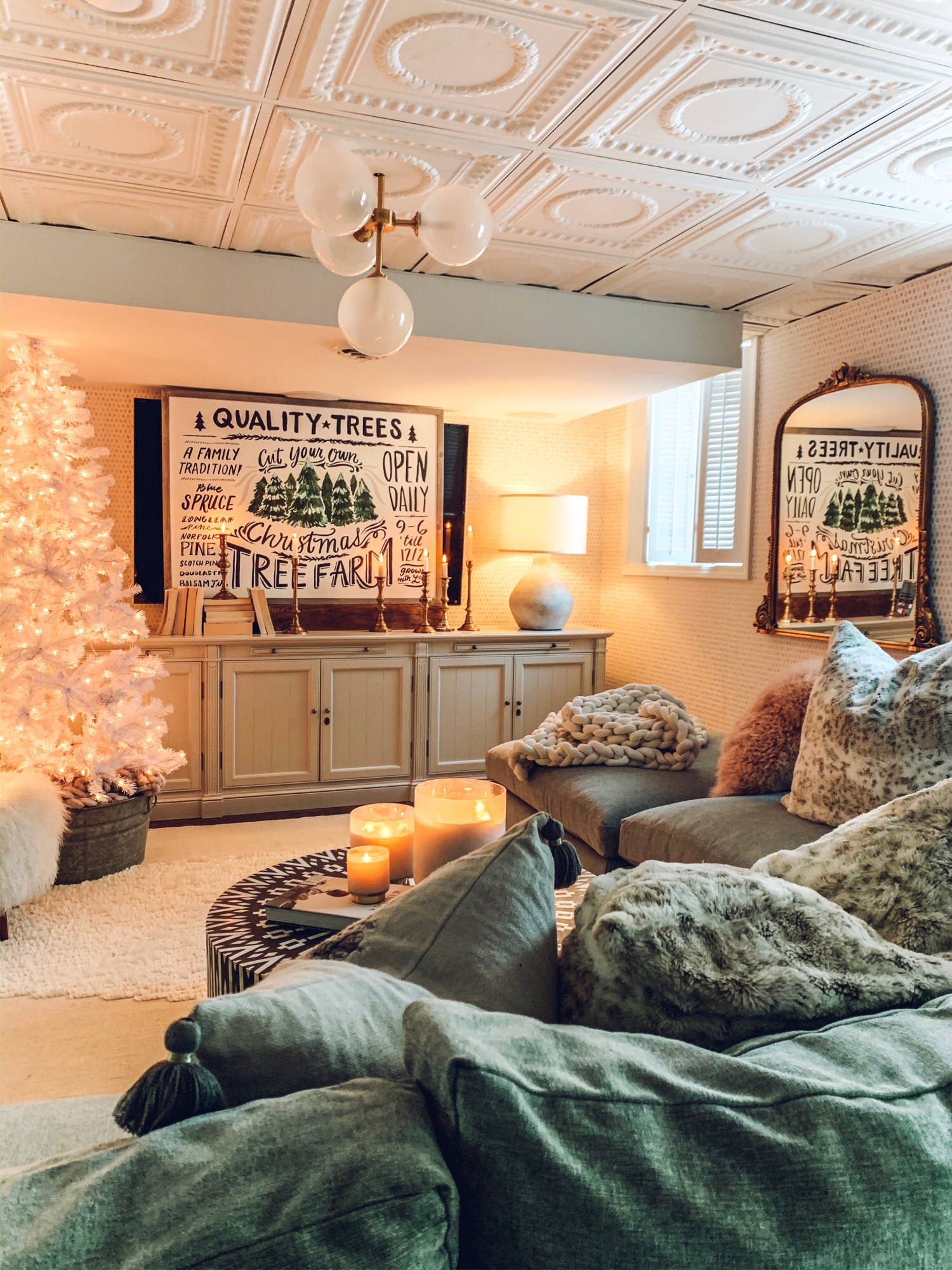 As is usually the case, Arhaus is top of the line in terms of quality, look, and options.  Let me tell you about a few.  Firstly, I did a bit of research when I was choosing my forever couch to find out what everything was made of.  (Definitely not going to tear apart this beautiful couch once it's put together). After doing all the research I then had the amazing opportunity to visit the Arhaus factory in North Carolina to see gorgeous couches and sectionals being handmade! And when I say handmade I mean every detail was carefully put together right in front of our eyes from the frame to the upholstery it was super impressive!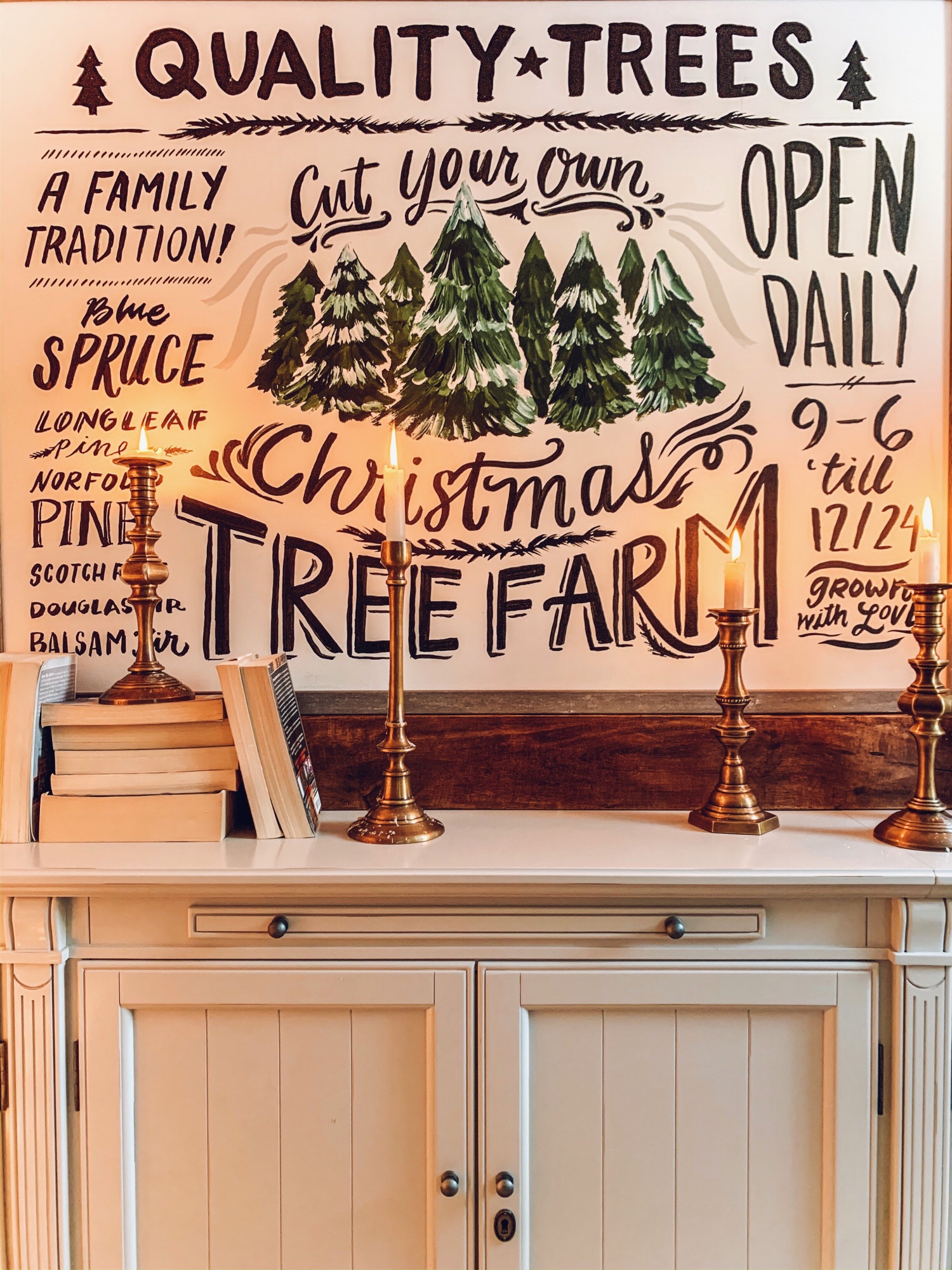 The back cushions are composed of an encased poly foam fiberfill, with a (very handy) removable cover.  The fact that it's removable has already come in handy as any mom knows exactly what I mean and more so exactly how I felt.  They're lucky they're cute.  🙂 The seat cushions are a little softer to help cushion the tooshion.  😉 They are made of a pocketed coil and foam core surrounded by a layer of feathers and down.  So the support is there as well as the softness.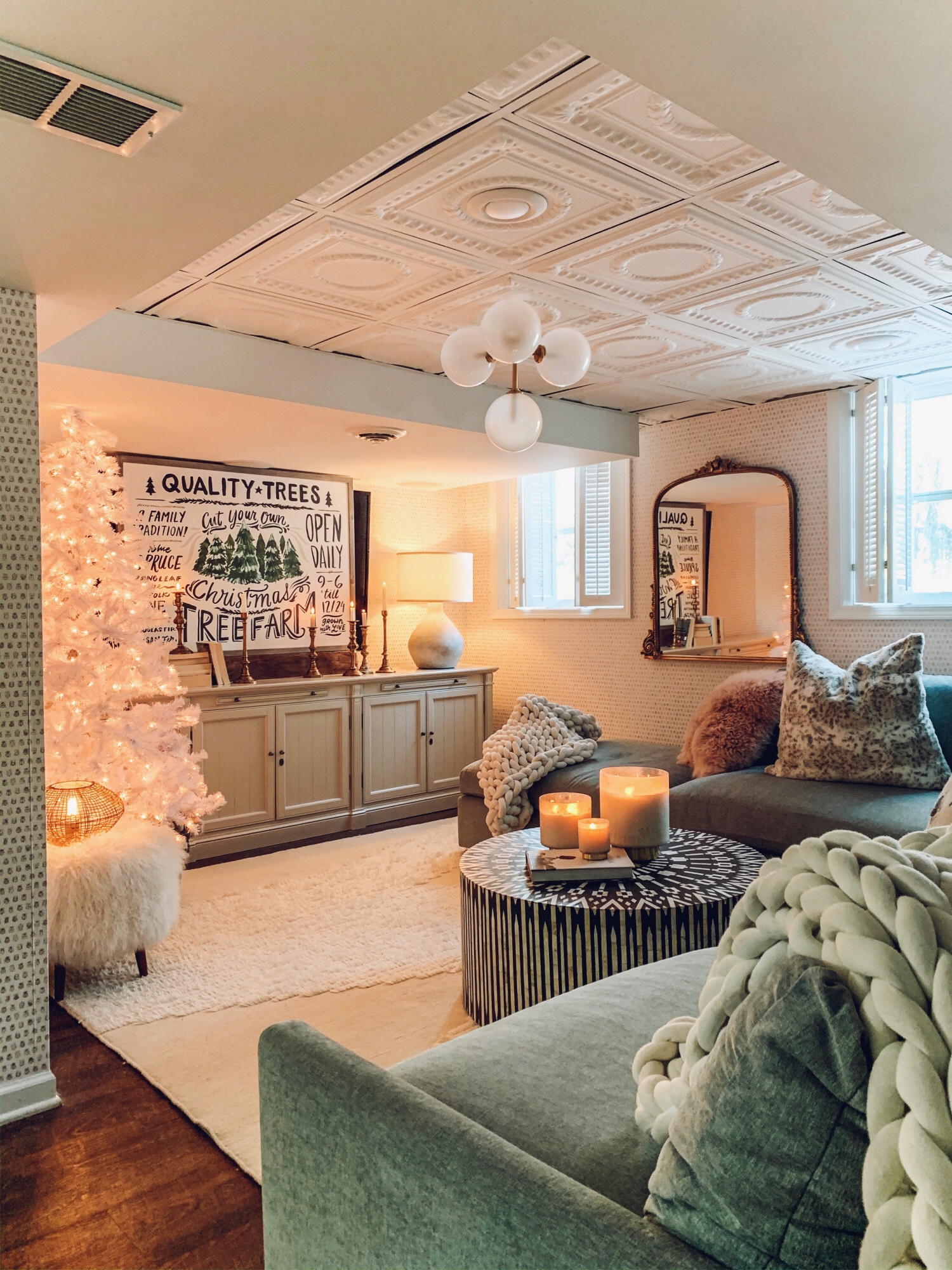 For our sectional, I went with minimal wooden legs.  This option helps to give perceived height to our short-ceiling basement as well as stops some of the many kid toys from ending up lost under the couch. 😉
Lastly, I'd love to talk about the solid hardwood frame.  This bad boy will last for-ev-er.  The wood used to build the frame is sourced within 300 miles of the North Carolina facility, in efforts to help reduce carbon footprint. This means, with every Kipton purchase, you're subconsciously making a contribution to sustaining our earth! It also means my husband has to muscle up every time I change out the rug. Poor him.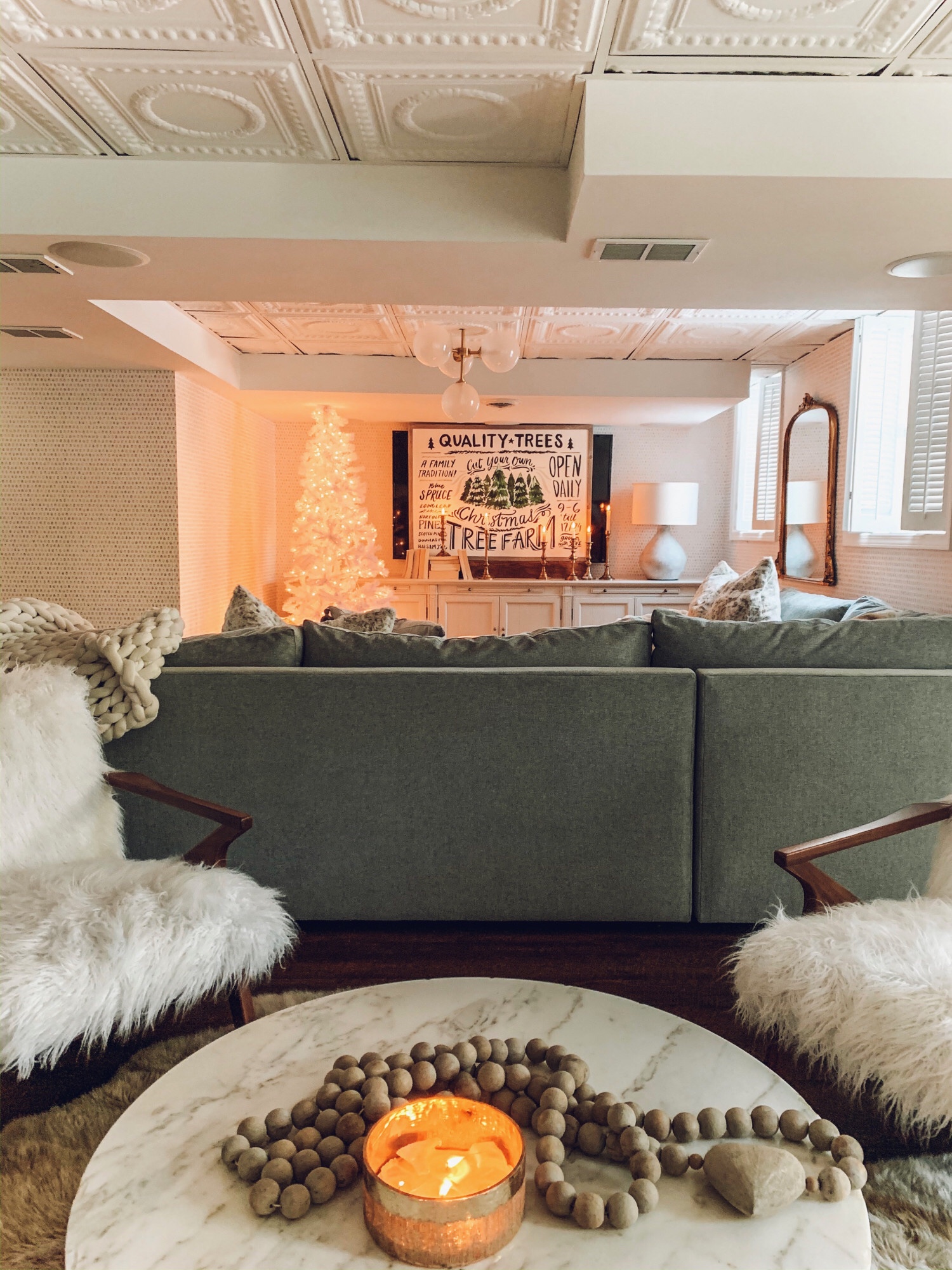 So I hope that gives you some idea how sturdy, comfy, and usable this couch is. Next though, let me tell you about the options!!!   Holy cow, there are 86 different options for upholstery, not to mention it also can come in leather.  We went with Stanton Frost, a beautiful gray with blue undertones.  The color switches back and forth in different lighting, but no matter when I look at it, the couch is stunning.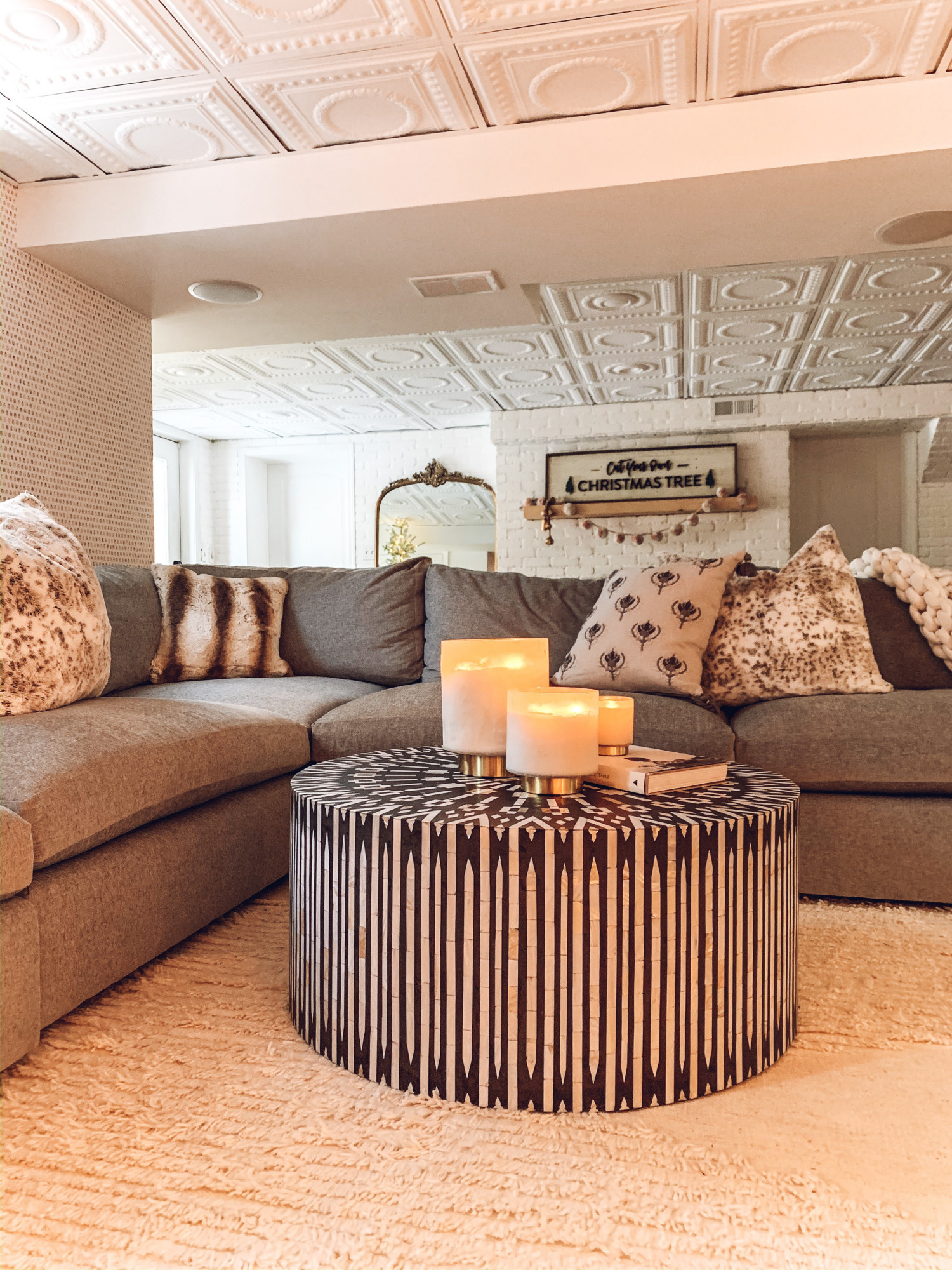 Kalmin coffee table is available at Arhaus
I love how all four of us (and sometimes Reece if Rob's not around) can be together in one space, enjoying each other's company.  I hope this blog post gives you helpful information on how amazing Arhaus Kipton sofas are and how they're of the highest quality possible, stunningly beautiful, and comfy enough to be a bed.  But even more, I hope that this post gives you some ideas on how to give yourself opportunities for chance encounters of your own!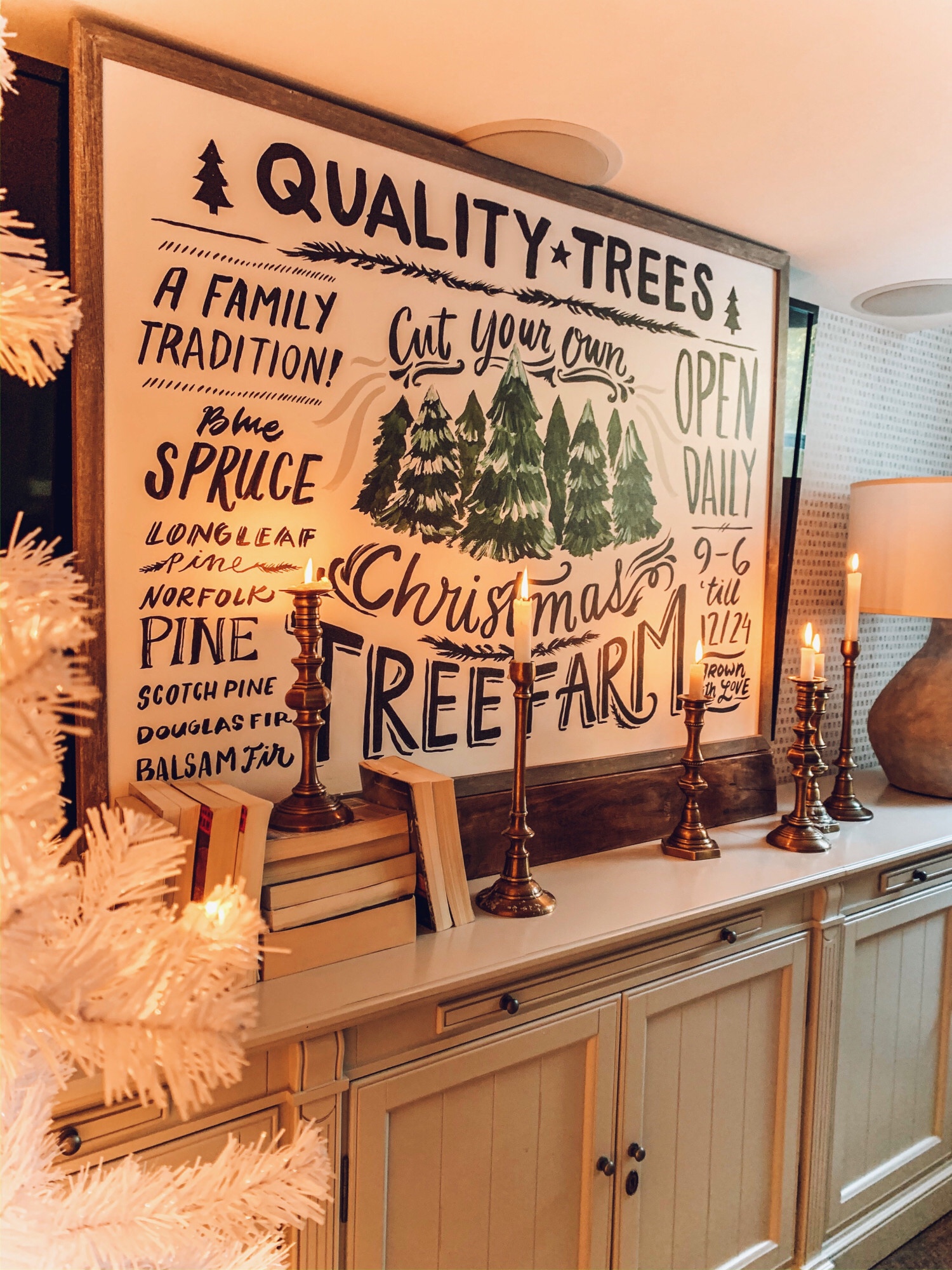 Athens modular media cabinet by Arhaus.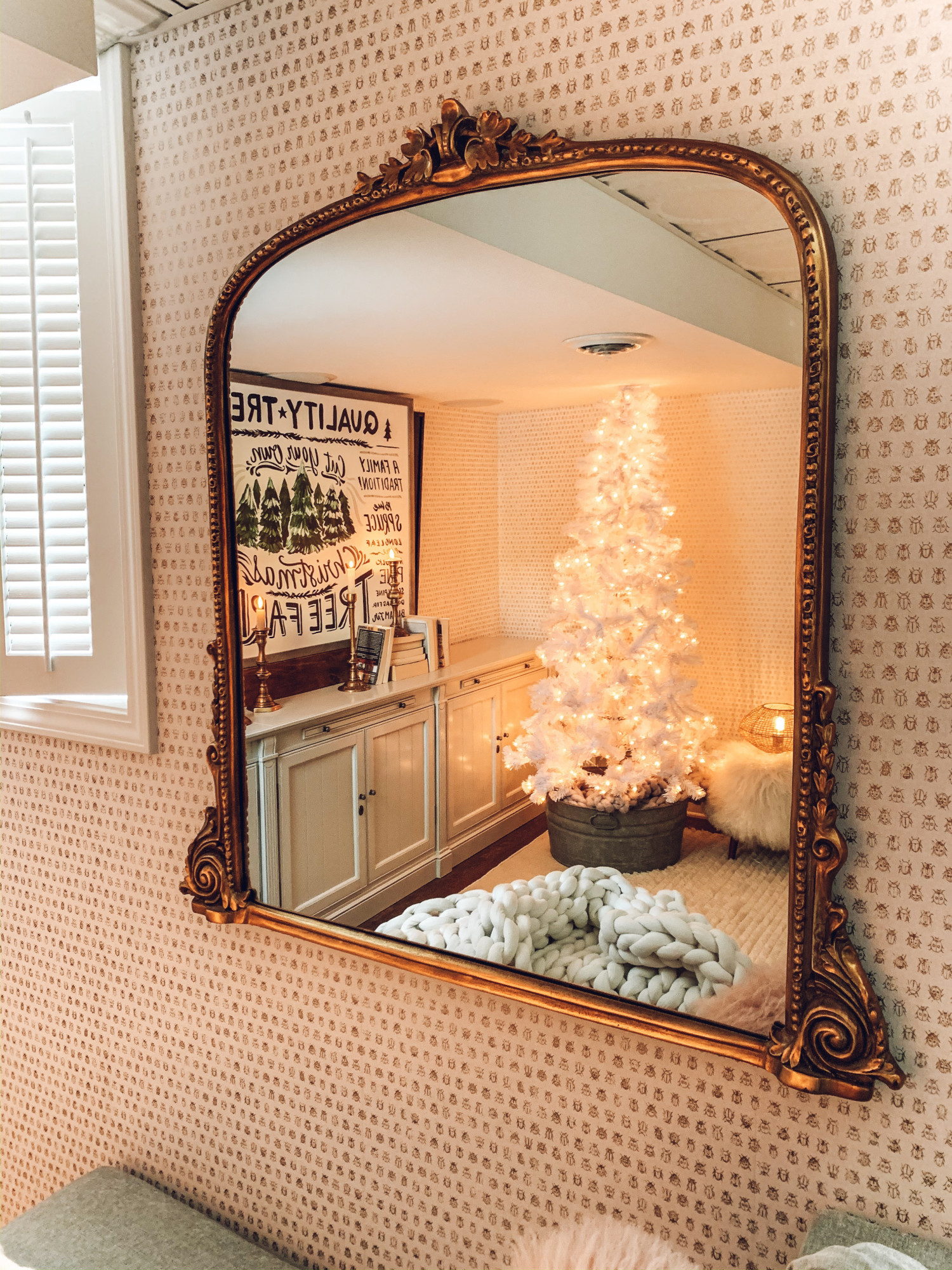 Illuminate wallpaper is from Arhaus as well!
A fun fact about November at Arhaus, it is Upholstery Month! This means:
– Save up to 40% on upholstery
– Purchase a Sofa or Sectional, Get 50% Off a Regular Price Rug!!
– SAME AS STOCK – Custom Upholstery for No Additional Cost!!
– During the month of November, Arhaus will plant one tree for every purchase, in partnership with American Forests! These specific trees are going to help restore fire-damaged areas of California.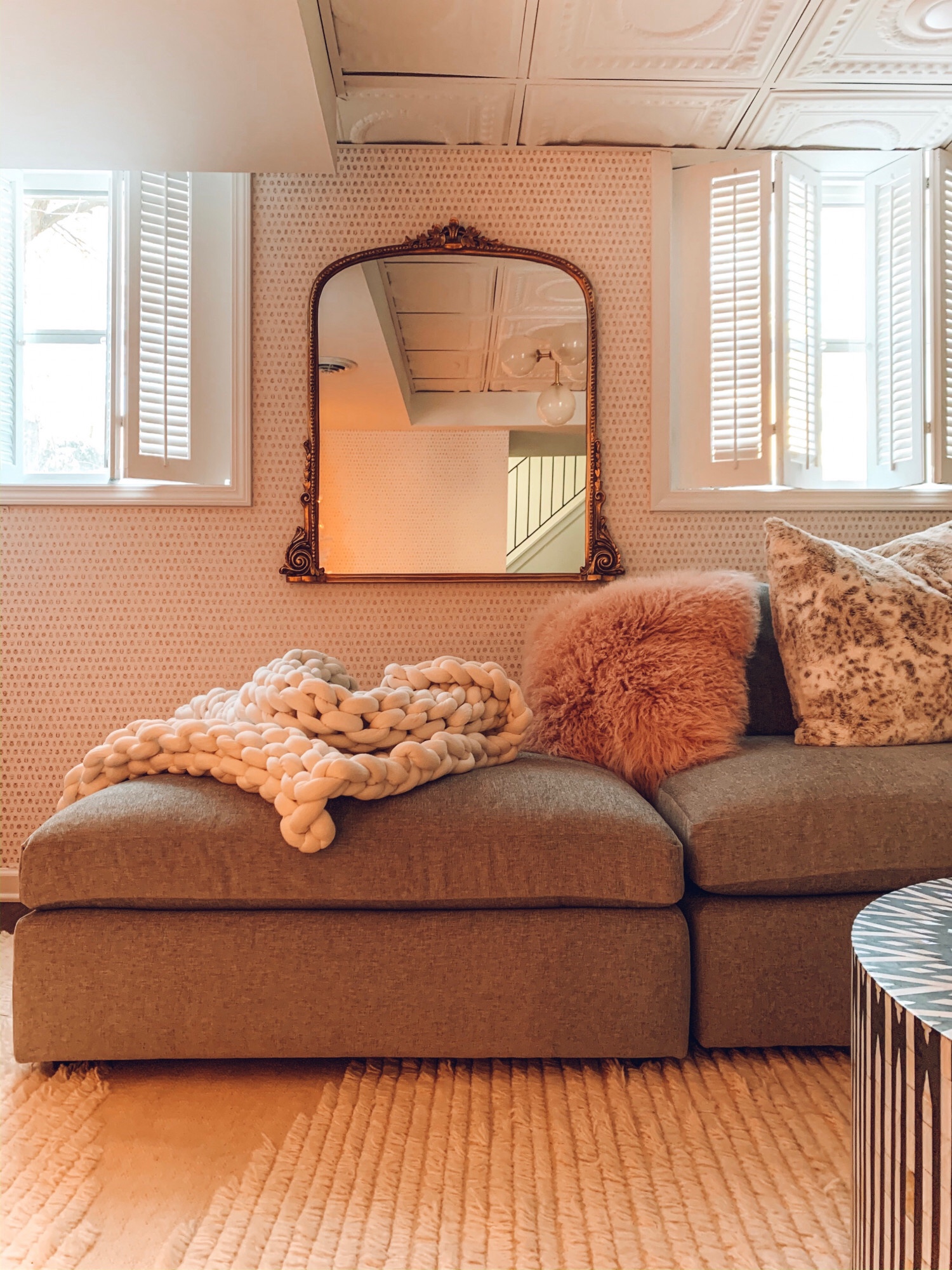 Such an amazing company that I am so honored to stand behind!