Hi Guys! First and foremost thank you for joining us over here on our newly renovated website! As you may know, decorating for the seasons is one of my very favorite things to do. I'm so excited to kick off this season with a few of my talented friends in the Seasons of Home Holiday Tour. Thank you to our host, Kristen over at Ella Claire & Co. for organizing this festive tour. If you're not already, you need to hop on over to Kristen's blog. I promise you'll be inspired!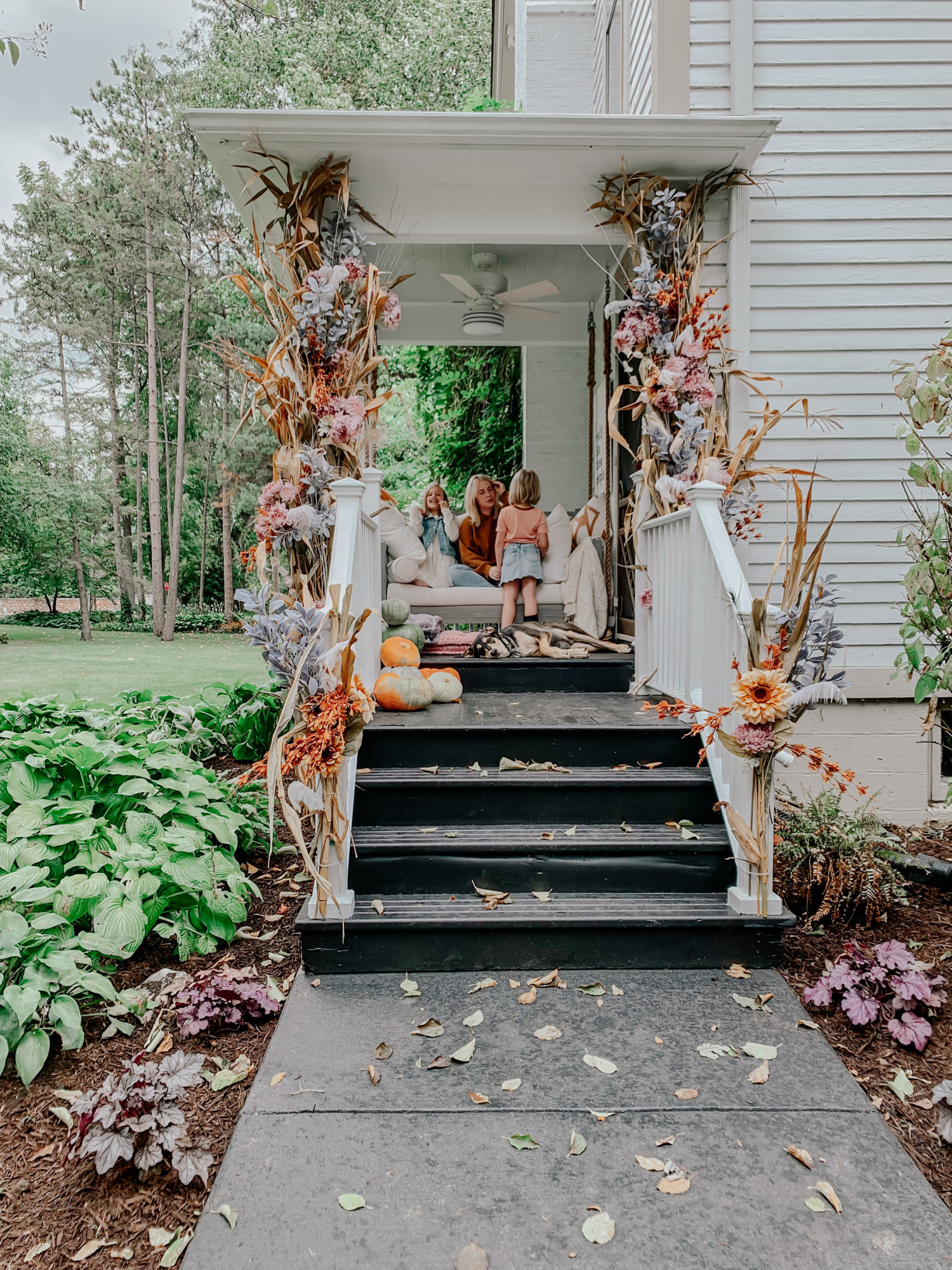 Fall has officially arrived at our home and it makes me so happy!! This year I went for an entirely different spin on fall by adding faux florals, berries, and feathers to our cornstalks. Looking at each piece individually may not appear very 'autumn-ish' but together I think they scream fall! We also teamed up with Hunter Fan Company, to incorporate this  Cedar Key Outdoor fan.  This fan was the inspiration for the whole color scheme of the porch.  We painted the ceiling a soft grey to play off the strips on the fan and used the light sides of the blades to contrast against the ceiling.  I love the subtle glow it gives off when it's lit but the fan is also a pretty feature when its not on.  The floor, and concrete walkway a bold black and then lined it with purple plants. One of my favorite features of this porch is the real + fake floral trick on these corn stalks! (Real corn stalks and faux florals!) I found these faux florals at Hobby Lobby, cornstalks at a local pumpkin patch, pumpkins from Trader Joes, and paint in the color Zircon from Sherwin Williams.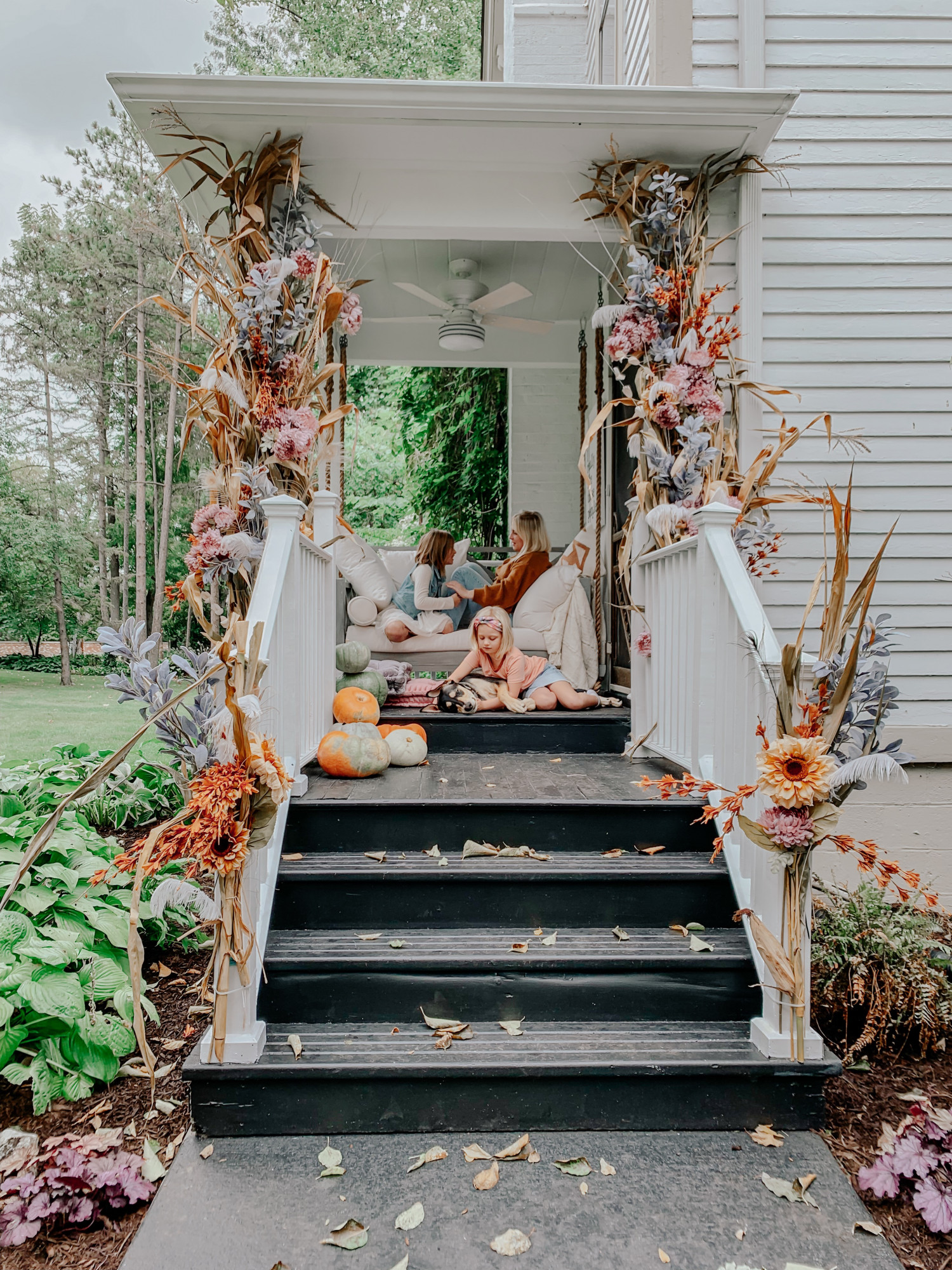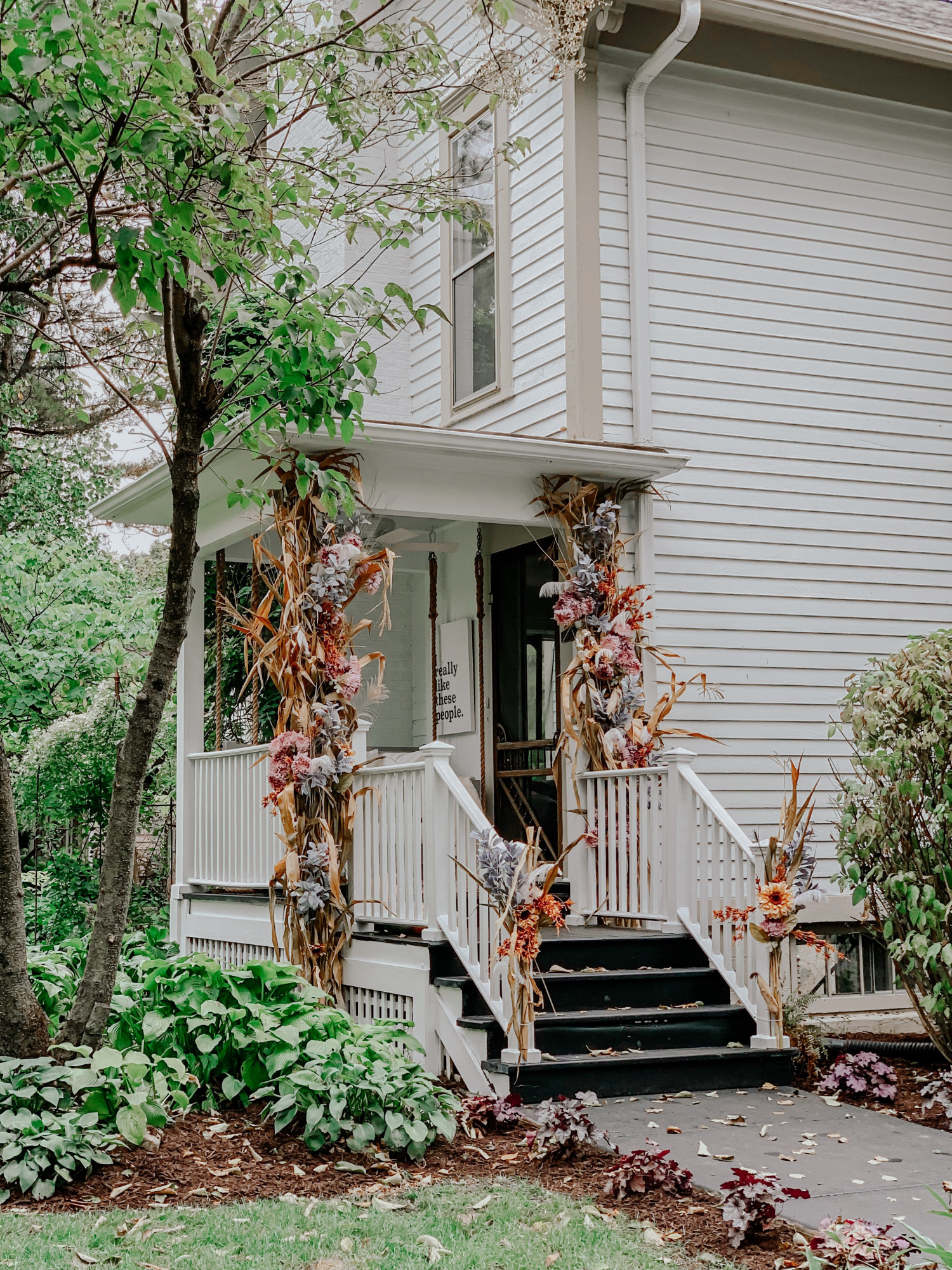 This porch is extra special to me because I teamed up with some friends of mine who have small businesses to bring to you an eclectic fall look. I love how all the pieces go together without being too matchy. These darling t-shirts are from one of my favorite friends, Amy, over at The Ever Co. The lumbar pillow is from my super talented friend, Katie, from Love and Grey. My dear friend, Lindsay Letters, created this beautiful artwork from her Farmhouse Canvas Co. collection. These darling skirts are handmade from the creative Mavis and Olive. (All sources will be linked at the end of this post!)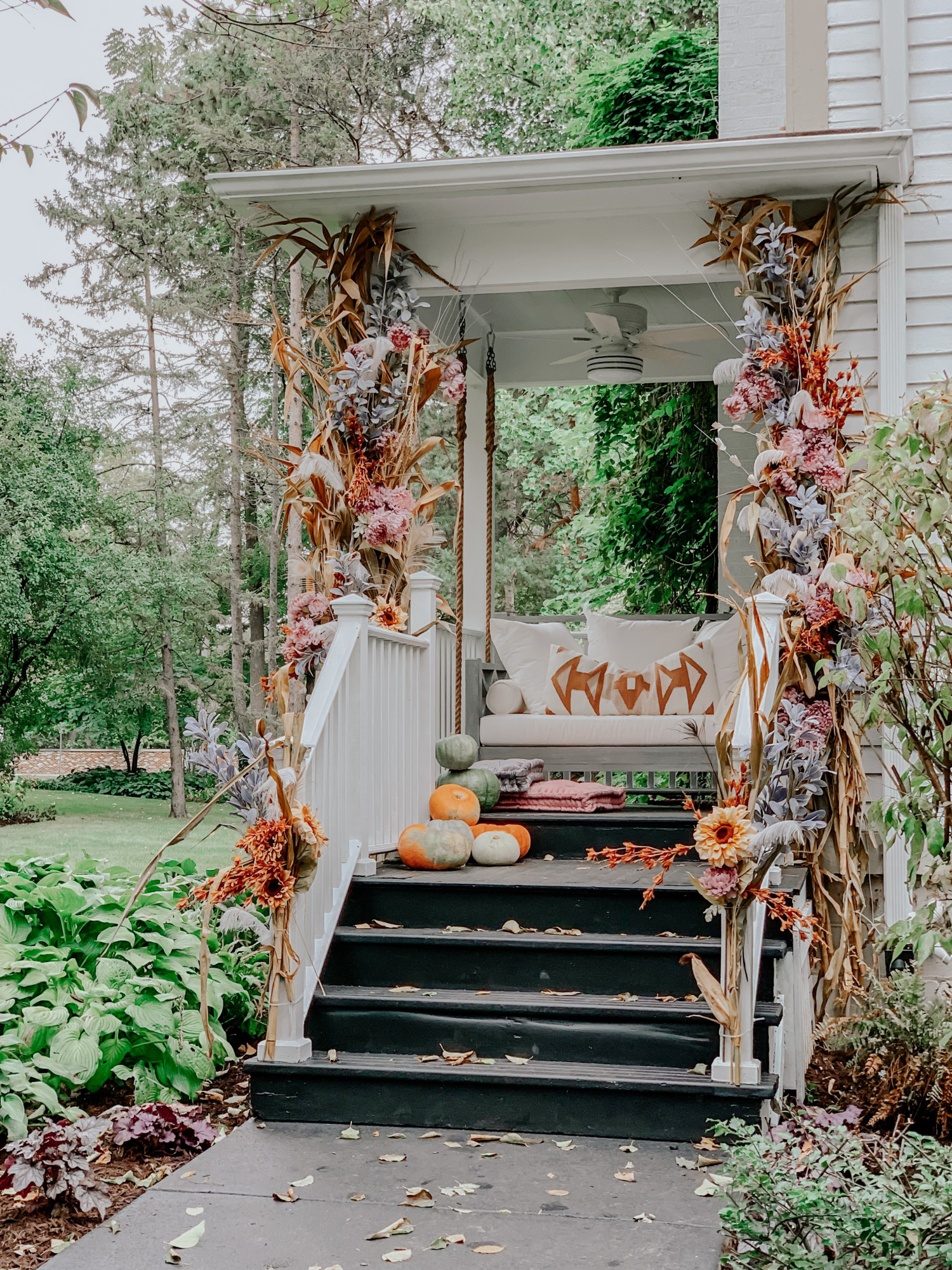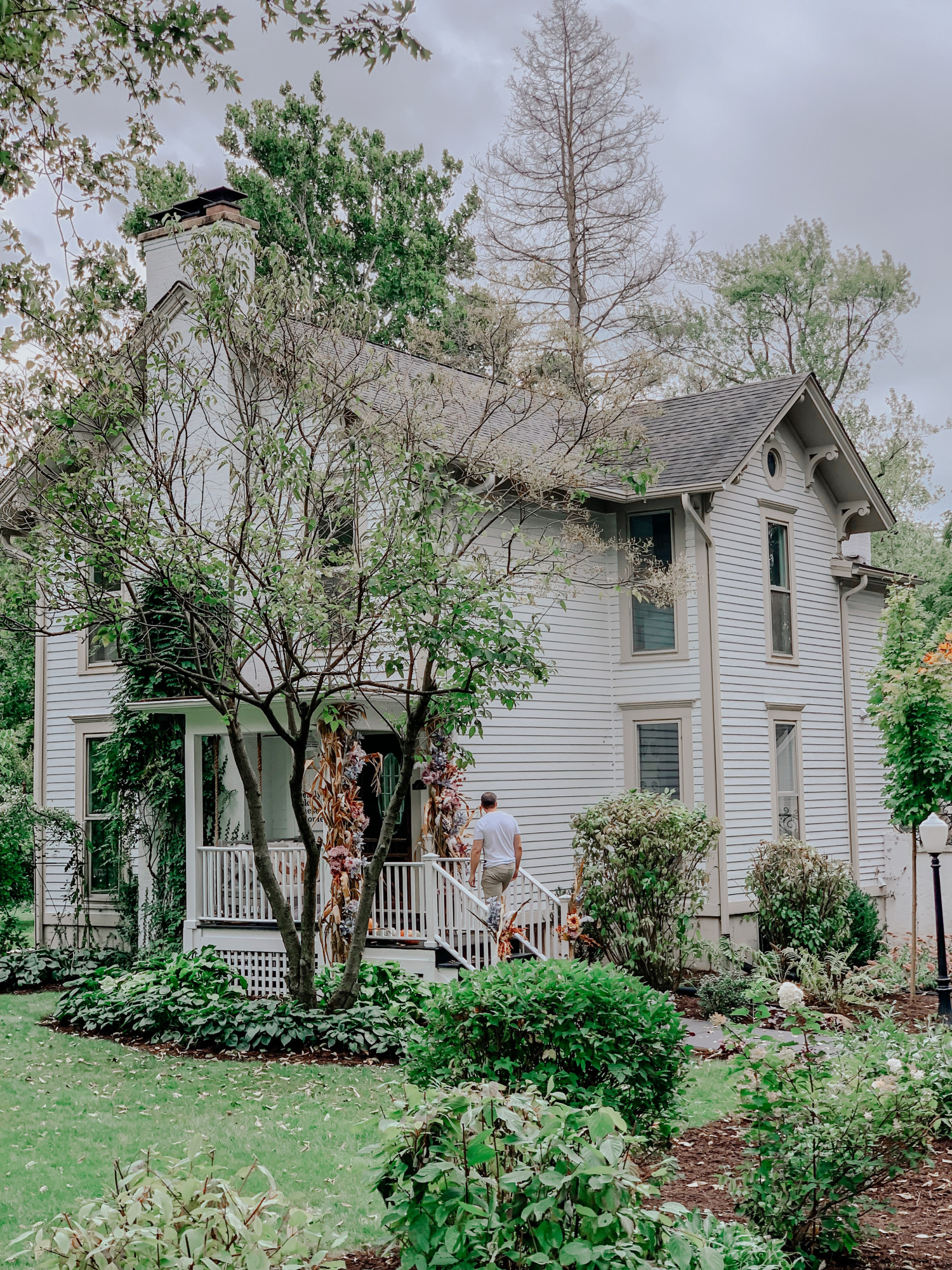 I must admit I was nervous to reveal a new porch with a new concept considering our last couple of autumn porches at our old home were fan favorites, but the love I've received from comments on Instagram so far is enough to reassure me that it's okay to put your fun spin on new spaces. As always, thank you guys for always inspiring me.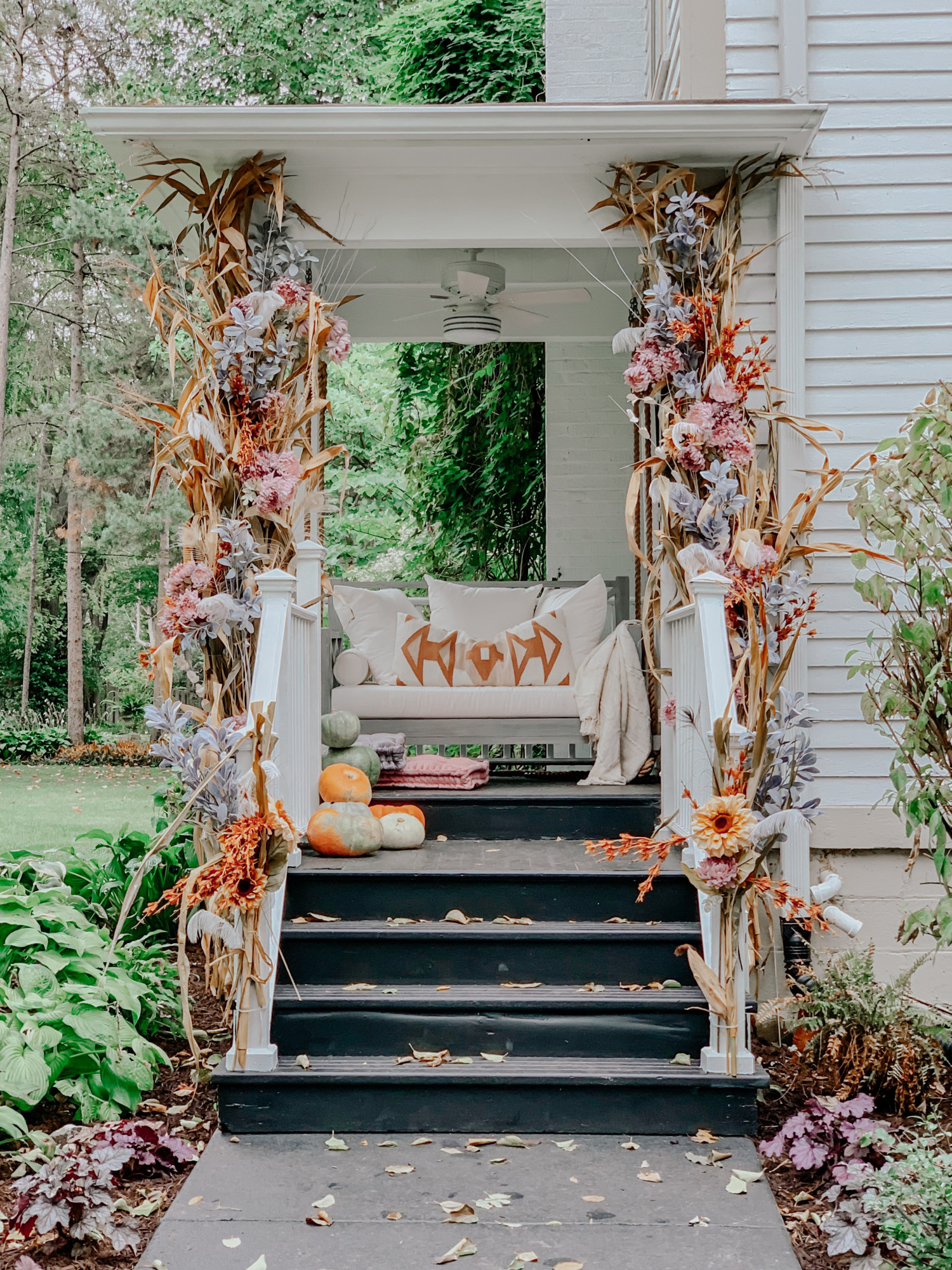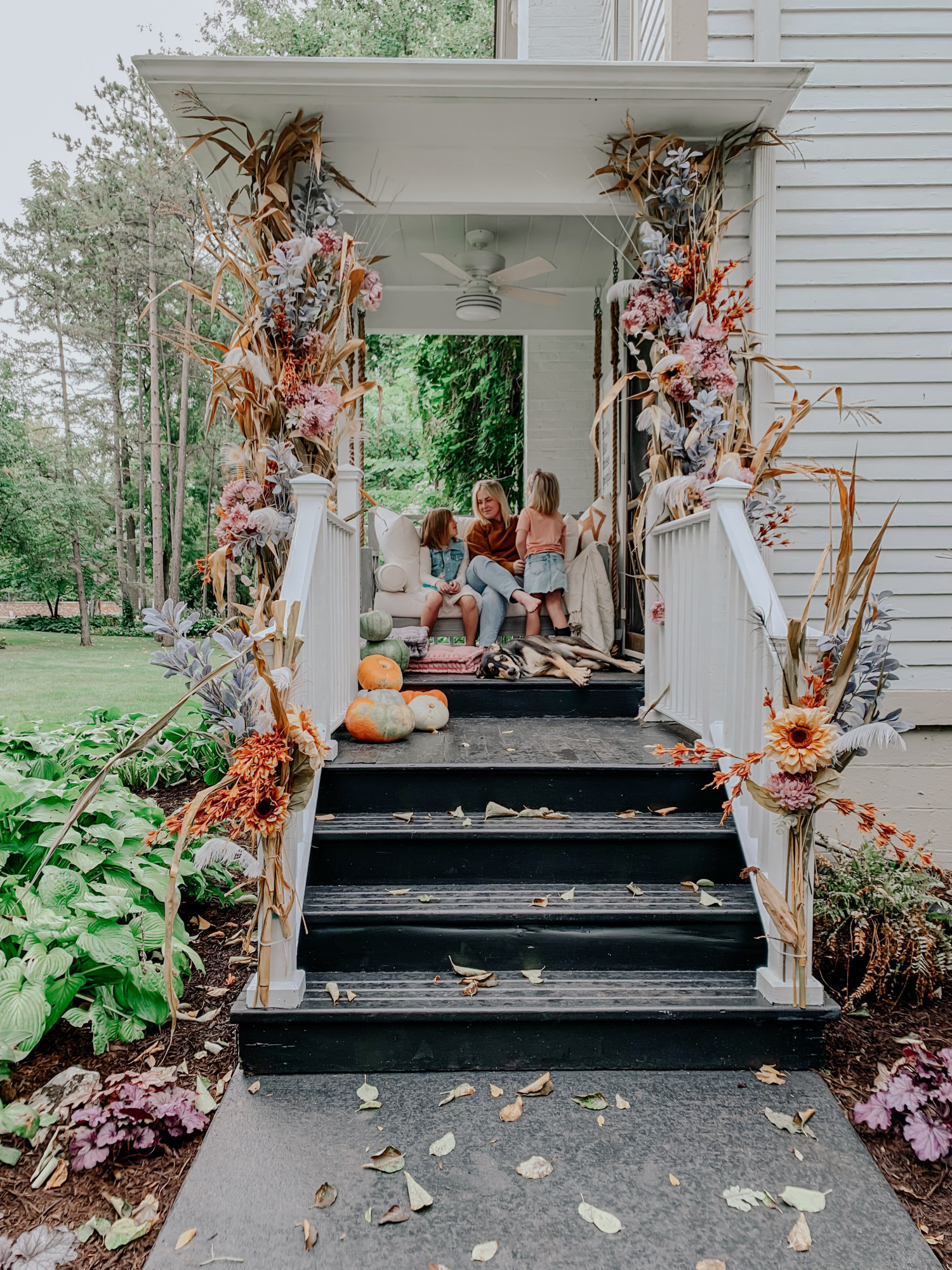 So here it is, my autumn spin on a floral entryway, and it makes me smile so big just looking at it!! I look forward to many more books being read, snuggles being had and chai tea lattes getting sipped out here! Happy fall y'all!
DIY, cornstalk floral.  We picked these cornstalks up at a local pumpkin farms and zip tied them to the pillars of the entryway.  I know I wanted a more whimsical feel to the traditional stalk, so that's when I came up with the idea to add faux floral.  I bought these at Hobby Lobby and they were half off.  So although a project can get pricey, just look for stems that are on sale.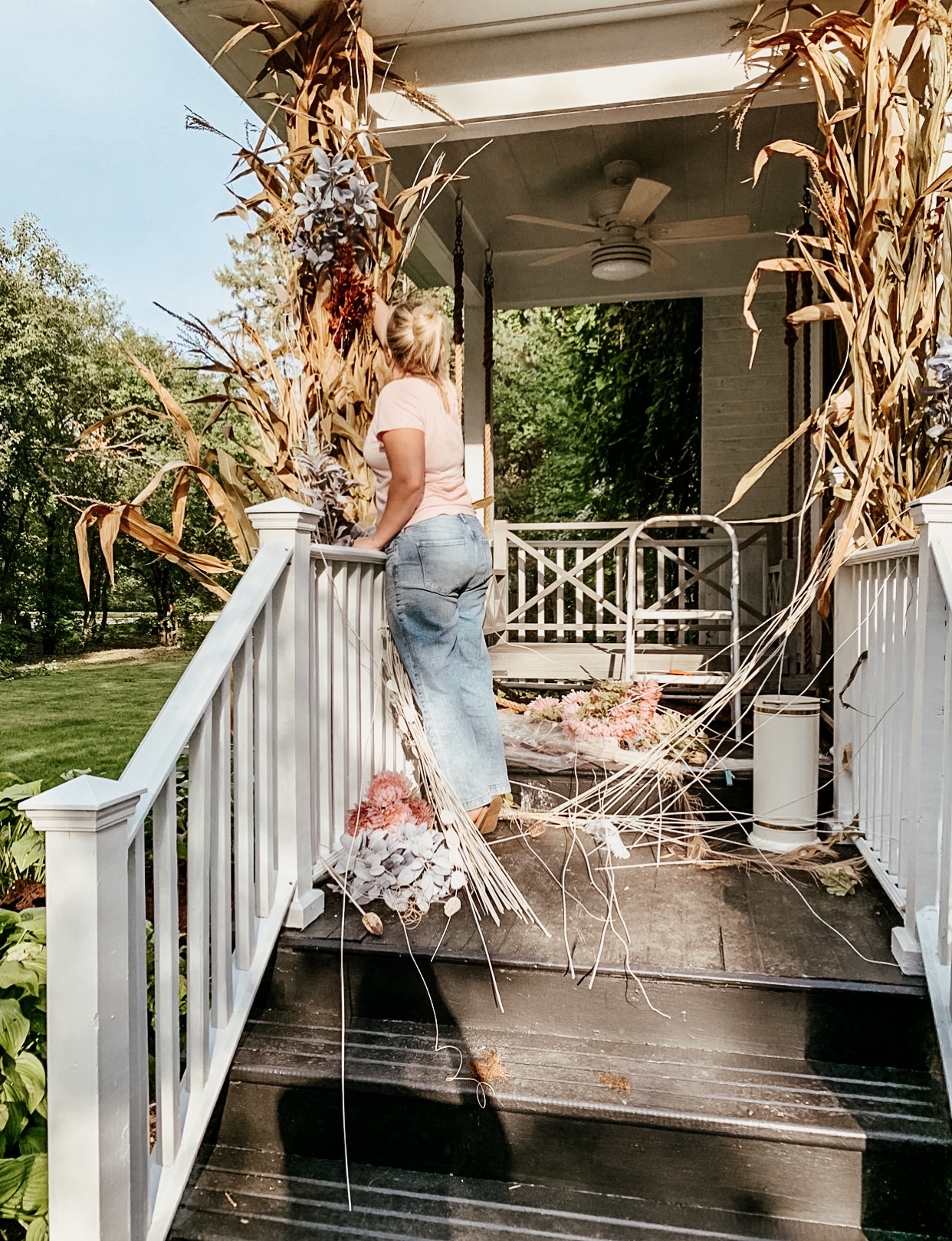 Here is the process!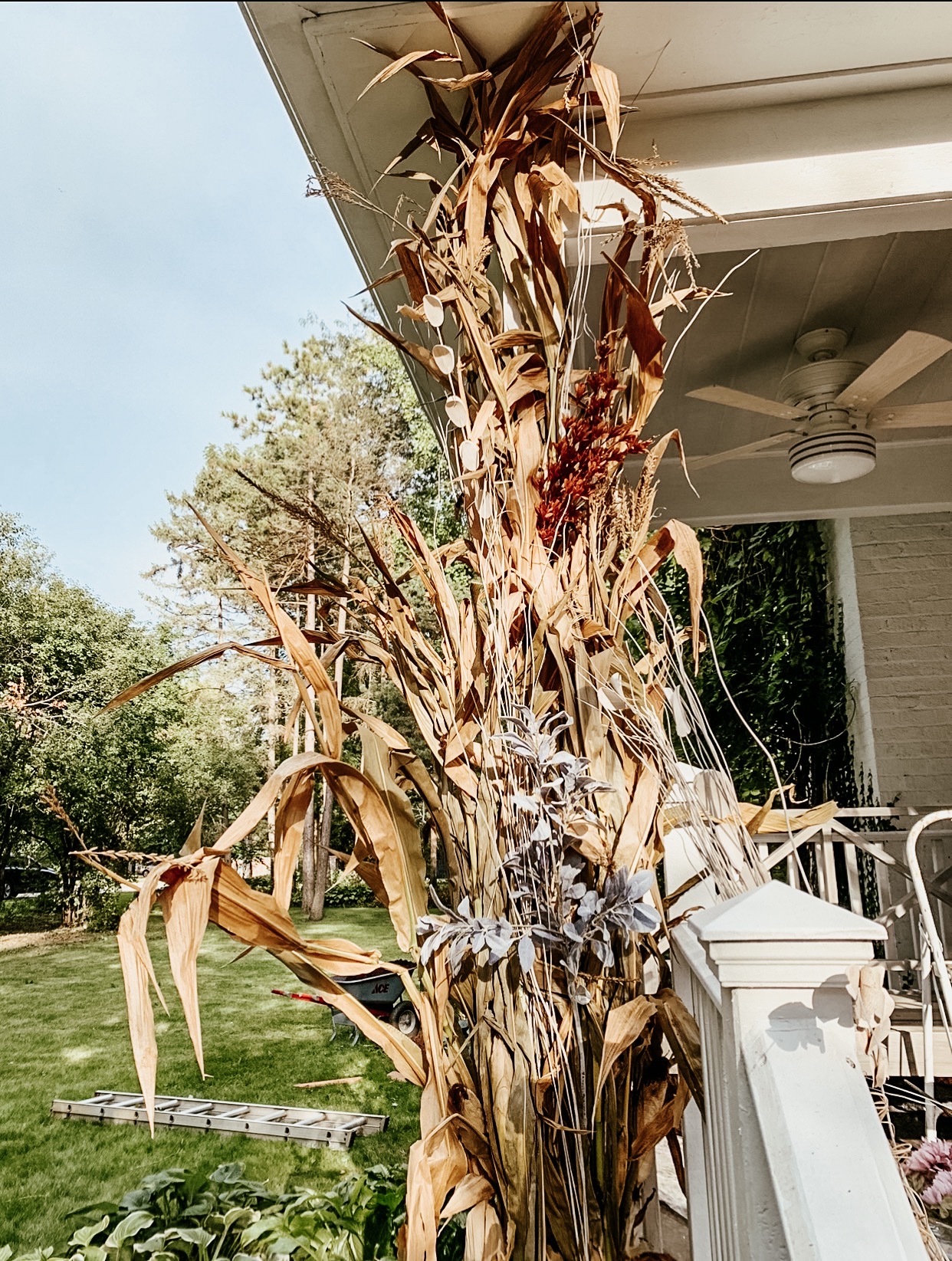 It's all about personal preference on how you'd like your arrangement to look.  I picked about five different varieties of faux flowers.  I just stuck them in the stalks and played around with their placement until it reminded me of the floral entries in Paris, but my Autumn version of it. 🙂
It's very helpful to have someone help you to tell you where you need to add flowers to the empty spots.  You can do this yourself but it's way more fun with two people…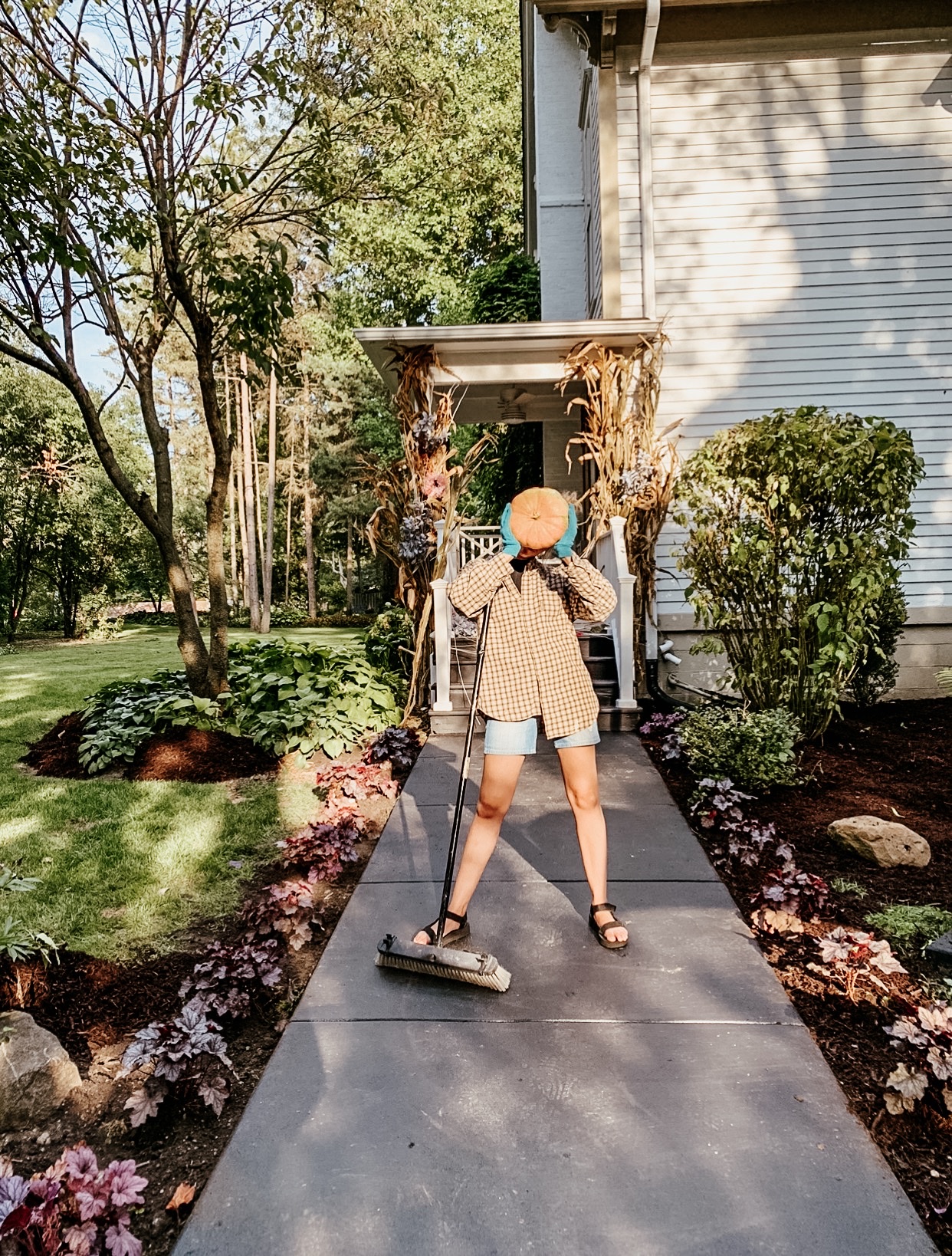 Here's an up close look at one of the stalks.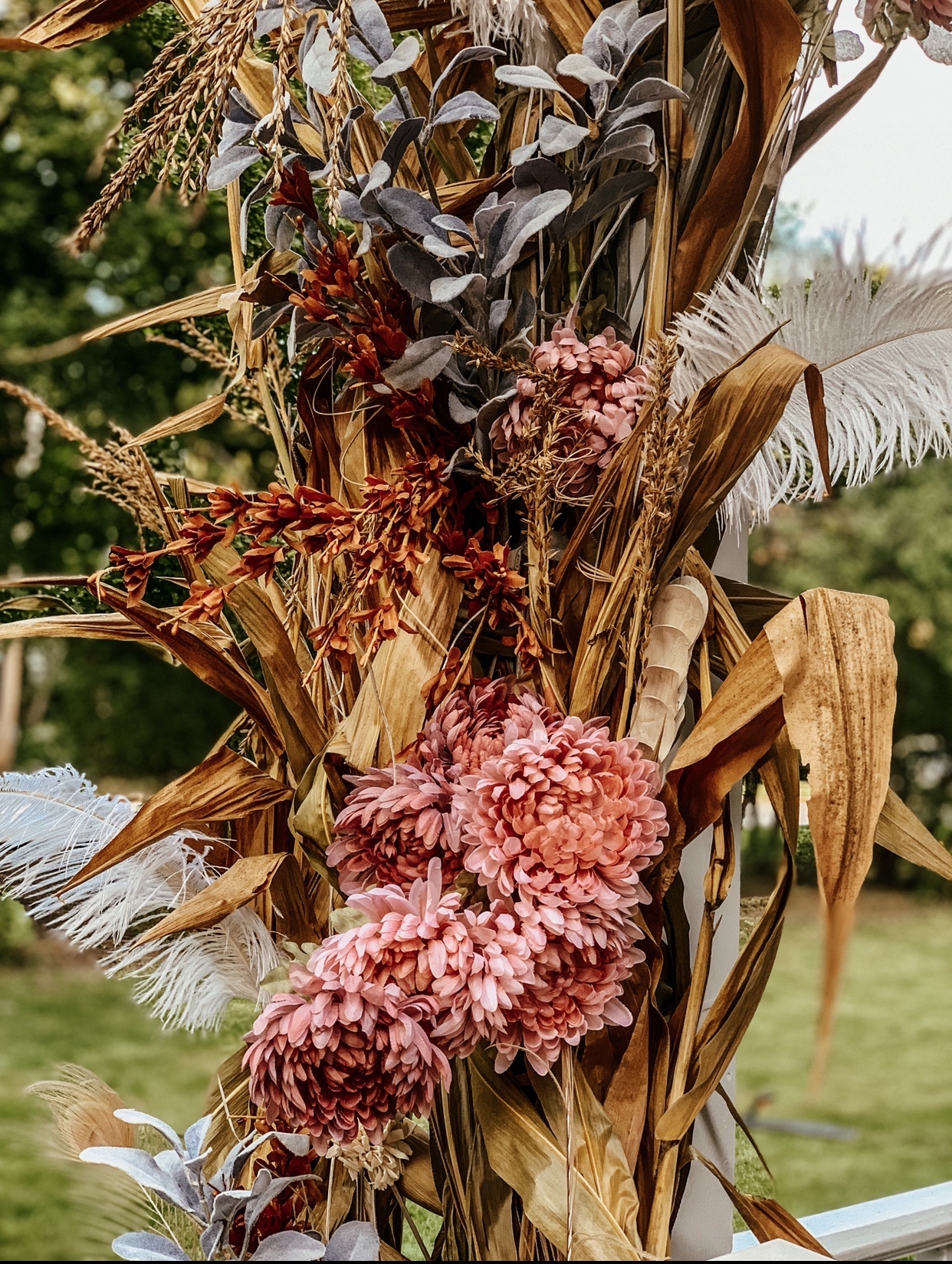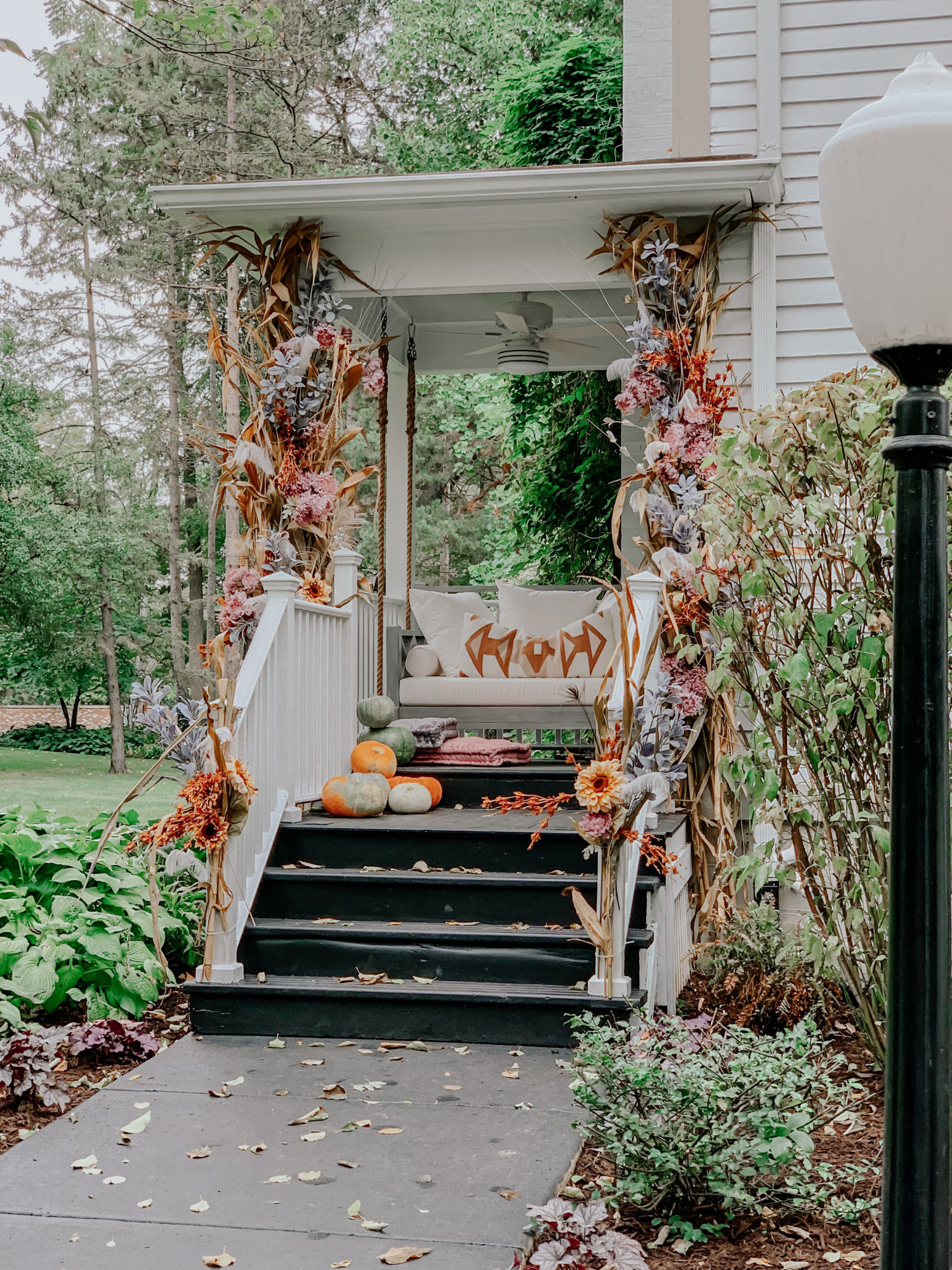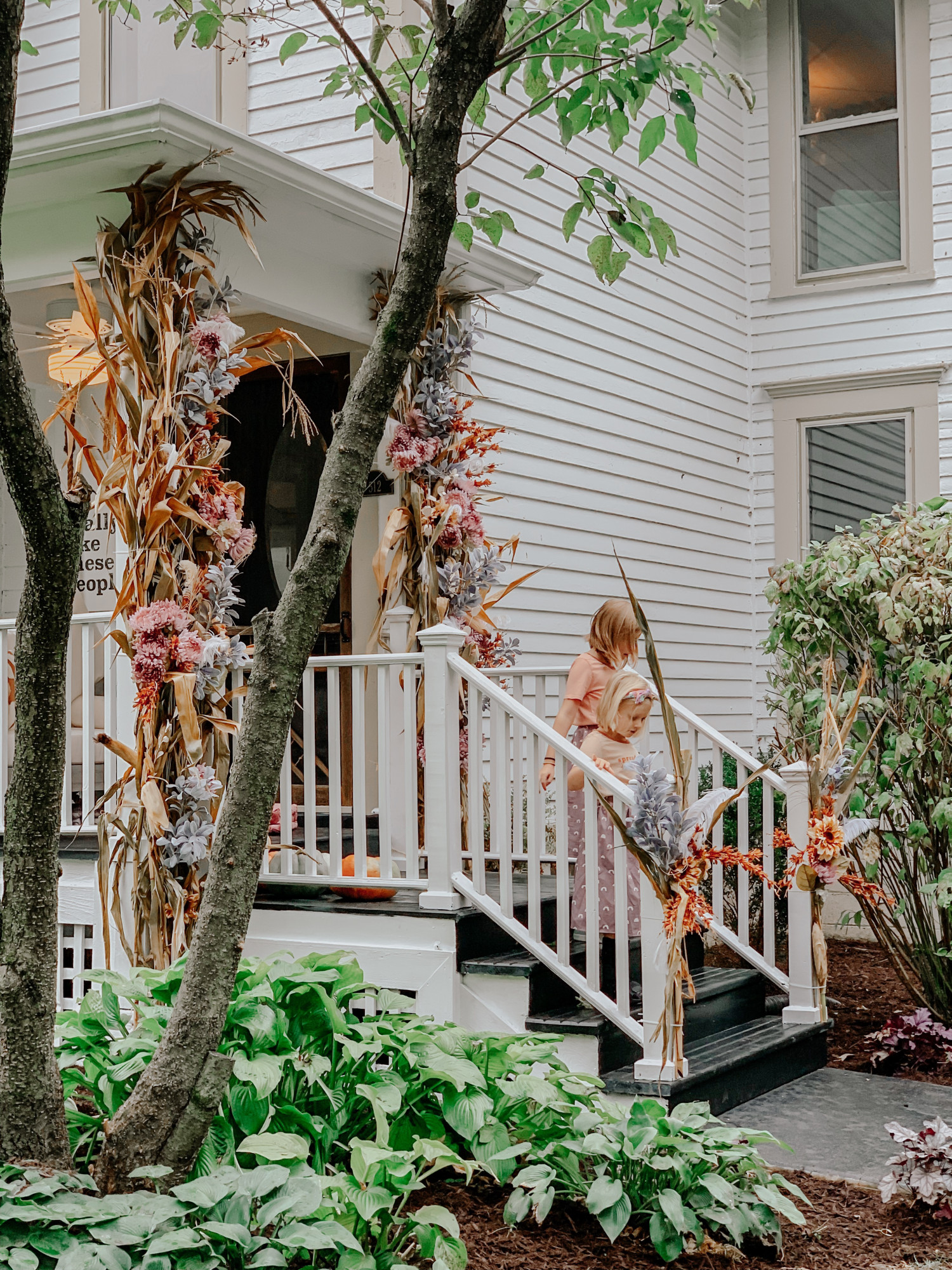 Thank you guys for visiting! I'd love to hear what you think! Don't forget to check out these other amazingly talented friends as they share their autumn porches!
Sources:
Porch Swing Painted Fox
Sweet Shirts The Ever Co.
Darling Skirts Mavis and Olive
Ceiling Fan Hunter Fan Company
Canvas Print Lindsay Letters
Pillow Love + Grey
Ella Claire & Co. | Rooms for Rent | The Lilypad Cottage | Maison de Pax
Maison de Cinq | Boxwood Avenue | City Farmhouse | Craftberry Bush
Zevy Joy | French Country Cottage | Jennifer Rizzo | Home Stories A to Z