How to transform a dated, extra small bathroom into a little girls dream.
#Brand_Partner, #sponsored, #ad
This post brought to you by a Kindred Vintage and American Standard collaboration!!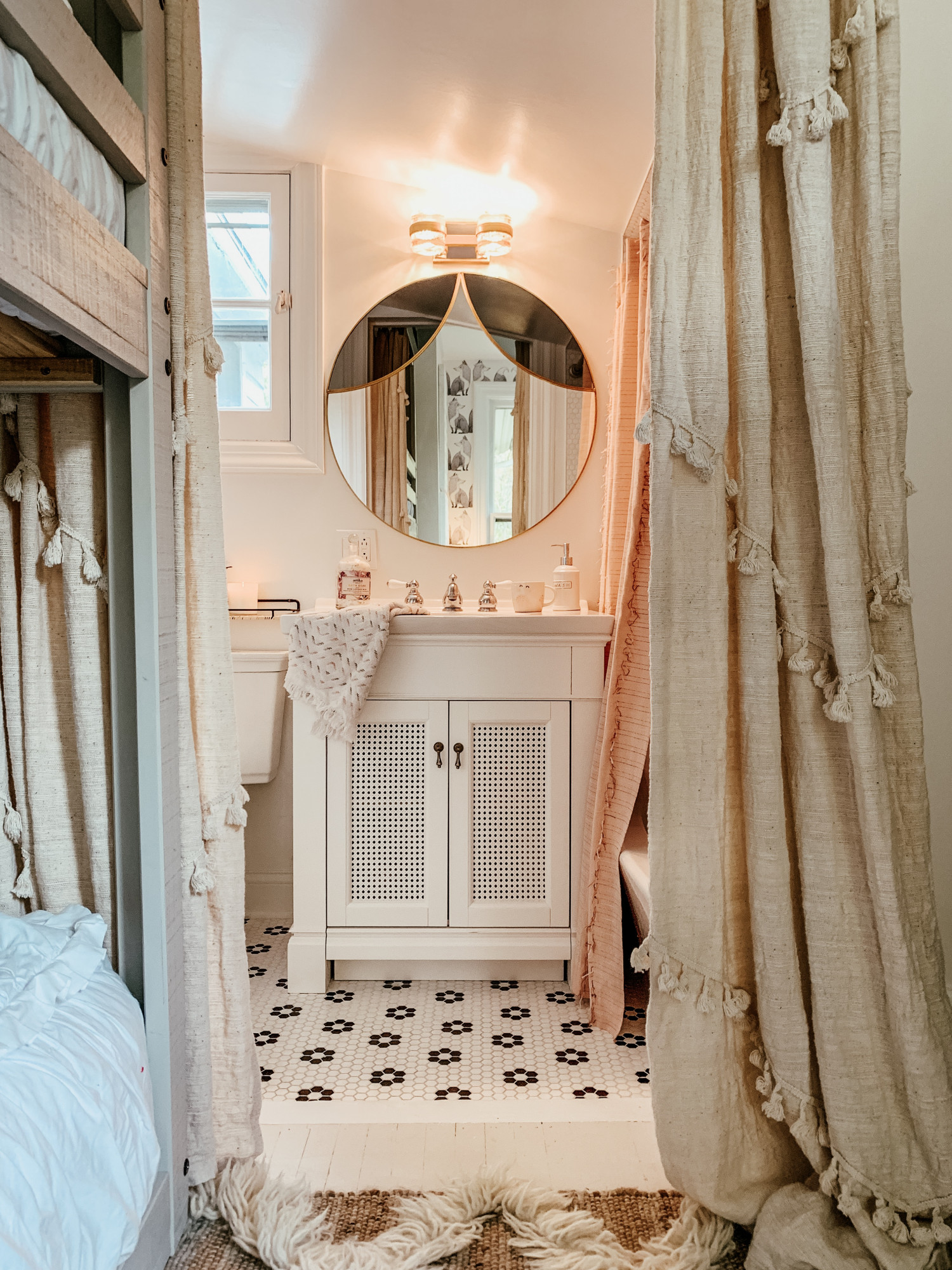 When Rob and I were looking for our dream home in our dream city I knew we were going to have to find a "labor of love" house.  Our little corner of the world is beautifully surrounded by farmhouses and Victorians from the 1800s. Our neighborhood is lovely and just a walk to downtown! There is easy access to public transport, which is perfect for my husband, and great schools which is a must for my girls. Our neighborhood is very sought after and many people want to live here, and I knew that meant we couldn't afford a perfect, move-in ready turnkey.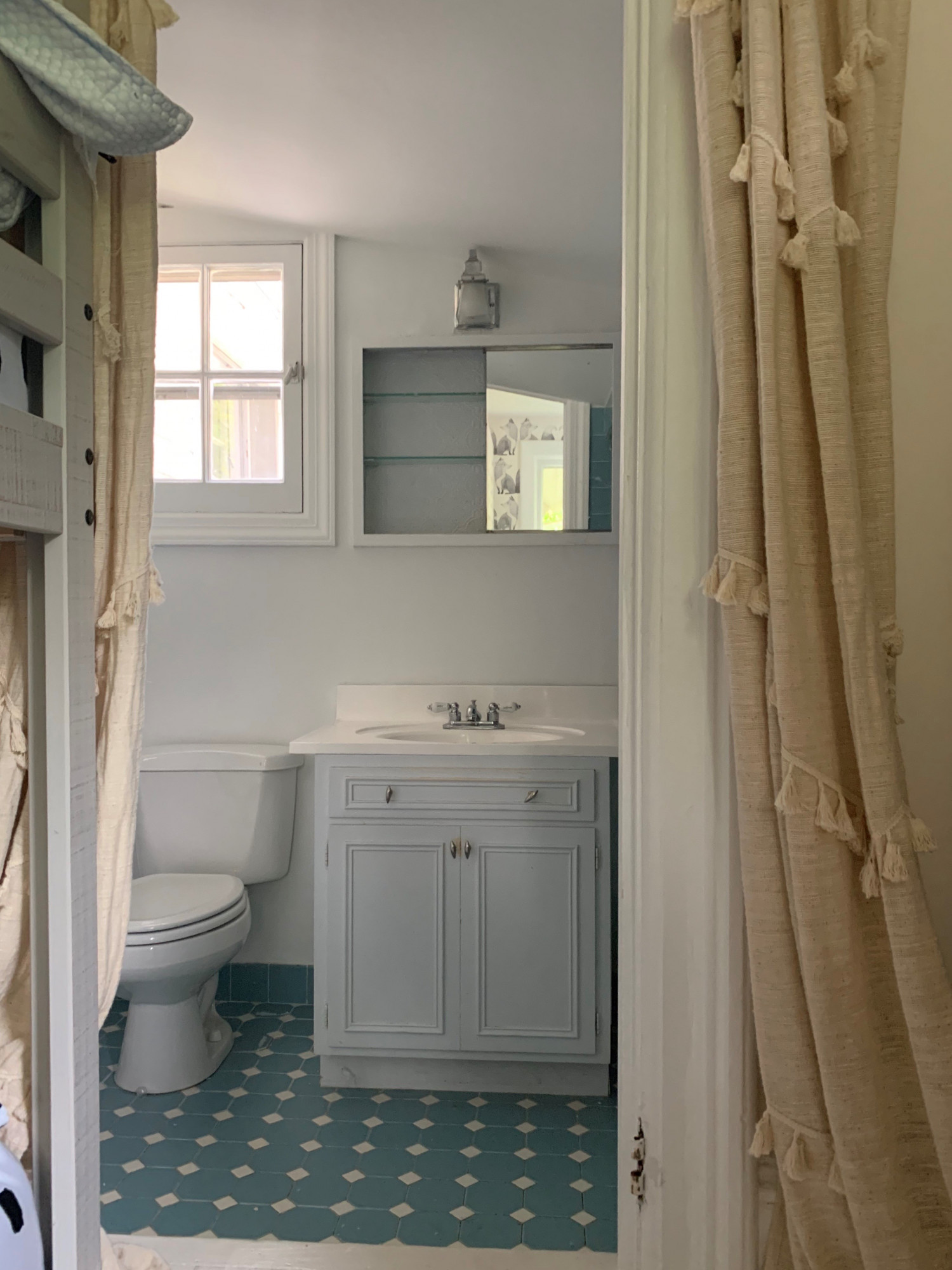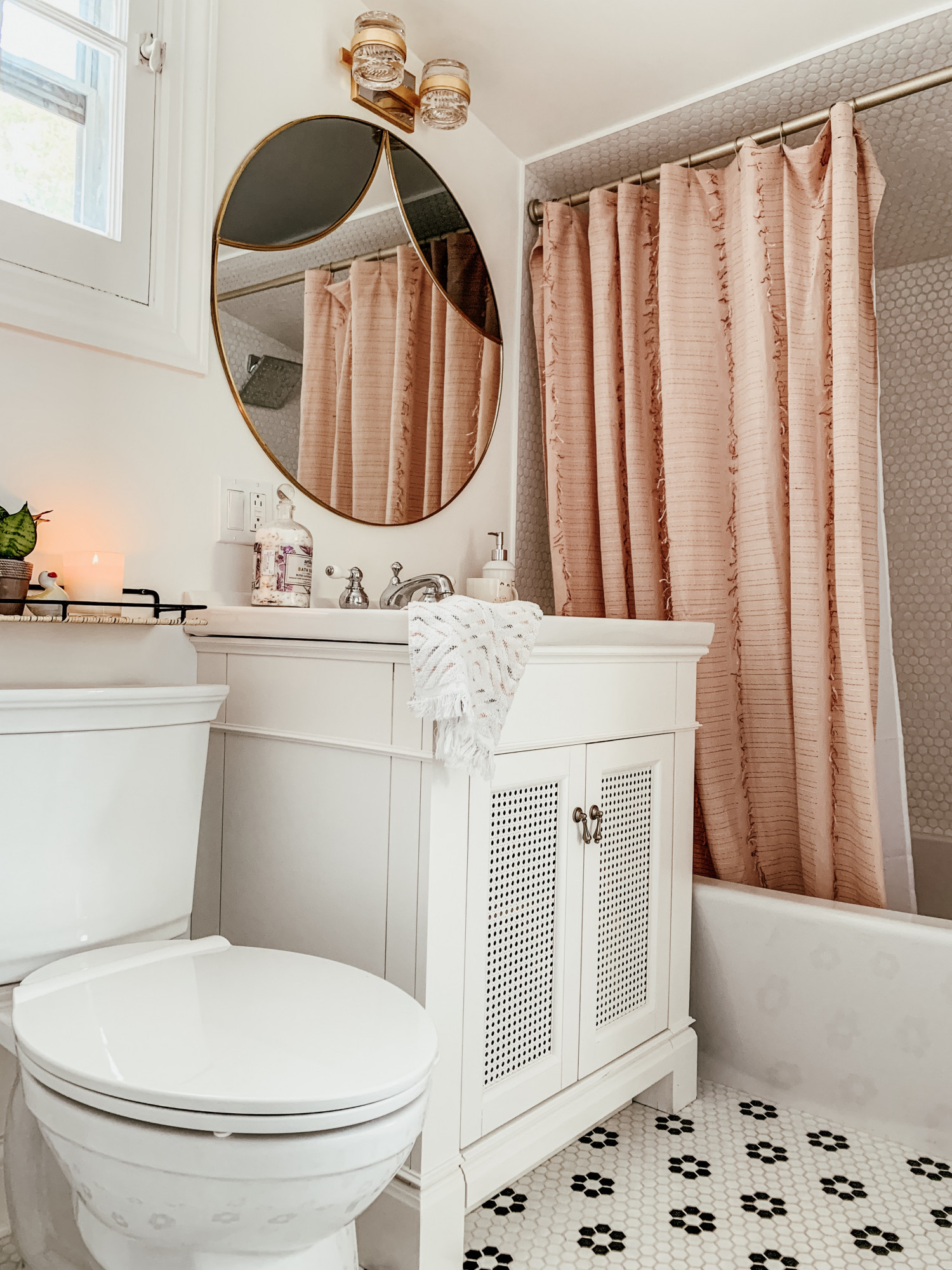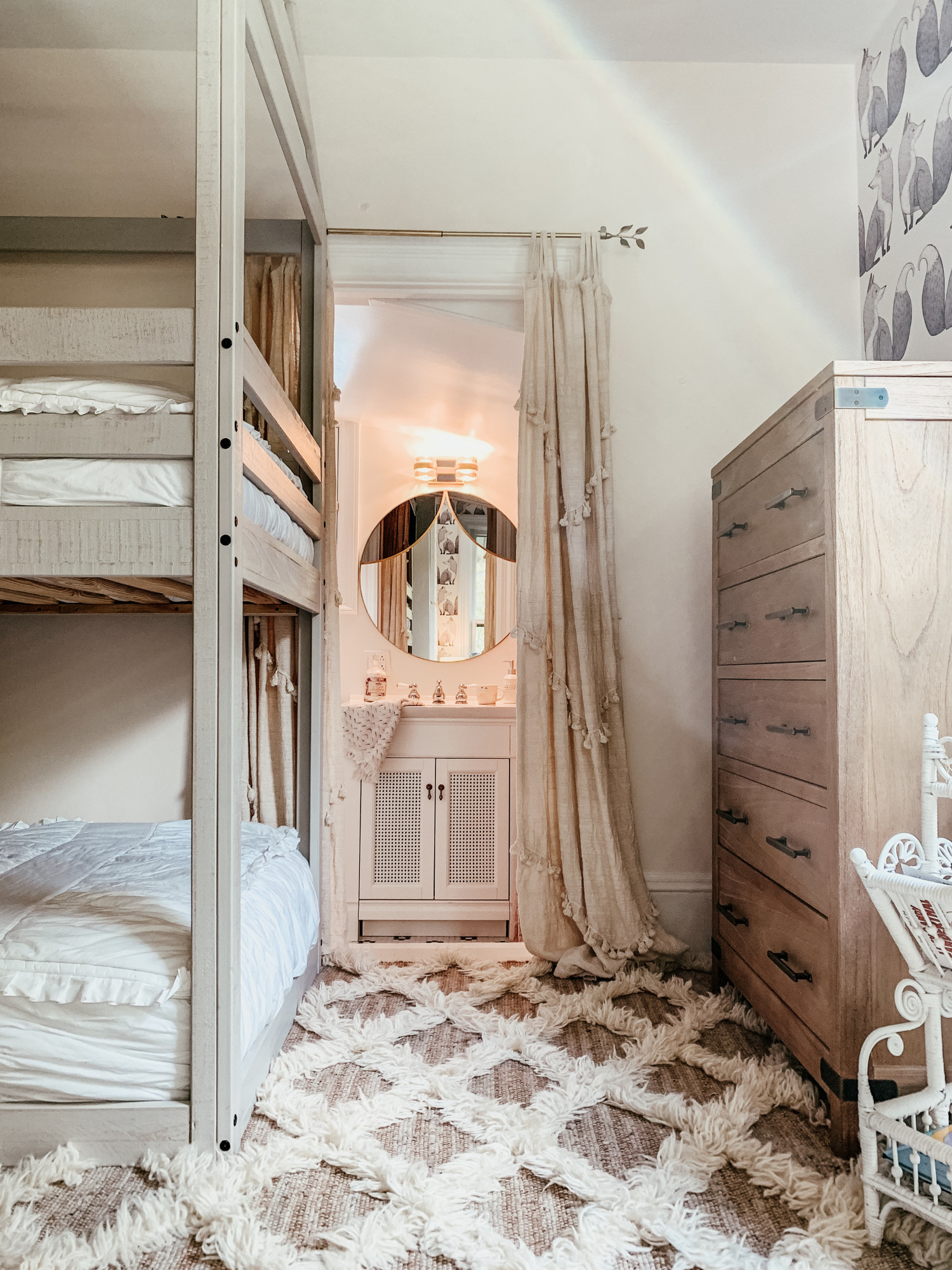 Now, don't get me wrong.  The house we were lucky enough to purchase was already stunning.  The prior owners had done a lot of work to update the décor, but one area that they didn't get around to was the upstairs Jack and Jill bathroom. This has become our girls' bathroom, linking their bedroom and playroom. I'm certain the prior owners mainly used their master bath, sharing their tub with their little babe.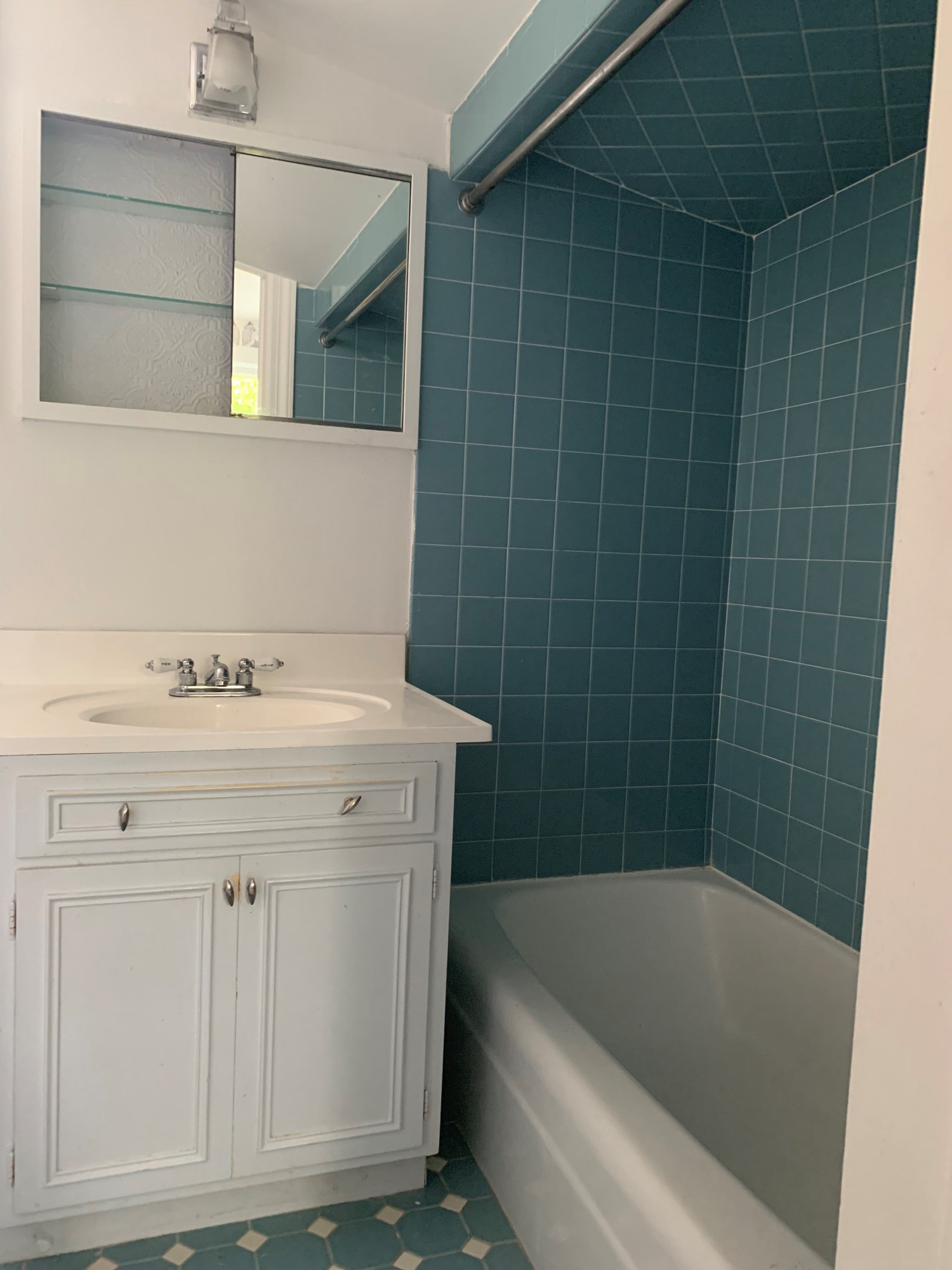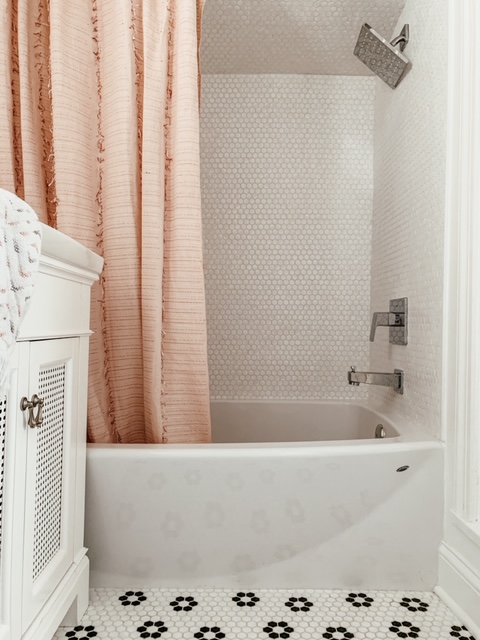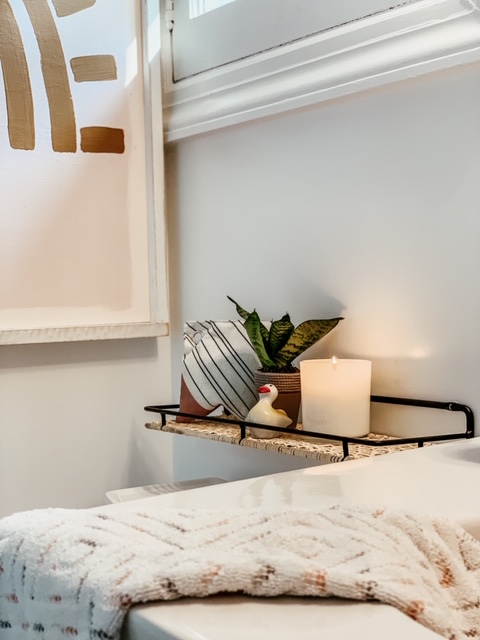 The space itself is one of those quirky shaped rooms that seem to only exist in very old houses.  It's on the southwest corner of our home and seems to be squeezed into the space.  It wasn't originally a bathroom since in the 1850s there wasn't even indoor plumbing!  My guess is that it was a storage closet considering how low the ceiling was. They even had to lower the floor to make the room usable! Now there's a step down into the bathroom, which is a quirk that I love!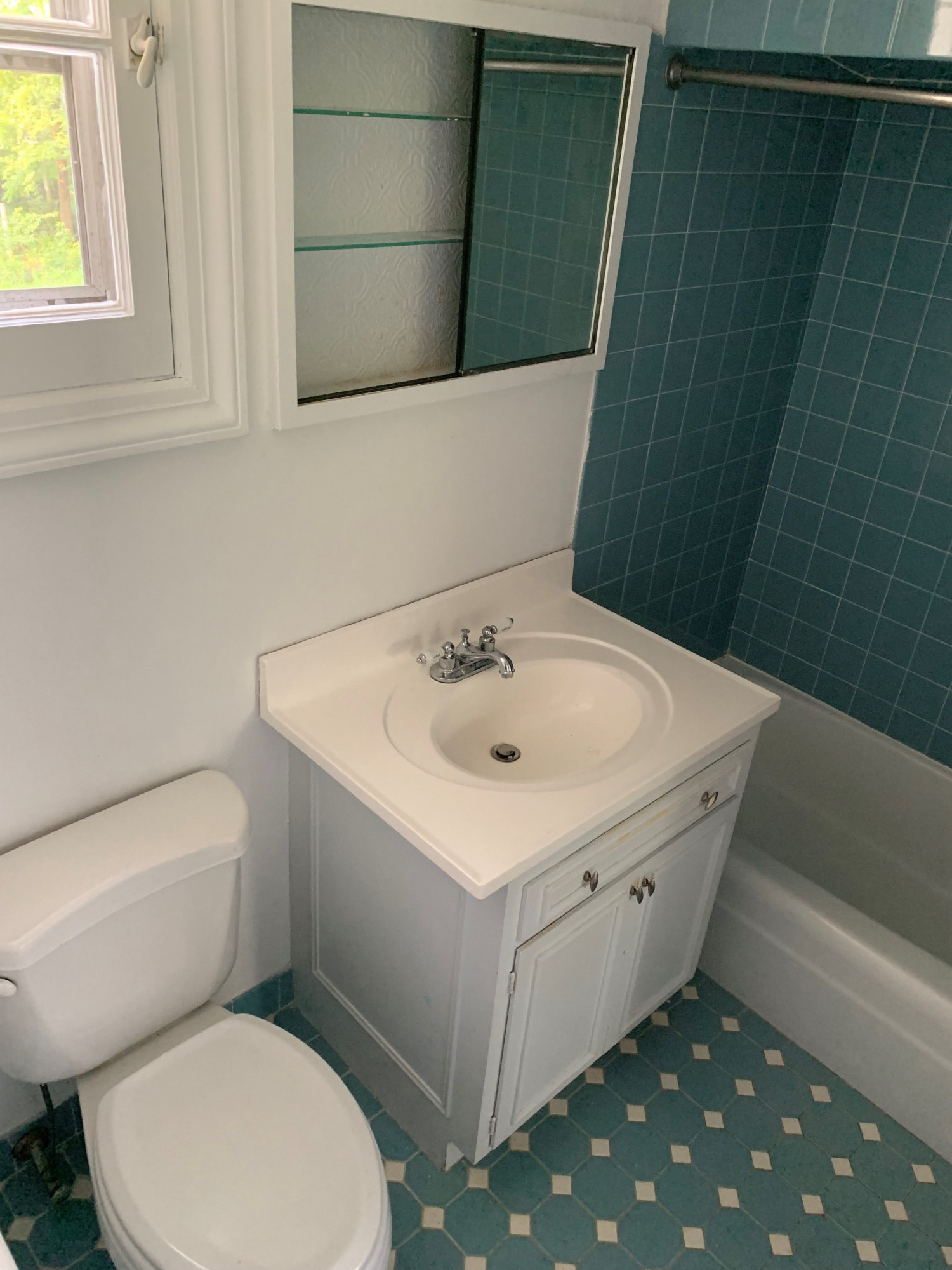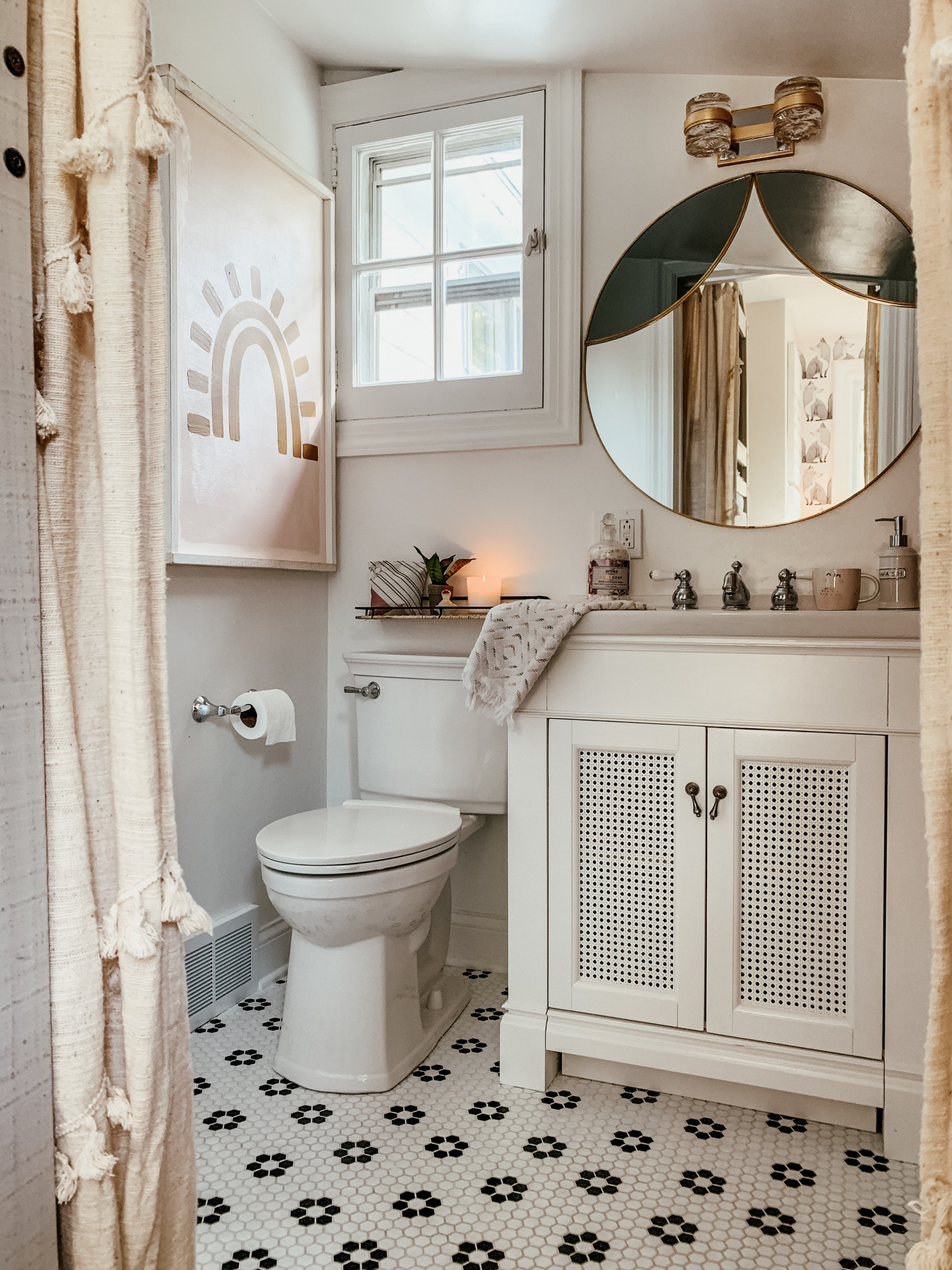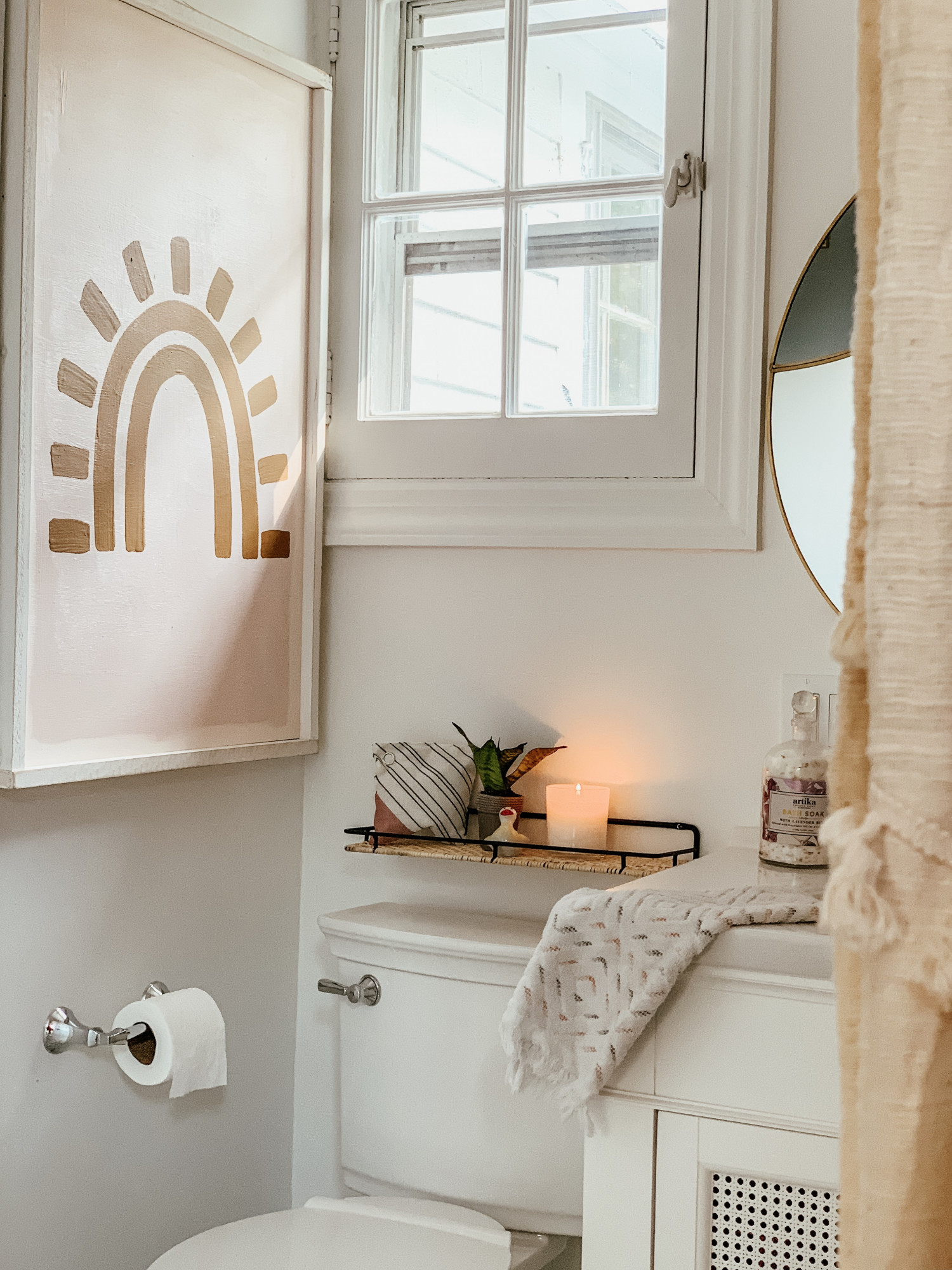 Regarding the look of the room, I'm not kidding, the bathroom was sky blue throughout including the tile, the floor, and the walls!  Even more so than the color, the floor tile was loose and often stuck to your foot as you walked through!  The room had one of those 1960's built-in medicine cabinets, that for some reason, the builders put a light inside.  This was quite inconvenient since there was no easy way to turn on the light from outside the medicine cabinet.
Thank goodness American Standard came to the rescue with many great bathroom decor ideas!  Rob and I cannot say how happy we are with this partnership.  American Standard is just a wonderful company to work with in terms of customer service and making the remodeling process easy.
Bathroom pieces are pretty standard: tub, faucet hardware, vanity, and toilet.  Let me tell you though that updating one can still get overwhelming! The number of choices are daunting so the first thing I had to do was narrow down the number of options.  I did this by trying to be practical.  Like I wrote earlier, the bathroom is small, so I measured the pieces that were currently installed and filtered my web search to show only what fits.  This step is important to do regardless of whether or not the space is large or small.  If the new pieces don't fit with the in-place water pipes or electric, then project costs can grow pretty significantly.
After narrowing our choices we had several options. The best and most adorable of those was American Standard's Passage Shower Collection& Grohe products (all the links are below!)  It had the best options in terms of accessories and provided the "look" that best suited a pretty girls bathroom.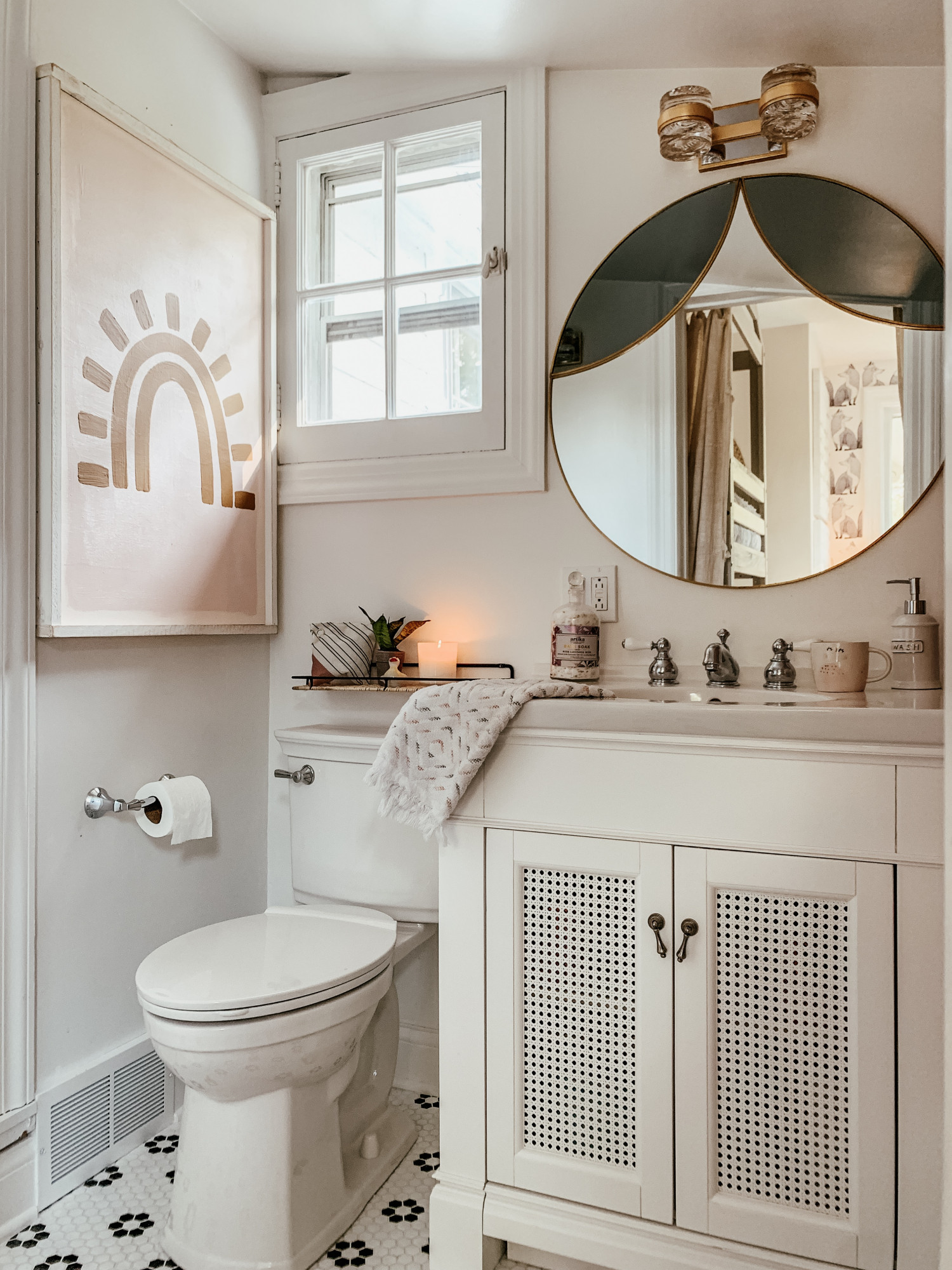 Next, I knew I wanted to decorate using white.  To me, that's the perfect color for a whimsical, feminine bathroom for my daughters.  White is clean and flowy, and the perfect palette to add touches of color and unique decorative charm.
With these two filters alone, size and color, the options became much more realistic. By shopping online through Home Depot's website, I was able to pick out my dream girls bathroom efficiency and in peace and quiet. Rob and I looked through the list, picked out what would coordinate, and voila! The perfect ensemble was chosen.  Specifically, this options chosen came down to simple design preference.  We like the smooth curve of the American Standard Ovation Bathtub in arctic white so that it gave a bit more room when the girls were in the tub.  Also, we liked the GROHE Tallinn Single-Handle 1-Spray Bathtub and Shower Faucet because it tempered the feminine overall look of the bathroom with a small, masculine-esq square shaped shower head.  But no matter what American Standard offers options that will work with any style.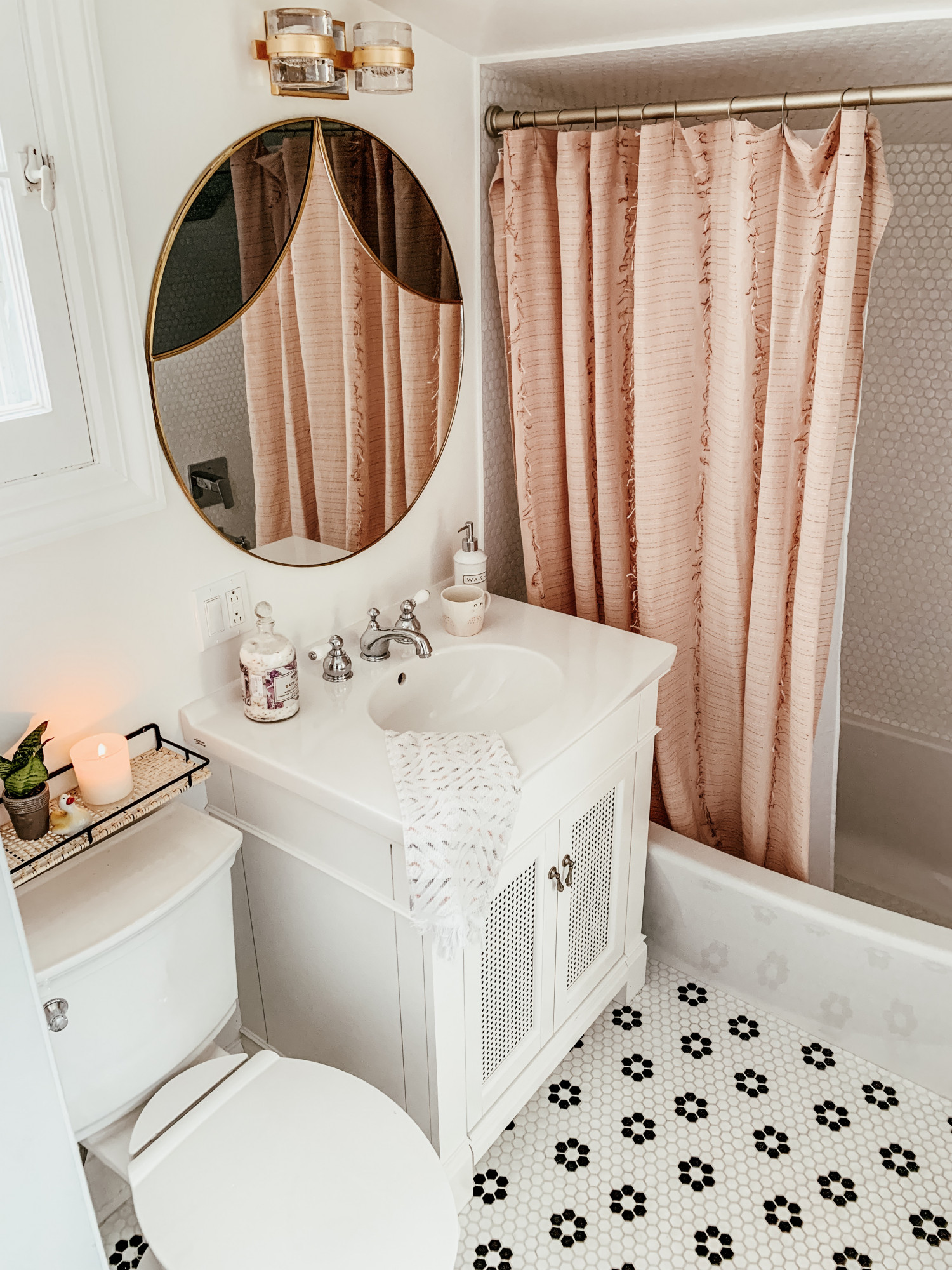 American Standard shipped these pieces to us and we stored them in our garage until our favorite contractor became available. By the way, he loved how our bathroom was planned in advance.  He kept saying that having everything in order before he started made his job so much more efficient. Seriously, he was able to do the work so much quicker because of this.  Day 1 was demo day and days 2 – 5 he worked!  That was it!  How many of you have ever had a bathroom remodel go so quickly?  Personally, when a part of my home is in disarray the rest seems to go downhill quickly as well.  I was thrilled American Standard made it so easy to complete the job so quickly!
Tub: Ovation 5 ft. Right Drain Bathtub in Arctic White
Tub / Shower Combo Hardware: Tallinn Single-Handle 1-Spray Bathtub and Shower Faucet in Starlight Chrome (Valve Included)
Toilet: VorMax Plus Tall Height 2-Piece 1.28 GPF Single Flush Elongated Toilet in White with Slow Close Seat
Sink: Portsmouth 31 in. Vanity Top in White with Integral Bowl
Vanity: Portsmouth 30 in. Vanity Cabinet in White
Faucet: Hampton 8 in. Widespread 2-Handle Low-Arc Bathroom Faucet in Chrome with Porcelain Levers
Here are a few options we loved but didn't end up going with.  These would definitely be good options to use if you would like to create your own personal design!
Walls: Passage 32 in. x 60 in. 4-Piece Glue-Up Alcove Bath Wall in Platinum Marble
Doors: Passage 60 in. x 72 in. Frameless Sliding Shower Door in Clear Glass
Finishing Touches:
Tile:
@americanstandardplumbing
@american_standard
@amstandard
@amstandard
@americanstandard01