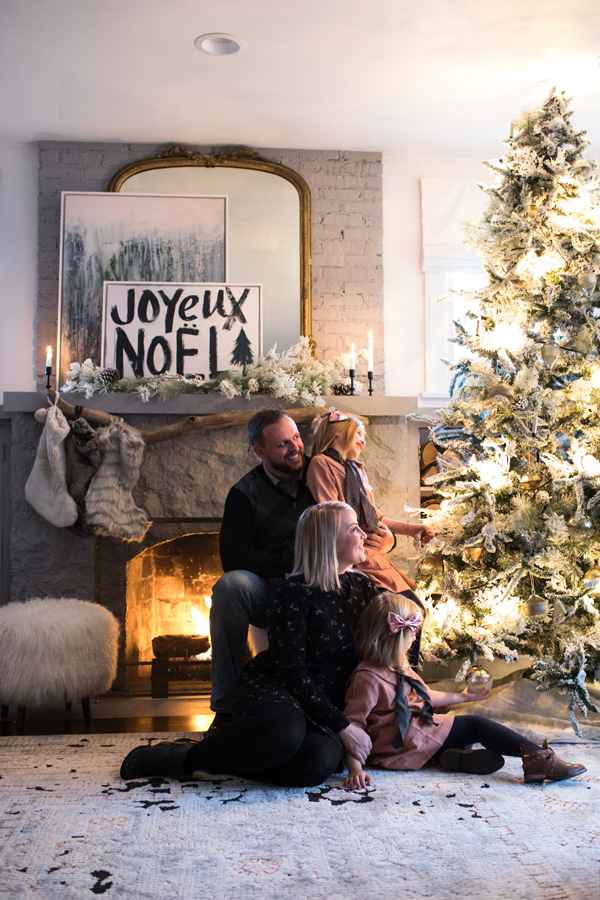 There's snow on the ground outside, twinkling trees inside and She and Him's Christmas album on repeat … which can only mean one thing, it's the most wonderful time of the year!! It's not only the Christmas season but it's JenniferRizzoDesignCompanys annual Holiday Housewalk!! As a blogger I look forward to this time of year the entire year! Not kidding! Heck, even before I became a blogger I would sit endlessly by the computer drooling over the inspiration from this tour. To be a part of it will always be surreal!!
On that note, I am super duper excited to have you here! The Holiday House Walk is one of my A special thank you to our tour organizer, who happens to be an amazing blogger and friend herself, jenniferrizzodesigncompany! If you're not already following, you must! She's incredible! (And so talented!! Her company the Collective lead the wreath making party I hosted at Arhaus a few weeks ago!! More on that soon!)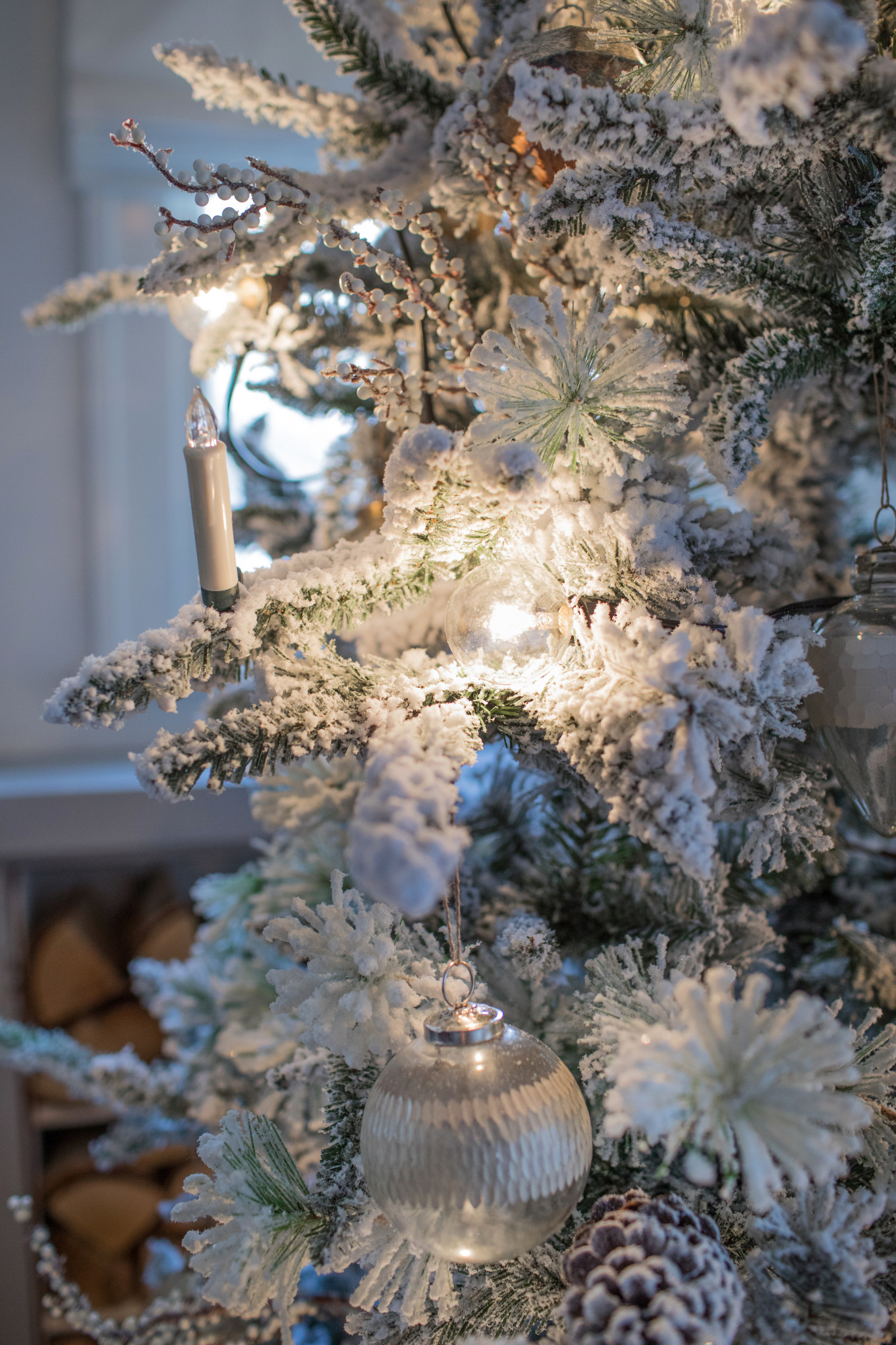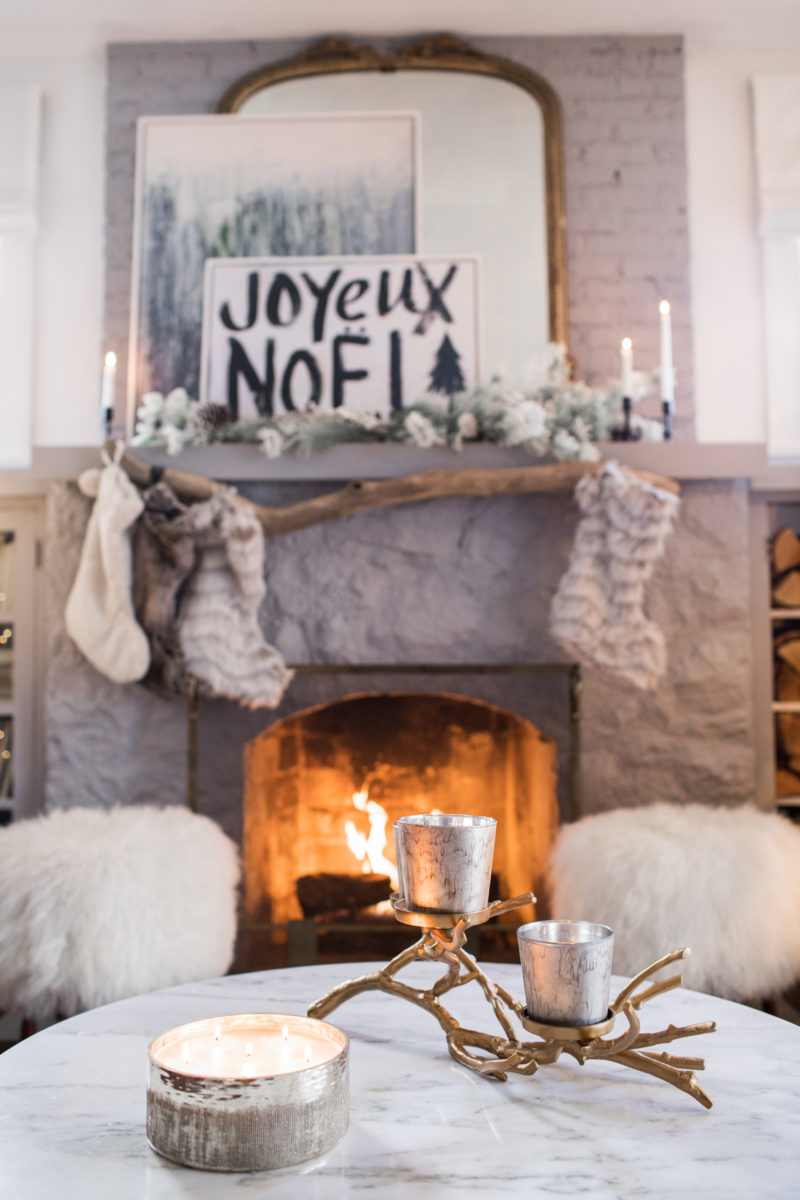 If you're joining in, from Daniele's incredible home over at Finding Silver Pennies, welcome! I know you received tons of inspiration there! Such talent! And if you are visiting the tour for the first time, you can start from the beginning here, jenniferrizzodesigncompany, everyone's homes this year are so insanely festive and beautiful!
As you may know of you follow us along on Instagram, we moved into our new home a little over a week ago! We are thrilled and so excited to start transforming our 1850's Victorian into our own! Here's a sneak peek of the one room we have decorated for the season so far, stay tuned for more on that! 🙂
That said before we moved we wanted to capture Christmas one last time in our beloved first home. This home was so good to us, and we will miss it!! After all, it was our babies first home, my husband and my first big investment and the home that kick-started KindredVintage! I knew I wanted to take some holiday photos there one last time! So in typical Susan fashion, a week before we moved out, MollyGrace came to capture our family in front of the cozy tree as boxes were piled up in the rest of the house! Haha The magic of angling your camera right is everything! 😉 I met Molly through the awesome world of social media! She messaged me to work together and as fate would have it we had these photos to snap! So it all worked out! So wonderful right?! She did an amazing job!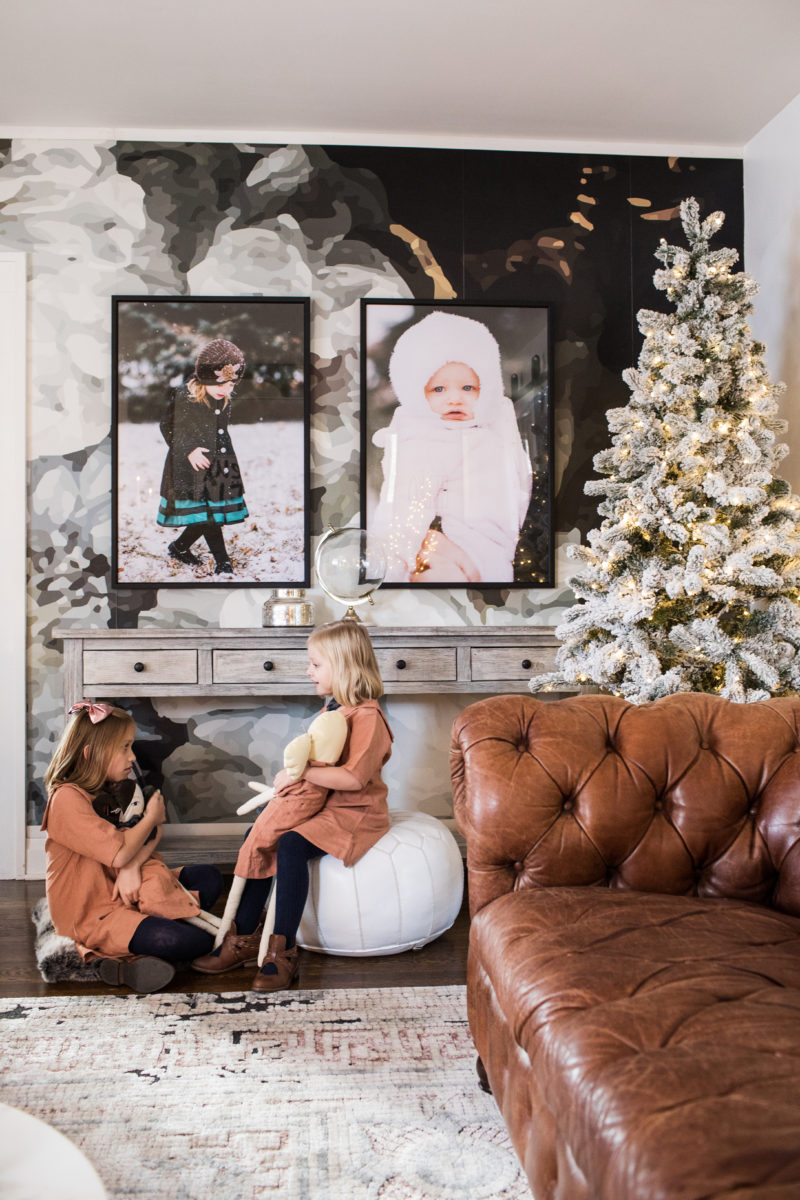 (The girls adorable dolls are from Merrilee Liddard and their sweet matching dresses are from Ira loves Mae. Linked below.)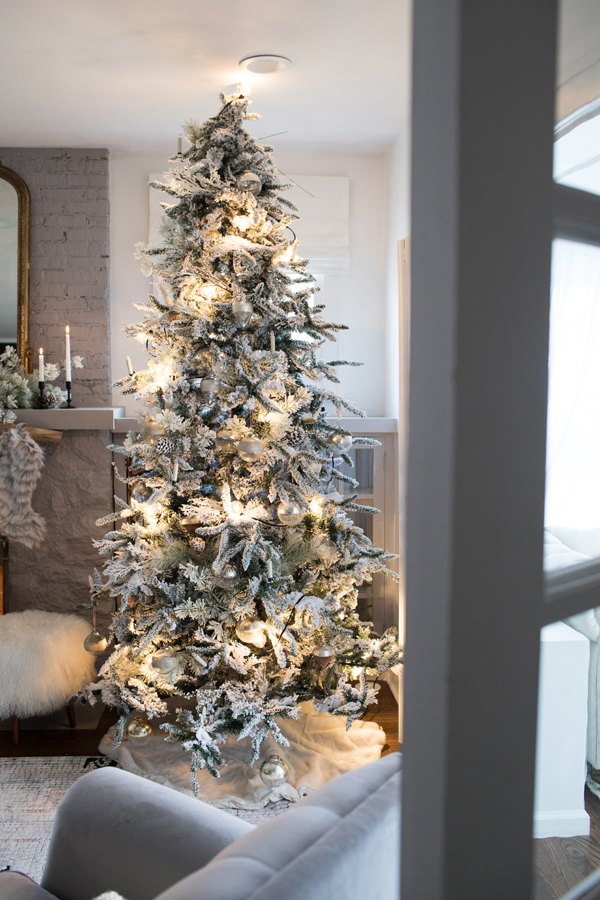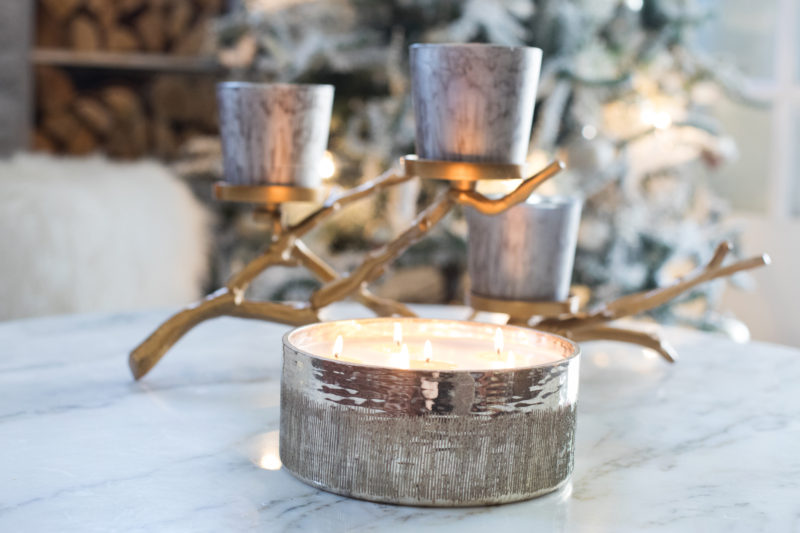 This year we teamed up with the AMAZING people at Arhaus to deck the halls! Guys, I cannot express enough what a pleasure it has been to work with this company! The people behind the scenes at this family owned business are just as terrific as their products!!
It was such a treat being able to decorate with them, some of my favorites, the faux fur stockings hung by the fire, this faux fur tree skirt, the branch candelabra, the sparkly ornaments on our tree and the huge six wick candle that smells like you're walking through a pine tree filled forest are all from them! I'll make sure to include links at the bottom of this post!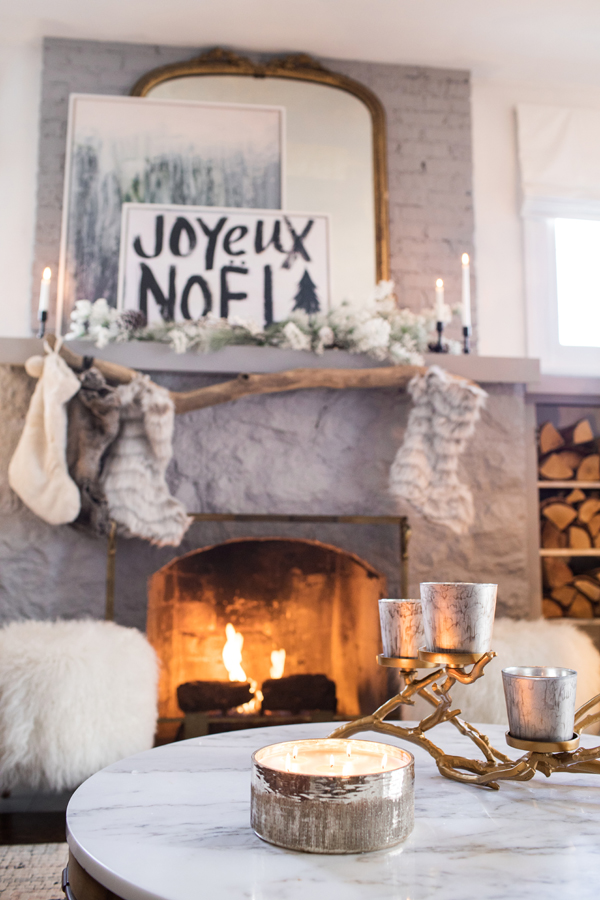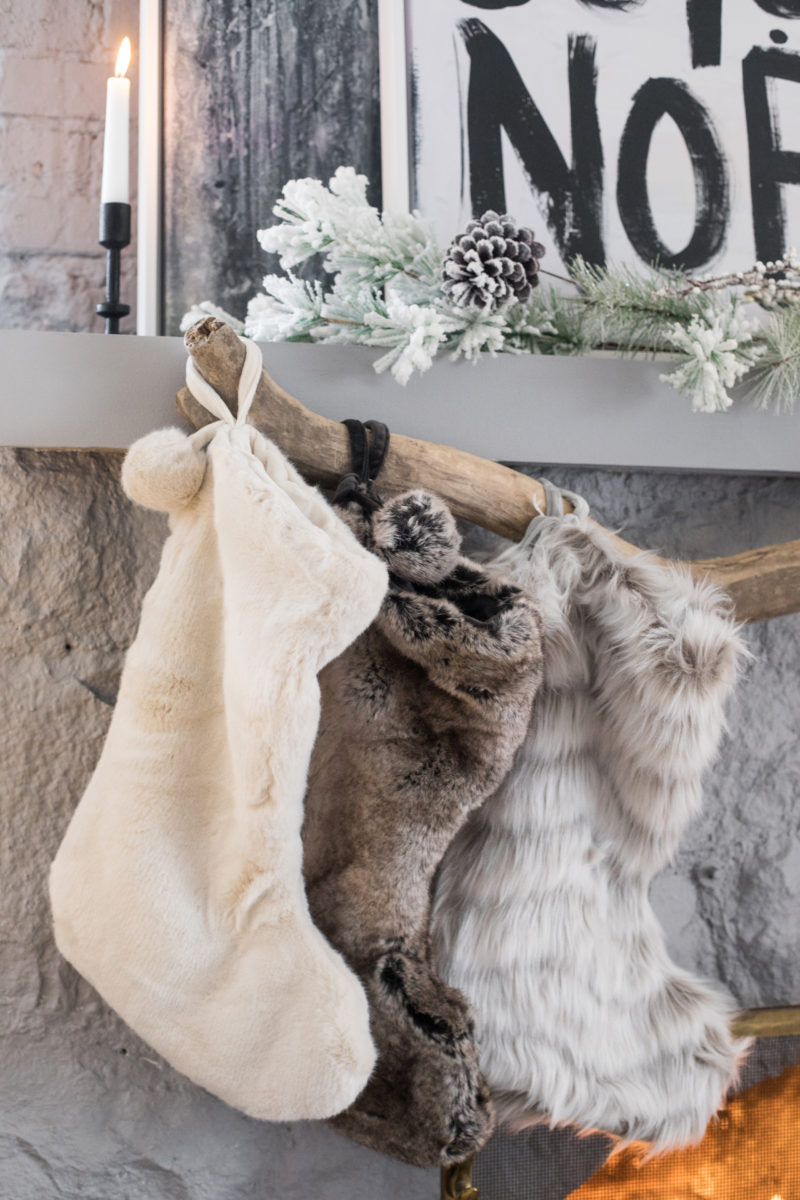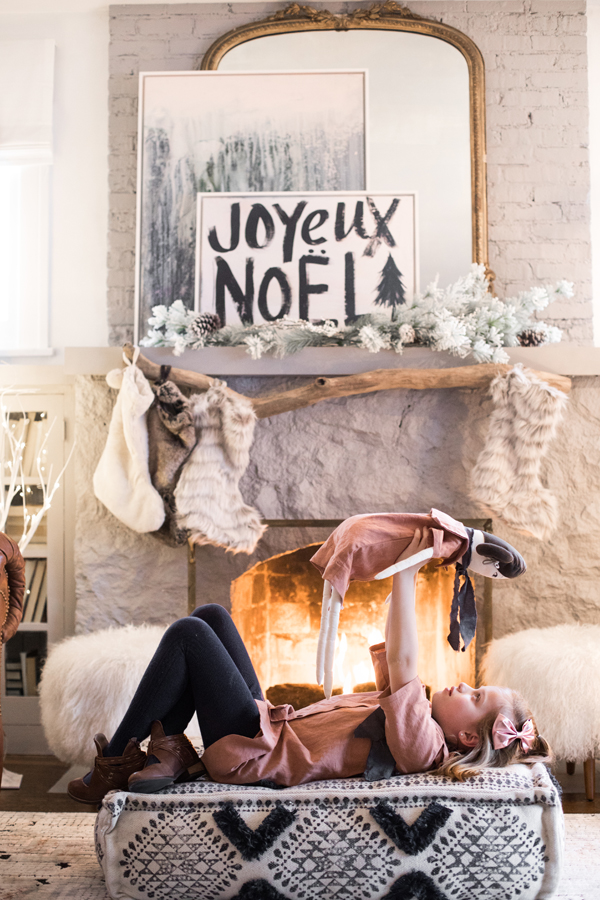 Ok now onto my vision behind our space! I always aim to achieve cozy and comfortable rooms. A home filled with texture and warmth. Somewhere that feels loved and lived in because after all it's HOME that's the most important part. I LOVE a home where you can sit anywhere, touch anything, relax and be yourself if you're 70 or 7! Kids live here, they shouldn't have to tip toe around! Another thing I touched briefly on, TEXTURE! It's so important to me. From the brick and stone fireplace, to the faux fur, cozy knitted blankets, worn leather couch, velvety smooth chairs, plush shimmery rug, to the sparkle of the vintage mirror… texture is my thang! Don't be afraid to mix and match things you love, my motto if you love them all it will not only come together, but it will shine, and most importantly it will be YOURS and stand out front the rest!
Speaking of texture, we were able to capture our beloved dining room one last time again! We found this farmhouse table years ago at a barn-sale! I sanded down the old paint which gave it this chippy, worn look. It's imperfectly perfect and I love it! I paired it with just the opposite, some sparkle and glam from Arhaus! I love the way these dishes, champagne flutes, coasters and gold ware pop against the ages wooden table. Ahhh, it makes me so happy to see the two working together! Kind of cheesy I know, but that's okay this the stuff I crave! Ha!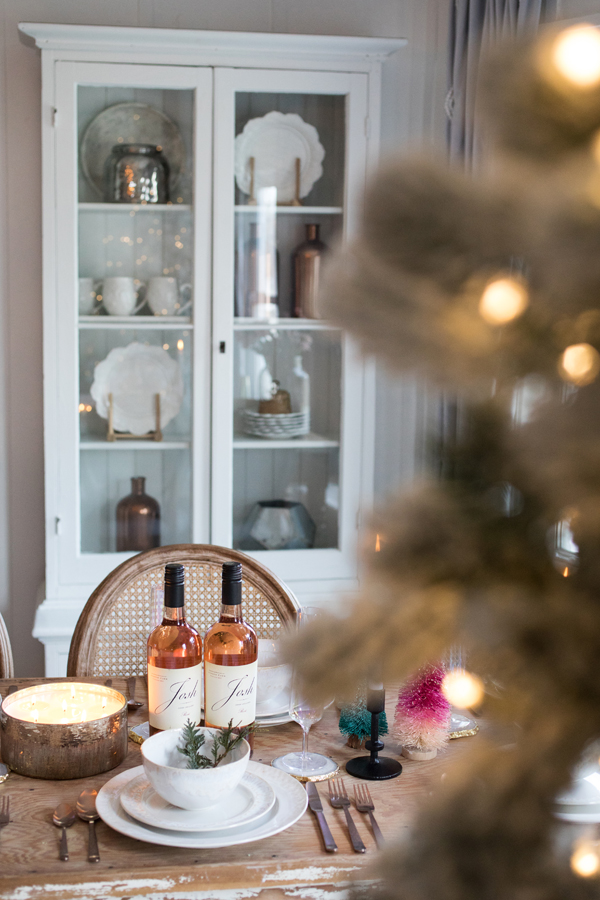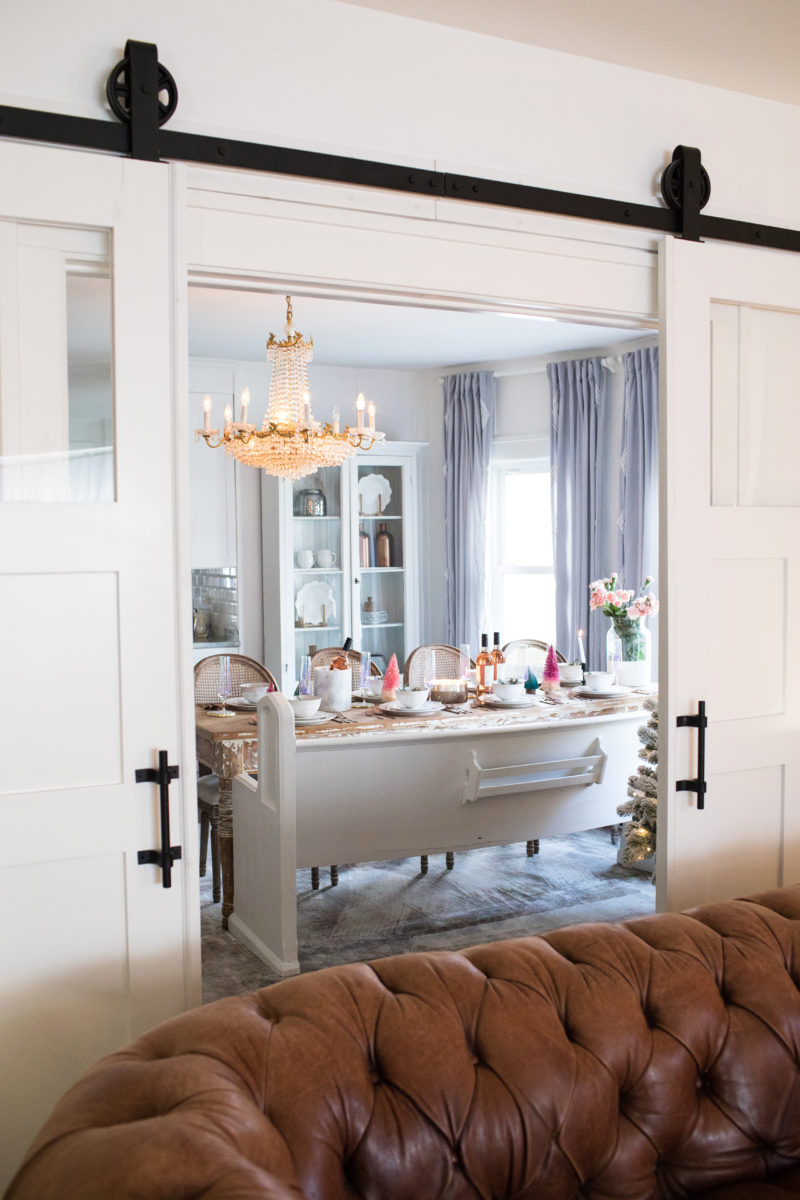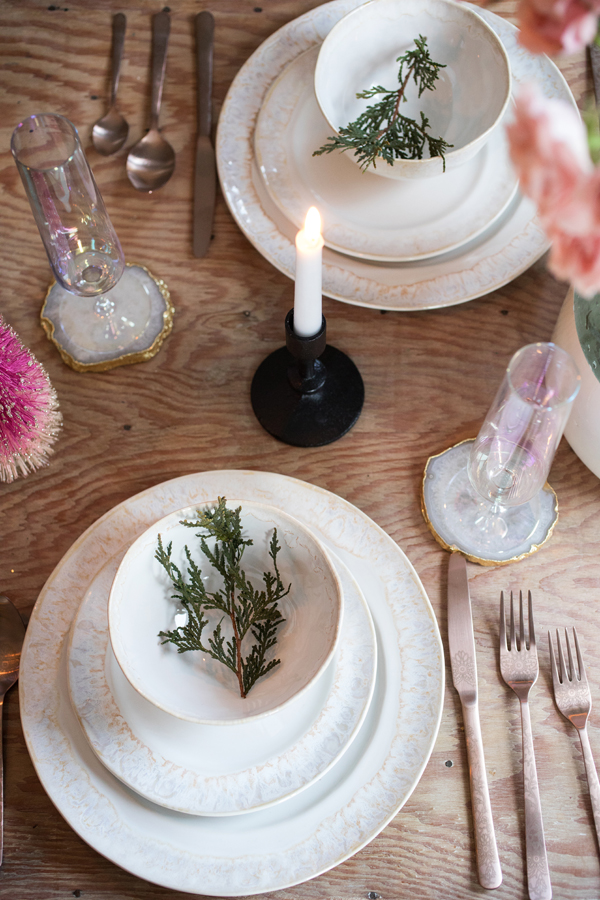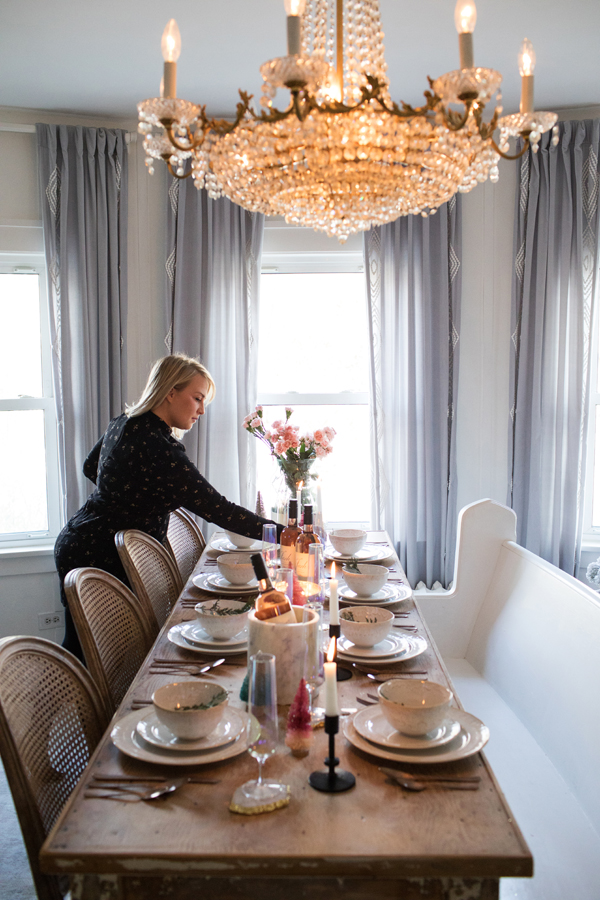 Now for the most important part of our home, our family!! Thank you to God for these three gorgeous souls, they're my world. No matter what the address, home wouldn't be home without them!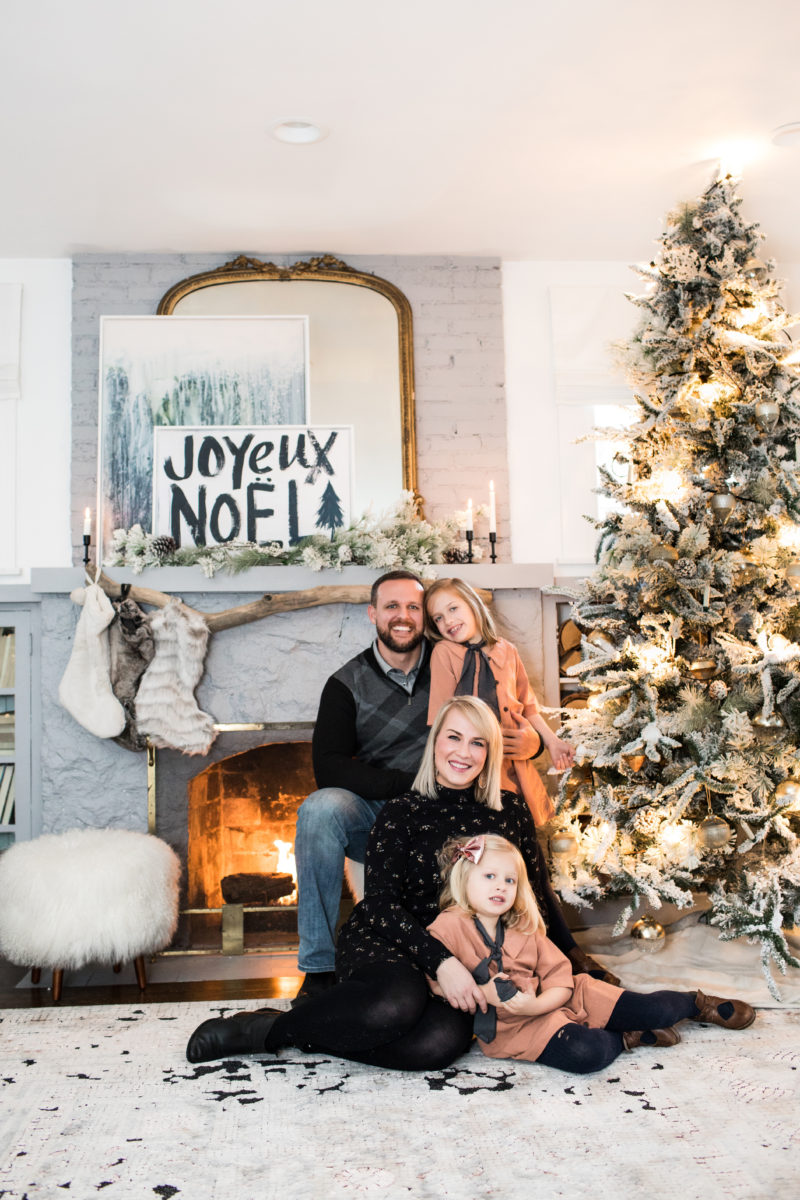 This mantel art by my sweet and super talented friend Lindsay over at Lindsay Letters truly makes the room come to life!! I love everything Lindsay creates, and when I say that I am NOT exaggerating. She's that good! Not only is her Christmas collection insanely gorgeous, all of it is! You must check her out, you'll thank me later! 😉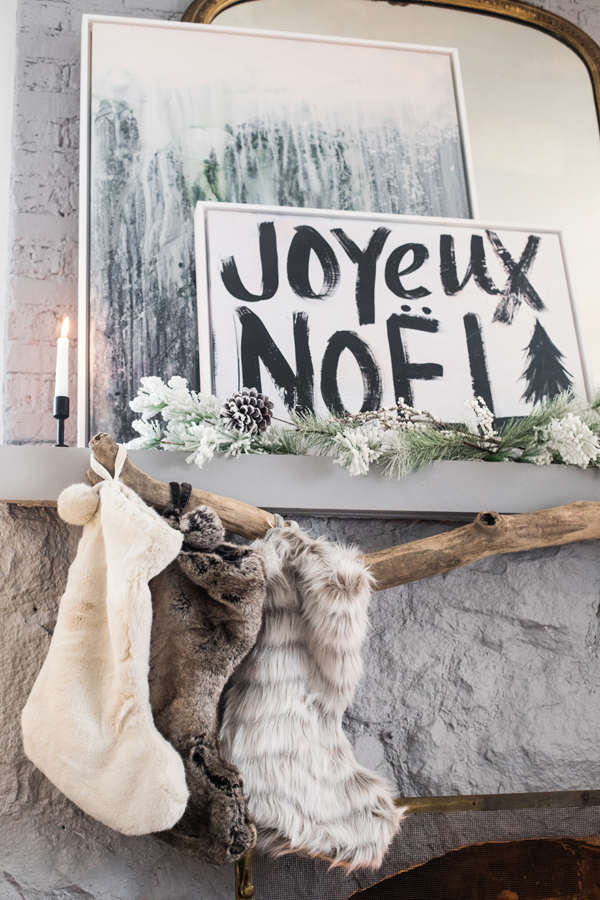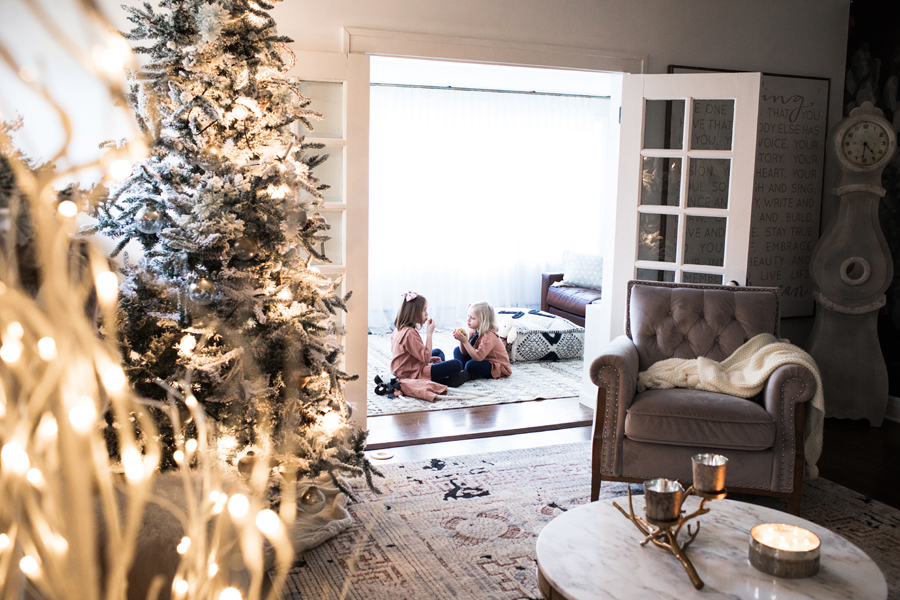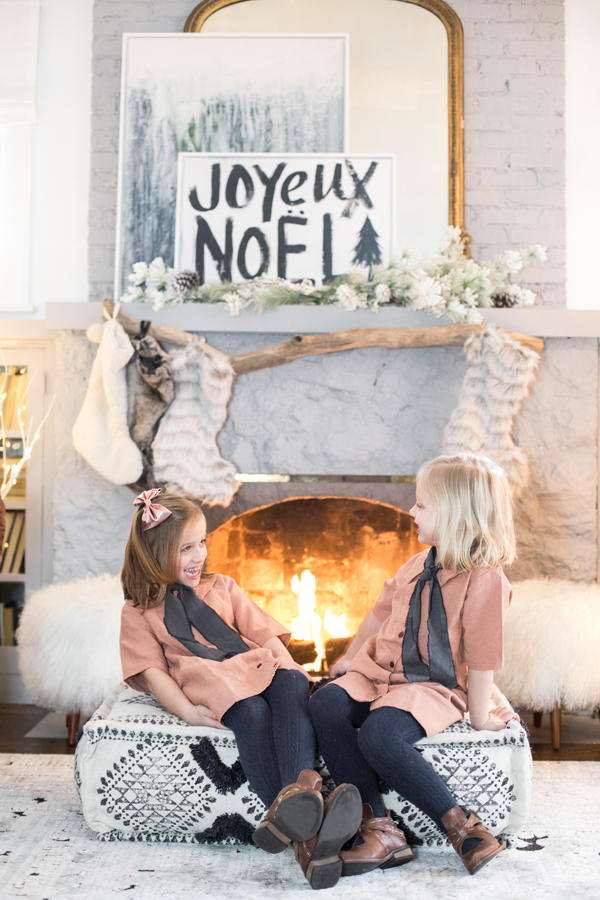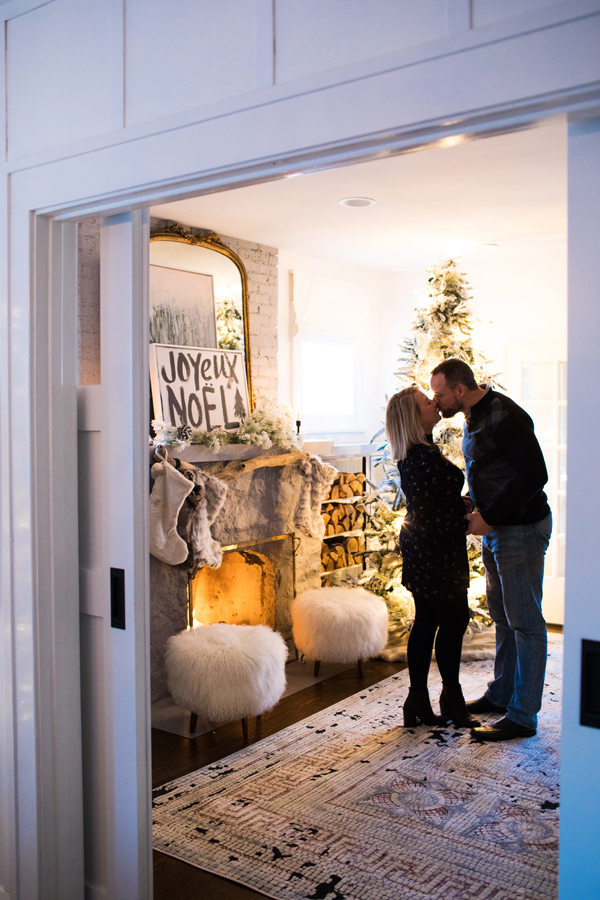 Thank you all so much for being here! It means so much to have you!! Wishing you the happiest of all Holiday seasons, Merry Christmas!
Love, Susan
Product links:
Faux fur chevron stocking with pom pom
Faux fur stocking with pom pom in ivory
Faux fur grey wolf stocking with pom pom
Reminisce forest six wick candle
Joyeux Noel Sign by Lindsay Letters
London Fog Sign by Lindsay Letters
And here's a link to the next beautiful Lemons to Lovelys housewalk tour!!  Marci is so talented!