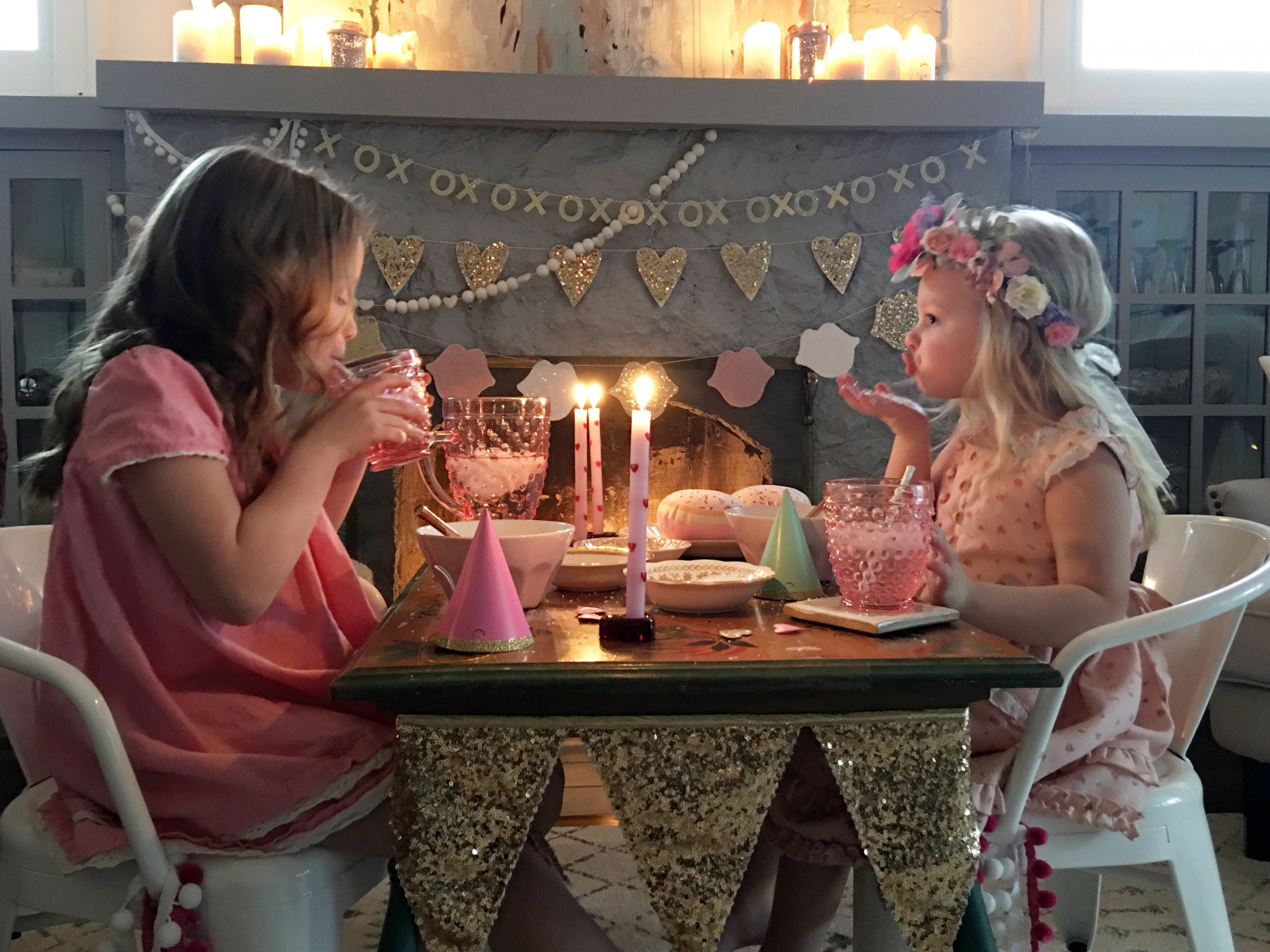 Good Morning Beauties!
I must say I am so very happy you're visiting my little space on the web for today's post! I am just going to add in this disclaimer, I admit I have been in a tiny funk lately. Maybe it's the weather, maybe it's for personal reasons, or perhaps it's just because, but good news, today's post zapped me right out of it! 🙂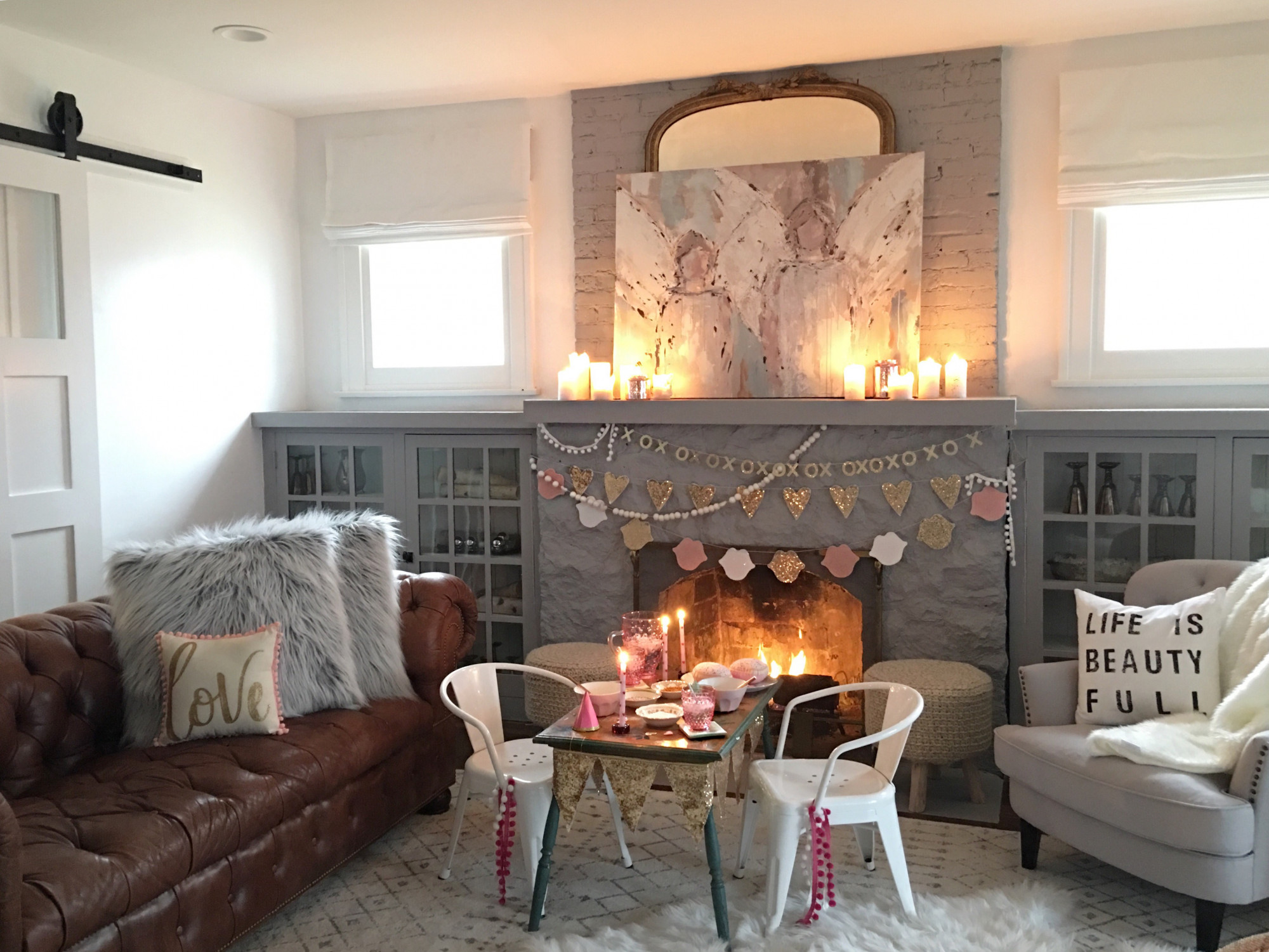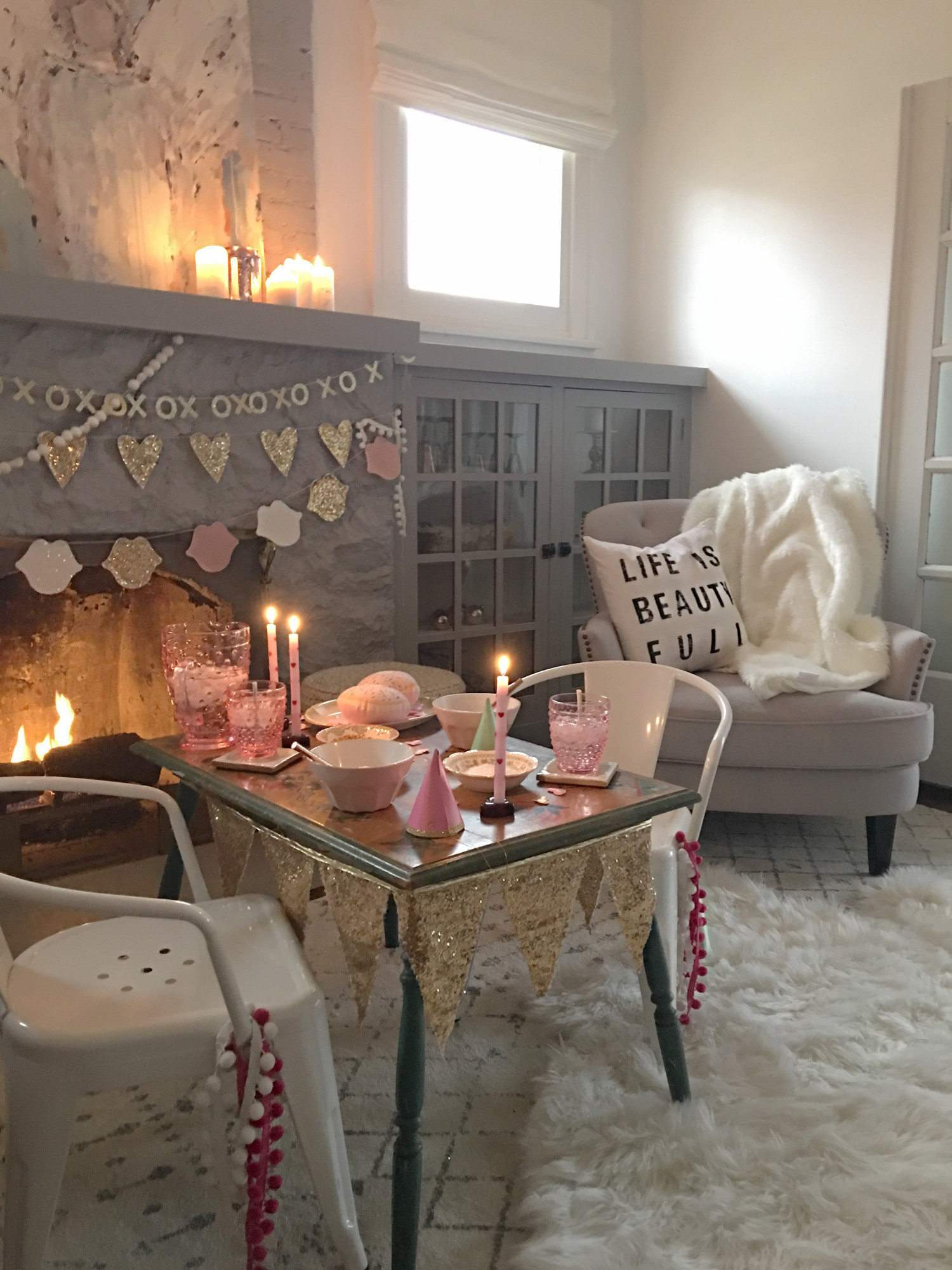 Aside from the fact that I haven't seen sunshine or felt warm UV rays on my skin in WEEKS, I managed to put on my party pants and throw a little "Welcome February & Valentine's Day" party for our sweet girls! And it filled my heart with joy!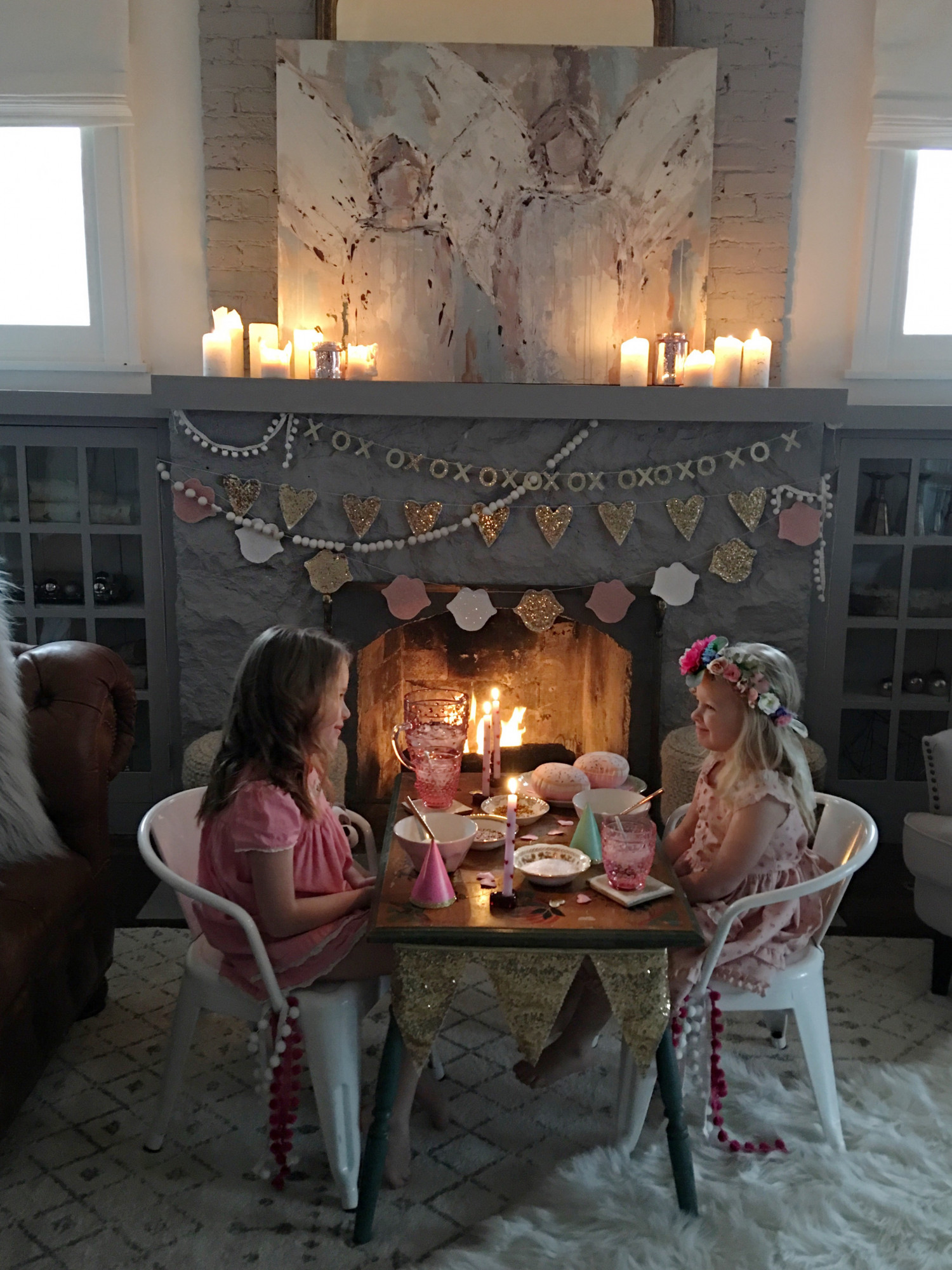 January and February are hard months here in Illinois since the sun hides and the grey gloom grows. However, in our household besides the fact that there's a special Holiday in February which we all know and love, it's also the month that my husband and I welcomed both our angels into this world! At just two years and ten days apart, this month is definitely one to celebrate!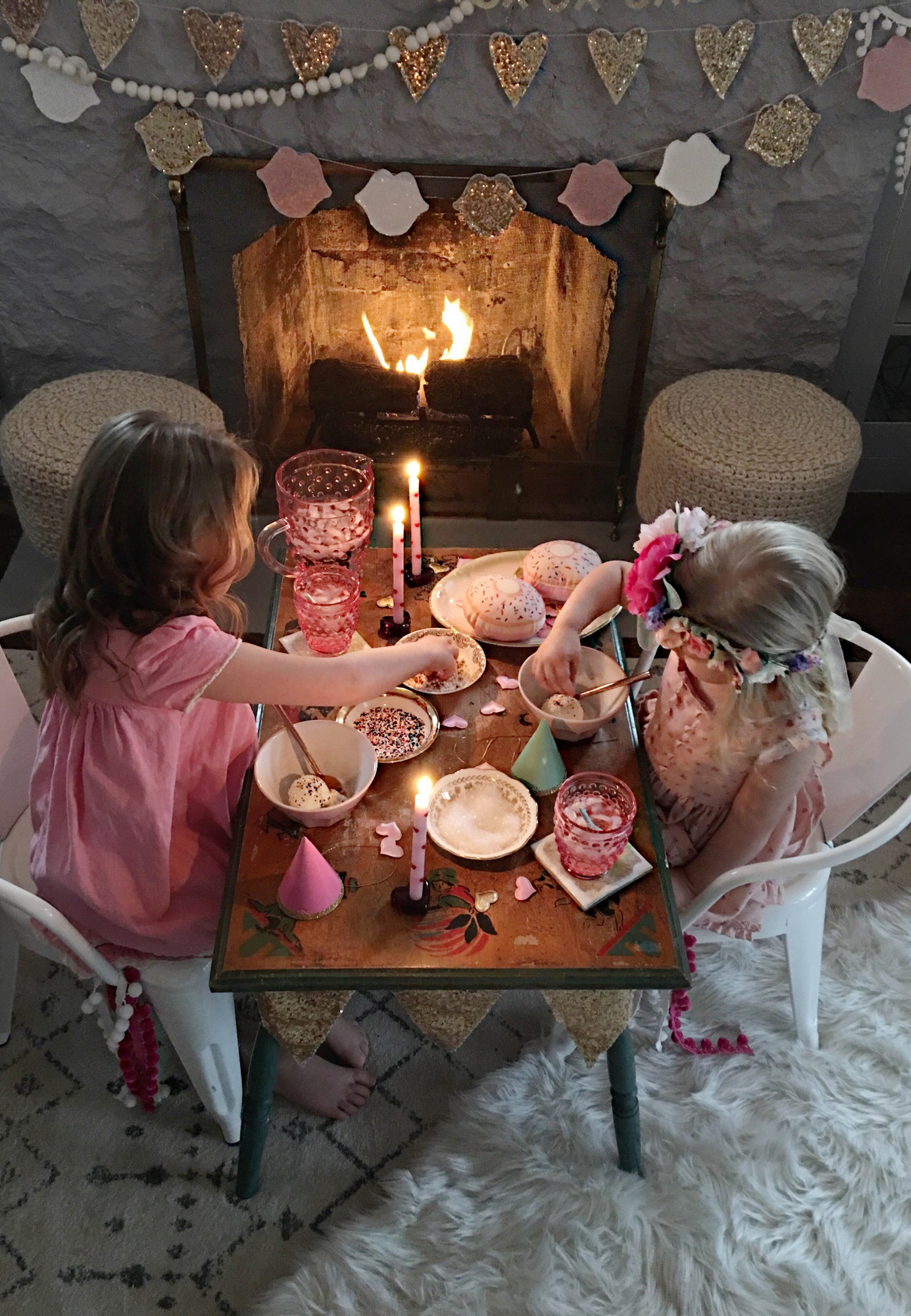 So I hung these precious garlands from Pearl and Jane as soon as they arrived and I was already feeling the warmth of the fun month ahead. I then beought up this vintage story book table from our basement and paired it with these darling
metal bucket chairs from Target and I was smitten with the combo. Old meets new gets me every time.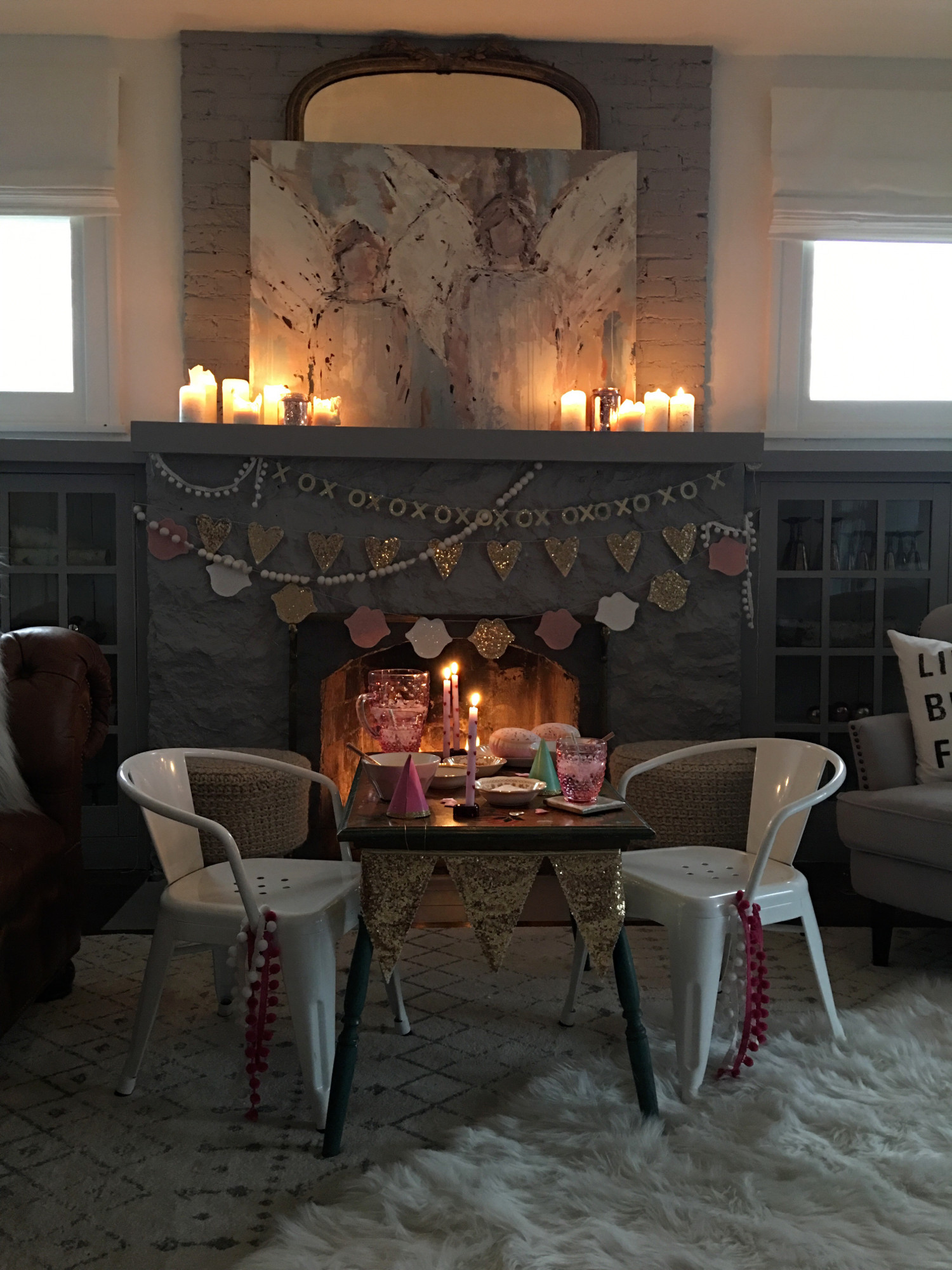 Afterwards, I grabbed our treasured Deannart painting from its spot on our wall and added it to the mantel because, well, I couldn't resist! It was the icing on the cake for the cuddly and cozy party setting my two angel babies would soon enjoy.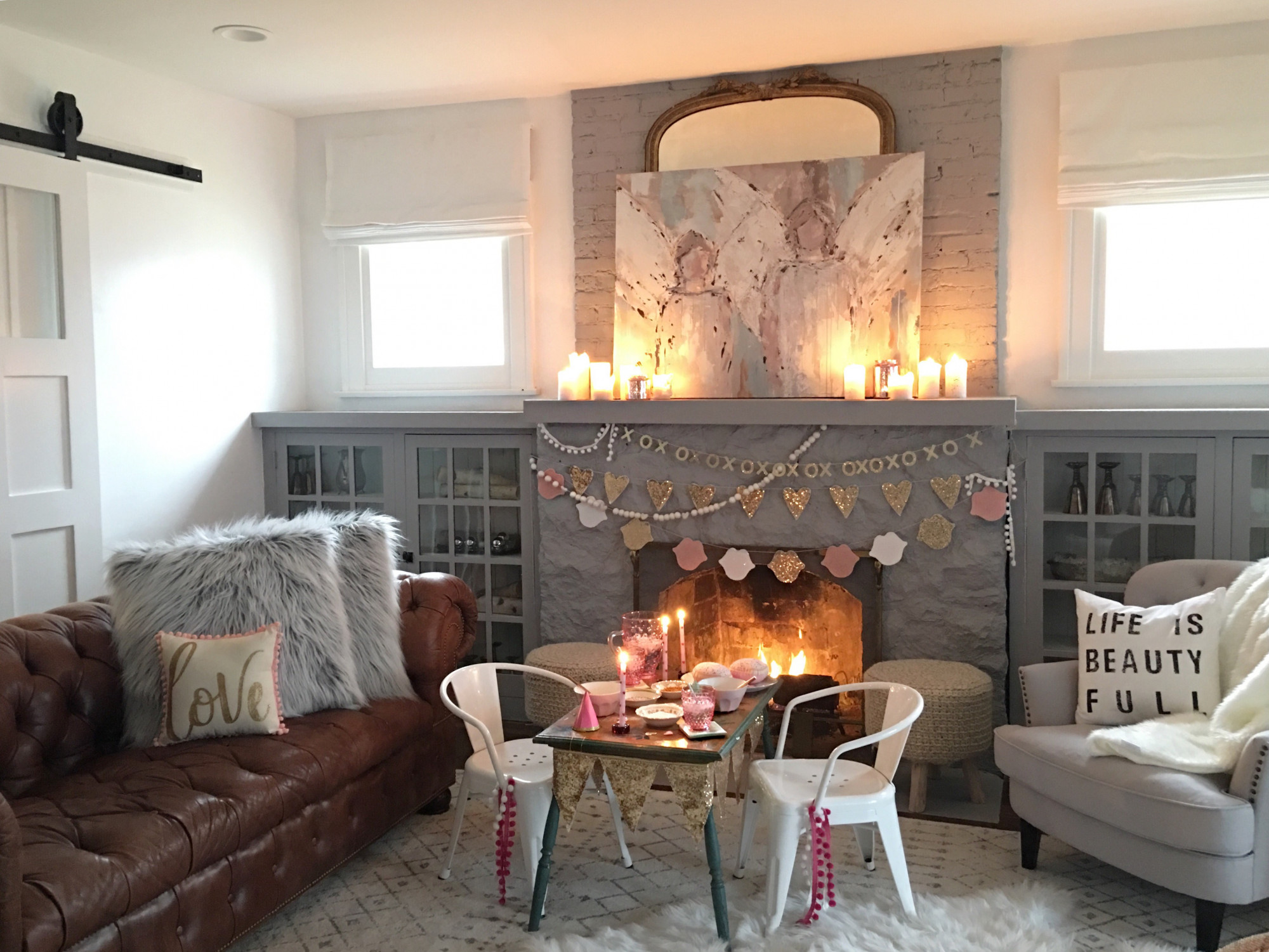 Live Sweet shop always has the cutest accessories so as soon as I laid eyes on these yummy donuts and this sparkly Love pillow I knew they needed to be ours.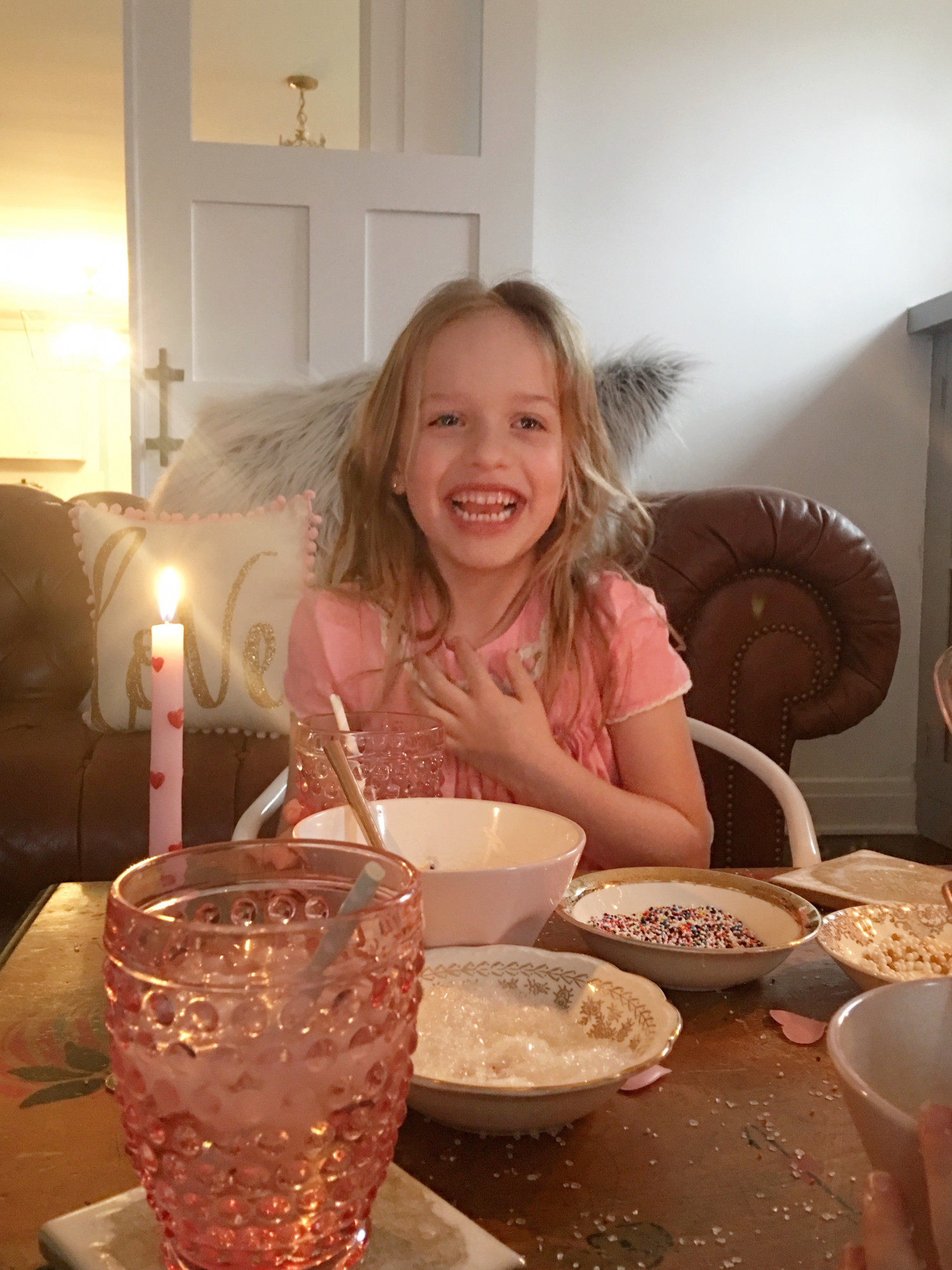 Same with this beautiful, LIFE IS BEAUTY-FULL, pillow that will soon be added to our NEW and IMPROVED Painted Fox curated collection! (I know, I know, Eeeek- so excited to say the least, more details to come!!)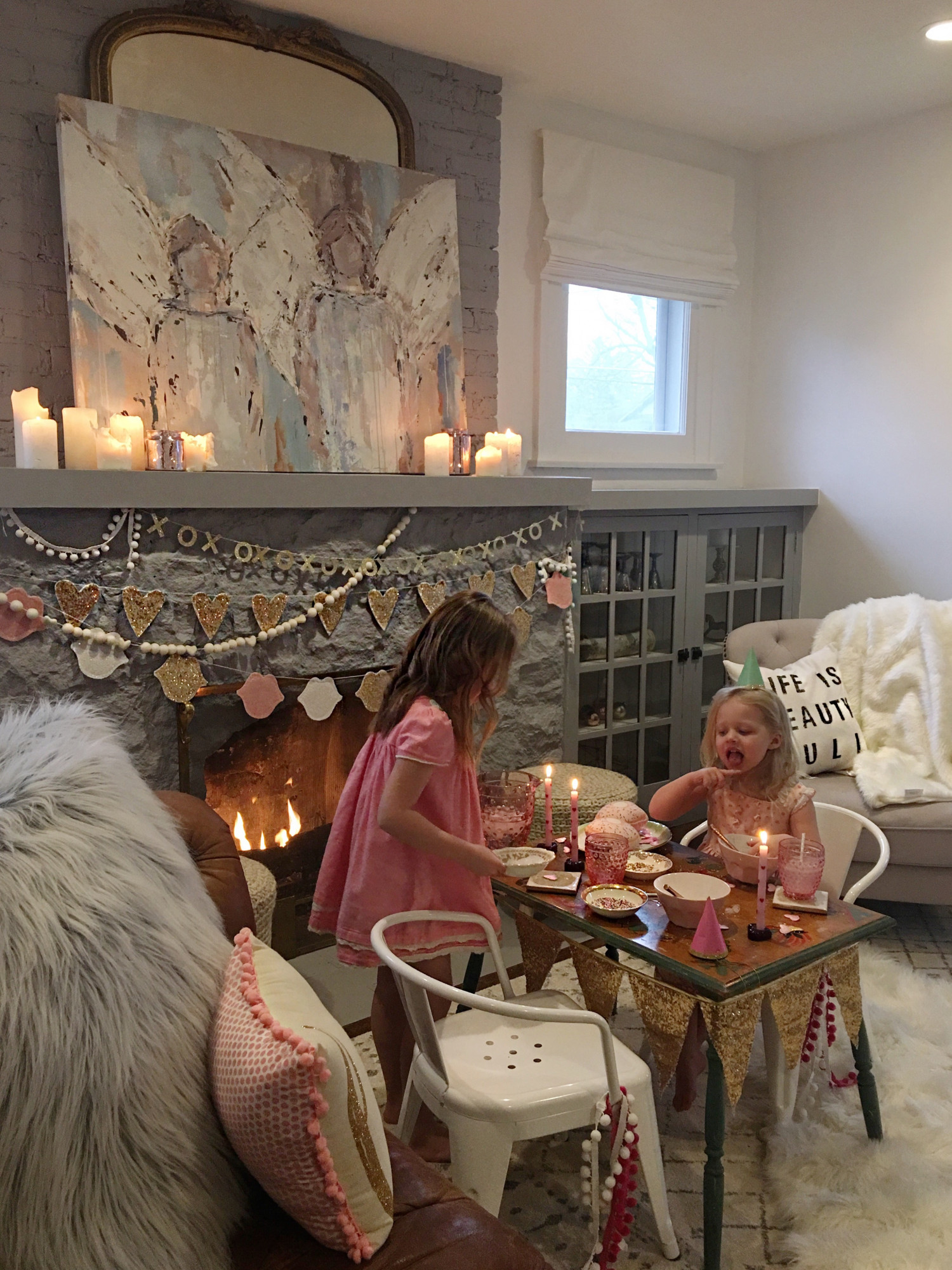 Okay, now some more deets on this simple and sweet "Valentine's Day-Welcome pretty February" party…
It was quite easy really. I added some pink, gold and white decor, set some tunes, lit the fire & candles then called the sweeties in for a scoop of ice cream and sprinkles. For the record, I had them at ice cream and sprinkles. 😉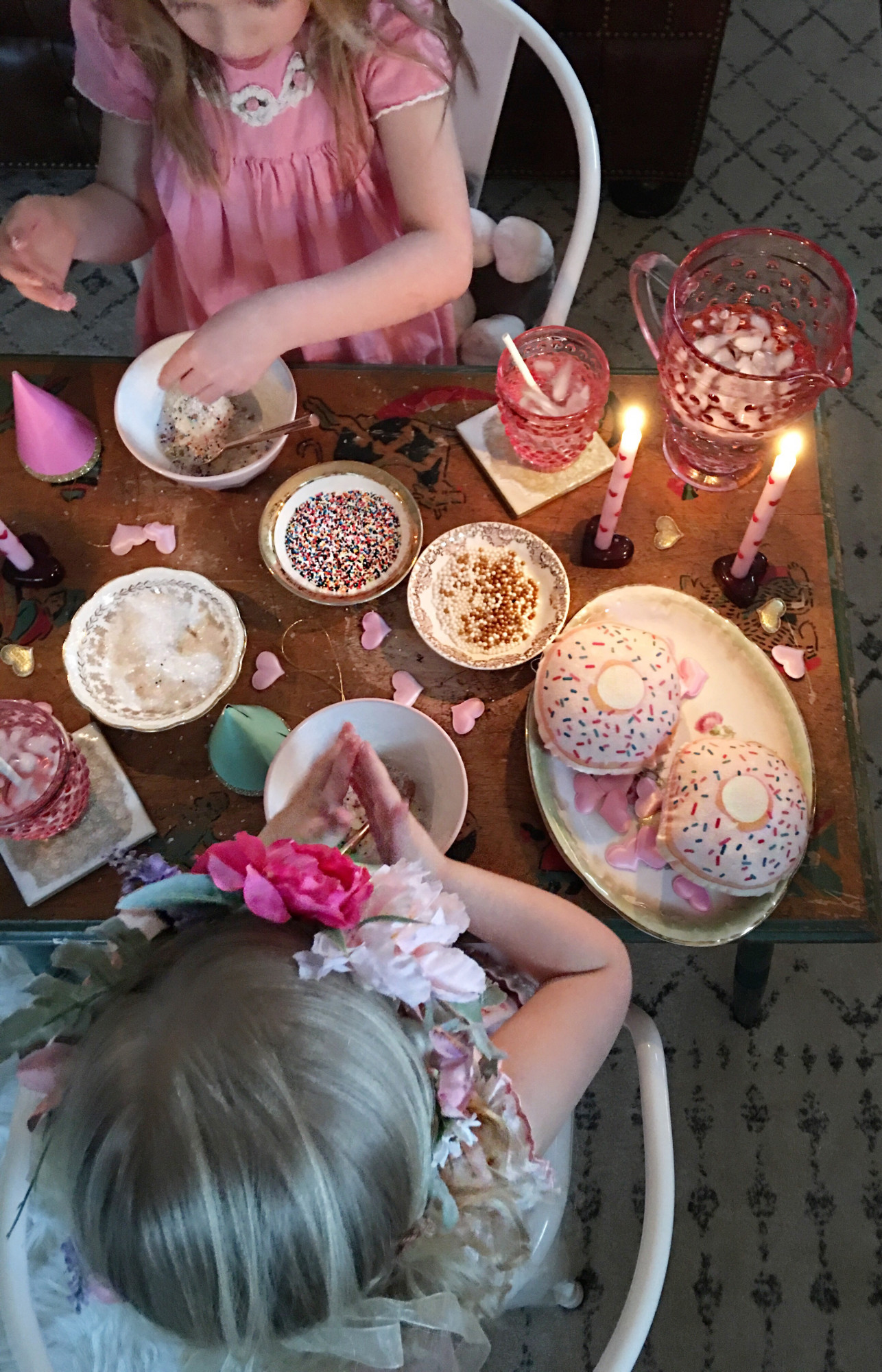 They had a blast pretending to be out to lunch, pouring their drinks and adding way too many candy treats to their sugary dessert. 🙂 The best part, the sound of their sweet giggles and belly laughs. It was simple. It was memorable. It was perfect.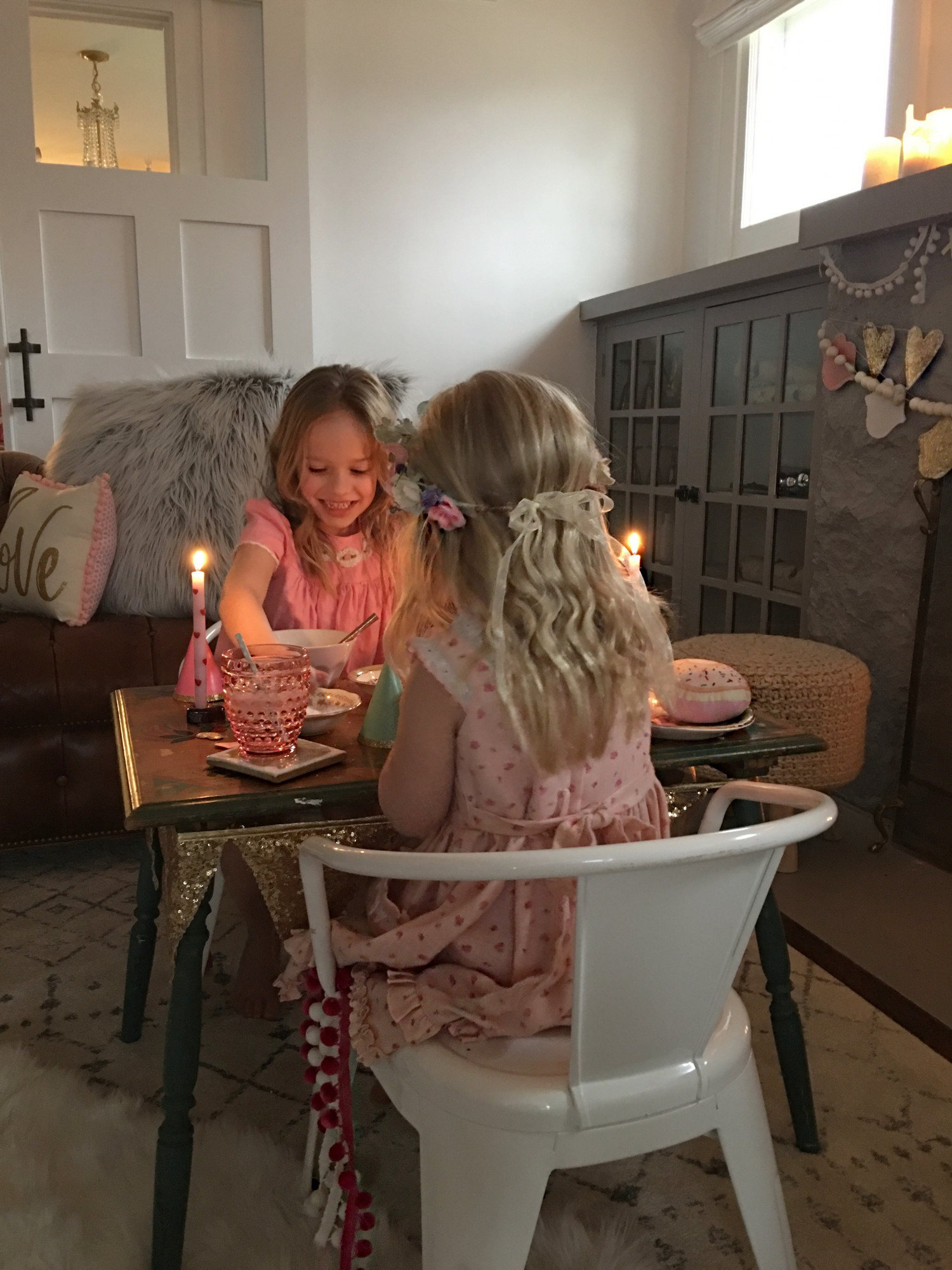 The mood of the afternoon party, was charming and cozy and I had the best time watching these two loves of my life interact and make-believe amongst each other. (yes, I know, it looks like it's evening but indeed it's 1:00pm in these photos, told you it's been dark here lately!) My heart nearly burst when they began blowing kisses at one another. A reminder from above that I'm so blessed and SUCH a proud mama bear.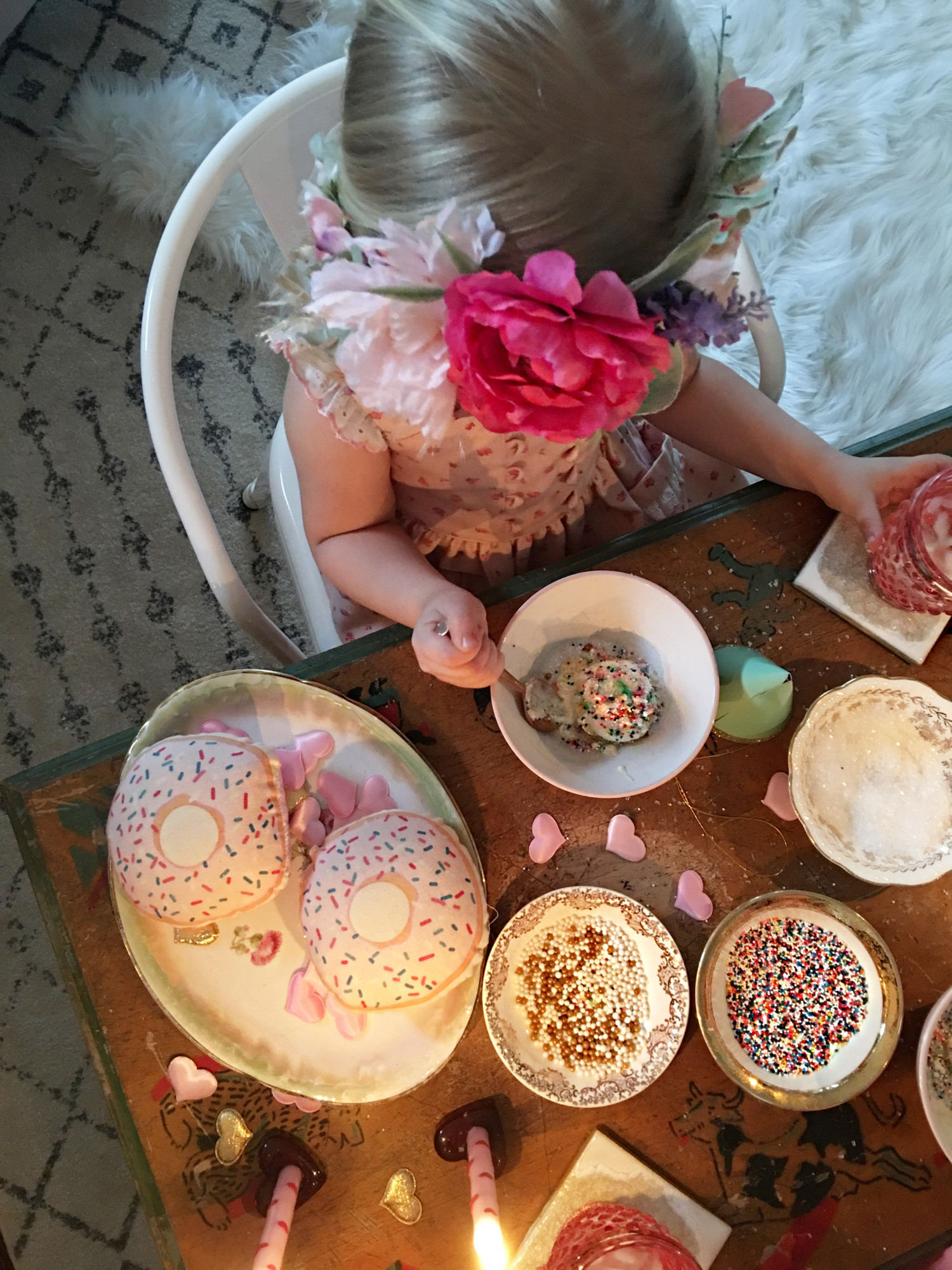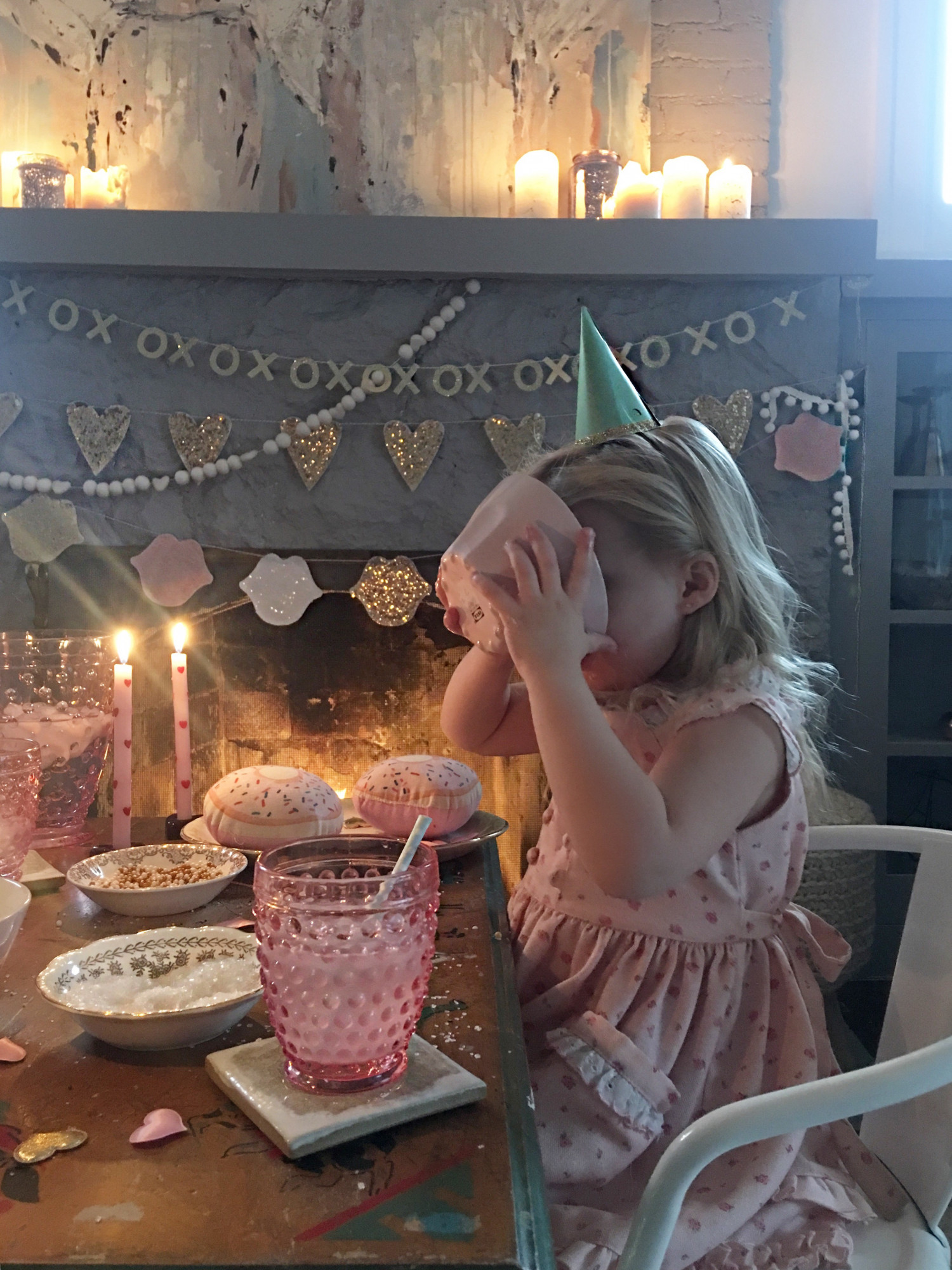 •
Now I just want to add this as I close off on this post since it's been on my heart lately. _ It's so easy to get caught up. Get caught up in others judgments, their decisions, their opinions, their projections. It is, and I'm guilty of caring, perhaps more than I should at times. But when you step back, glance around at the people surrounding you, and take a look back at the path you've taken to get where you are, remember you ARE wonderful. You're kind, you mean well, and you're the bees knees.
And just as I was thinking these thoughts … I came across our living room photo from two years ago. The very same living room my darling daughters were devouring their sugary ice cream in. 🙂 This photo was how our living room looked AFTER we moved in here two years ago. Back then it felt impossible to be where we are today. And sadly I must admit, due to the hustle and bustle of life, it's easy to brush off our hard work and how far we've come. So as I sat here typing, I applauded myself, my husband and our girls' and all the hard work we've done, which isn't easy for me to do when I'm commending myself, but it's important to do nonetheless.
So today especially I'm remembering it. I'm remembering our story, and grasping onto pride and how happy and grateful I am for the journey. After stress, sweat and tears, I now have this opportunity, this moment, this reality, to sit our beautiful daughters down for a cozy, happy party filled with love and blog about it. Blog about the very room I cringed at for so long. Life is good. God is great.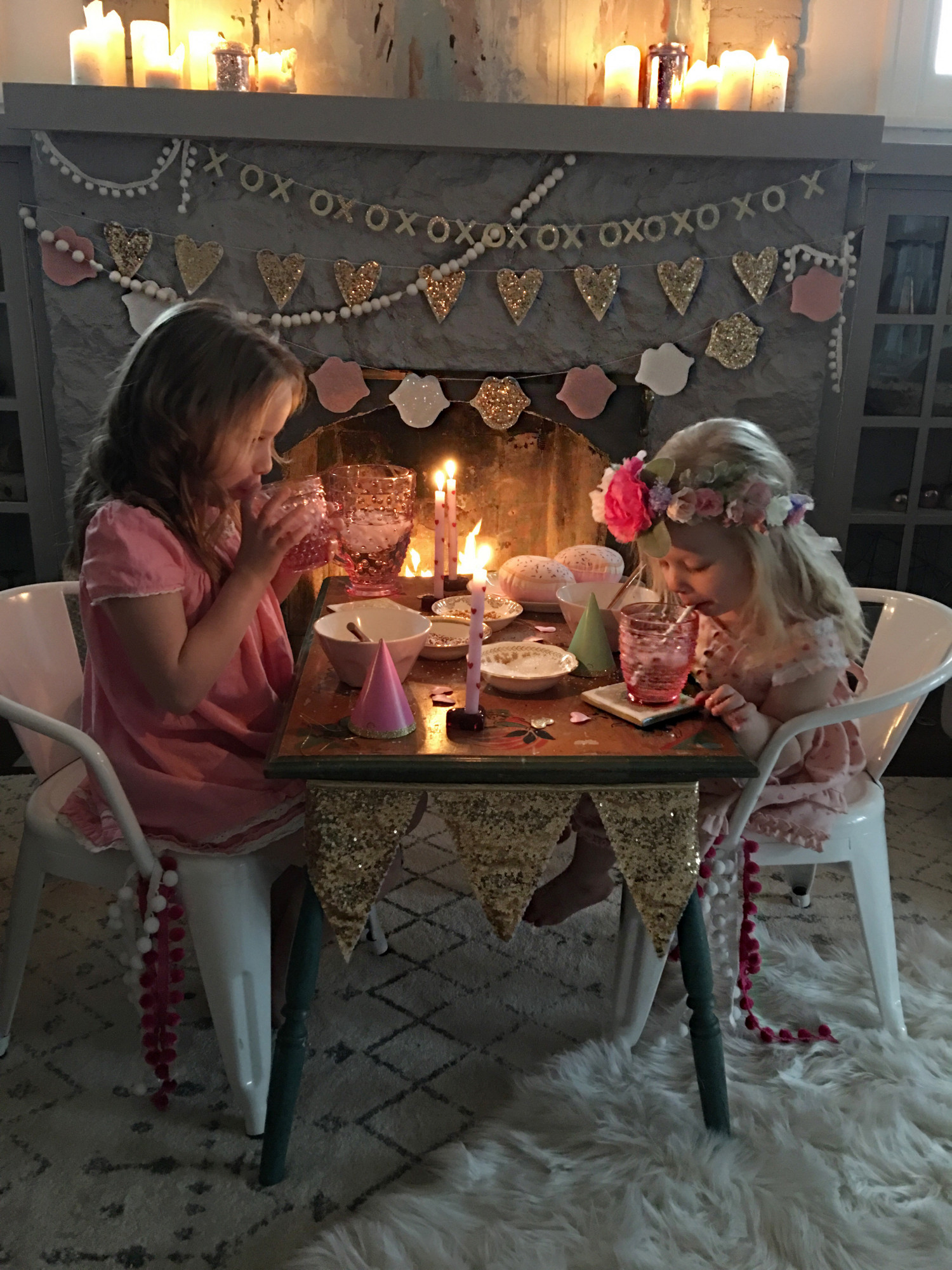 Xoxo•Big Hugs to each of you.
Susan
Don't forget to check out these other amazing bloggers for their ideas and Valentine's Day kiddo parties: You'll be so happy you did!
She Leaves A Little Sparkle
Zevy Joy
A Thoughtful Place
Kindred Vintage Co.
Eleven Gables
Pink Peppermint Design
Ella Claire
House Of Five
Elliven Studio
Craftberry Bush
Sunny Side Up