I clearly remember the day I first saw our house. It was actually a few years before we moved. We drove past to look at another one across the street and when we got there I remember wing captivated by this one. Aside from the fact that it was a white Victorian Farmhouse I was so intrigued by the sunken patio off the side of the house! Around here you don't really see many patios like this! It was such a cool feature.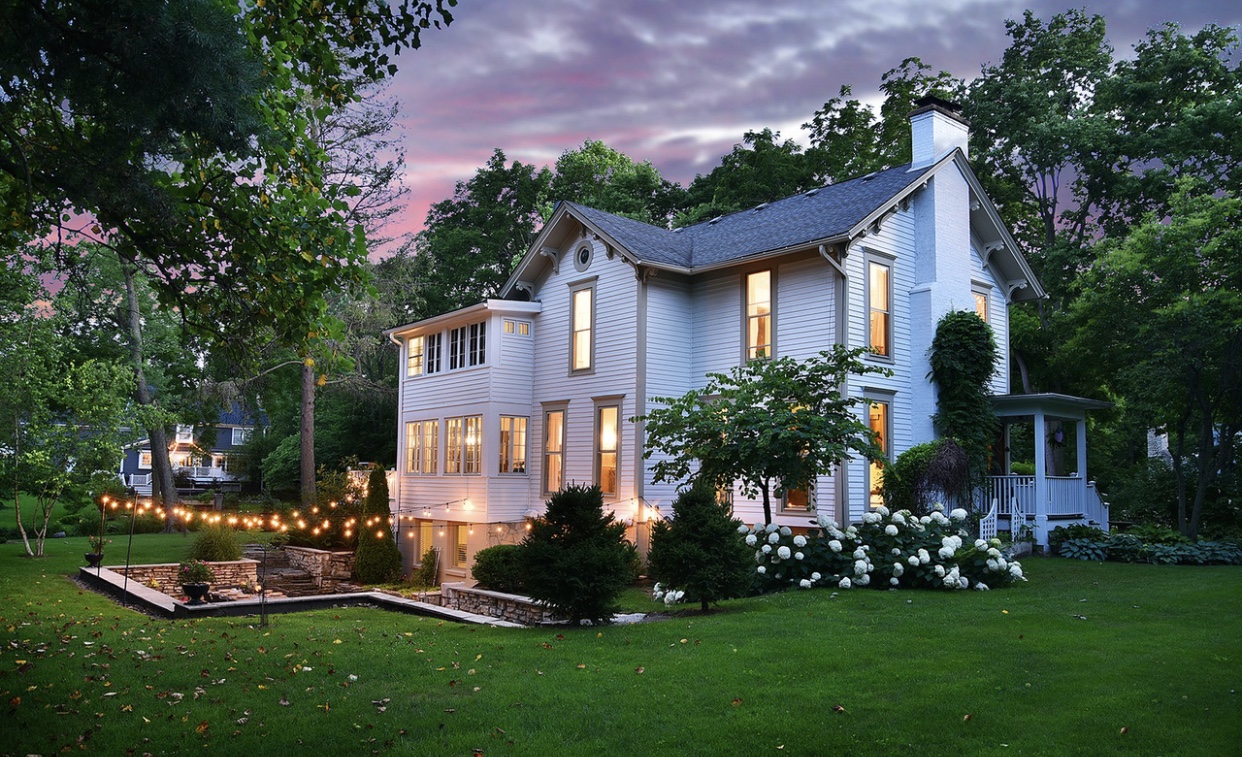 Flash forward a few years. We were still searching for homes in my dream neighborhood. My mom and I jumped in the car and went for a neighborhood drive. We drove aimlessly around when she pointed out a "coming soon" sign in the distance. As we drove closer and I realized it was the same home I loved before I was so excited!! The house was ours a few months later. 👏🏻 Things have a way of working out, don't they?!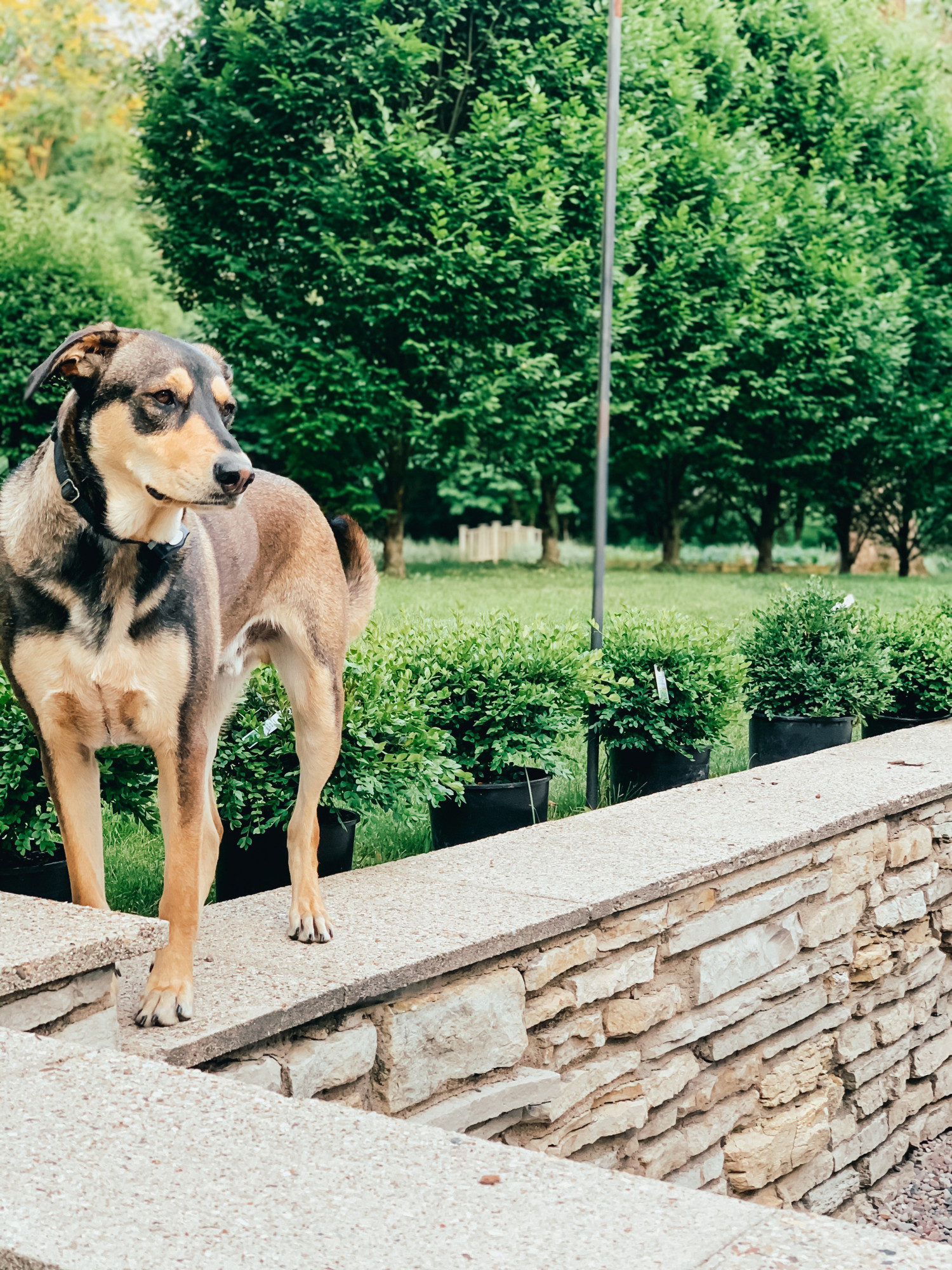 After a year and eight months of working on the inside of our home, then adding a play-set, a tuff shed and porch swing to the exterior of our home, we finally got around to tackling that same sunken patio that had me at hello! It was a huge undertaking and I could not have done it without Rob and the help of family. It was a straight month of power washing, racking up old pea gravel, laying down landscaping lining, adding new stone, weeding, planting a ton of boxwoods, hanging lights and painting I was finally able to get to the good part, decorating!!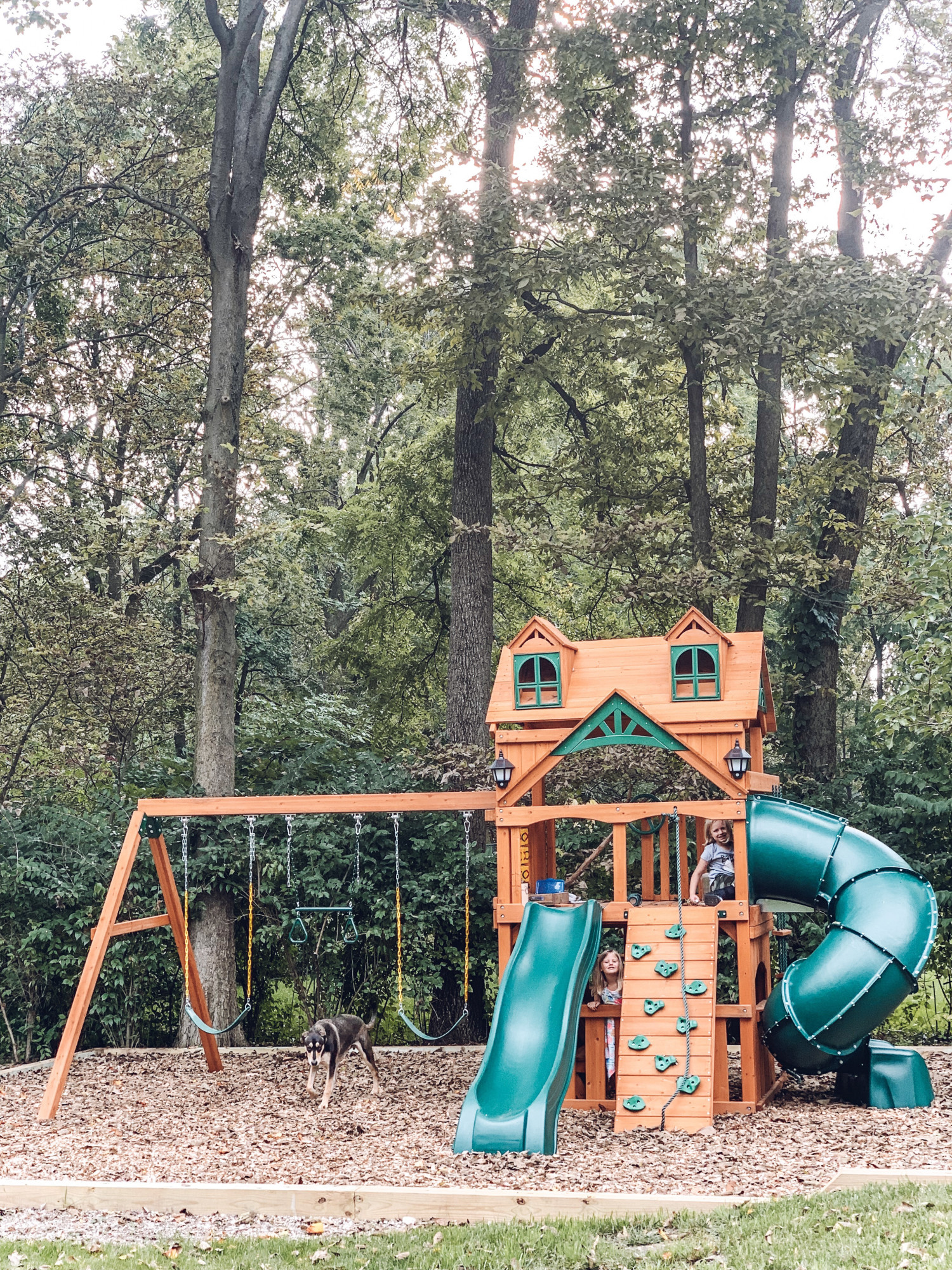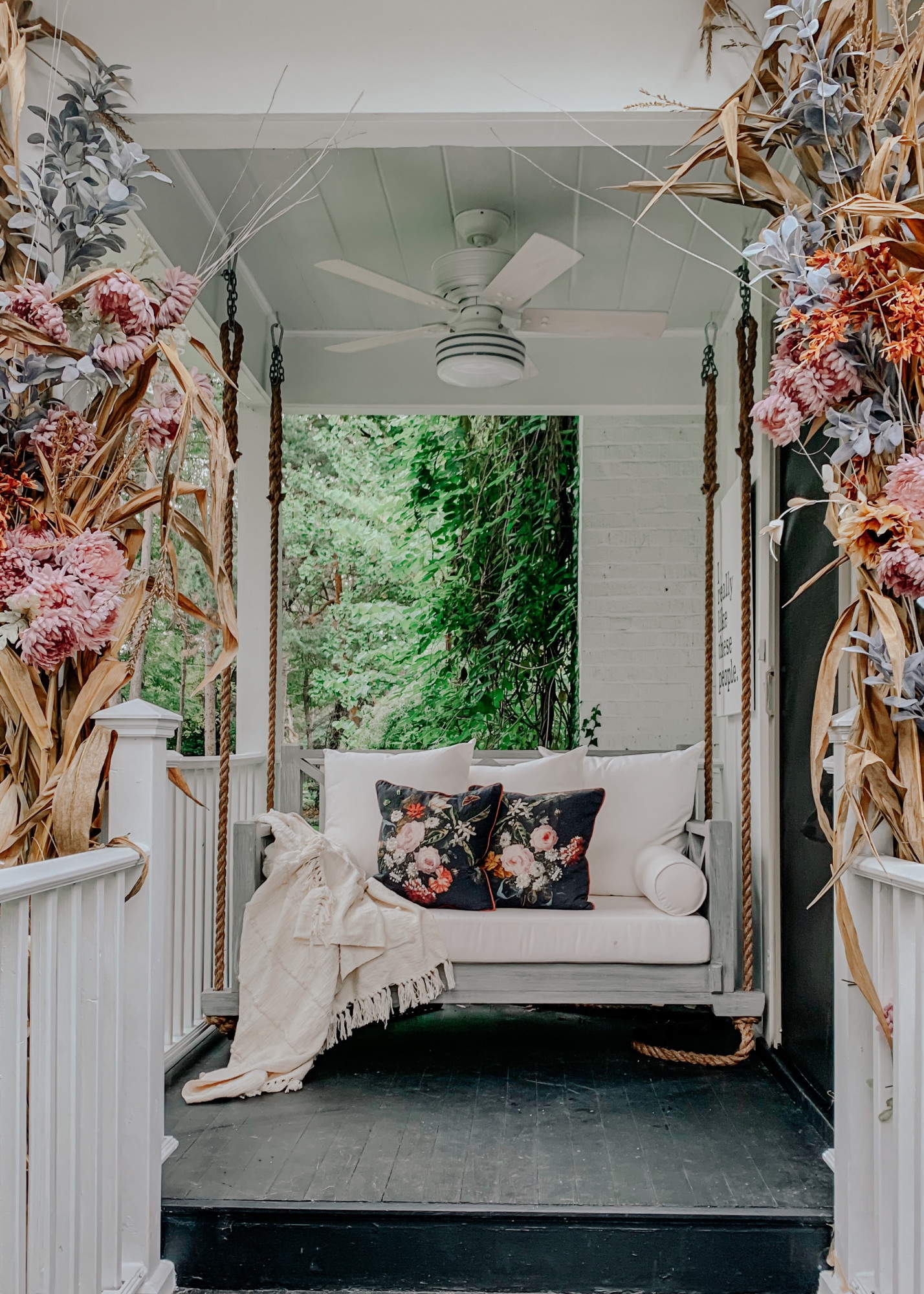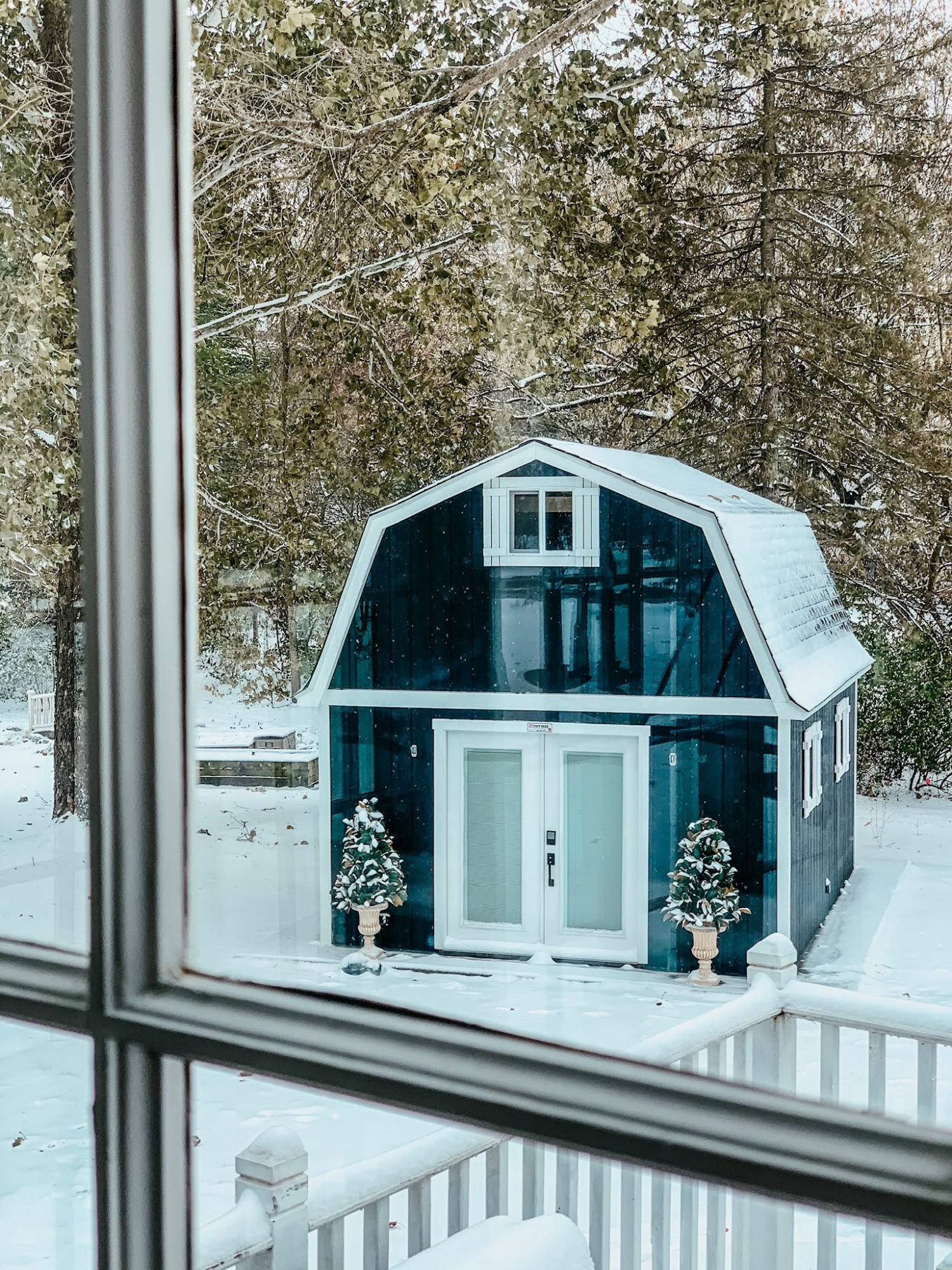 We worked with Arhaus designer Gracey Snow to give our dream patio a dream design makeover!
I want to start off by saying every Arhaus store offers this complimentary design service! Whether you decide to shop indoors or have your consultation online this service is completely free and oh so helpful! It's so reassuring to have someone work with you to make sure items will fit into your space. Or help you with an awkward layout or provide ideas you may not have thought of yourself!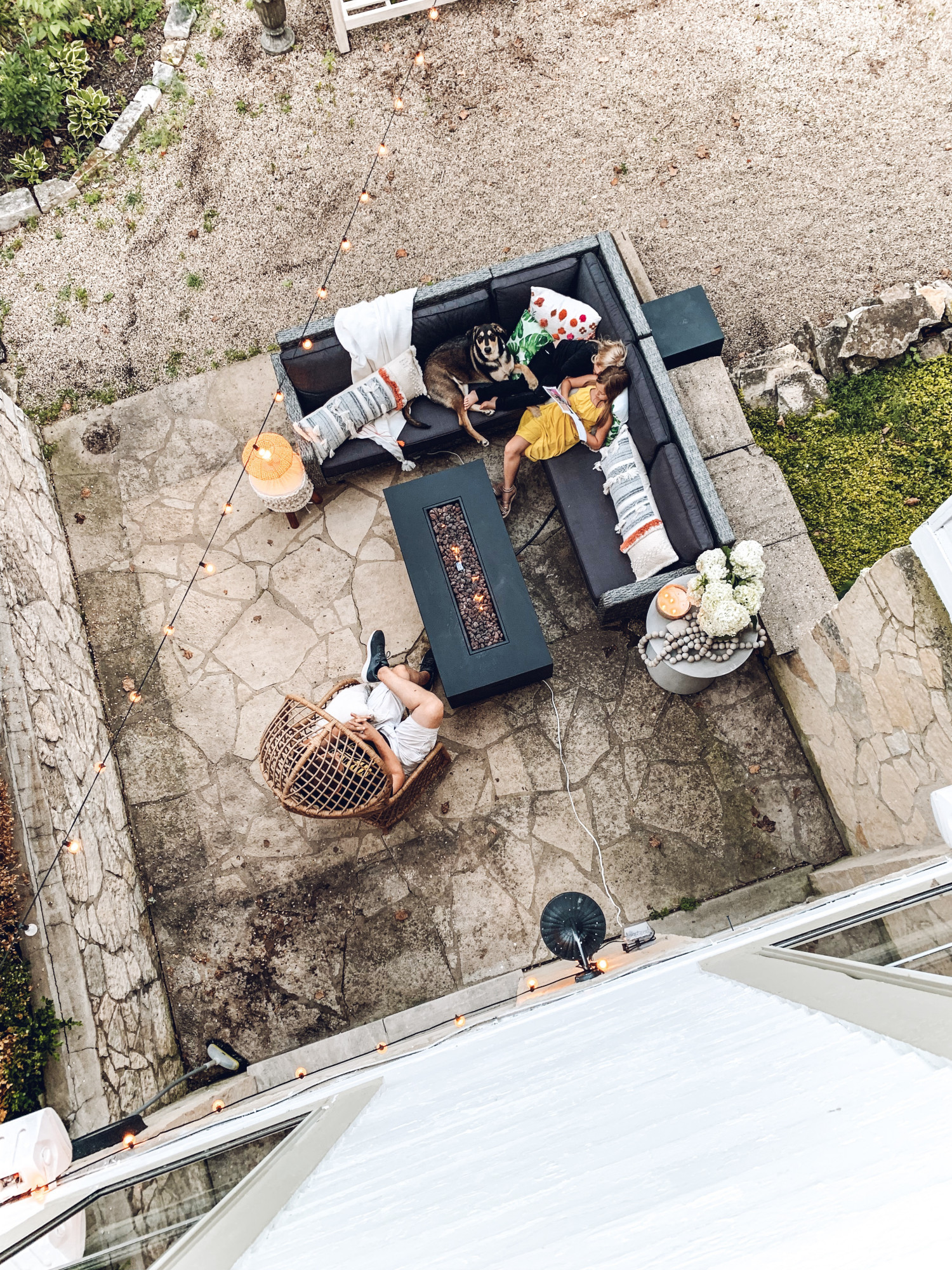 We worked on our project during quarantine so we met with Gracey Snow online from the comfort of our home. We had a phone conversation and provided dimensions of our sunken patio and what we had dreamt for the space to function as prior to our Skype meeting. And you guys when she showed us her thoughts and ideas on the space she knocked it out of the park!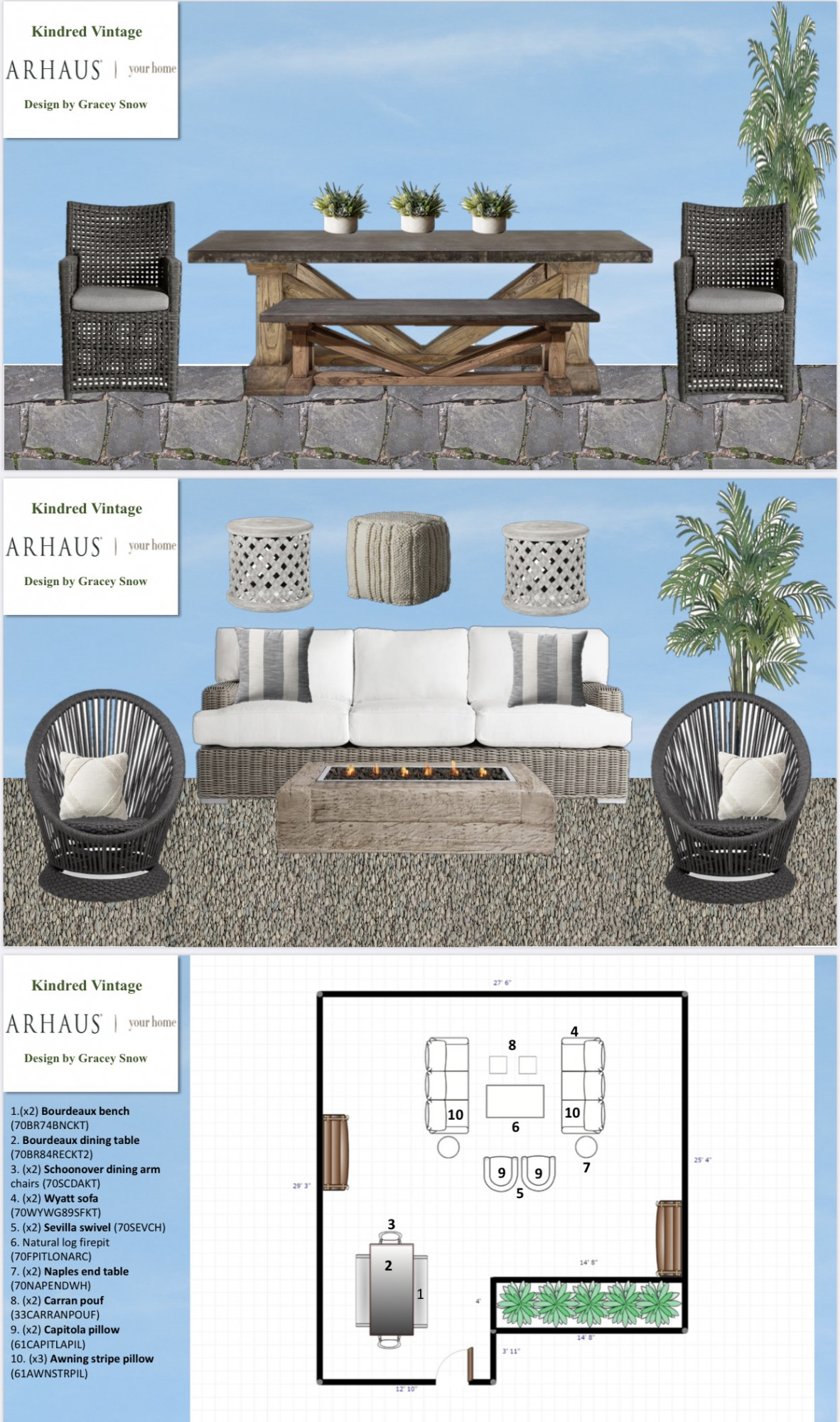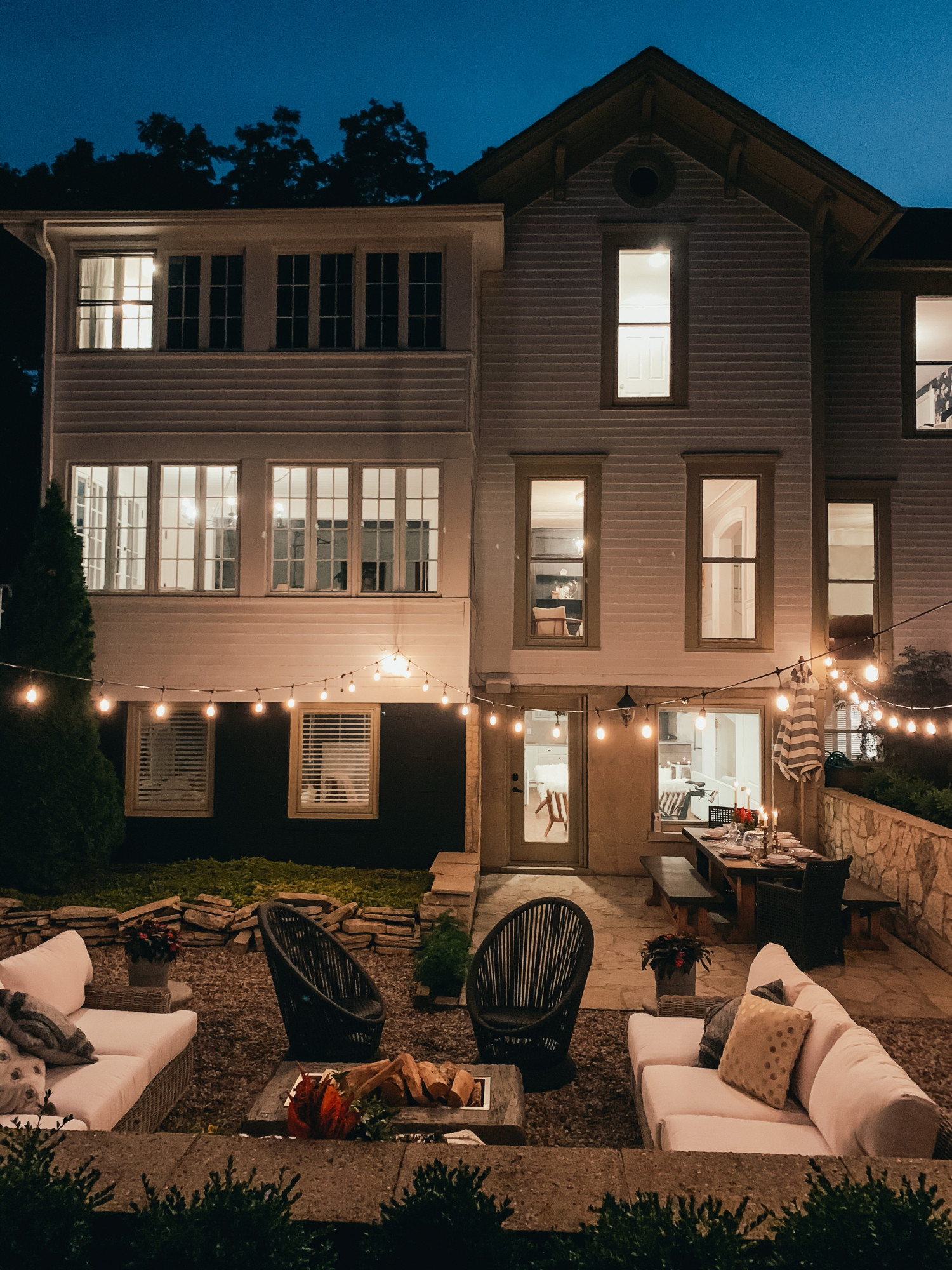 She provided us with two looks, both stunning, but one just felt more like our family and after considering things like Chicagoland weather etc I knew exactly which one spoke to my heart!
Gracey, was wonderful to work with and actually came up with an idea I hadn't considered, turning the fire pit horizontally between the two couches to fill up more space. She then added two outdoor poufs to line the side of the fire pit and fill in the empty gap. I LOVE how this looks and how it shows off our built in terra-cotta bench, that now showcases our plants!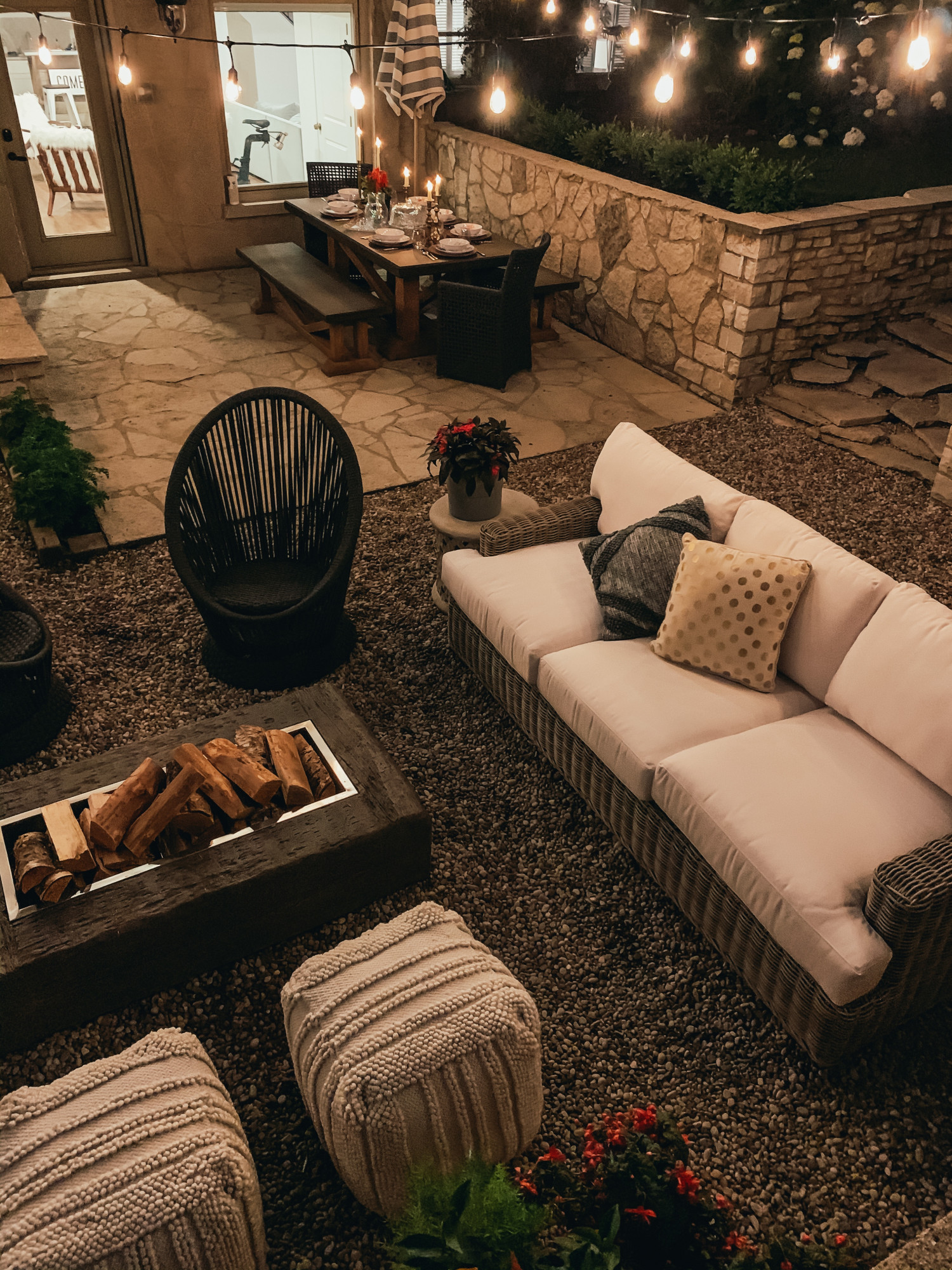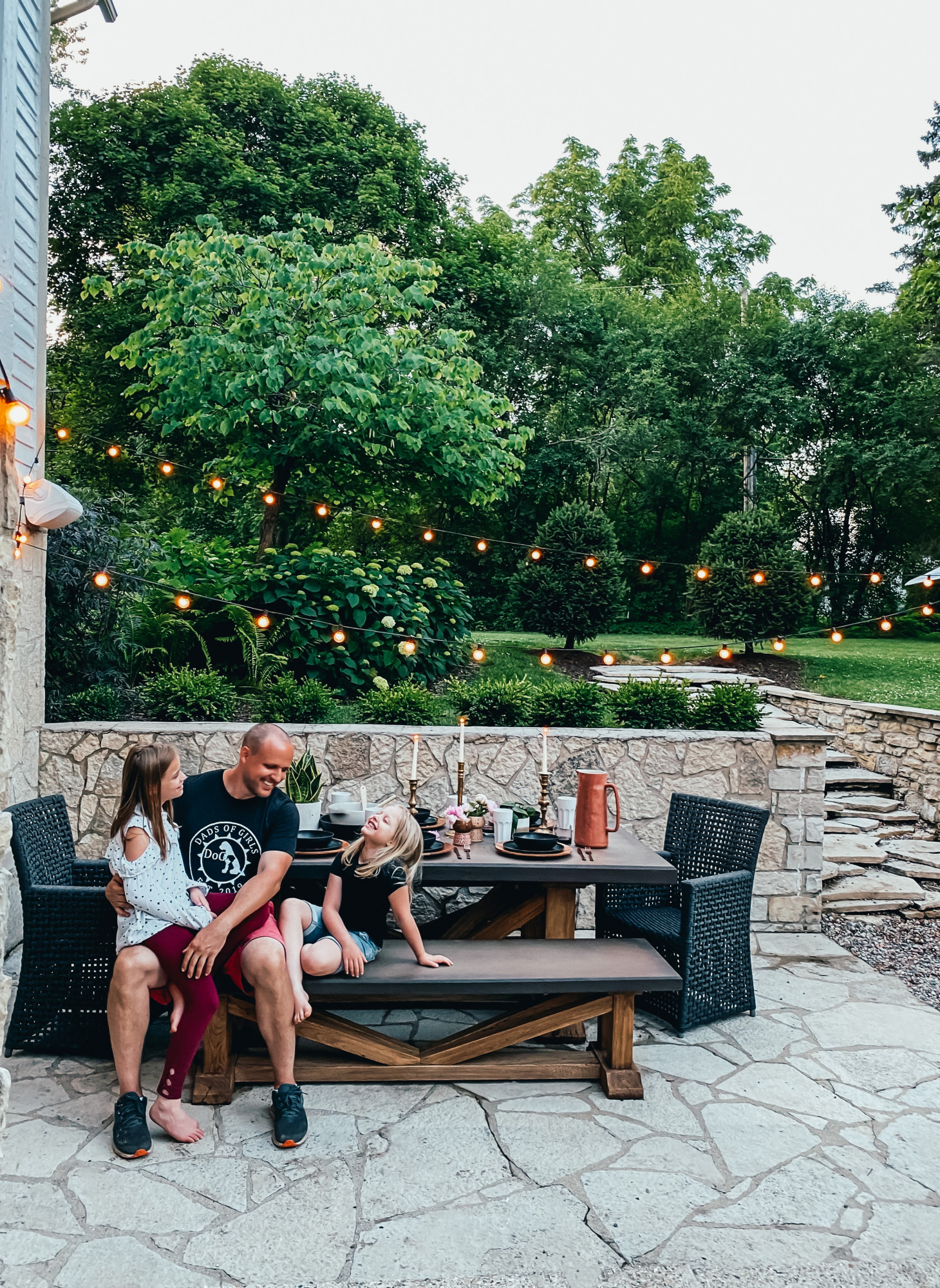 Thank you Gracey for your wonderful design and service! You're amazing!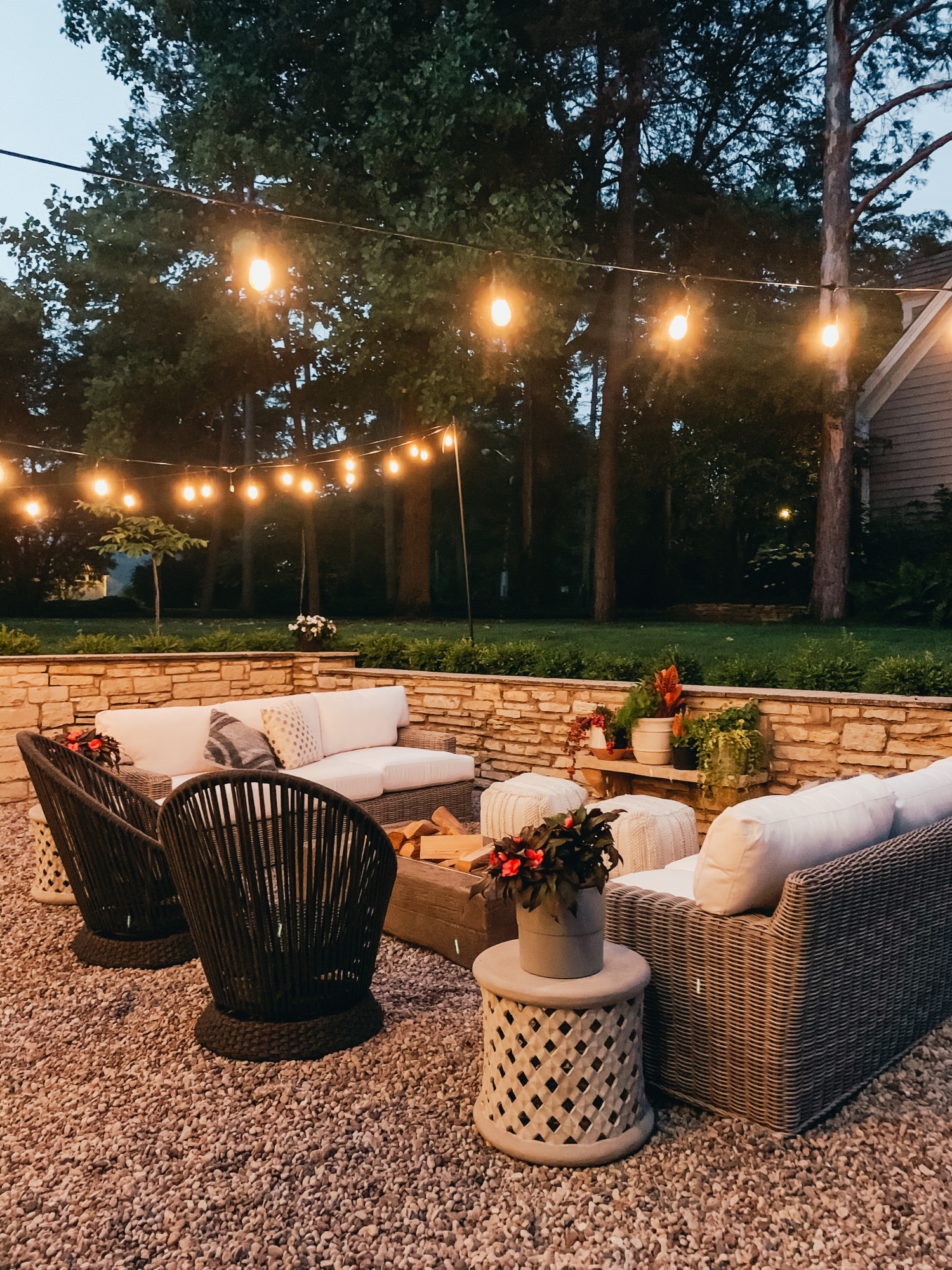 I am so smitten with how this space turned out and cannot wait to spend many Summer days out here! Would love to hear what you think of it!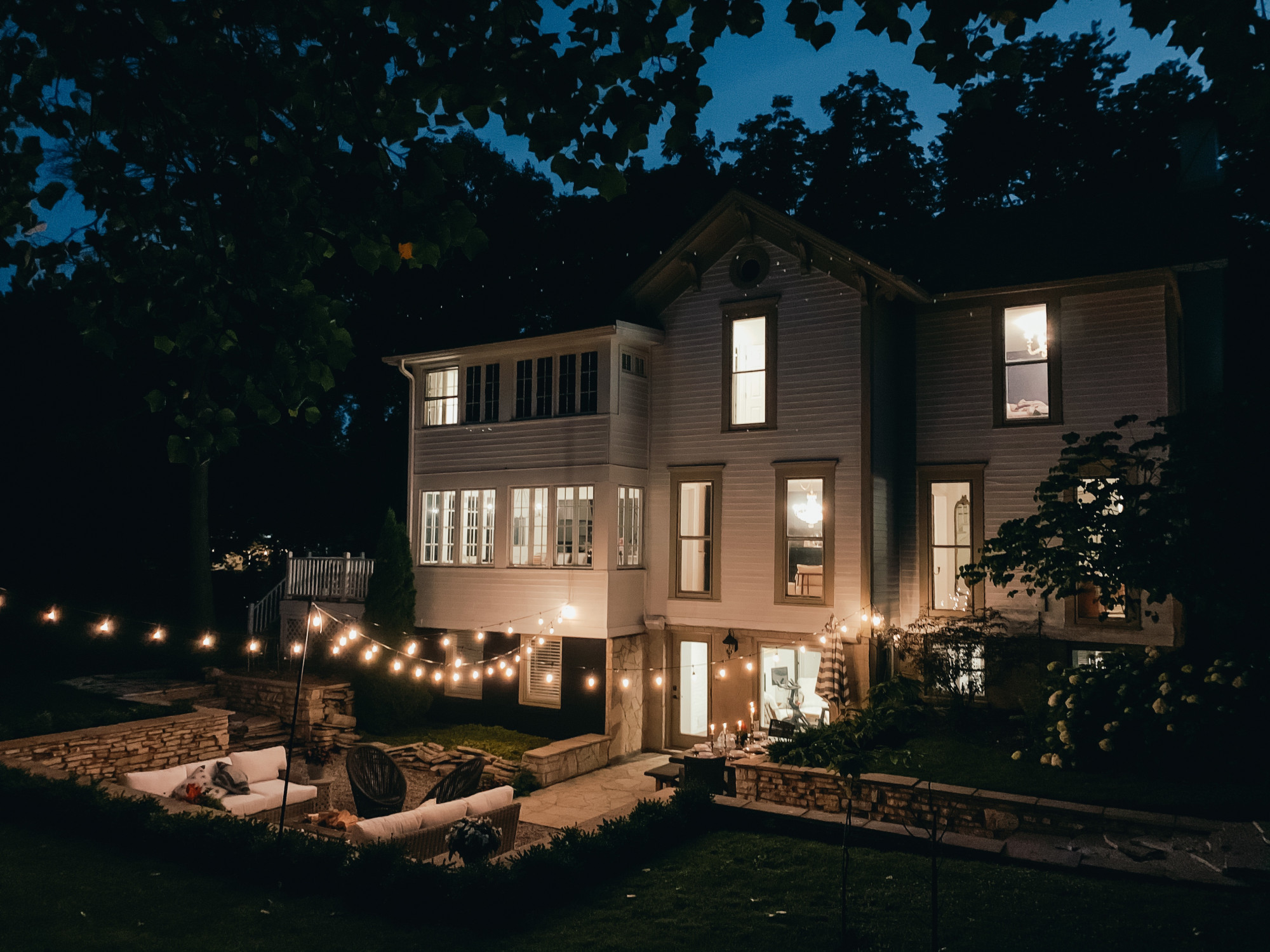 Dining area:
1. Bourdeaux dining table https://www.arhaus.com/furniture/outdoor/outdoor-dining-and-bar-tables/bourdeaux-outdoor-rectangle-dining-table/
2. Bourdeaux dining bench https://www.arhaus.com/furniture/outdoor/outdoor-ottomans-and-benches/bourdeaux-outdoor-bench/
3. Schoonover dining chair
Outdoor living room:
1. Wyatt outdoor sofa https://www.arhaus.com/furniture/outdoor/outdoor-sofas/wyatt-outdoor-sofa/?FinishName=WEATHERED%20GREY&FabricName=SAILCLOTH%20SALT&CustomVariant1=108%22
2. Sevilla swivel chair https://www.arhaus.com/furniture/outdoor/chairs/sevilla-outdoor-swivel-chair/?FinishName=COVE%20GREY
3. Natural log rectangle outdoor fire table https://www.arhaus.com/furniture/outdoor/fire-pits/natural-log-rectangle-outdoor-fire-table/
4. Naples outdoor end table https://www.arhaus.com/furniture/outdoor/accent-tables/naples-outdoor-end-table/
5. Carran pouf https://www.arhaus.com/furniture/decor/poufs/carran-indoor-outdoor-pouf/
6. Capitola outdoor pillows https://www.arhaus.com/furniture/outdoor/outdoor-pillows-and-poufs/capitola-outdoor-pillow/?FabricName=CHARCOAL