Good Morning Everyone!
I'm so excited to share our first Christmas post for the second half of our Seasons of Home Holiday Series.  A huge thank you to the creator and organizer of this group, Kristen from Ella Claire Blog, who is also one of the most talented women I know!  Make sure to check her out as well as the other wonderful and creative women in this blog hop!  You will find a peak at their gorgeous inspirations below.
For today's post I chose to share a corner of our kitchen that is one of my favorite nooks in our house.  I love focusing on this area because it's quaint but jam packed with a bunch of character.  As some of you may know this used to be the spot in our kitchen that used to house our fridge, but once we moved in this was one of the first things to change.  It just so happened by luck that I had this old vintage file cabinet that I had previously bought out of an old barn, without any actual plan for what we'd end up using it for!  I'm glad I trusted my gut because it happened to fit into this turned out better than I could have imagined.  This is not also one of my favorite spots, it's the girls' too because it holds all of their snacks 😉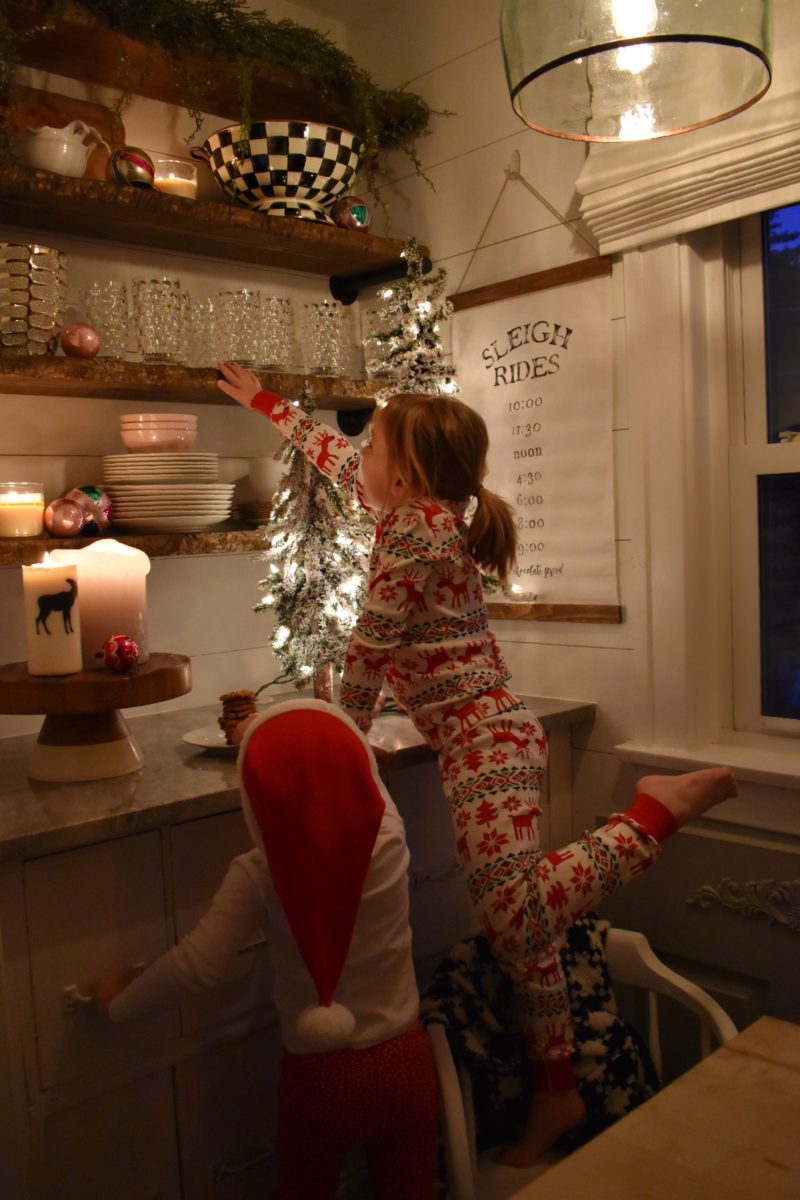 Back to how Kristen is so amazing.  This gorgeous slay rides art is made by her!  Isn't it incredible?  I love how it adds a sense of Christmas to our kitchen!  I'm so honored to have it in our home.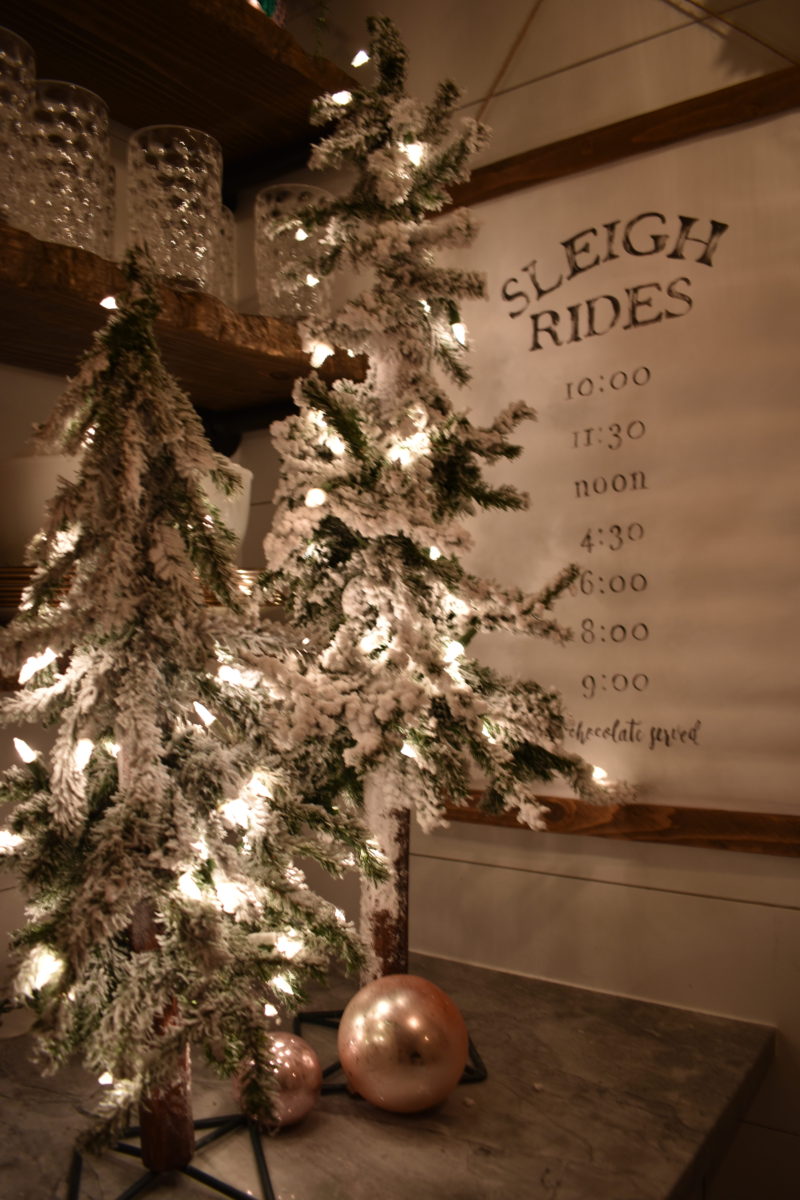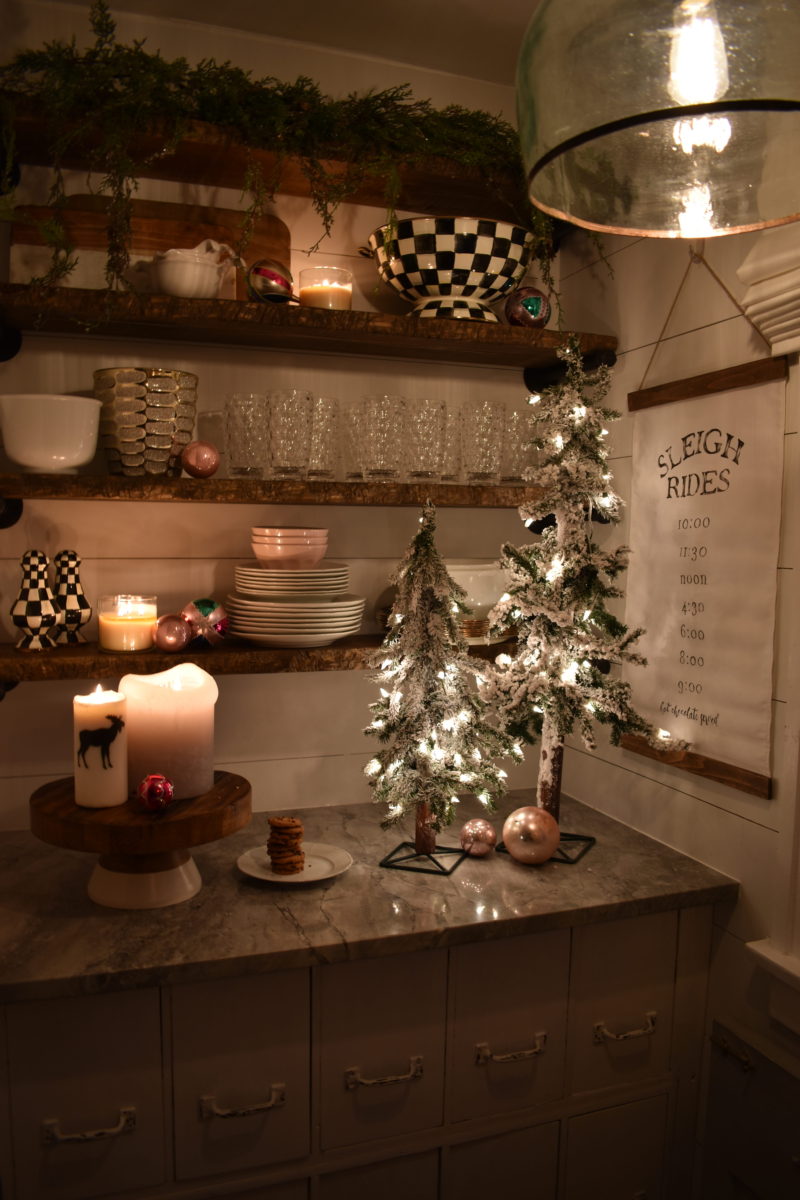 These awesome shelves are from Rustic Shelves Inc.  They super well made and they're also pretty cool because you can choose to have the open face to have either a rough edge or they can be flipped around to have a smoother, flat edge.  We are currently opting for the rustic look. 🙂  Also, my husband said that they were easy to install and he appreciates having a little "manliness" in our white and dainty home.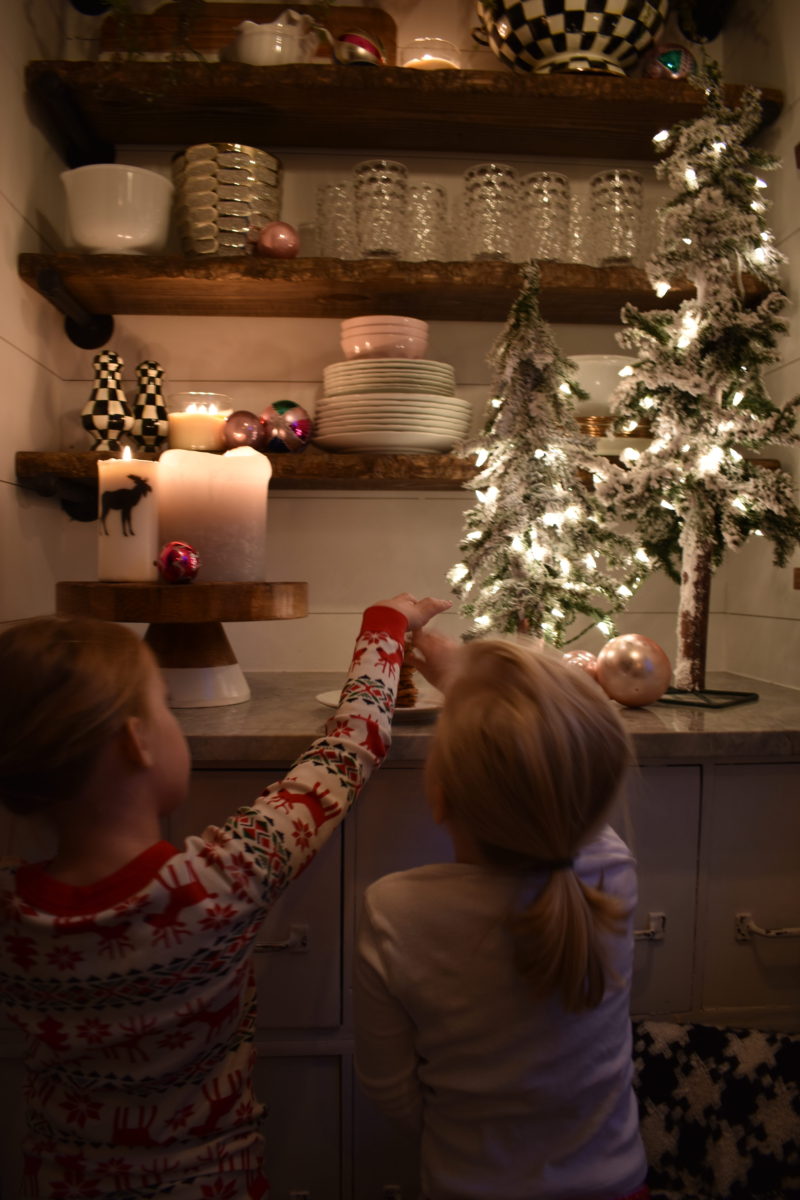 These flocked tiny trees are a purchase from Grandin Road that we got last year.  They fit perfectly in this space and come in a set of three.  Also, if you check out their site I just have to write that their tree promotion video is probably one of the coolest marketing I have ever seen.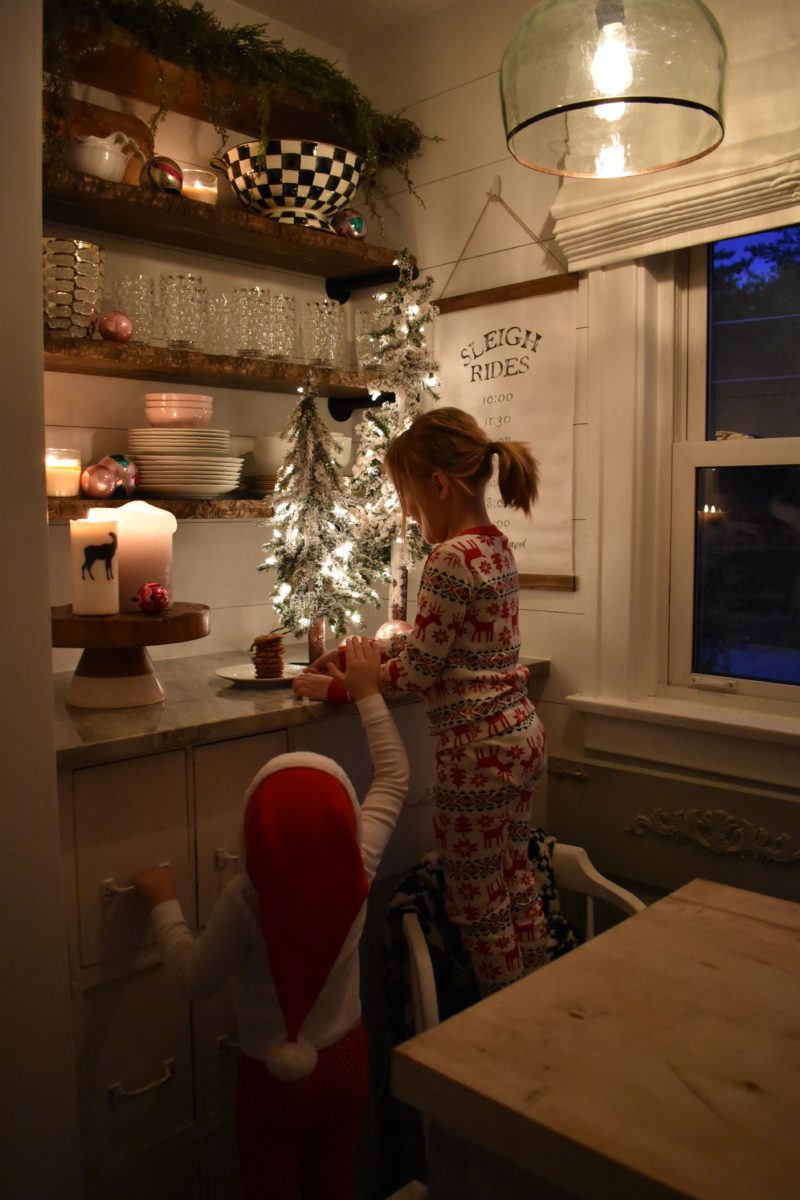 And I'm sure you've already spotted that signature Courtly Check from one of my favorites MacKenzie-Childs.  More on this coming soon… 🙂  And those amazing Pendants can be found in our curated collection at Painted Fox.  They give off the softest, warmest glow that really makes the kitchen cozy.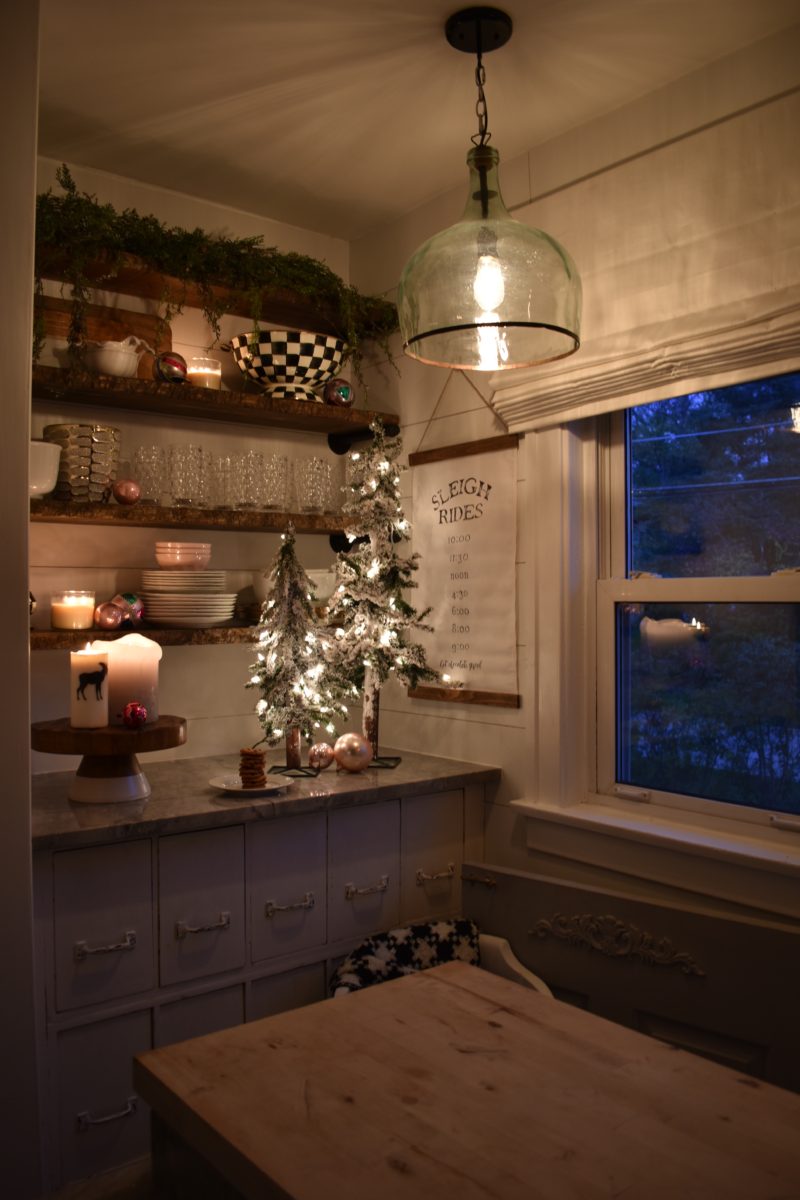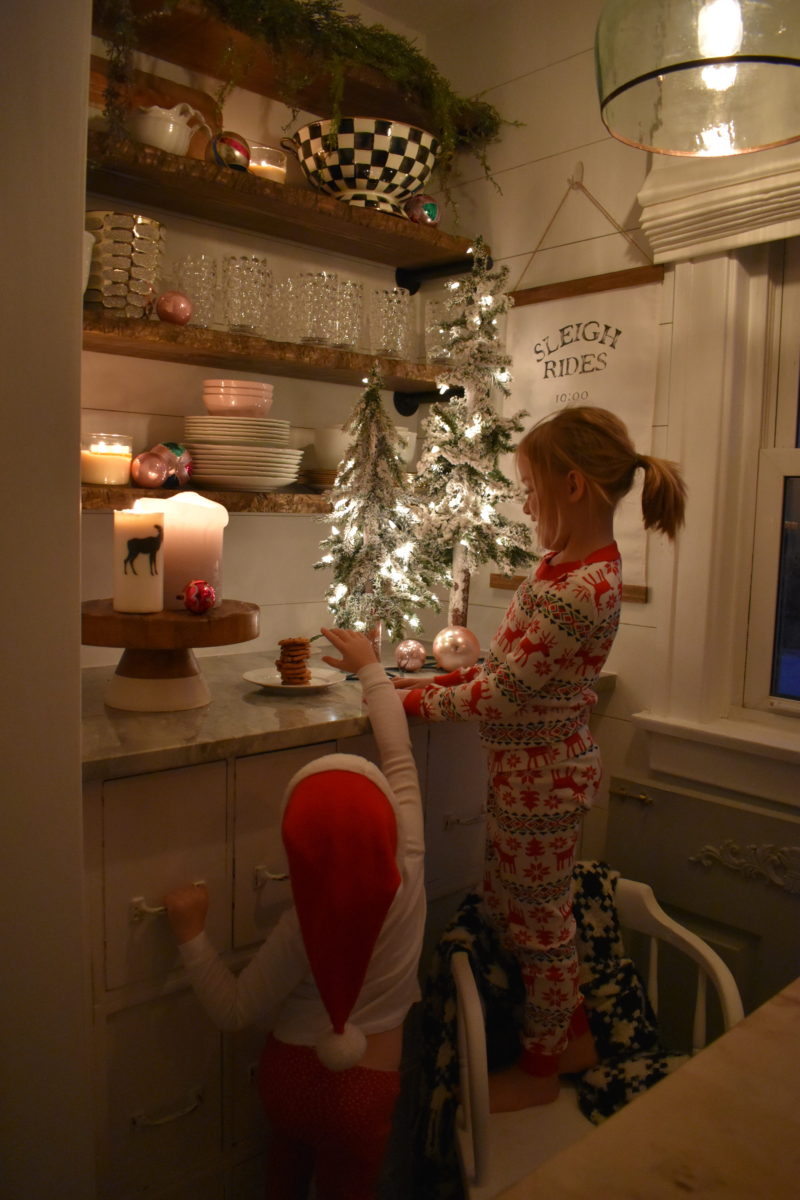 Another reason why this nook is my favorite is I get to capture moments like these (trying to sneak snacks before dinner) while cooking.  There is something about the twinkling lights as the sun goes down that give off that Christmas warmth.  But there are our first two trees up… Let the Christmas shenanigans begin.  Hope you have a wonderful day.  Thank you for stopping by and don't forget to check out the other talented women in this tour.  I've linked them below!
Susan

Ella Claire | French Country Cottage | Miss Mustard Seed | Shades of Blue Interiors
Craftberry Bush | Rooms for Rent | Dear Lillie | Julie Blanner
Jennifer Rizzo | Kindred Vintage | Love Grows Wild | Jeanne Oliver
Nesting with Grace | and our featured guest, A Burst of Beautiful