Our bedroom just got a whole lot cozier!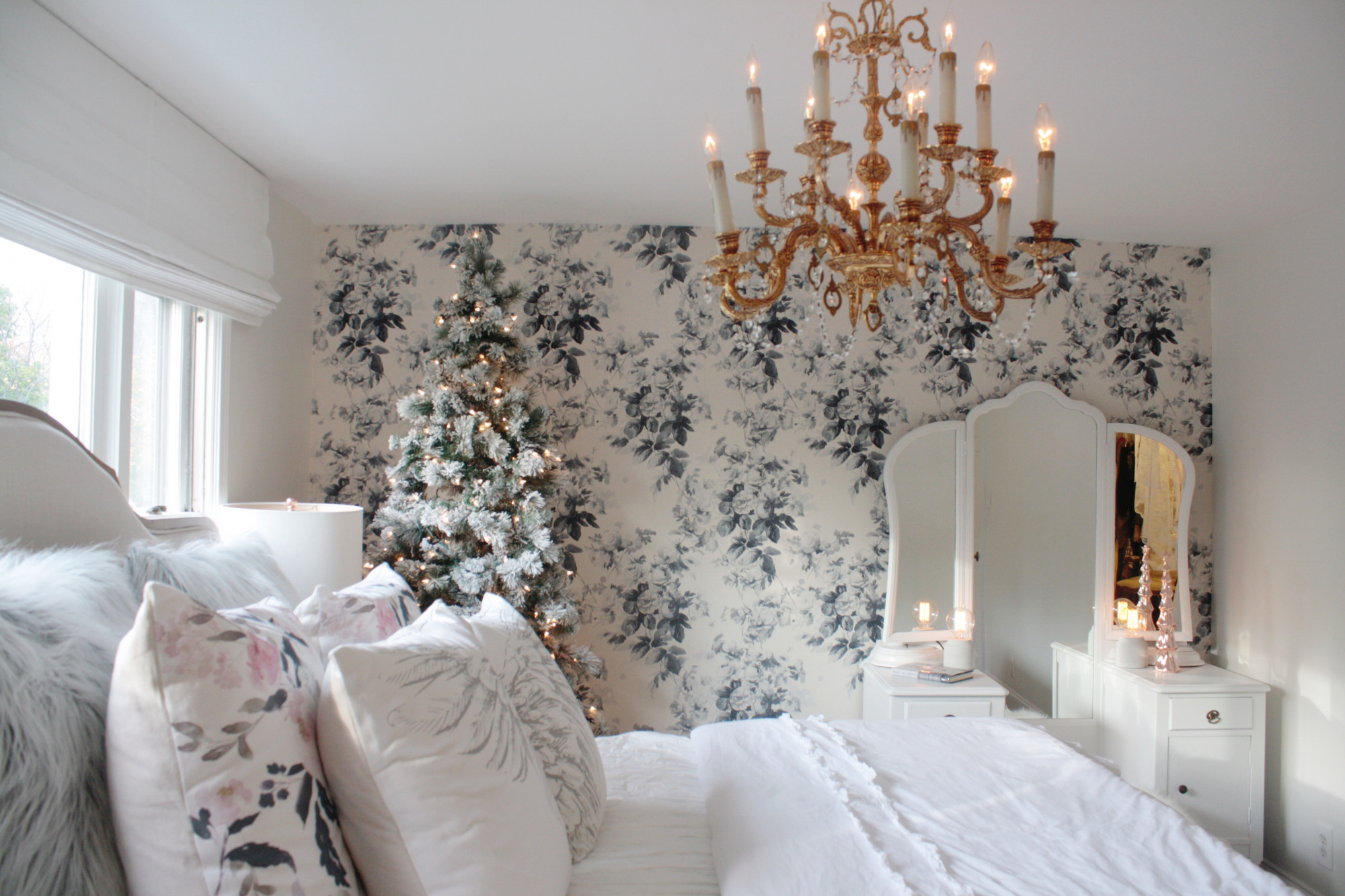 I am so happy that The Farmhouse Holiday Series is back! A few weeks ago we shared some of our favorite spaces decorated for fall and now that it is Novemeber we are kicking off the tour with our Christmas decor! Don't worry, we still celebrate Thanksgiving around here, but ever since I was a kid we always had our Christmas tree up for our Thanksgiving dinner and that my friends is a tradition I've carried on, although not quite this early before! Hey, our posts will hopefully inspire you to create some cozy, Christmas spaces in your own home so why not share them a little early? 🙂
On the first stop in this cozy series we are sharing our bedroom reveal! And we are so blessed to have been able to team up with one of our favorite sponsors, Birchlane! I can't wait to show you the item that inspired this entire room makeover! But first a little backstory on our bedroom!
To be completely honest, our bedroom was my least favorite room in our house. (Well bedsides the basement!)  It just never felt 'complete' and a huge reason is that I never was able to pick out the things I loved to complete it.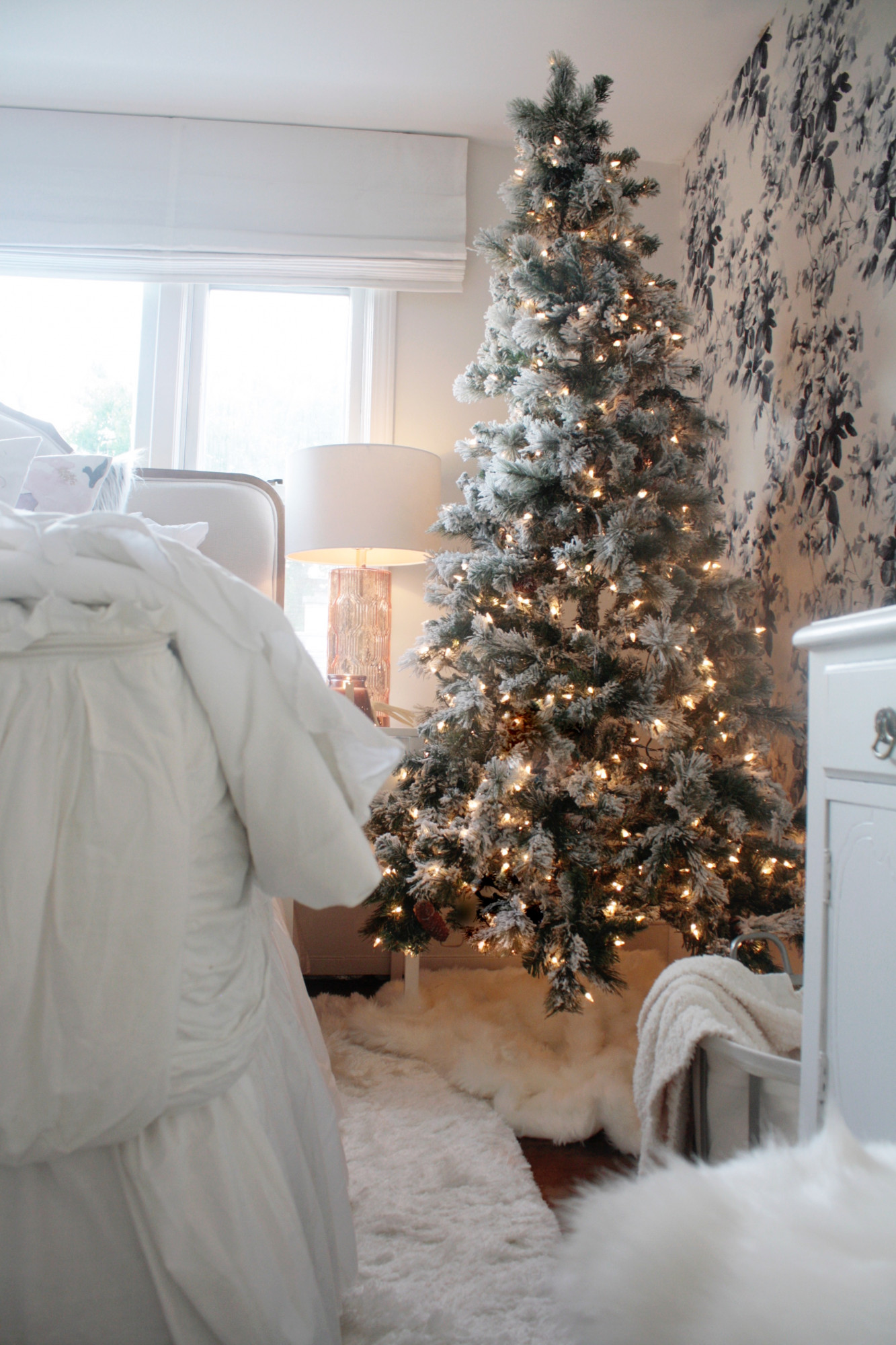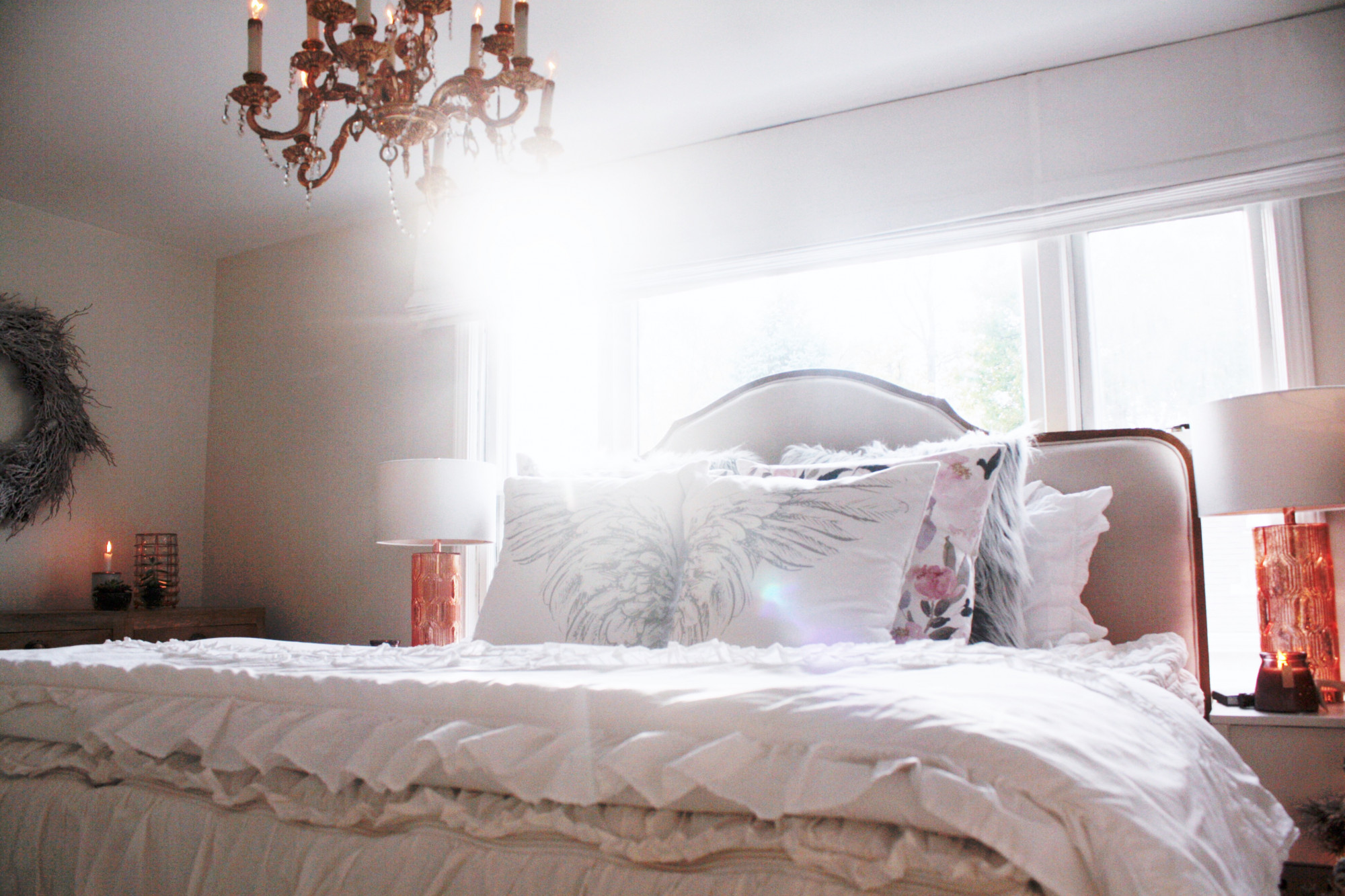 Upon moving in, we were (and still are) on a budget.  Given that we bought a fixer upper and have two kiddos, well, what do you think was the last priority when it came to decorating? If you're like me, then you guessed our room. 😉 I'm not complaining at all, as a mama it is just how things worked out, and I got much more fulfilled by giving our girls their own dreamy rooms first. All that said, now it was our turn! And I was so excited!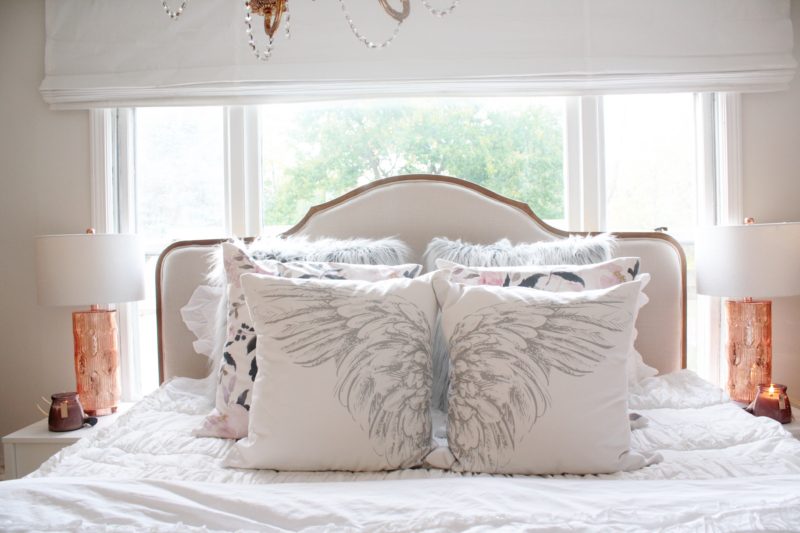 When we moved here two years ago, I honestly, just didn't have time to think about it. Our room just was what it was: an awkward space that used to be an upstairs living room when we purchased our home.  We actually created our bedroom and the hallway outside of it when by adding walls to the space when we moved the stairway.  Our theory is that the previous owners moved the stairwell from its original (and current) position to create a mother-in-law unit upstairs.  Our room was actually the living area and the kitchen of this awkwardly laid two flat apartment.  Yes, we had two kitchens in our house, some days I wonder how we said yes to taking on this home when I think back to how it was! All that said, this month thanks to Birchlane, and the help of these terrific brands below I was able to change all of that and create a space we actually look forward to!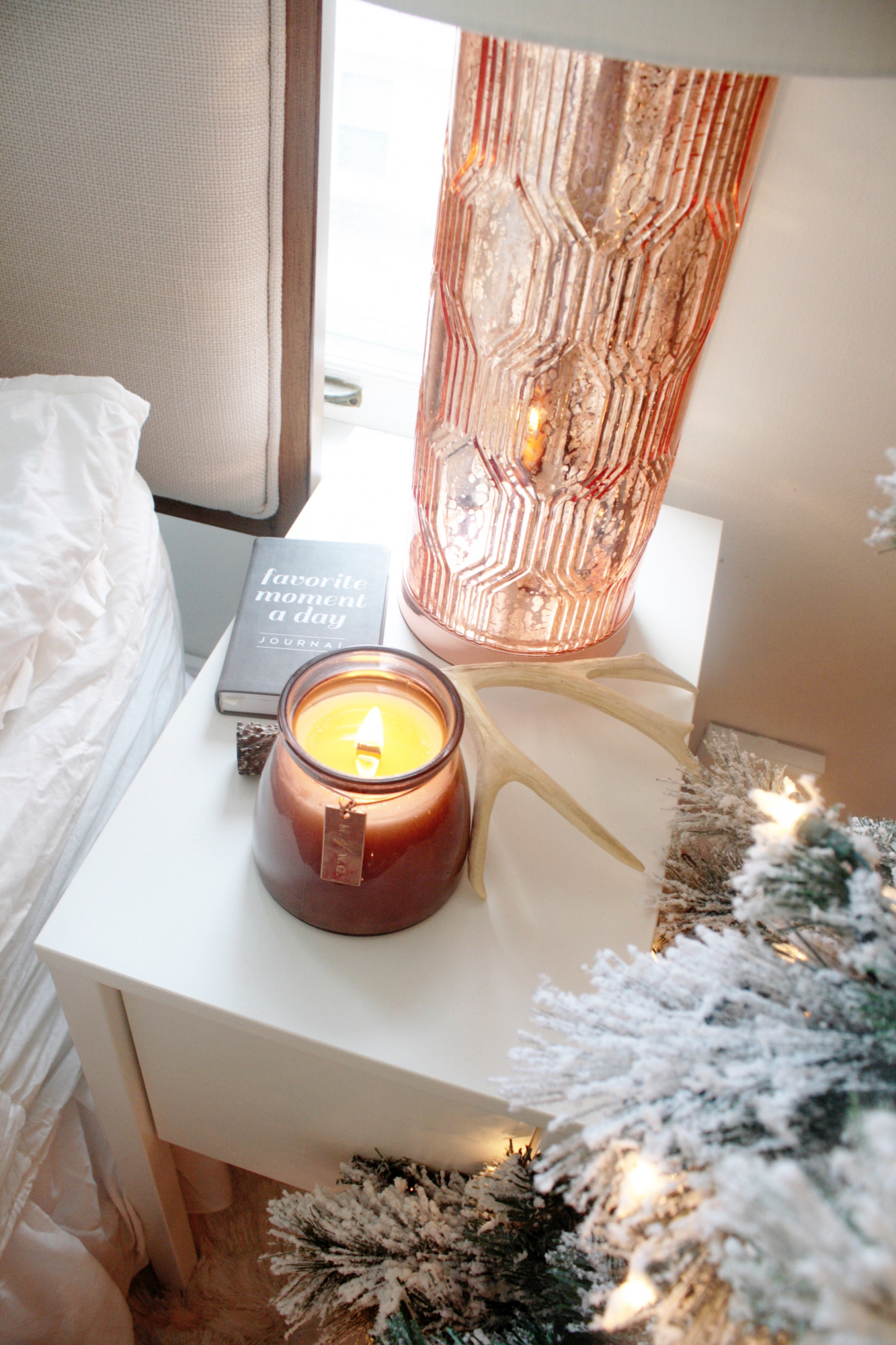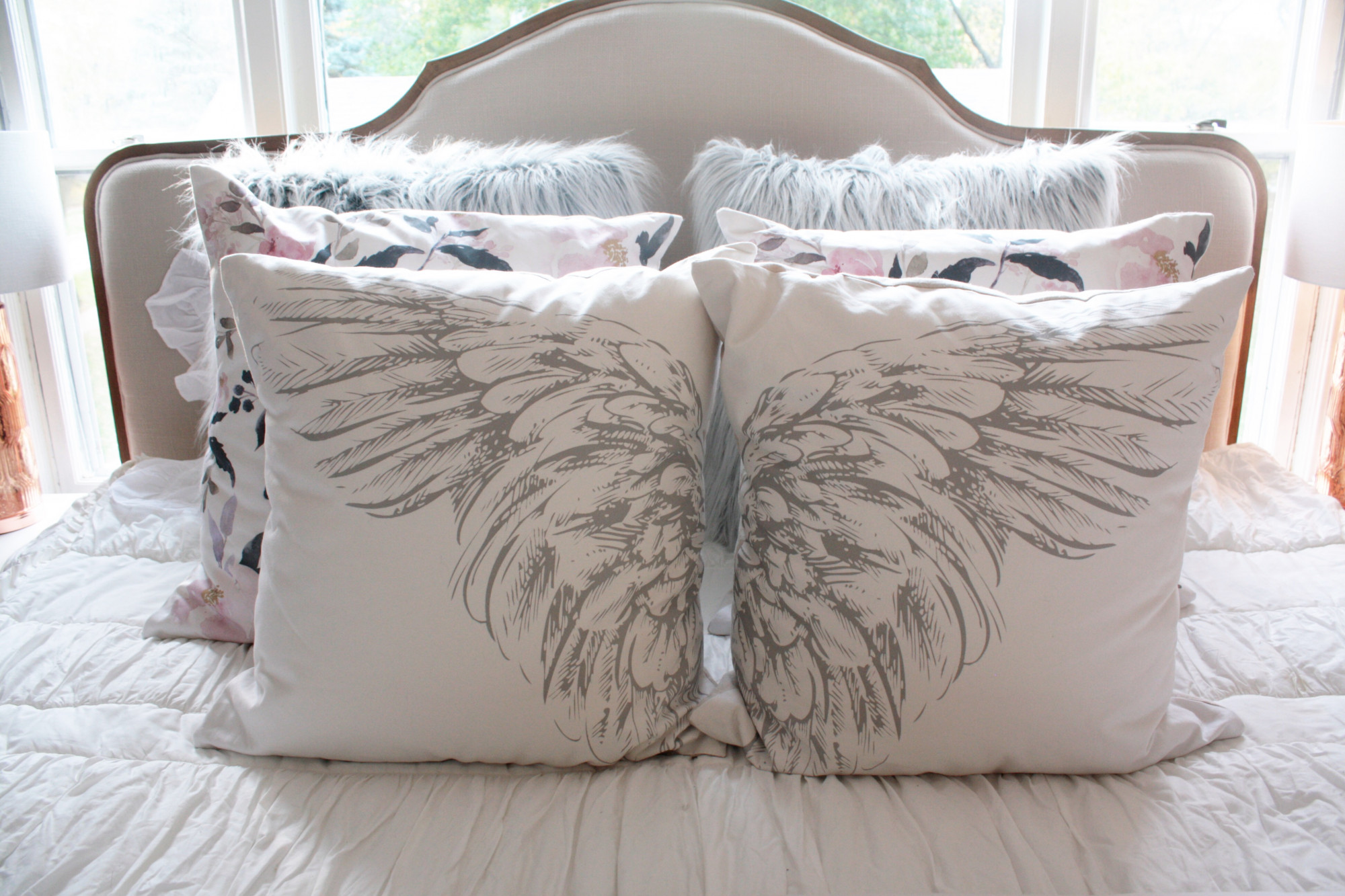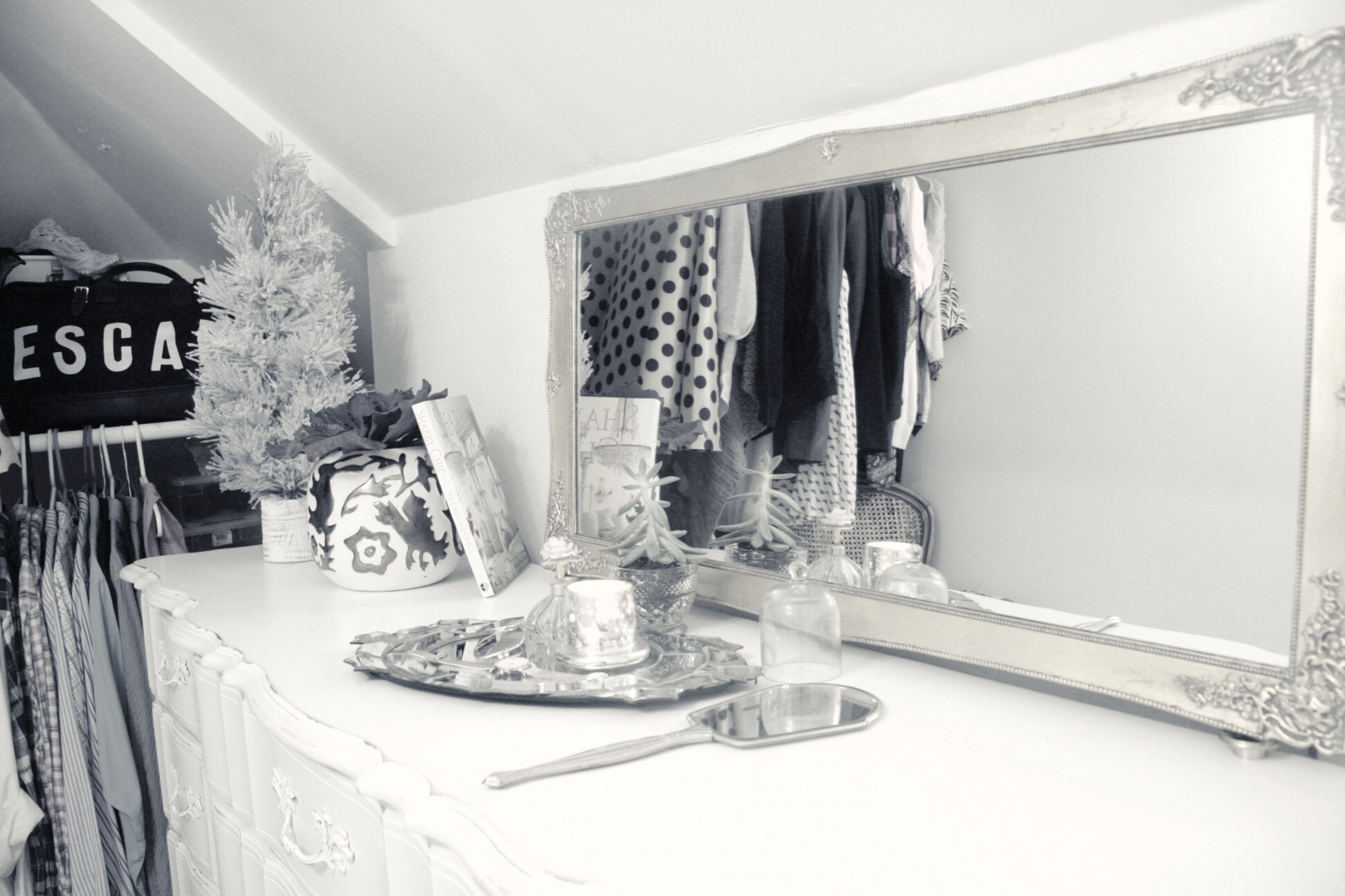 Our closet used to be the only stairway entrance to the second floor apartment.  This was a winding, cramped, kind of creepy segue that was the first thing we decided on when we were faced with the overwhelming options of remodeling our house. Now it is a walk-in that isn't complete but it is defintly better than it was! Although, we do have big plans for it, stay tuned!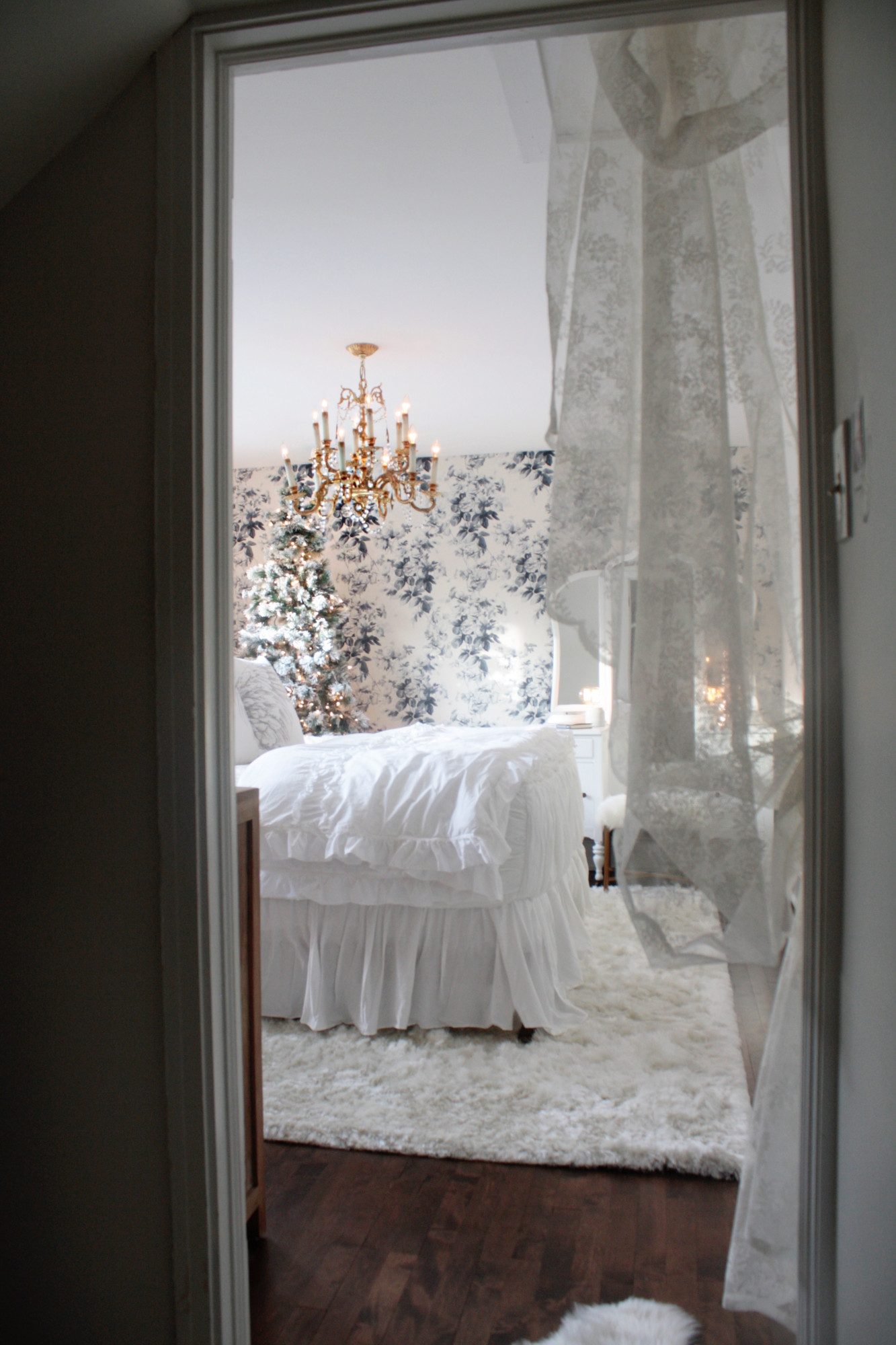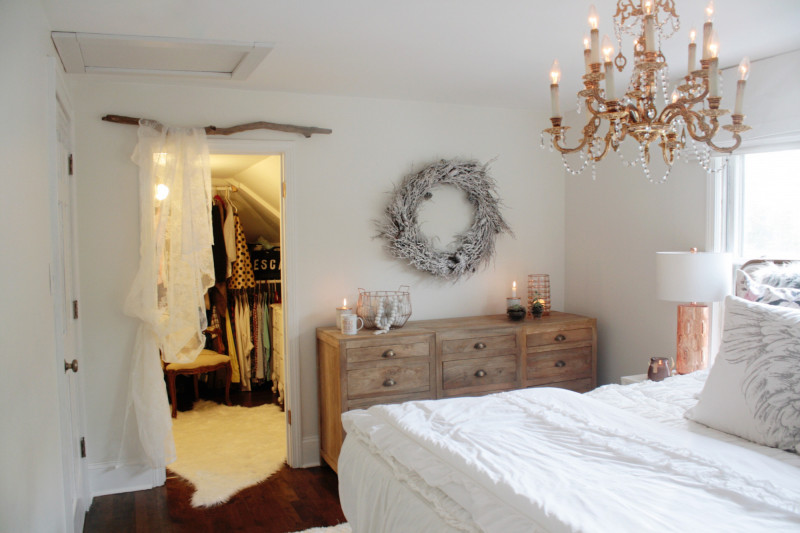 In our previously decorated bedroom, I had bought an extra-large sleight bed off of craigslist that I loved but when it arrived it just wasn't right. It was too big, too bulky and too masculine for our tiny room.  And although my husband wasn't happy to have to move the 367 pound headboard down the stairs a year later, he quickly got over it when he saw our new Birchlane bed. 🙂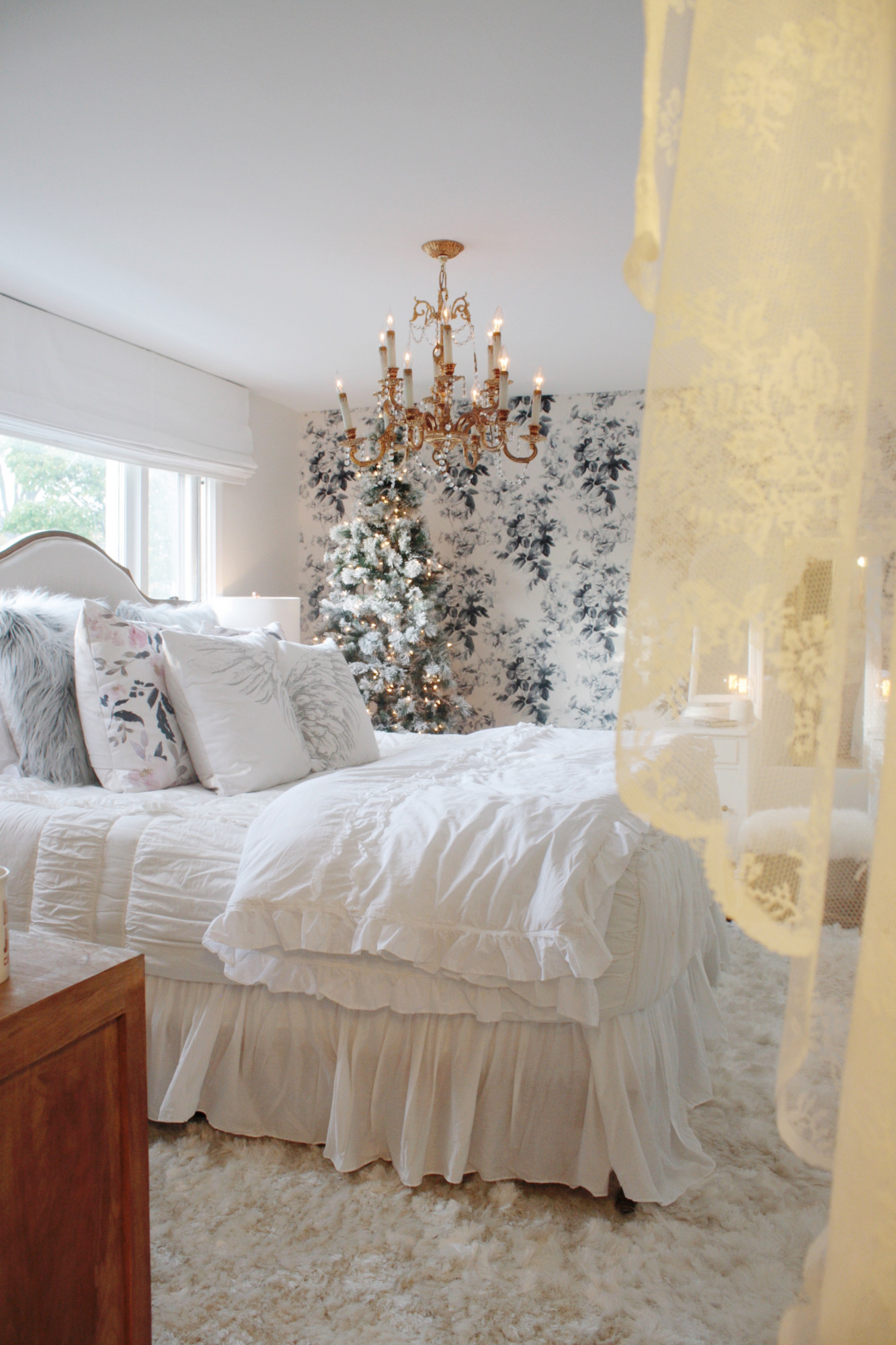 That's when this glorious Birchlane bed came to save the day!! I adored it from the moment I saw it! The creamy upholstery and beautiful shape was exactly what this room needed! We rearranged the room so that once you enter it, the bed is front and center and it sure is a show stopper! Once we replaced our old bed everything just seemed to make sense and I can't tell you how much I love our new bed!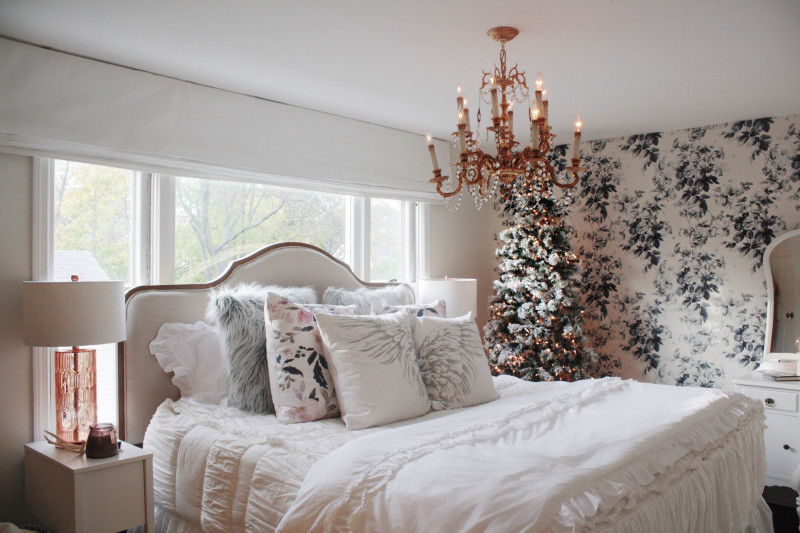 After we rearranged the room to make it more welcoming I decided on this beautiful dresser. (More on that later!)  I love how the style compliments the room while allowing my husband to enjoy a masculine piece to offset his side of our otherwise soft room.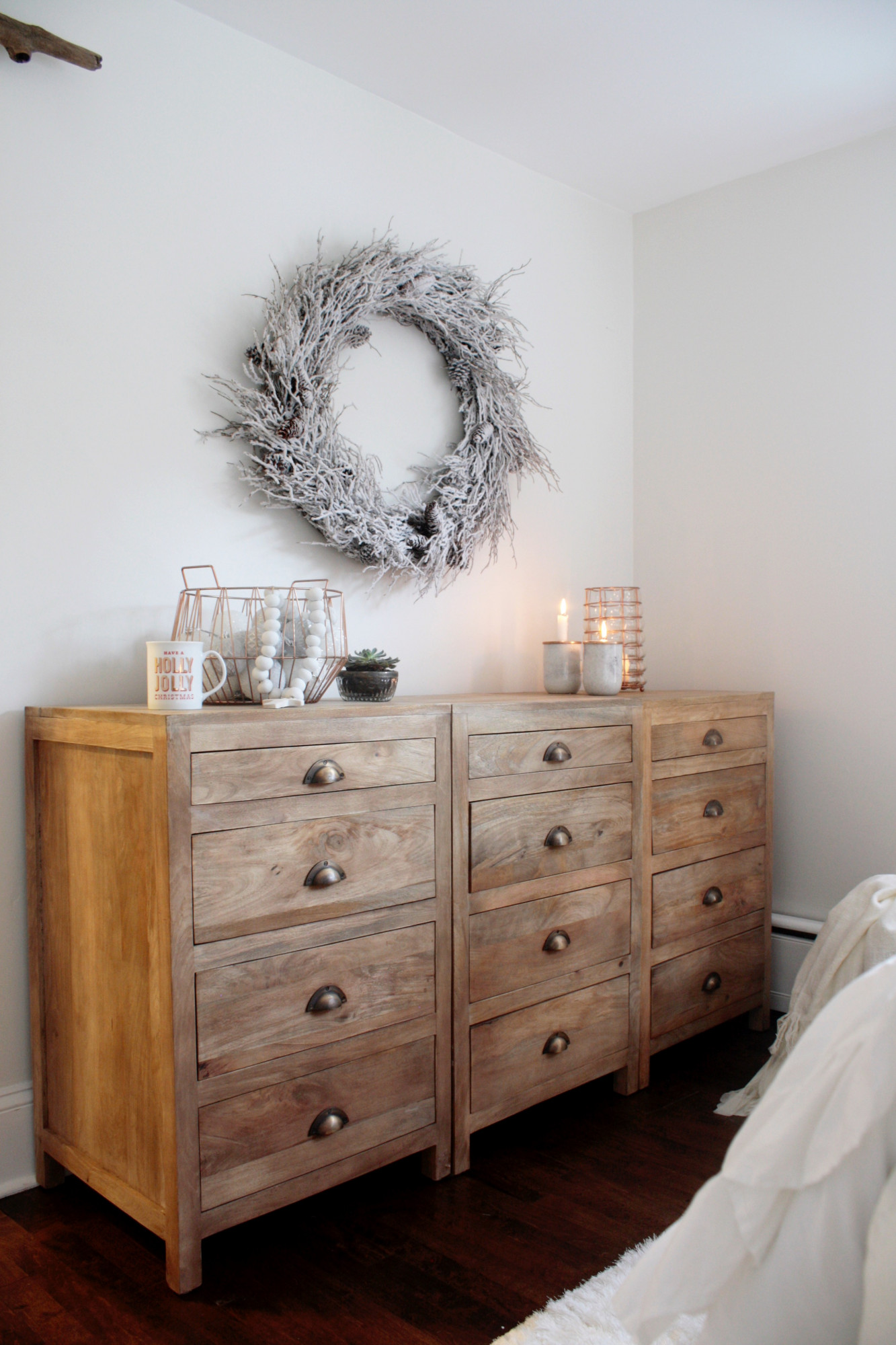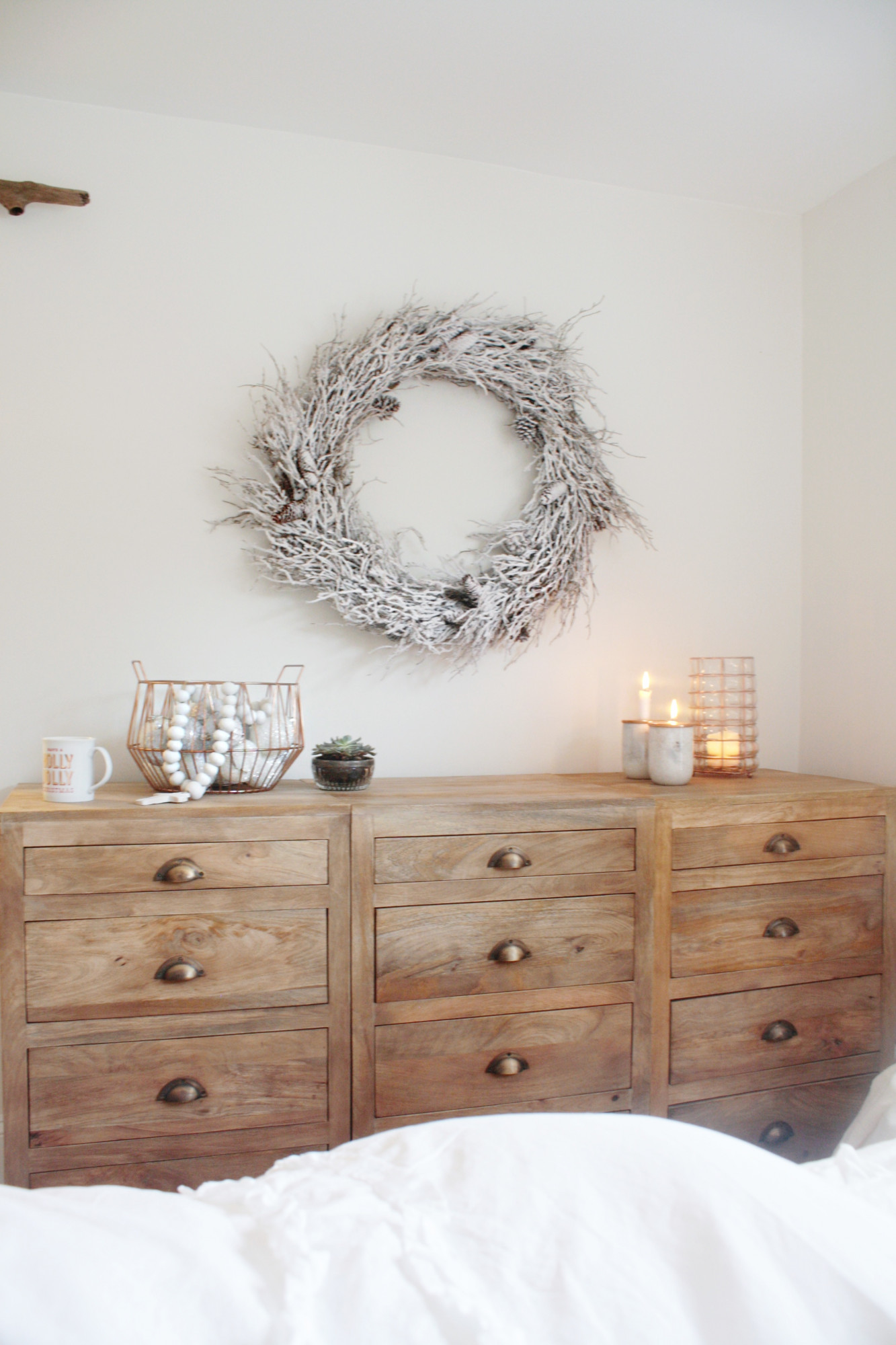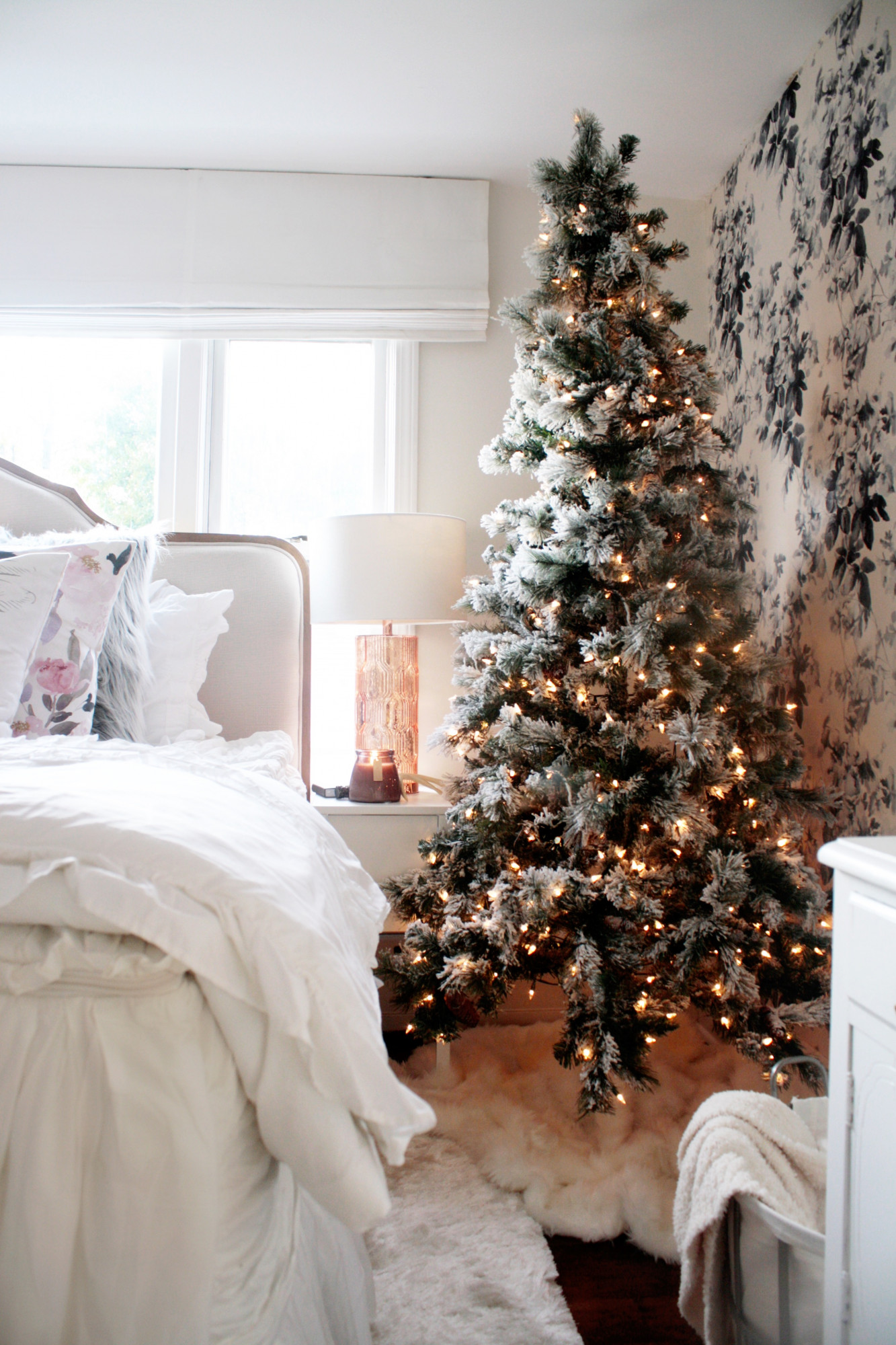 We added a rug, this amazing bedding, these pillows (more details on both of these to come!) We also added some Christmas decor and one of my favorites, this refinished this antique vanity (which was floral, green and in need of some of my hubby's refinishing charm, it turned out amazing!). I am so proud of how our bedroom came together so beautifully!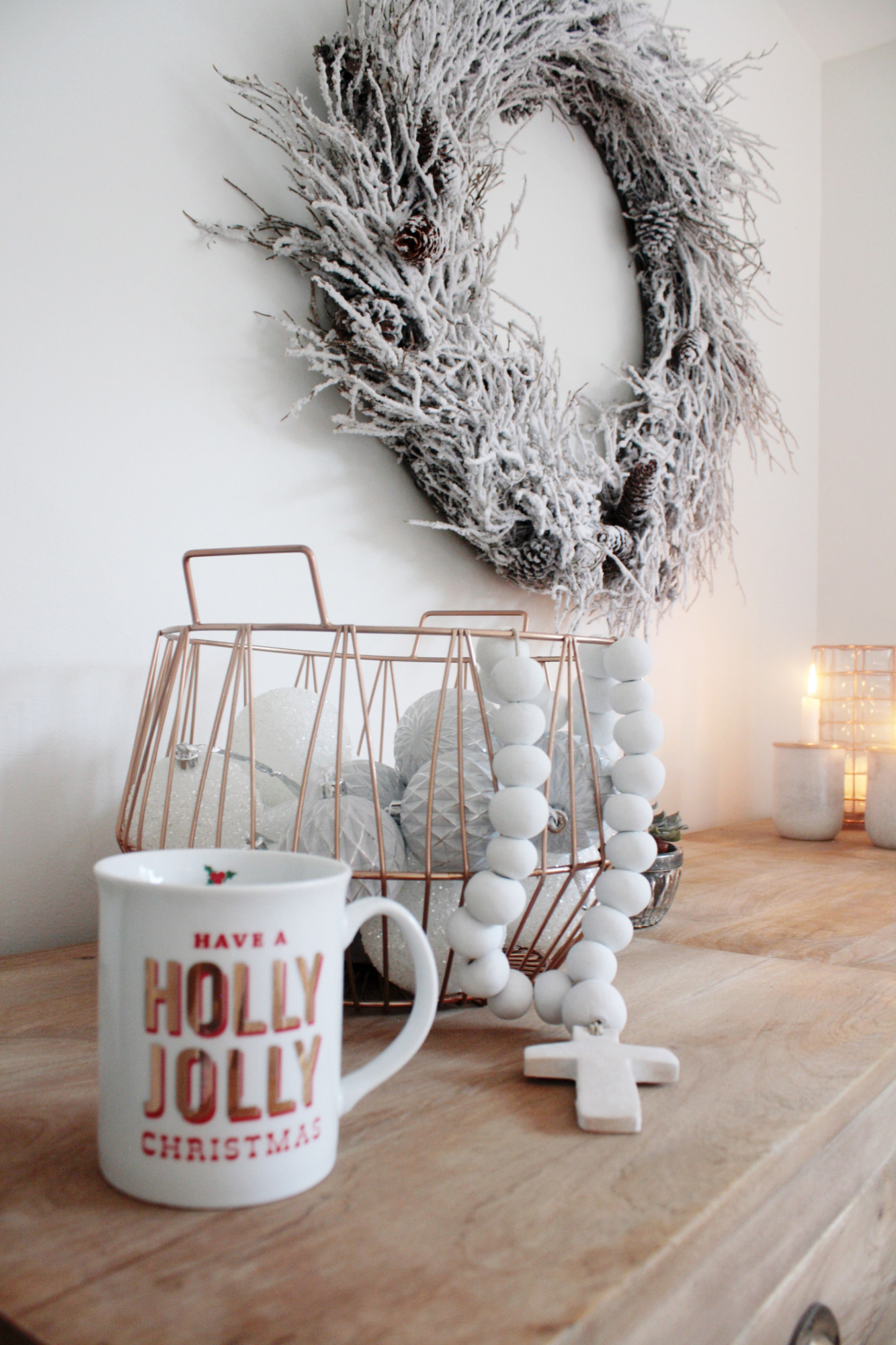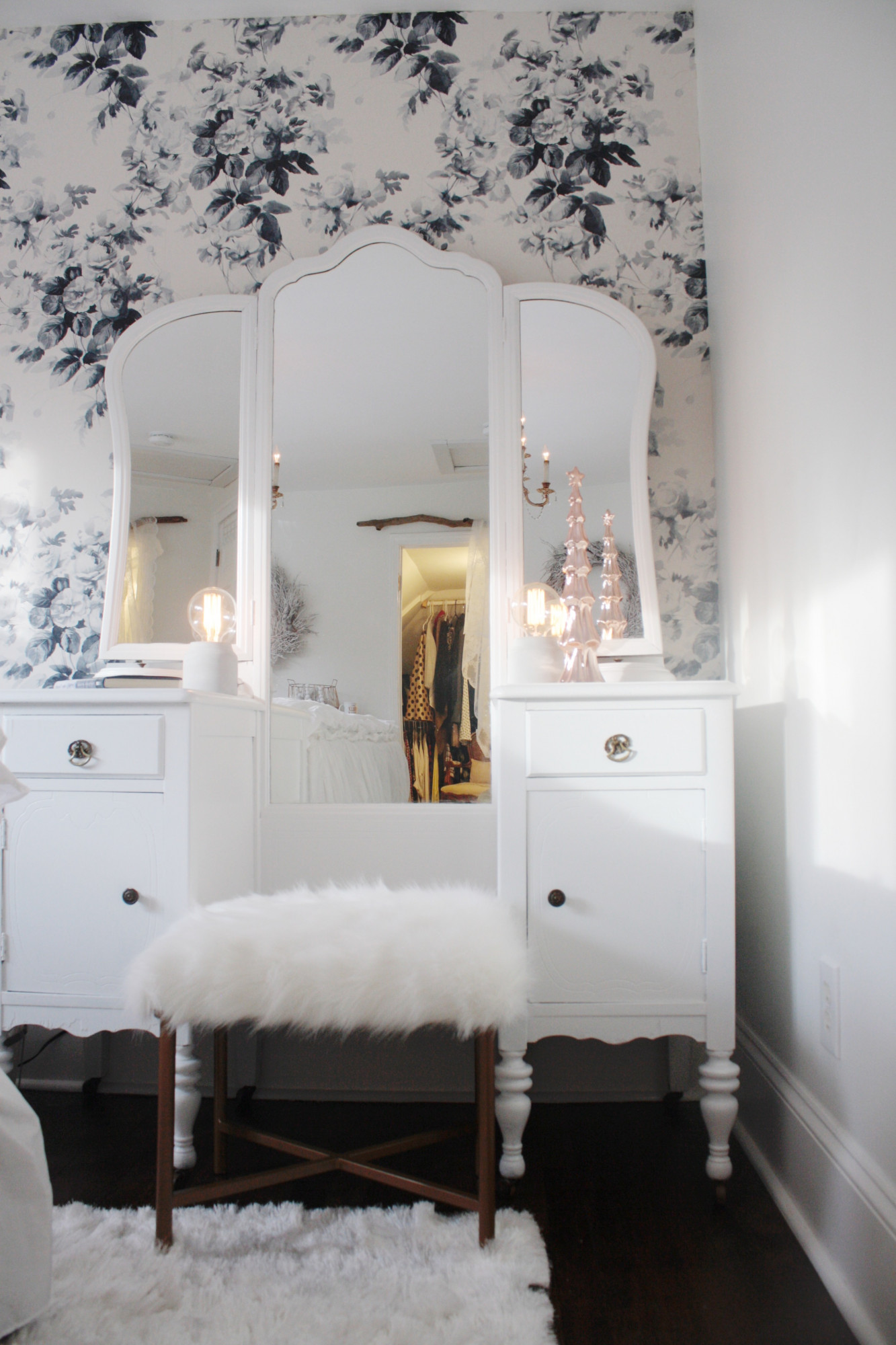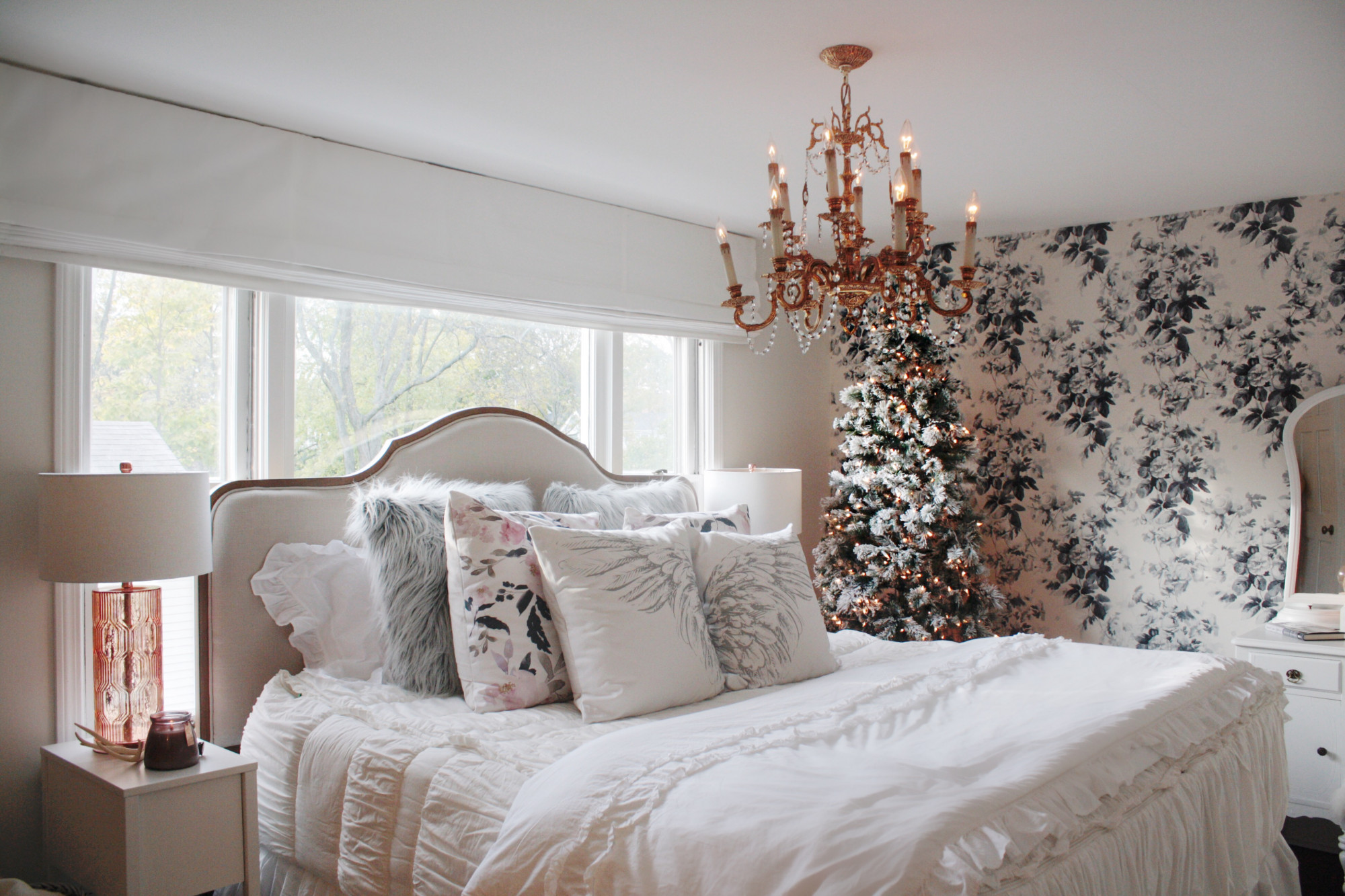 I can honestly say, I really looked forward to coming home after trick or treating to this escape. As funny as that sounds it's so true. (Being a blogger is quite ironic sometimes isn't it?) I truly believe God made me one so that I could say I was actually early for once in my life! 😉  I mean, who else has Christmas decorations up in October? However, my kiddos don't seem to mind one bit, they're now asking me when trees are going up in their bedrooms, ha! (Here's our oldest sweetie checking out the decor with her darling doll.)
Well folks that's a wrap on our Christmas bedroom! As always, thank you so much for coming by. It means tons and tons to me to have you here. Xoxo Please check out the other taleted ladies below, you'll be so happy you did!
Susan


Love Grows Wild | Ella Claire | Shades of Blue Interiors | Craftberry Bush | Liz Marie Blog

Dear Lillie | Jeanne Oliver | French Country Cottage | Jennifer Rizzo Design Company

City Farmhouse | Rooms For Rent | Kindred Vintage | My Sweet Savannah