Hello,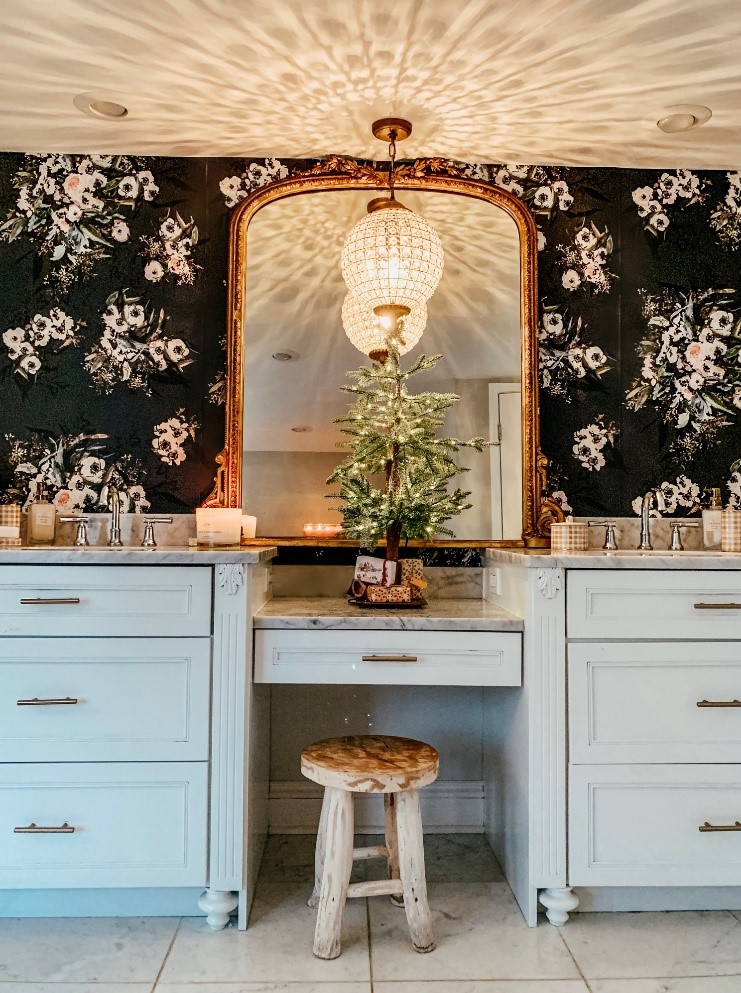 Susan here today.  I'd like to talk to you about a recent cosmetic (well mostly cosmetic but also a functional improvement as well) change we made to our bathroom.  Let me start by writing that we loved the look of our house when we moved in but knew right from the get-go that it wasn't "our" style.  The touches were more modern and masculine and if you've been following me, you know I tend towards a mix of bohemian, romantic style.  Side note, my husband always wants me to call it bohro but I'm just not loving that.
So despite the look being good, it just wasn't for us.  So we did a few things in here.  First, we painted the room a light bluish/gray.  This color is from our Romabio paint line and is called Mantra.   Next we used the same wallpaper that we hung in our room.  That's called Anemone Wallpaper in Midnight from Kelly Ventura.  I think that added a nice statement wall.  Finally, we removed the two mirrors that I really did not like much.  In their place we put in the 1800's mirror that was over the fireplace in our old home.  This slightly quirky layout, without mirrors directly over each sink, works for us.  Rob doesn't really care what he looks like and I don't need to watch myself brushing my teeth.  So with those core pieces in place we were close but the bathroom still needed some finishing touches.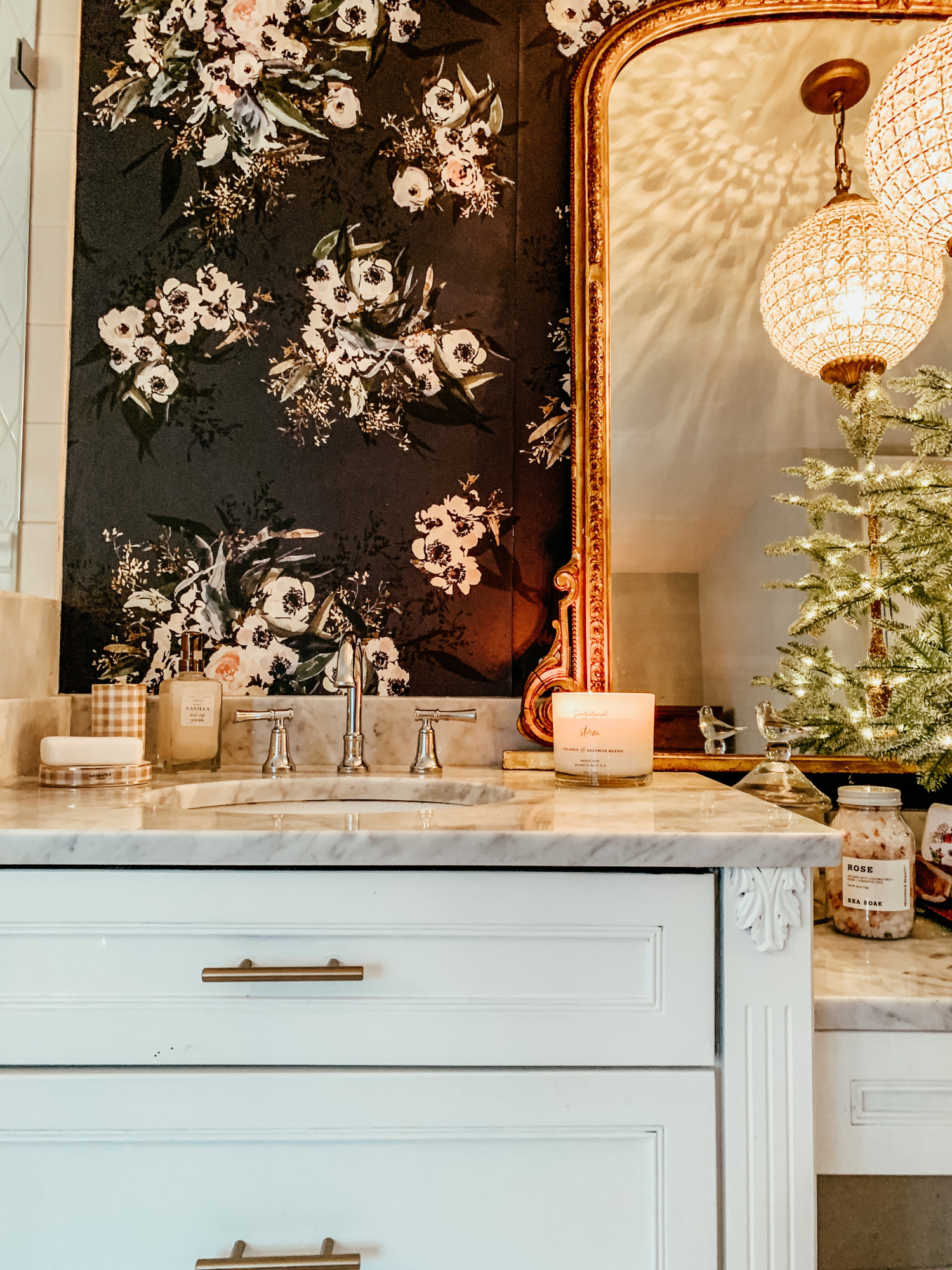 That's why we're so thankful to partner with Delta Faucet (with products available at Home Depot) to add these amazing faucets and just beautiful shower head.
The sink faucets are called Two Handle Centerset Bathroom Faucet from Delta's Chamberlain collection.   I really love their sophisticated construct.  The high angled spout, which almost looks like a swan to me, is graceful and elegant.  Plus it's highly functional as filling up buckets or whatnot is much easier with the added clearance.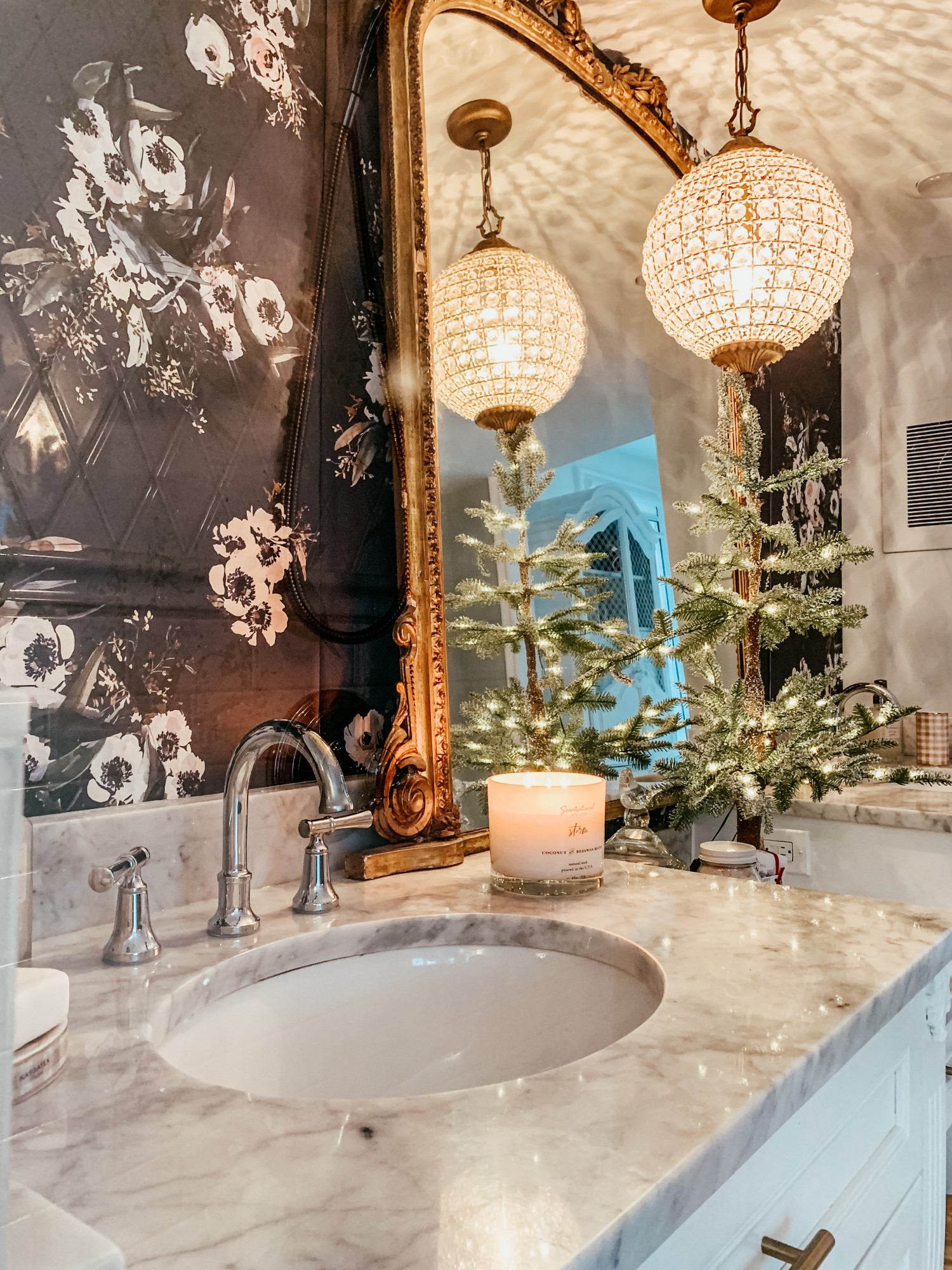 Next, Delta's In2ition two-in-one shower head/hand shower combo is a luxury that is so very much perfection.  I love it, Rob loves it, and little Lorelei insists on using our shower instead of her's because she just loves the handheld sprayer.  It helps us too since she struggles to get all of the conditioner out of her hair.  Rob or I can just pop that out and make sure that she's completely rinsed off.  Plus, I have to admit that I have taken advantage of the massager setting more than once.  After a long day of chasing kiddos, working, and exercising that pulsating stream of water really helps to soothe my aching muscles.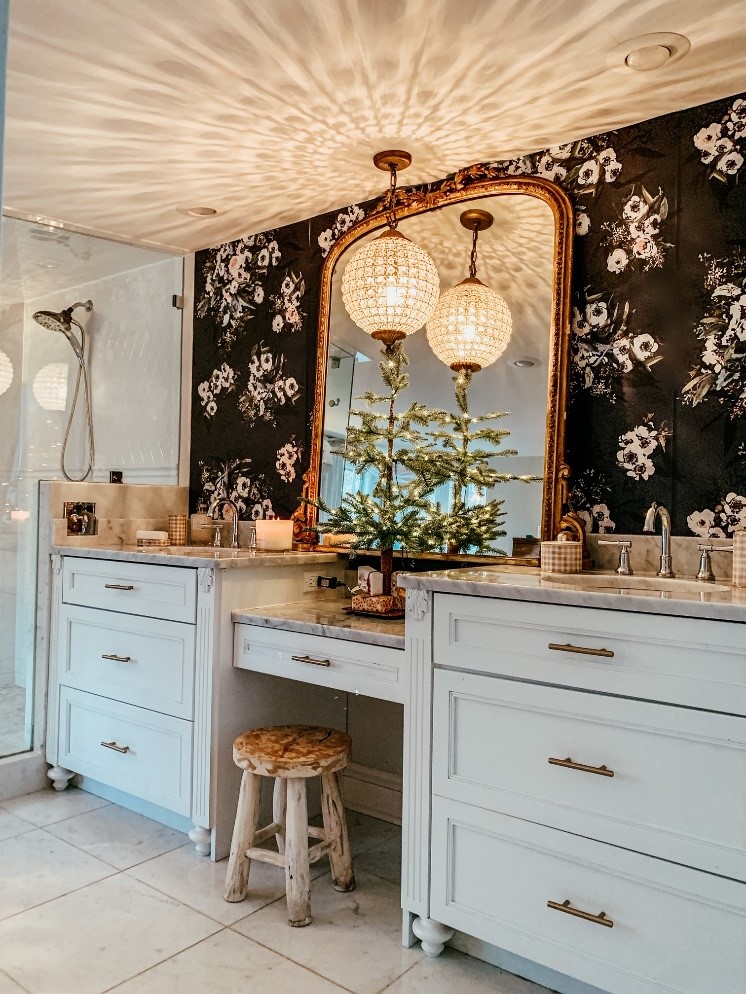 So with Delta's help, I think this bathroom is finally "ours".  I love how we were able to transform the style of the space from modern/masculine to bohro (there you go Rob 😉 ) with just cosmetic updates.  Since the "bones" we completed by the previous owner our changes were pretty straightforward.